The Aegean Business Lounge Thessaloniki is located at the end of the departure gates of Thessaloniki Airport, after going through security. One of the biggest advantages is boarding directly from the lounge for every flight in the Schengen area. I think the design is extremely successful. The interior designer was inspired by a film set when selecting the furniture.
Where is Aegean Business Lounge Thessaloniki located?
Thessaloniki airport is extremely clear. Accordingly, finding the Aegean Business Lounge Thessaloniki is anything but difficult. Once through security you have to go straight ahead, then turn right and basically go in the opposite direction again.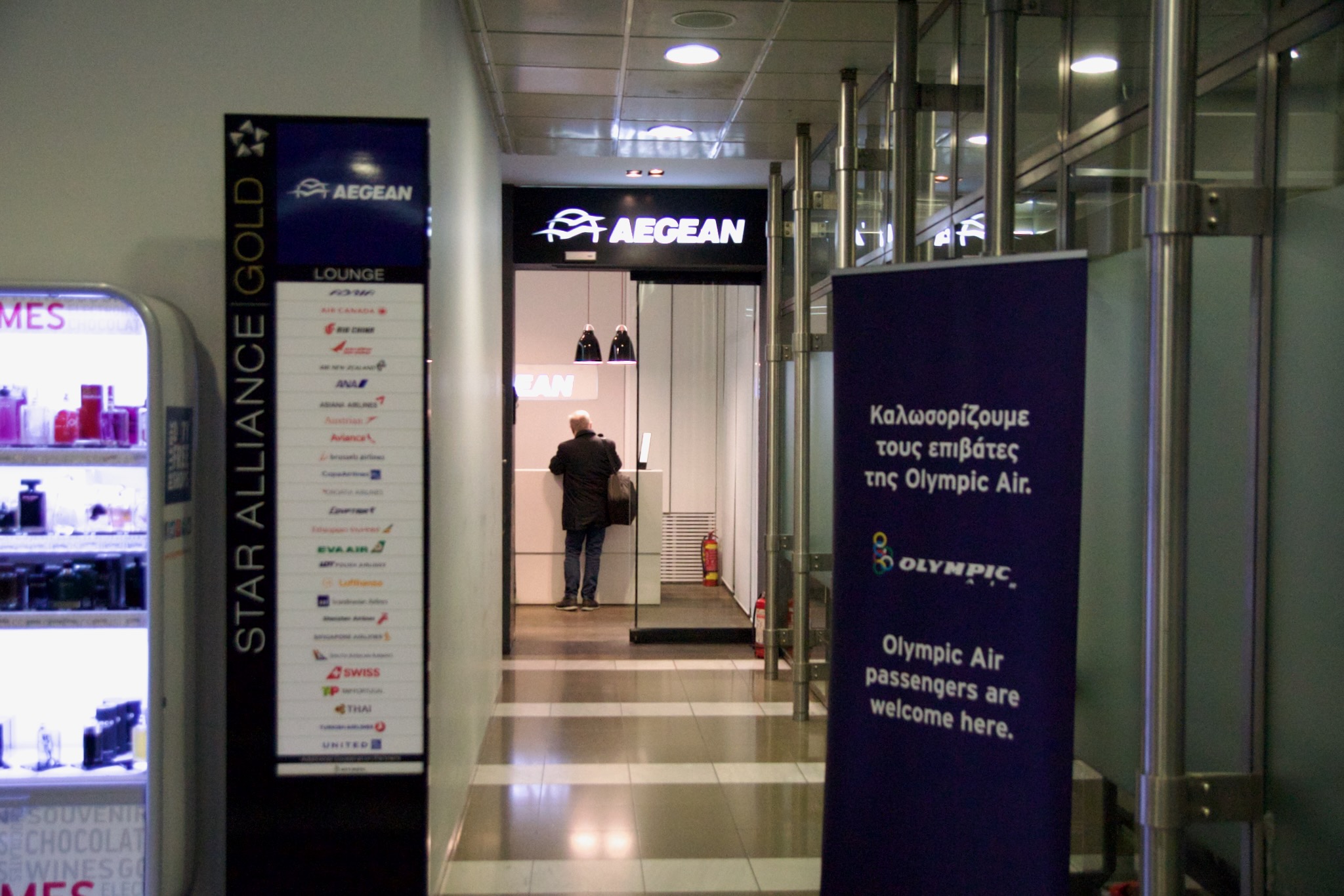 How is the Aegean Business Lounge Thessaloniki equipped?
The lounge has a seating area. There are several large, light-colored leather sofas and a few comfortable armchairs. Various large metal tables are set up between the individual pieces of seating furniture. However, I find this to be too low for working on the laptop. The adjoining, room-length window front offers a magnificent view of the airport apron.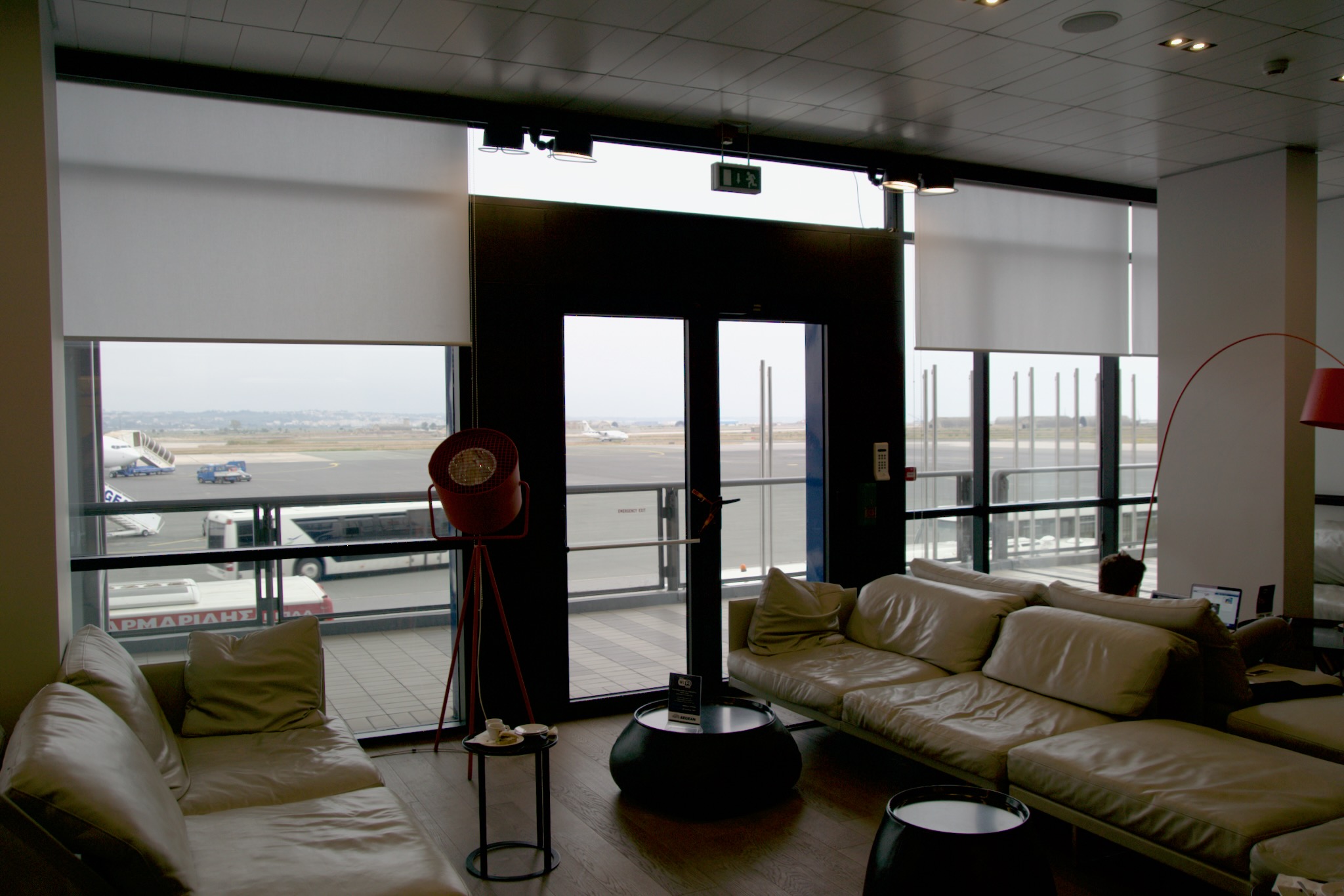 Adjoining the seating area is the buffet with a larger counter and 16 black wooden bar stools. If that doesn't offer enough space for eating, there is also an area with several tables and chairs. Four PCs are also freely available on the wall side, which, together with the stable WLAN, ensure a good working atmosphere.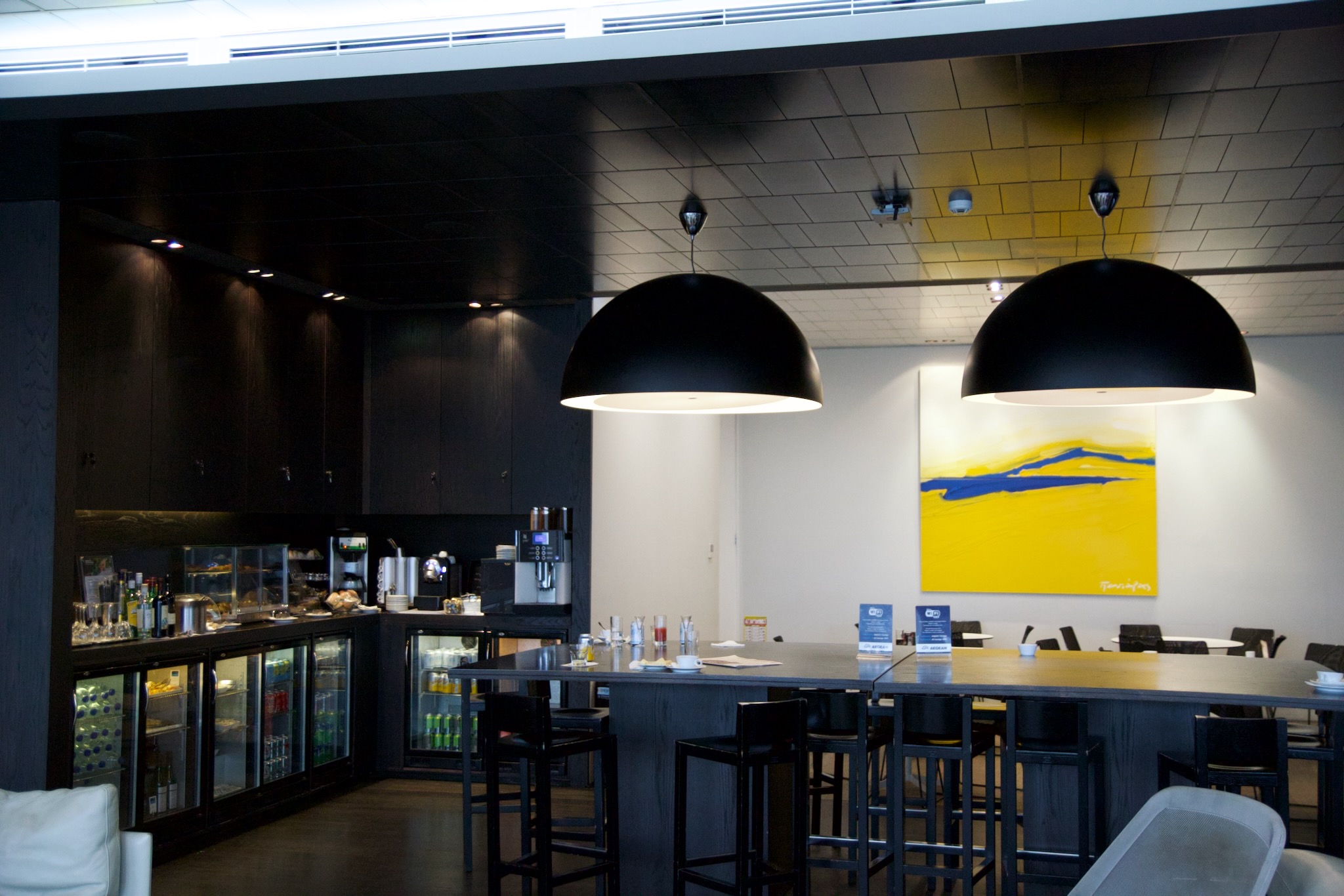 What is there to eat and drink at Aegean Business Lounge Thessaloniki?
The range of dishes is not that extensive. For example, there were various packaged salads and fruit, sandwiches and sweets. A hot meal was not offered during our stay. A monthly changing specialty buffet from different Greek regions provides variety. In October 2016 the dishes were inspired by the island of Cyclades in the Aegean Sea. For example, there was a lemon schnapps, marzipan and cheese.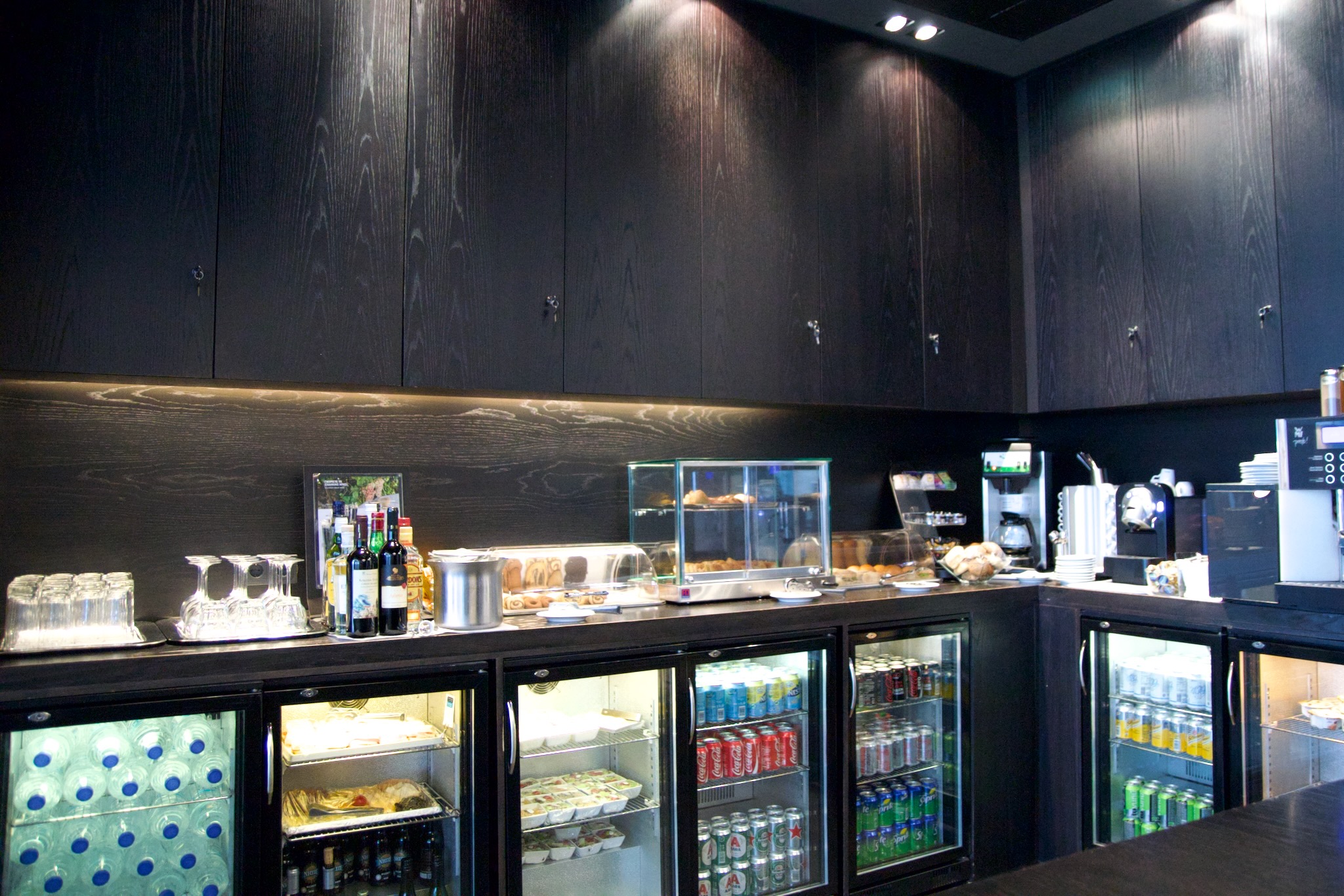 In contrast to the food, the range of drinks is much larger. Beer (Heineken and Greek Alfa), two red wines, selection of the usual spirits (nothing from the high-priced segment), soft drinks and a WMF and Nespresso coffee machine.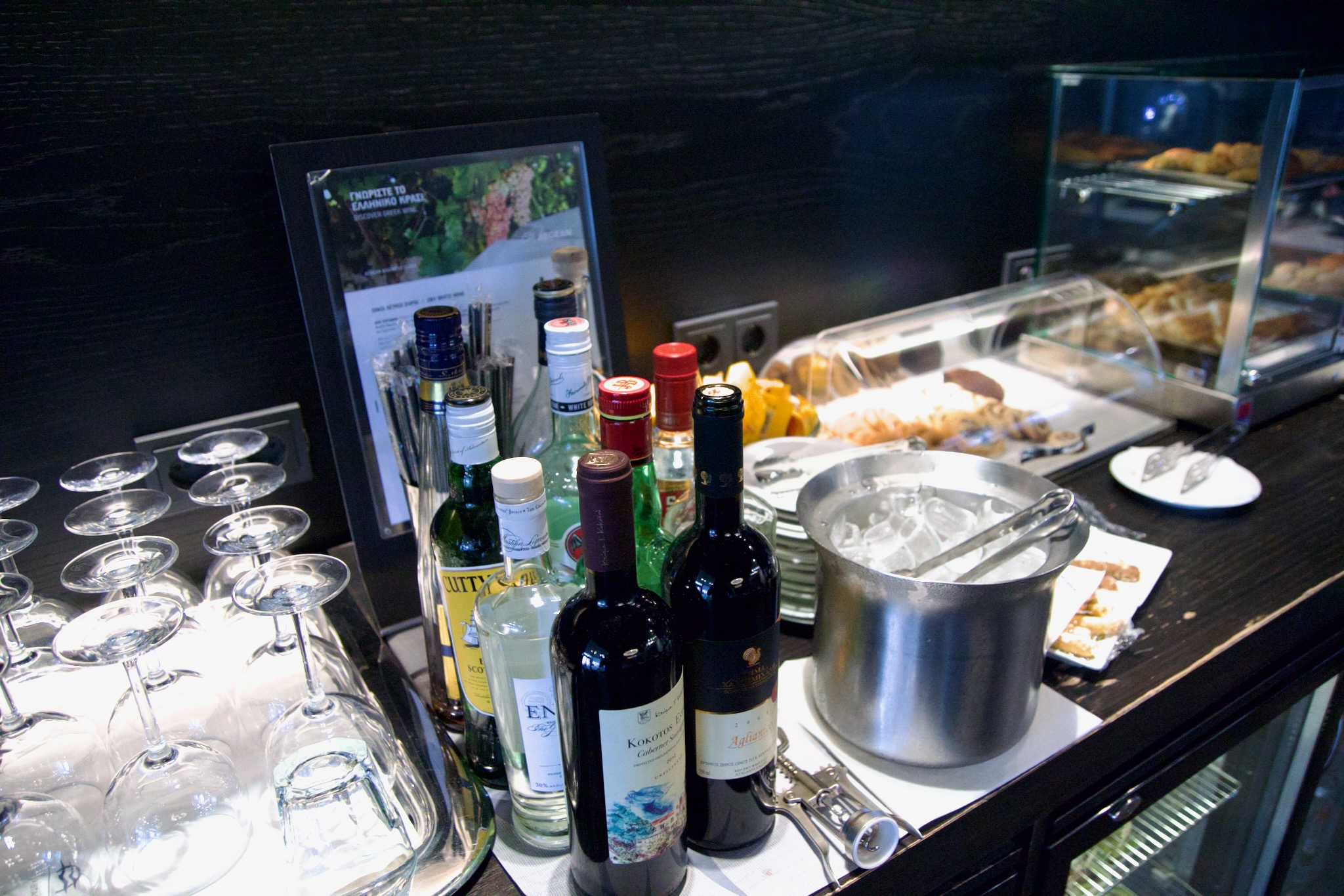 Did you like the post? Then share it on the social networks! This way you support our work a lot. We are also happy about your opinion in the comments.
Rating of Aegean Business Lounge Thessaloniki
Food

Beverages

Service

Seating

Ambiance
Summary
I really like the design of the Aegean Business Lounge at Thessaloniki Airport. On the Aegean website it is presented with a capacity of 90 guests. I consider this to be very daring given the fairly manageable size. The direct view of the apron is great. The buffet is not outstanding, but sufficient for a small snack. The biggest advantage is boarding directly from the lounge.