Die besten Tipps, nützliche Ausrüstungsempfehlungen und praktische Tools
Dies ist deine Ressourcenliste, um sicher zu gehen, dass du bestens für dein Abenteuer vorbereitet bist! Alle Ausrüstungsgegenstände und Tools aus dieser Liste nutzen wir selbst und finden sie so nützlich, dass wir sie dir uneingeschränkt weiterempfehlen können.
Oft werden wir gefragt, welche Kamera wir zum Fotografieren nutzen, welchen Koffer oder Rucksack wir haben oder wo wir immer die günstigsten Flüge und Hotels finden. Die Antworten findest du auf dieser Seite. Schau ruhig öfter mal vorbei, denn diese Liste wird regelmäßig von uns aktualisiert. Wir hoffen wir können dir damit die besten Infos liefern. Viel Spaß beim Stöbern!
Was ist der beste Reisekoffer?
Die Wahl des perfekten Koffers für Viel- oder Wenigflieger ist gar nicht so leicht. Bei unseren Gepäckstücken haben wir auf Folgendes geachtet:
Das Grundgewicht sollte möglichst gering sein, damit du mehr Sachen einpacken kannst, die dir auf deiner Reise wichtig sind.

Der Koffer sollte recht stabil sein, sodass er der Beanspruchung des Reisens Stand hält.

Ein stabiler Teleskopgriff zur wesentlich verbesserten Handhabung.

Vier größere Rollen, die sich in alle Richtungen drehen, machen dir das Leben leichter.

Ein fest verbautes

TSA-Schloss

, damit deine Sachen auch sicher am Ziel ankommen.
Hartschale oder Weichgepäck?
Hartschale oder Weichgepäck? Wer es etwas flexibler liebt, schwört auf Reisekoffer aus sogenannten Softcase-Materialen wie Polyester oder Nylon. In den häufig aufgenähten Taschen mit Reisverschluss kann man u.a. Dokumente oder was sonst noch schnell greifbar sein soll, verstauen. Allerdings wird so ein Weichgepäck-Koffer oft durch anderes Gepäck gedrückt und reißt auch gerne einmal ein. Absolut von uns zu empfehlen sind daher Hartschalen Reisekoffer und Trolleys aus besonders leichtem und widerstandsfähigen Polycarbonat. Wir haben uns aufgrund des besten Preis-Leistungs-Verhältnisses für Hartschalen Koffer des deutschen Herstellers Titan entschieden.
Unsere Reisekoffer
TITAN Backstage Shark Skin Platin (Größe L, Fassungsvolumen 95l)
Of the TITAN Backstage Shark Skin Platin war unser erster Reisekoffer und begleitet uns schon seit 2011. Dieser Trolley hat einfach alles, was erstklassiges Reisegepäck ausmacht: Eine robuste Schale aus Polycarbonat, ein luxuriöses Interieur und eine markante silberfarbene Oberfläche, die wirklich für Aufsehen sorgt und auf dem Gepäckband so leicht nicht verwechselt werden kann.

Wir nutzen den Koffer für Reisen von 10 – 14 Tagen (je nach Jahreszeit). Die 4 kugelgelagerten 360° Leichtlaufrollen machen auch nach einigen Kilometern auf unterschiedlichsten Untergründen einen besonders guten Eindruck. Praktisch ist, dass man den Koffer von beiden Seiten bepacken kann und diese durch die integrierten Trennwände mit Reisverschluss voneinander getrennt sind. Außerdem wird der Kofferinhalt durch stufenlos verstellbare Packgurte fixiert. Es fällt einem also nicht alles entgegen, wenn man den Koffer öffnet. Für Reisen in die USA ist für uns ein TSA-Schloss unbedingt Pflicht. Beim TITAN Backstage ist dieses integriert und fest mit dem Koffer verbunden.

Einkaufsmöglichkeit: Amazon or koffer-direkt
TITAN Backstage Shark Skin Schwarz (Größe M, Fassungsvolumen 60l)
Passend zu unserem ersten Reisekoffer, haben wir uns 2015 den kleineren Bruder TITAN Backstage Shark Skin Schwarz in der Größe M zugelegt. Bis auf das geringere Fassungsvolumen von 60 l (Maße 40 x 64 x 26 cm), hat er genau die gleichen Eigenschaften wie unser Großer, was somit ein perfektes zweites Reisegepäck ausmacht.

Wir nutzen den Koffer gern für Kurztrips oder als zweites Gepäckstück für Aufenthalte länger als zwei Wochen. Nach einigen Flugreisen, finden wir das die Oberfläche des TITAN Backstage Shark Skin Schwarz wesentlich unempfindlicher ist als die des Silbernen. Auf der platinfarbenen Außenhaut des TITAN Backstage Shark Skin Platin fallen die schwarzen Striemen der Gepäckbänder mehr auf.

Einkaufsmöglichkeit: Amazon or koffer-direkt
Was ist das beste Kamera-Equipment auf Reisen?
Mantona Rhodolit Fotorucksack
Langezeit sind wir mit einer Kameratasche um die Welt gereist. Wenn man aber den ganzen Tag unterwegs ist, schmerzt einem am Abend schon ganz schön doll die Schulter. So suchten wir einen bequemen und ausreichend großen Kamerarucksack, der auch Platz für unser Stativ bot. Unsere Wahl viel auf den Mantona Rhodolit (Link to Amazon).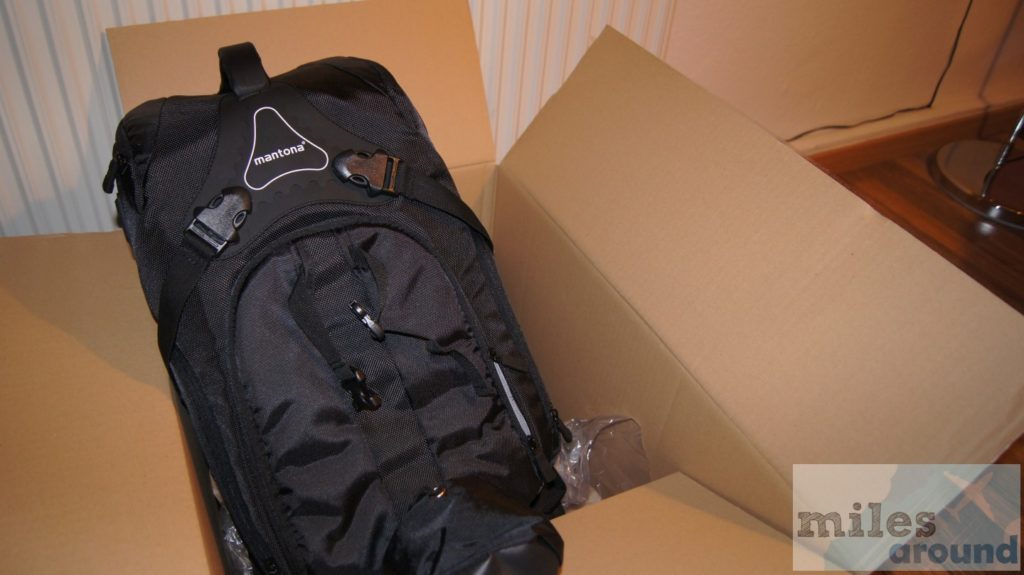 Of the Mantona Rhodolit Fotorucksack ist aus Nylon und äußerst stabil und dabei schön leicht. Er bietet viel Platz für unser Kameraequipment. Die Größen der einzelnen Fächer kann man durch die frei verstellbare Klettunterteilung selbst bestimmen. An beiden Seiten des Rucksackes ist durch die großen Fächer, gesichert mit Schnalle und Reisverschluss, der Zugriff auf die Kamera möglich. Durch das innovative Tragesystem lässt sich der Rucksack zu einem Eingurtsystem umbauen. Damit kann man den Rucksack bei Bedarf bequem nach vorne schwingen und links oder rechts seine Kamera zücken.

Einkaufsmöglichkeit: Link to Amazon
Restaurant Alpenrose