With the SAS Plus, the Scandinavian airline has created a great product in the premium economy class. In the following trip report you will find out what service and equipment you can expect in SAS Premium Economy on long-haul routes.
After Arrival with airberlin at Terminal 2 of Stockholm International Airport I had to transfer to Terminal 5 for the SAS flight to Chicago. You can easily walk there in 15 minutes.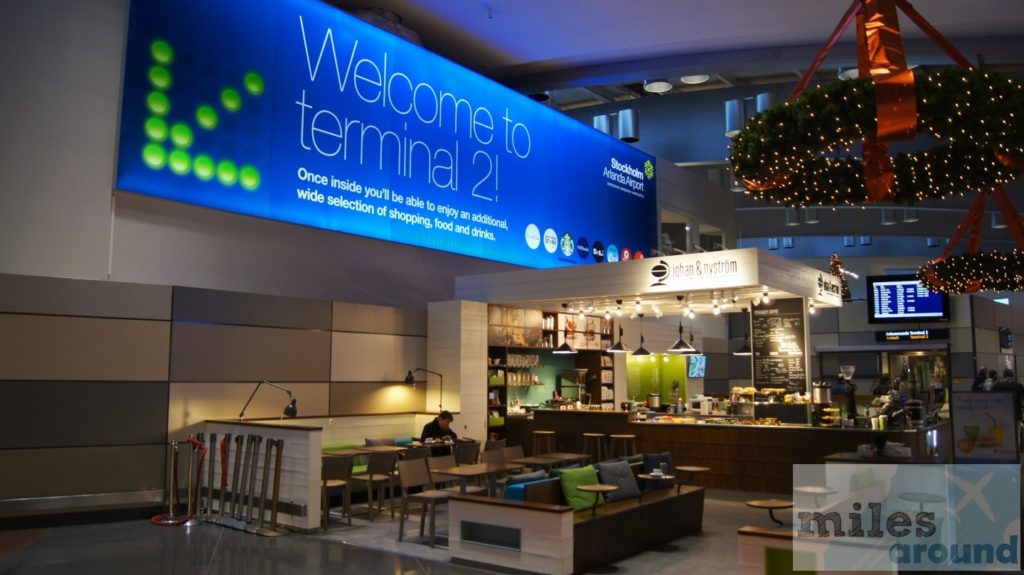 Check-in
Check-in at the SAS Star Alliance Gold counter was quick and easy. I was able to check in my luggage even though it was over 5 hours until SK945 departed for Chicago. After the security check you are in Terminal 5 in the Duty Free Zone or "Absolut Vodka Paradise". The price for a 1L bottle of vodka was the equivalent of 20 EUR. Probably quite cheap by Scandinavian standards.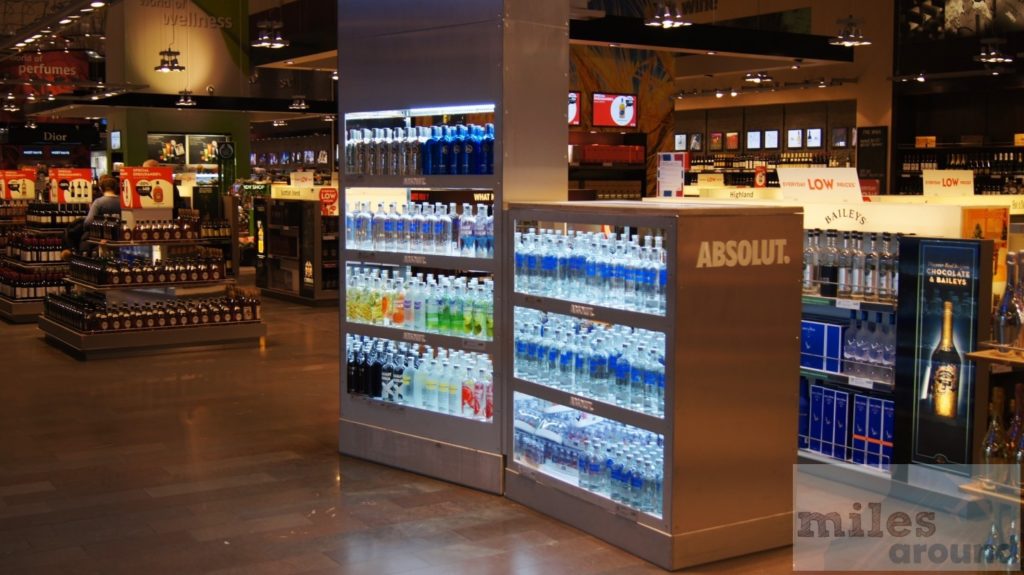 Now the search for the lounge began. Like the last time in Copenhagen it's not that easy to find them at SAS. I couldn't find any clue except for a tiny signpost. I was only able to orientate myself with the building postcard. It's best to just find your way to Gate 1 in Terminal 5, at the fork in the road you will find a spiral staircase that leads to the lounge on the 3rd floor.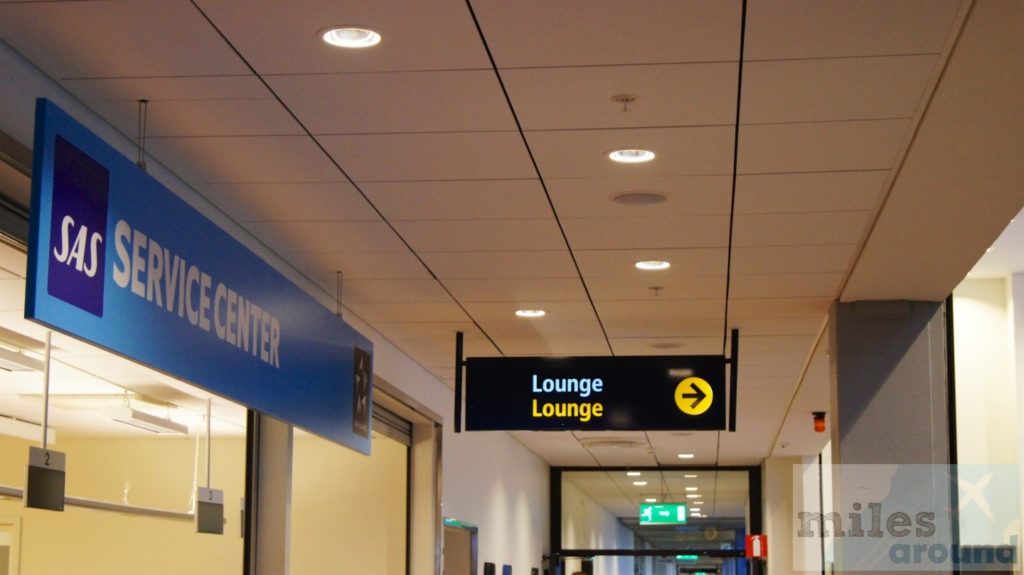 SAS Gold Lounge at Stockholm Airport
The SAS Gold Lounge is similar in design to the lounge at Copenhagen Airport. The only, but very important, difference is the unobstructed view of the apron.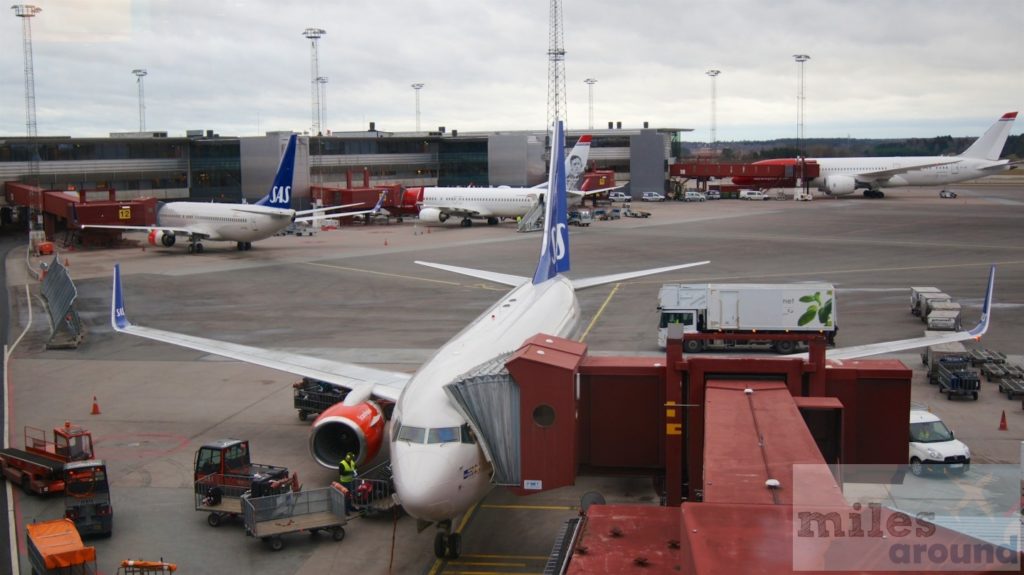 The decor is very Scandinavian and kept simple. A lot of work was done with wood and metal, creating seating groups of different sizes. I found it really exemplary that there were enough sockets everywhere and even extra USB slots for charging your own electronic devices. The interior designer simply thought along here!
The buffet is located at the back of the SAS Gold Lounge. Today there was a pasta pesto salad, smoked salmon and various vegetables with dip to choose from. In addition, a soup of the day and various types of bread are offered. The selection of drinks ranges from soft drinks (water, ginger ale, cola, tonic and a Swedish drink I don't know) to various beers, wines and spirits. So nobody has to die of thirst here. After my fellow pilot Robert finally arrived from Munich with a long delay, we had a small lunch and drank one or the other Turborg.
Flight SAS SK945 to Chicago
Around 2:30 p.m. we left the lounge and walked to today's departure gate F66. The brand new Airbus A330-300 Enhanced (registration LN-RKR, first flight on August 26th, 2015) was already waiting at the gate. It took a few minutes before boarding began. No value was placed on booking class and status when boarding. Nevertheless, we were one of the first on the plane and were able to take pictures of the newly designed cabin in peace and quiet.
After we booked our flight to Chicago in June, we decide to buy an upgrade to the next higher booking class via the website Optiontown.com. Four days before departure we finally got the long-awaited confirmation for an upgrade to SAS Plus (Premium Economy).
SAS Plus (Premium Economy)
The Premium Economy cabin (configuration 2-3-2) is beautifully designed. The seats are upholstered in gray fabric and have a wide seating area. The distance to the front row is generous at 97 cm (headrest to headrest). There is also a footrest on the front seat. Each passenger can charge their electronic devices at an individual socket and USB port.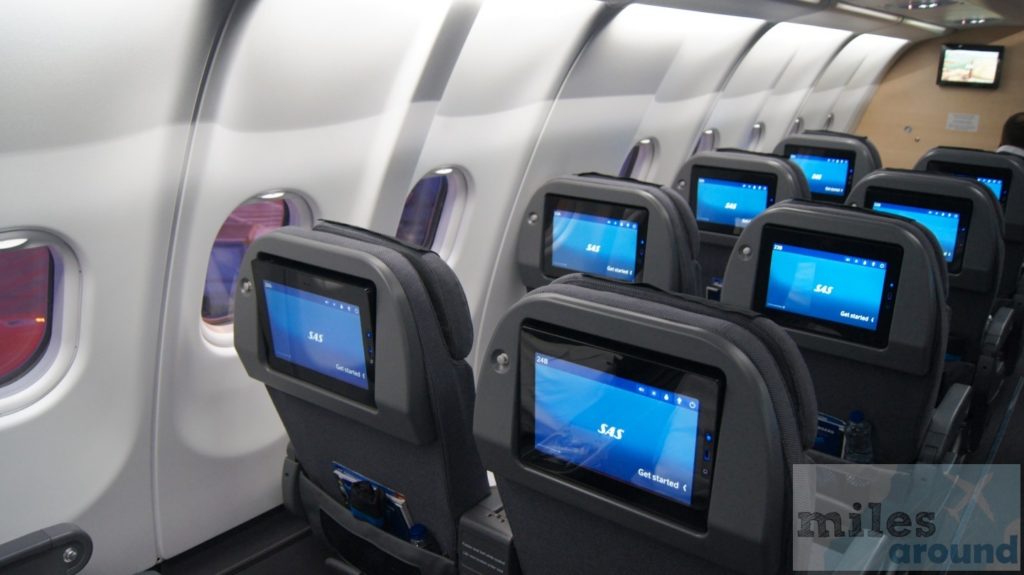 SAS Plus – Inflight Entertainment
Ganz toll ist das neue Inflight Entertainment. Die Bildschirme haben endlich eine gute HD-Auflösung (30 cm Bildschirmdiagonale) und auch der Touchscreen funktioniert präzise und zuverlässig. An unserem Platz in Reihe 24 (24A & B) lagen Ohrhörer und ein Amenity Kit bereit. Man kann aber auch seine eigenen Kopfhörer mitbringen, da der Sitz über eine einfache Klinkenbuchse verfügt. Das Entertainment-System bietet verschiedene Filme (Neue und Klassiker wie "Alien"), einzelne Episoden von Serien, Musik, eine detaillierte Flight Map und zwei Außenkameras. Auch das Essens- und Getränkeangebot kann im Display angeschaut werden.
SAS Plus - Free WiFi on board
Punctually at 3:30 p.m. the boarding of the plane, which was maybe 60% full, was completed and we set back. The taxiway to the runway was very short and the captain took off. After the seat belt signs went out, the WLAN on board was also switched on. This is free for SAS Business and SAS Plus passengers. So I was able to surf the internet for the first time on FL36 and stay in touch with those at home. Already awesome! Sure, the speed isn't great and there are always disconnections, but what can you expect at an altitude of 10 kilometers and when flying over Greenland.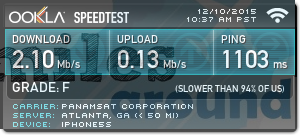 Eating and drinking in SAS Plus
First, a bag of salted nuts and various drinks (long drinks, wine, beer, soft drinks and water) were handed out. For the main course we could choose between grilled chicken fillet on grilled vegetables with noodles or cod on rice. We both took the fowl. In addition there was a salad consisting of lots of mayonnaise with crabs and fish. An hour before arriving in Chicago, a small snack (green salad with three slices of ham and potato salad) was served. In general, the service on board was really great.
Arrival Chicago O'Hare
When approaching Chicago O'Hare we had a great view of the sea of ​​lights downtown. The anticipation of the Advent season in the "Windy City" increased!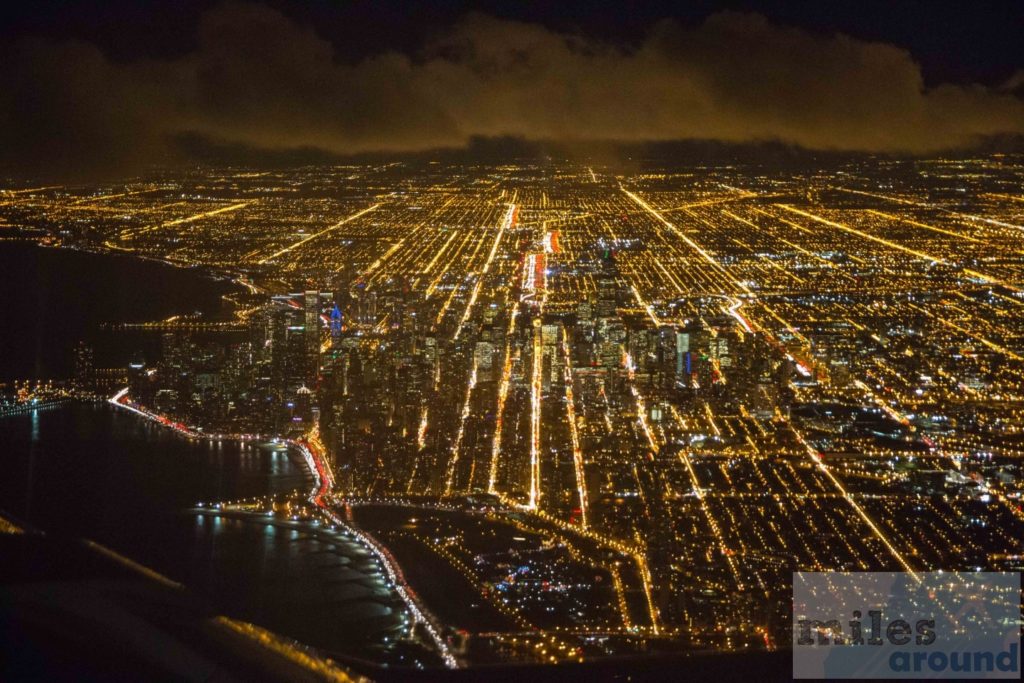 After our arrival at Terminal 5, we were quickly off the plane thanks to row 24 and hurried to immigration. We had often had bad experiences with long waiting times in Chicago and the various desert carriers at the gates next to us didn't promise anything good.
Automated Passport Control (APC) for ESTA travelers
Automatic Immigration (APC) was previously only available to US citizens and Global Entry travelers. Since 2014, ESTA travelers have also been able to complete the formalities at a machine. The user interface can be switched to German and thus saves the possible communication problems with the officials. The formalities are completed quite quickly: you scan your passport, answer questions about entry or customs formalities, have your right hand fingerprinted and take a passport photo with the built-in camera. At the end you get a small piece of paper printed out on thermal paper. With this I had to go to an official, who only asked a few questions about the reason for my trip. It is no longer necessary to fill out the white-and-blue customs declaration "CBP Form 6059B" on the plane.
After collecting our bags from the baggage carousel, we proceeded through customs and out to the waiting point for the hotel shuttles. Lots of buses passed, just never one from our hotel. After 30 minutes of waiting, a stewardess from United helped us out with her iPhone so that we could call our hotel, the Hilton Garden Inn Chicago O'Hare, could report. On the phone I found out that Terminal 5 is only approached on request. We would have liked to have had this information up front. After another 20 minutes the shuttle finally arrived and we were taken to the hotel.
More information about SAS Scandinavian Airlines
Did you enjoy the post? Then share it on social networks. With this you support our work. Have you already flown in the SAS Plus in the Airbus A330-300? Then I look forward to your opinion in the comments.
Evaluation of the SAS Plus in the Airbus A330-300
Seat

Entertainment

Cleanliness

Service

Beverages

Essen

Price-performance
Summary
With the new cabin and the introduction of Premium Economy on long-haul routes, SAS has a very good product. The seat is very comfortable and the service is excellent. If you decide to upgrade via Optiontown or directly at check-in, the price/performance ratio is right.