As a summary of my first First class flight with Emirates from Bangkok to Hong Kong, I had written that I really wanted to test the First Class experience on a longer route. The time had finally come! In the following article you can find out what a Lufthansa First Class experience is in a Boeing 747-400.
How much does a Lufthansa First Class flight cost?
Begonnen hatte alles Ende August. Auf meinem Konto bei Lufthansa Miles & More hatte ich einige Meilen gesammelt und unsere Hochzeit im Mai nahmen wir somit als Anlass, unsere Reise in First Class zu beginnen. Laut der Onlinesuche waren nur interessante Prämienflüge nach Hong Kong oder Vancouver für unseren Reisezeitraum verfügbar. Nach kurzer Überlegung fiel die Entscheidung mal wieder auf die USA bzw. Kanada. Der Buchungsvorgang über das Service Center von Miles & More war unkompliziert. Zehn Minuten später, 230.000 Meilen und ca. 1000 EUR ärmer, waren wir stolze Besitzer von First Class Tickets. Zurück sollte es dann zwei Wochen später von Los Angeles gehen. Hier fehlten mir allerdings ein paar Meilen für die First bzw. in der Business Class waren leider keine Award-Plätze mehr verfügbar. Aus diesem Grund blieb uns nur die Economy. Als kleine Notiz am Rande: Hätten wir den Hinflug zum gleichen Zeitraum bar bezahlt, wären knapp 14.000 EUR fällig geworden. Eine stolze Summe!
Lufthansa First Class – Check-in at Leipzig Airport
Our travel day started early. We had to get up at 4 a.m. The car was already packed and shortly after 4:45 a.m. we set off. Through Saturday night we drove the few kilometers from Halle (Saale) to Leipzig Airport. The streets were clear except for the heavy fog. We parked the car in a fenced parking lot five minutes from the airport, where the shuttle bus was already waiting for us and after a short time we were at the first class check-in counter. Here we waited, not for the first time, almost longer than the guests in the economy queue. Great thing!
Lufthansa Business Lounge at Leipzig Airport
After the security check, we quickly went to the empty lounge for a coffee. There is not much to report in Leipzig. But we don't want to complain, at least the airport has one!
Lufthansa Business Class Flight LH157 to Frankfurt
The Boeing 737-500 (registration D-ABIL "Memmingen", first flight February 19, 1991) for our flight LH157 was fully booked. Shortly after the start there was a small cold breakfast with rolls and cold cuts. Nothing special, but we preferred to eat at the lounge in Frankfurt anyway.
The approach to Frankfurt and taxiing to the apron position took almost as long as the actual cruising flight of 25 minutes. Upon disembarking, we were greeted by a young man with a First Class sign and escorted to a waiting Mercedes Benz Vito. This was very comfortable with individual leather seats in the rear and other extras. It also seemed to be the latest model from Mercedes.
Lufthansa First Class Lounge at Frankfurt Airport
We were driven to Terminal 1 B and the driver explained the short way to the First Class Lounge, which is opposite Gate B22.
Just 10 minutes after leaving the plane we were in the very nice large lounge. This was quite full. But you don't really notice that much, because there are enough separate seating areas. We took a seat in the restaurant area. After all, it would be time for a delicious breakfast. I ordered a glass of champagne and a coffee from the waiter to harmonize the day. For breakfast, in addition to the buffet, we could also have something à la carte brought to us from the kitchen. But for us the delicacies at the buffet were sufficient.
After a hearty breakfast, we took a seat in one of the comfortable leather armchairs and watched the hustle and bustle at the gates. After the brief rest, I grabbed my camera and set out to explore the lounge. Starting in the cigar lounge, where great classical music was playing, we went to the bar and from there to the spa area. Here I got myself two famous ones Lufthansa* Quietscheentchen.
Lufthansa First Class Terminal Frankfurt
Since we wanted to stretch our legs a little before our long-haul flight and of course to get the most out of our flight experience, we made our way to the Lufthansa First Class Terminal at around 09:45 a.m. So we had to "enter" Germany again for a short time and then down the hidden corridors from Frankfurt to the arrival exit A1. From there it is only a few meters on foot, past the taxis, to the terminal.
The elevator then went up one floor. In the foyer we were immediately greeted by our personal attendant, and after handing over the tickets and passports, she guided us through the security check. This is really very pleasant. The officers are all dressed in suits and are incredibly friendly. Since no other passenger was present apart from us, it went incredibly quickly without waiting.
Our supervisor then gave us a brief tour of the terminal, which was a bit smaller than I had imagined. Afterwards she disappeared into her office with our tickets. The passports were immediately sent by pneumatic tube to the Federal Border Police on the floor below.
I was immediately fascinated by the great selection of different cola bottles. There were really exotic variants here. For refreshment I took a Cola Rebell from Hamburg. Their lemony taste and light color were very untypical for a cola.
After it was also a bit fuller here in the terminal, we changed positions and went to the back part by the workstations. It was much quieter here. When our supervisor came back with our tickets, I reserved an appointment for a shower with her. This was also available relatively quickly and I was able to freshen up again. On the way to the shower, she told me that the terminal will soon be celebrating its 10th anniversary and will therefore undergo a lot of renovations. For this reason there was also a special construction worker rubber ducky.
After the shower, our personal assistant visited us again. She must have noticed that we had only recently married and this is our honeymoon. She surprised us with an incredibly great present, a rose and a rubber ducky for the newlyweds. Brilliant! We've had enough ducklings for now.
For a small lunch we went back to the restaurant area. There is also a buffet and an à la carte menu. Christin didn't have much of an appetite, but I ordered a juicy beef medallion (medium) with rocket and parmesan. Very tasty and the meat super juicy! The waiter recommended me a dry Spanish red wine (vintage 2005). Perfect!
More impressions of the Lufthansa First Class Terminal Frankfurt
Lufthansa Fist Class – by car to the plane
Shortly before 1 p.m. the personal assistant came and accompanied us one floor down. Here we would only have to pick up our passports from the federal police, which were brought down here when we arrived at the terminal. So there was no further waiting time. We said goodbye, got some useful travel tips for Vancouver, and got into our car for the plane. Since there were three other guests driving with us, there was unfortunately again the Mercedes Vito. We would have liked to drive a Porsche to the plane. Pity!
Across the apron, past the many aircraft, we went to Gate C15, where LH493 was handled today. We parked below the gangway and took the elevator up. The waiting area was already completely empty and all passengers boarded. So everyone was just waiting for us five First Class guests.
Lufthansa First Class flight in the Boeing 747-400 to Vancouver (LH493)
After boarding the Boeing 747-400 (D-ABVH "Düsseldorf", first flight on March 14, 1991), we immediately went up the stairs to the right to the upper floor. Our driver took us to the seat and then said goodbye.
First impression of the Lufthansa First Class seat
Lufthansa has replaced the old blue First Class seats on the upper floor with new brown seats with reclining function. Since they have also minimized the number of seats to 8, every guest now has the advantage of having a comfortable bed next to a seat. The bed is by the windows, each passenger has four available. The view is simply terrific while resting in bed. The only negative is perhaps the on-board entertainment. Here Lufthansa still has a 4:3 monitor without HD resolution. But there are Active Nosie Canceling headphones from Bose. Unfortunately, you can't listen to music and watch the air show at the same time.
Lufthansa First Class – Welcome Drink
We were greeted with a glass of Pommery Brut Apanage Prestige Champagne. There was also a glass of water and a bowl of macadamia nuts. Here, too, since we still had the present from the terminal in our hands, the flight attendants congratulated us on the wedding.
The start was delayed by almost 45 minutes due to minor technical problems. We used the delay to take a few photos. The flight attendant came by with a Polaroid camera and took two souvenir photos, which were presented to us in a small cardboard cutout. At around 2:06 p.m. we got our pushback from the terminal and taxied to the runway. The captain gave a flight time of 9:30 hours.
After the start, the purser came to us, greeted us personally and gave a few tips for Vancouver. He also distributed the menu.
Lufthansa First Class – Service: Four-course meal on board
Shortly after flying over the North Sea coast, the greeting came from the kitchen: trout bites with passion fruit and mango. Delicious! I probably wouldn't eat this on the ground because of the intense taste.
The service started with setting the table and warm bread with olive oil. The butter, in which First Class was embossed, was really great. Also cute, the little pepper and salt mills. I would like to have that for home too.
It continued with the caviar service. This was served with traditional side dishes (lemon, onions, egg and a Beluga Vodka).
starter
Today's menu was put together by Mr. Christian Eckhard, head chef of the two-star restaurant Villa Rothschild in Königstein im Taunus. We could choose from the following variation of starters:
Riesengarnelen "Creolischer Art" with Krustentier-Chilivinaigrette
Pink roasted saddle of veal with escabeche vegetables and iced radish
Belgian chicory confit with ginger, lemongrass and honey curry emulsion
Colorful lettuce with zucchini, carrots, dried tomato strips and chanterelles, with pumpkin seed or passion fruit dressing.
Christin only accepted the chicory. I had a composition of king prawns, chicory and saddle of veal. The king prawns were my absolute favourite. In addition, a German Riesling (Scharzhofberger GG, Reichsgraf von Kesselstatt, vintage 2012).
main course
For the main course there was a choice between:
Rack of lamb with spicy bean cassoulet and Parisian potatoes,
Turbot in bouliarabais broth with saffron vegetables and risoni noodles,
Guinea fowl in sauce riche with pea mousseline, finger carrots and king oyster mushrooms
glazed pumpkin gnocchi in our own stock flavored with Indian spice mix "vadouvan".
Christin asked for the gnocchi. I chose the guinea fowl. Plus a 2009 Barcolobo Crianza (Castilla y Leon, finca la Rinconad, Spain). A suitable fruity drop for guinea fowl. We both enjoyed the main courses. Christin was really enthusiastic about the pumpkin gnocchi.
Dessert
For dessert there was either a variety of different cheeses or lukewarm Hessian oven slip with marinated dried fruit and porcini mushrooms or Gâteau of dark chocolate with compote of exotic fruits and mango-passion fruit sorbet. We both chose the chocolate cake. I also drank a 2005 dessert wine (Bonnezeaux, Château de Festes, France). I don't really like sweet wine, but the aromas of quince, honey and exotic fruits went well with the dessert.
At the end of the four-course menu, I had a double espresso brought to me, which came from a Nespresso machine, and I was busy with the inflight entertainment.
Lufthansa First Class – sleeping comfort in your own bed
Shortly before Greenland we slipped into our Van Laak pajamas and made ourselves comfortable in the bed next to our seats. It was already 5:30 p.m. German time, so a nap was in order. I could really relax on the right mattress. It was comfortable and had just the right firmness. It was just a little warm for me, which was partly because I was on the sunny side of the plane. The alcohol consumed could also have played a role.
In the meantime we still enjoyed the fantastic view of the eternal snow and glacier world of Greenland. We couldn't stare out of our windows long enough. It all looks so untouched, as if no one had ever been there before. The view is so incredibly clear that you think you're not flying that high.
Lufthansa First Class – second service before landing
About 1:30 hours before landing, dinner was served again. After our chef Christian Eckhardt spoiled us with a creative lunch menu, he now "invited" us to the finest specialties from Asia. From the serving trolley with the appetizers that passed by, we could choose from a selection of sweet and sour pork with roasted sesame, spring onions and chili, various sushi with Japanese ginger and wasabi, Thai vegetable salad, marinated wakame seaweed or mango ginger chuteny. I also ordered a warm main course with strips of beef fillet in red Thai curry sauce and stir-fried vegetables with fragrant rice. But now I was definitely full.
Brush your teeth quickly before landing and slip back into street clothes. We were given a bottle of water for the drive to the hotel. During a short conversation with the purser, we thanked him again for the great service. At this point, once again, a heartfelt thank you to our two flight attendants, who looked after us so touchingly.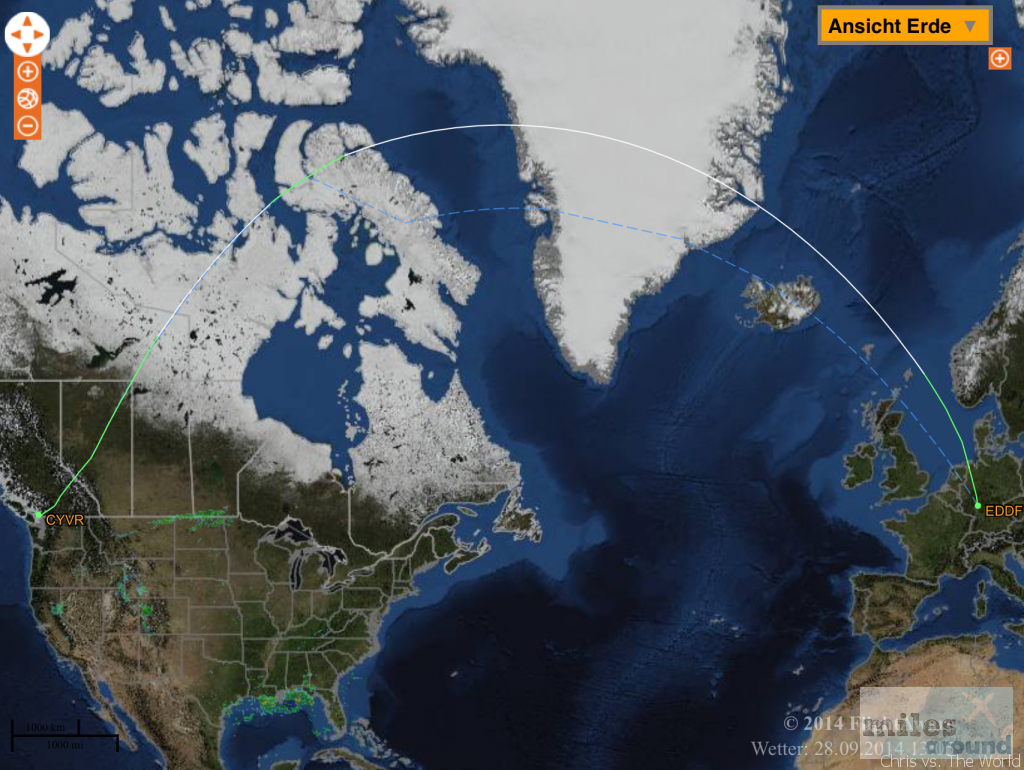 As a small souvenir for the first days in the dreary hotel room, we decided to take the rose with us. However, this turned out to be a stupid idea, since we had of course not noted this on the customs paper. After a few red lines on our slip of paper, everything went well in the end. At the end of the day, however, the First Class experience lost valuable points because we had to wait for what felt like an eternity for our luggage. That could have worked out better, after all the HONs present got their luggage first.
We took the self-propelled train to the Yaletown Roundhouse station. We walked the short way to our hotel "The Burrard". The hotel or actually motel surprised with a great style. The rooms were clean and big enough.
After a shower we explored the city in the best weather. The area around Robson Square was very lively and had a lot to offer. Since the hunger slowly came through again and we wanted to continue our tradition of our last vacation, we visited Five Guys for dinner. After a burger "all the way" we were full and went back to the hotel.
More information about Lufthansa
Did you enjoy the post? Then share it on social networks. With this you support our work. Have you already traveled in Lufthansa First Class on the Boeing 747-400? Then I look forward to your opinion in the comments.
Rating of Lufthansa First Class in the Boeing 747-400
Seat

Service

Cleanliness

Beverages

Essen

Inflight Entertainment

Price-performance
Summary
Lufthansa First Class is a very good luxury product. The combination of a warm and professional service, the tasty food and the great seat make a flight a great experience.