After a long flight break due to the corona pandemic, we flew with Aegean Business Class in the Airbus A321-200 via Athens to Crete in autumn 2021. I was curious how Aegean Airline would operate their business class service during the Corona Pandemic.
booking
We have the flight from Berlin via Athens to Heraklion during a promotional period in May 2021 de.aegeanair.com gebucht. Als Aegean Miles&Bonus Gold Status Kunde erhalte ich jedes Jahr vier Gutscheine für ein Upgrade von der Economy auf die Business Class. Diese konnte ich für uns drei unkompliziert über die englischsprachige Hotline einlösen. Ursprünglich standen wir auf der Warteliste, aber etwa einen Monat vor dem Flug erhielten wir die Bestätigung für das Upgrade.
Check-in at Berlin-Brandenburg Airport
On Thursday morning we drove to Berlin-Brandenburg Airport by car. Thanks to previous reservation (official page) the car park directly at the airport (car park P8) was only slightly more expensive than various external providers.
Since autumn holidays were just around the corner in some federal states, we were very worried that there would be chaos in the departure area. Luckily our fears were unfounded and we didn't have to queue at the Aegean Business Class check-in counter. In addition to the personal data, the vaccination status and the completed Passenger Locator Form (PLF) were also checked. The PLF document must be submitted before entering Greece online fill out.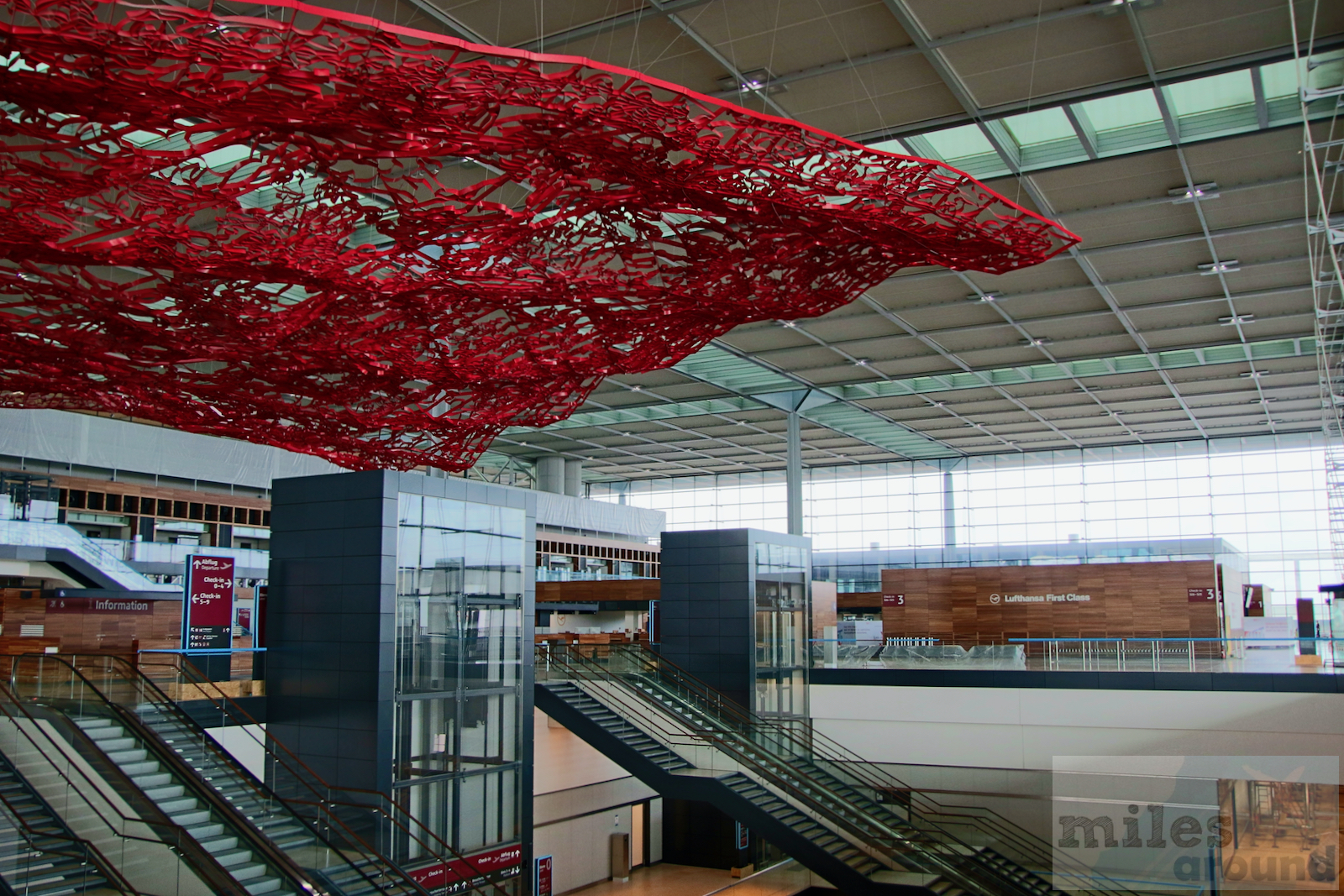 Only the queues at the security checkpoints were long. Unfortunately, although we had the corresponding imprint on the boarding pass, the Fast Track did not work. One of the countless technical problems at BER may have been responsible for this.
Boarding flight A3 821 to Athens
After a short visit to the Lufthansa Business and Senator Lounge, we made our way to our departure gate A20. Unfortunately, this was in a completely different direction than the lounge and meant a 10-minute walk for us.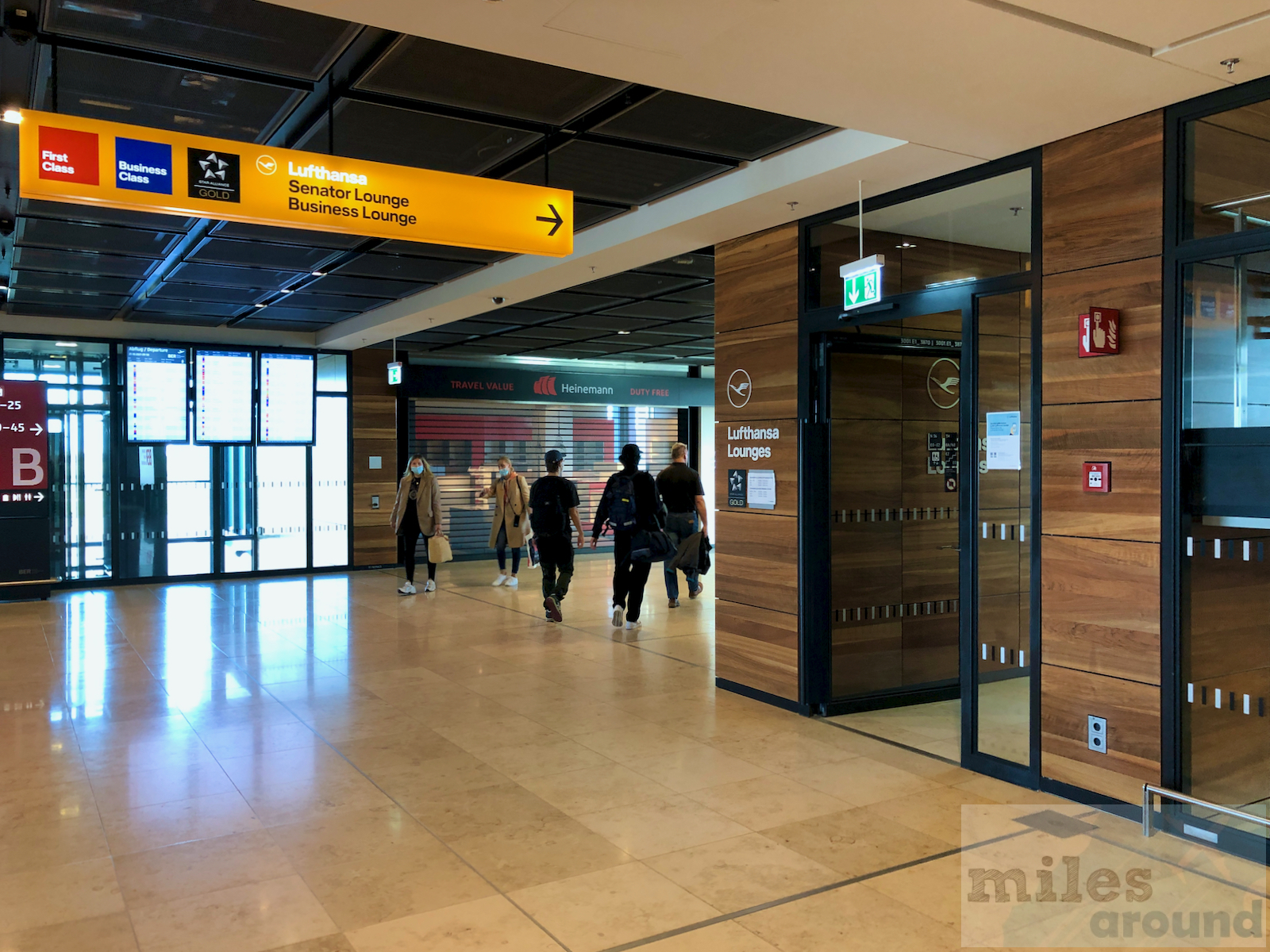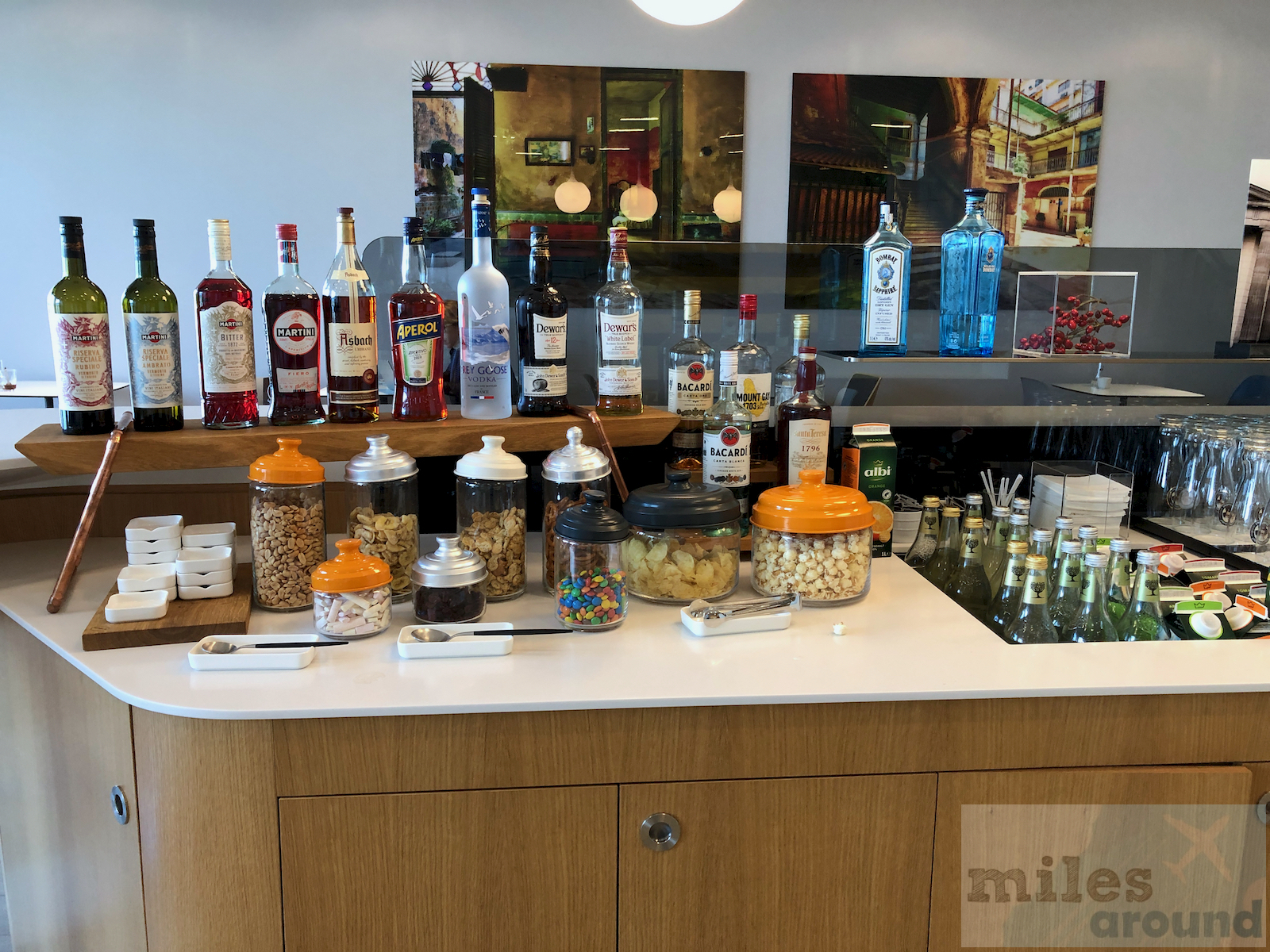 It was announced that boarding would be carried out in groups. But when the boarding process started, everything was simply missed and the boarding was wildly mixed up. However, only a few passengers were booked on the flight. While Business Class was 80% full, Economy Class was only 40% full. So the boarding went quickly and also with the appropriate distance.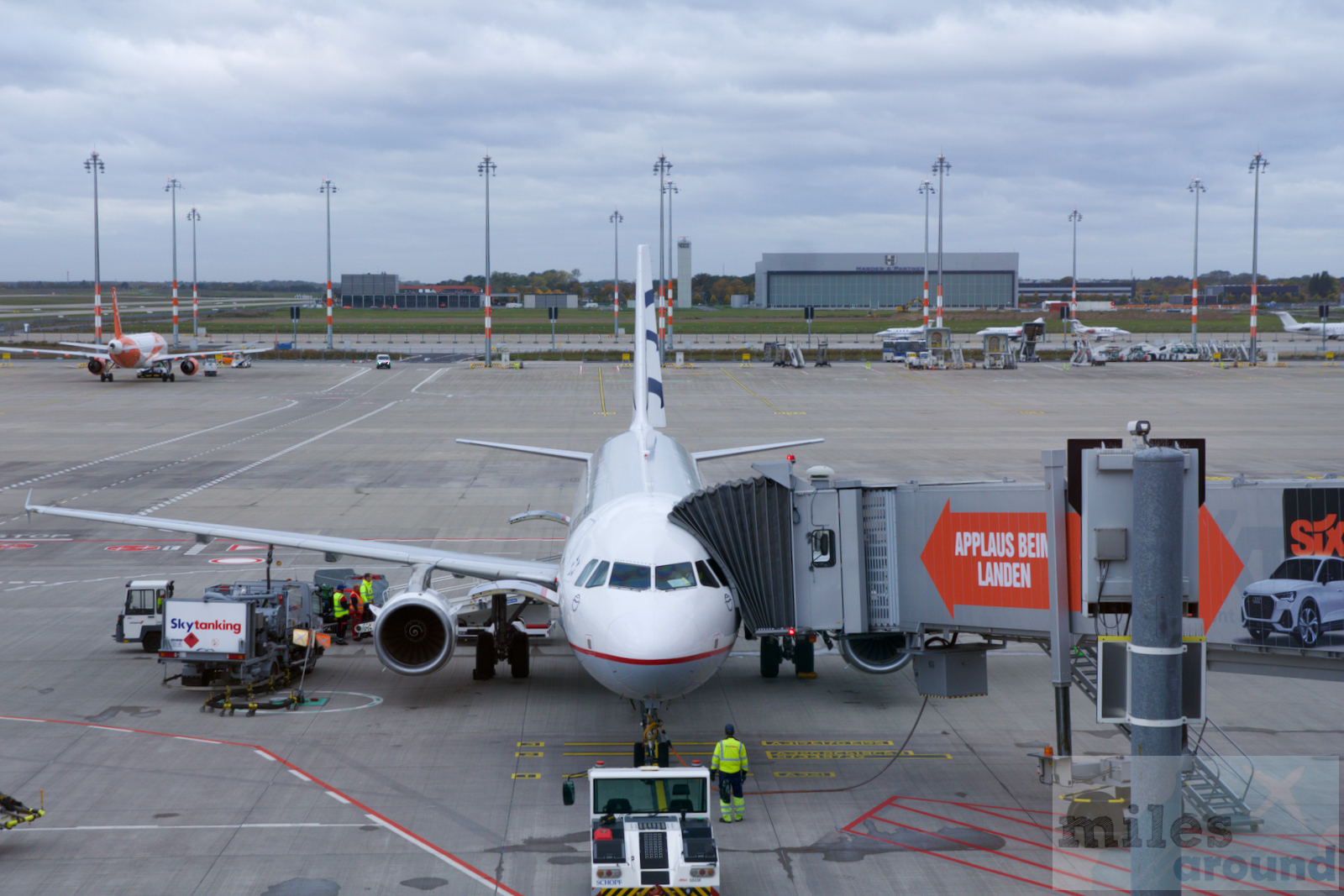 Aegean Business Class cabin in the Airbus A321
As with most intra-European flights, Aegean's Business Class on the Airbus A321-200 consists of the same cabin as Economy Class. The only difference is that with three seats per side, the middle seat is always empty. A small table is hung here instead. Aegean has plenty of legroom, and not just in the first row.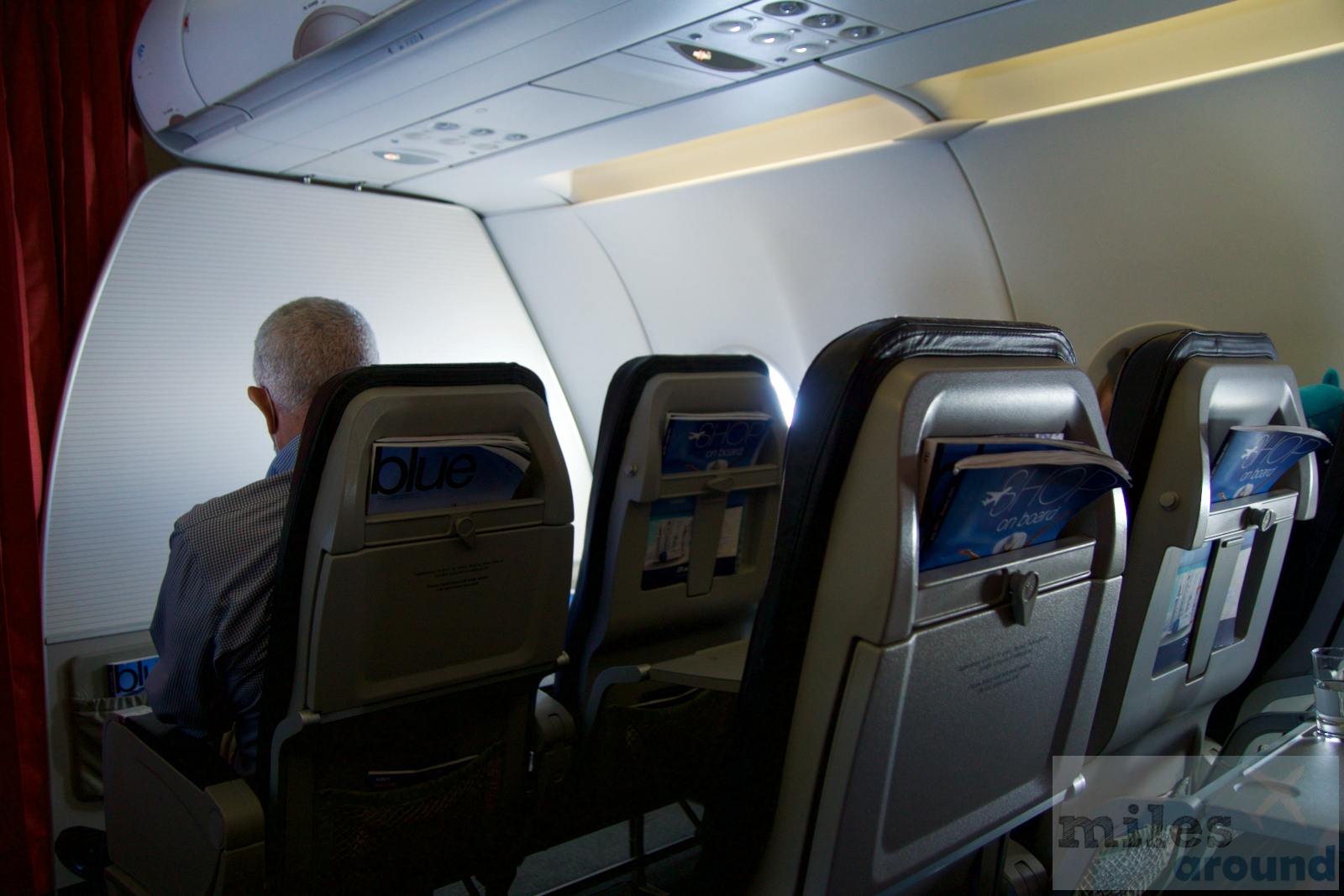 Service
Immediately after boarding, we were handed the menu cards. There was no welcome drink or snack. However, there was a children's surprise for our son, consisting of a coloring book, colored pencils and a small flight log book.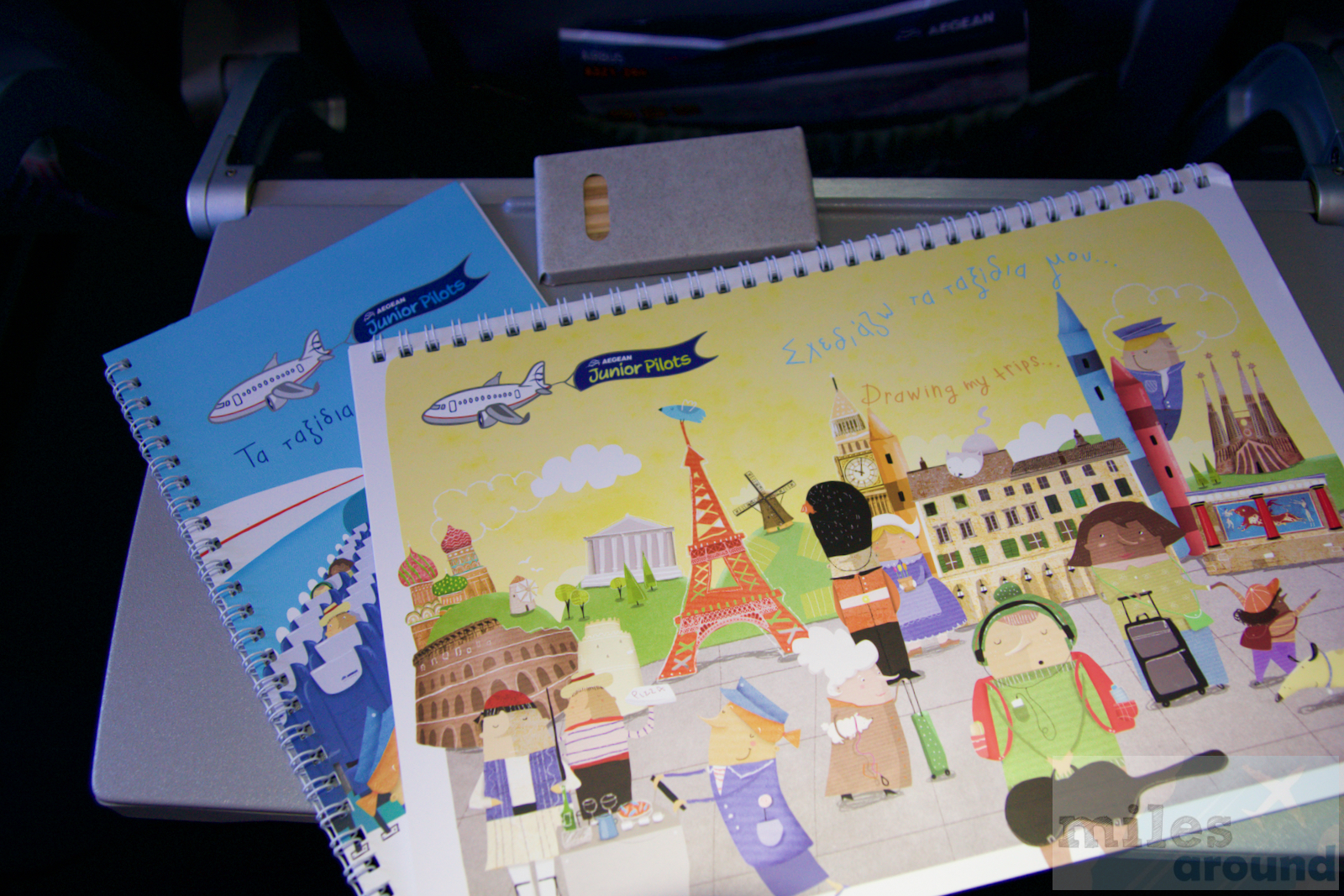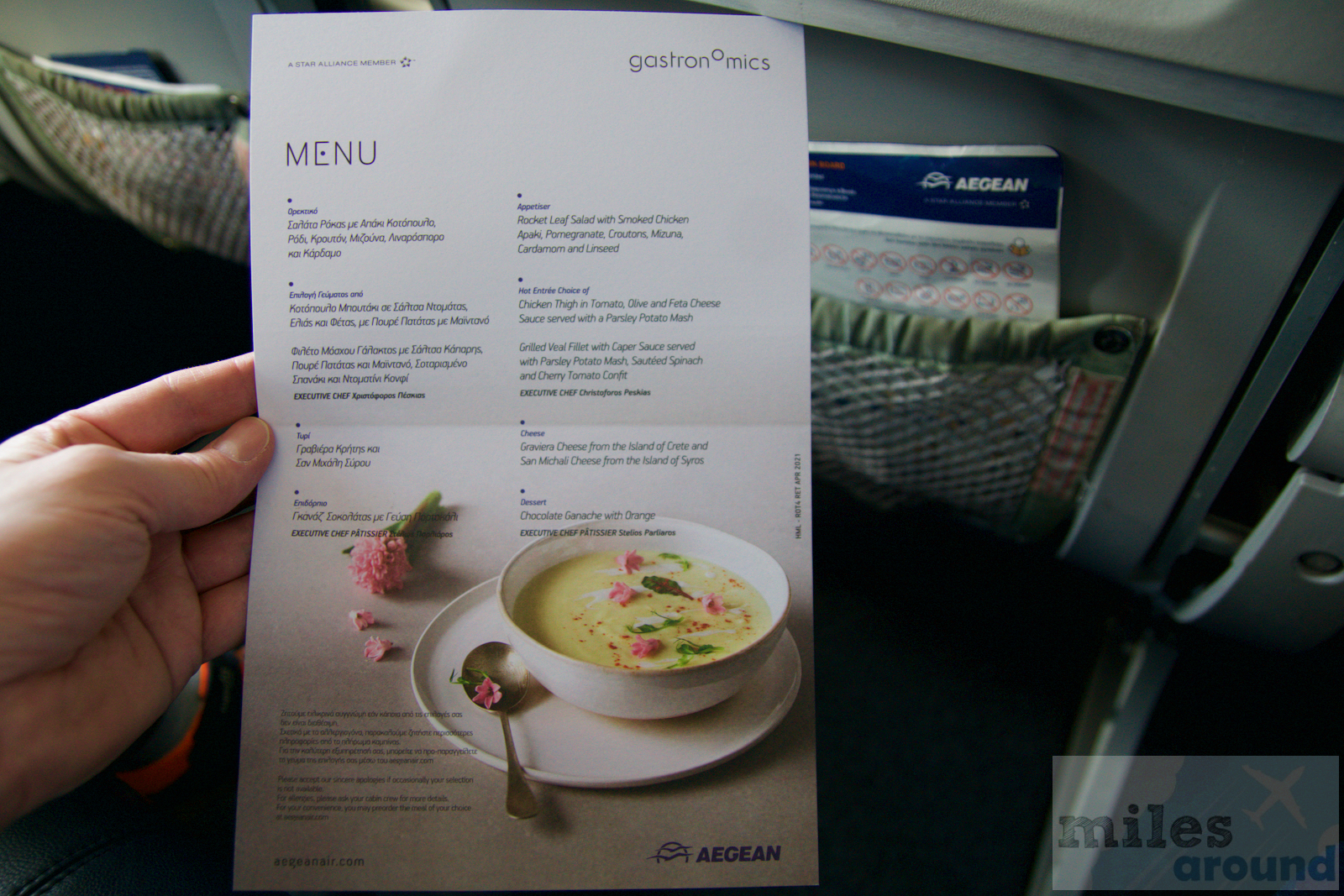 Service began shortly after takeoff. There were two hot dishes to choose from: chicken thighs in a tomato, olive, and feta cheese sauce with parsley mashed potatoes, or grilled veal tenderloin with a caper sauce, served with parsley mashed potatoes, sautéed spinach, and cherry tomato confit. There was also a rocket salad with smoked chicken, apaki, pomegranate, mizuna, cardamom and flaxseed as a starter. Dessert consisted of a choice of cheeses (Graviera from Crete island and San Michali from Syros island) and a chocolate ganache with orange.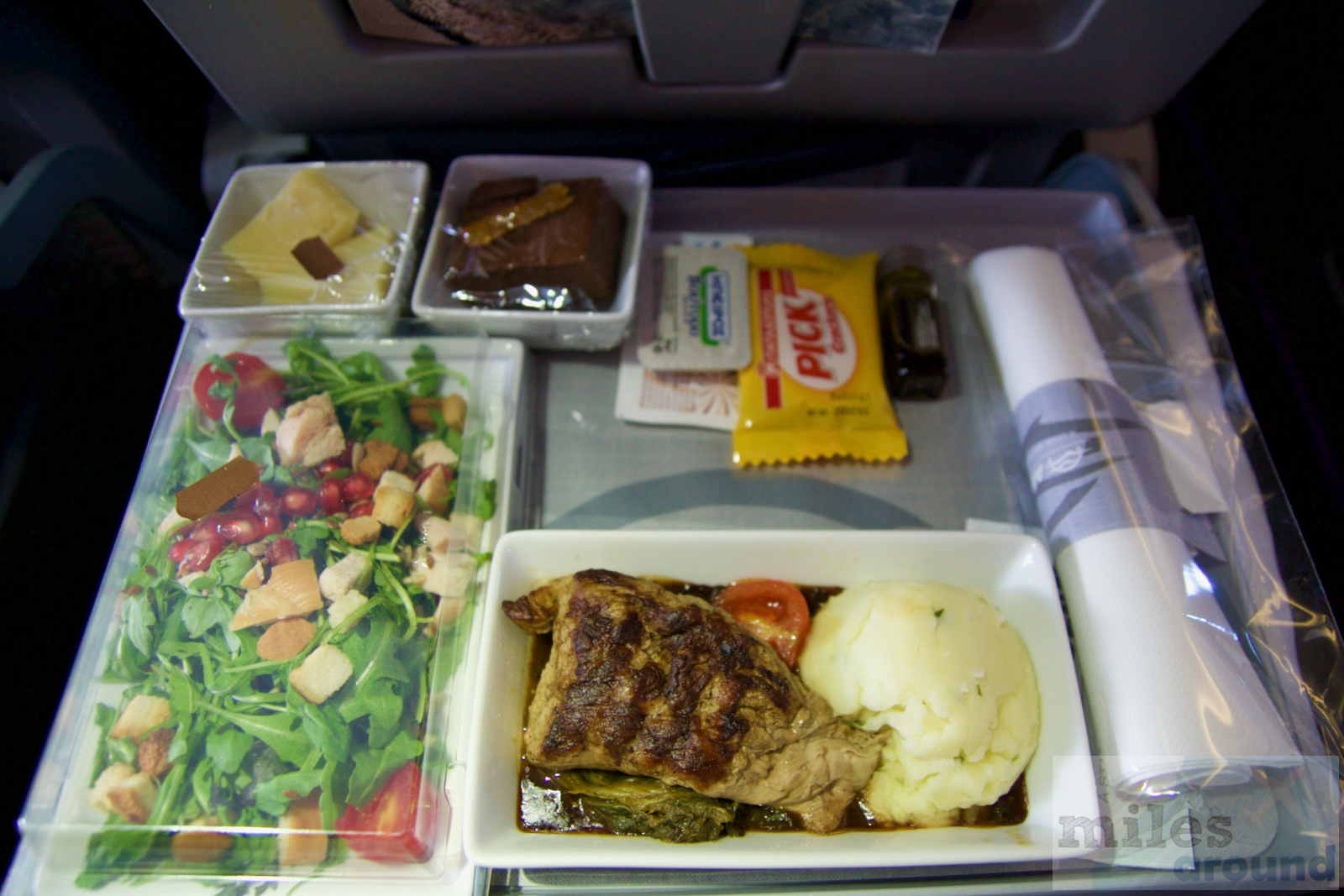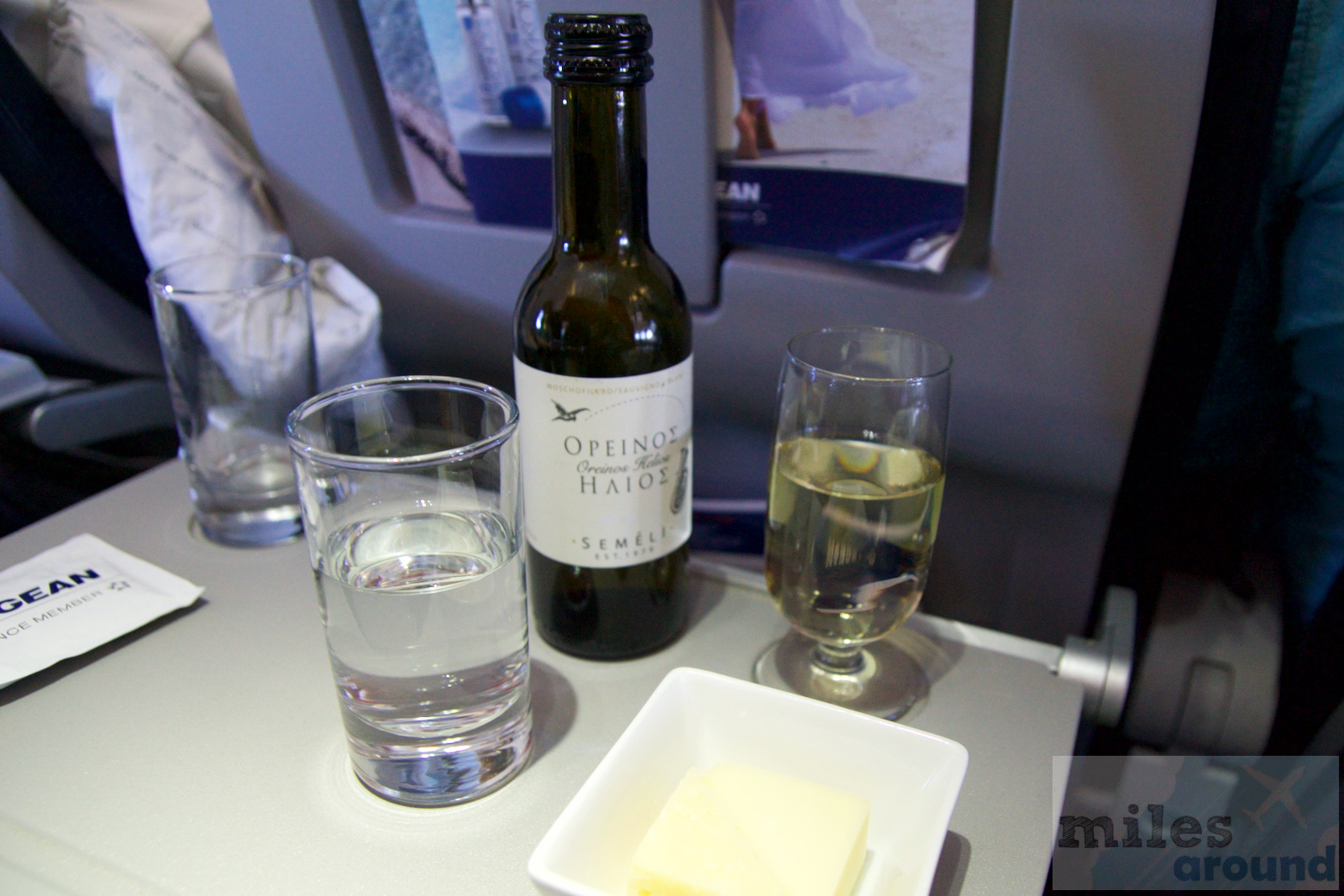 For our son there was, as we ordered in advance, an extra children's meal. This consisted of alphabet pasta with Bolognese sauce, a Greek salad and vanilla cream.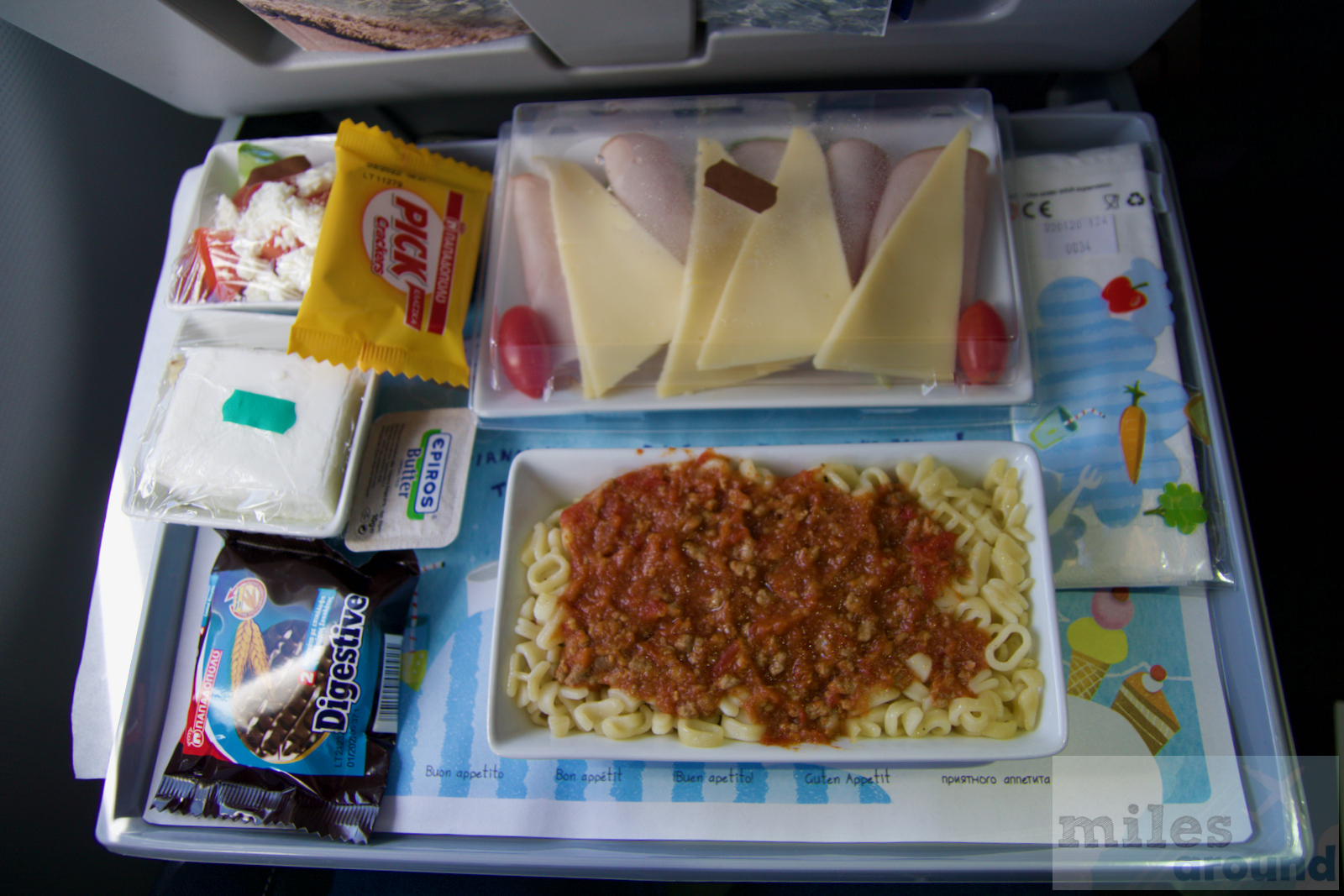 On the positive side, although we were sitting in the last row in Business Class, we still had the choice between the two hot meals. If you want to be on the safe side, you can also pre-order your desired meal before the flight via the Aegean app.
The range of drinks was very extensive. Two Greek red and white wines, two types of beer and a variety of spirits and aperitifs were on offer. Of course there were also any soft drinks, coffee specialties and tea.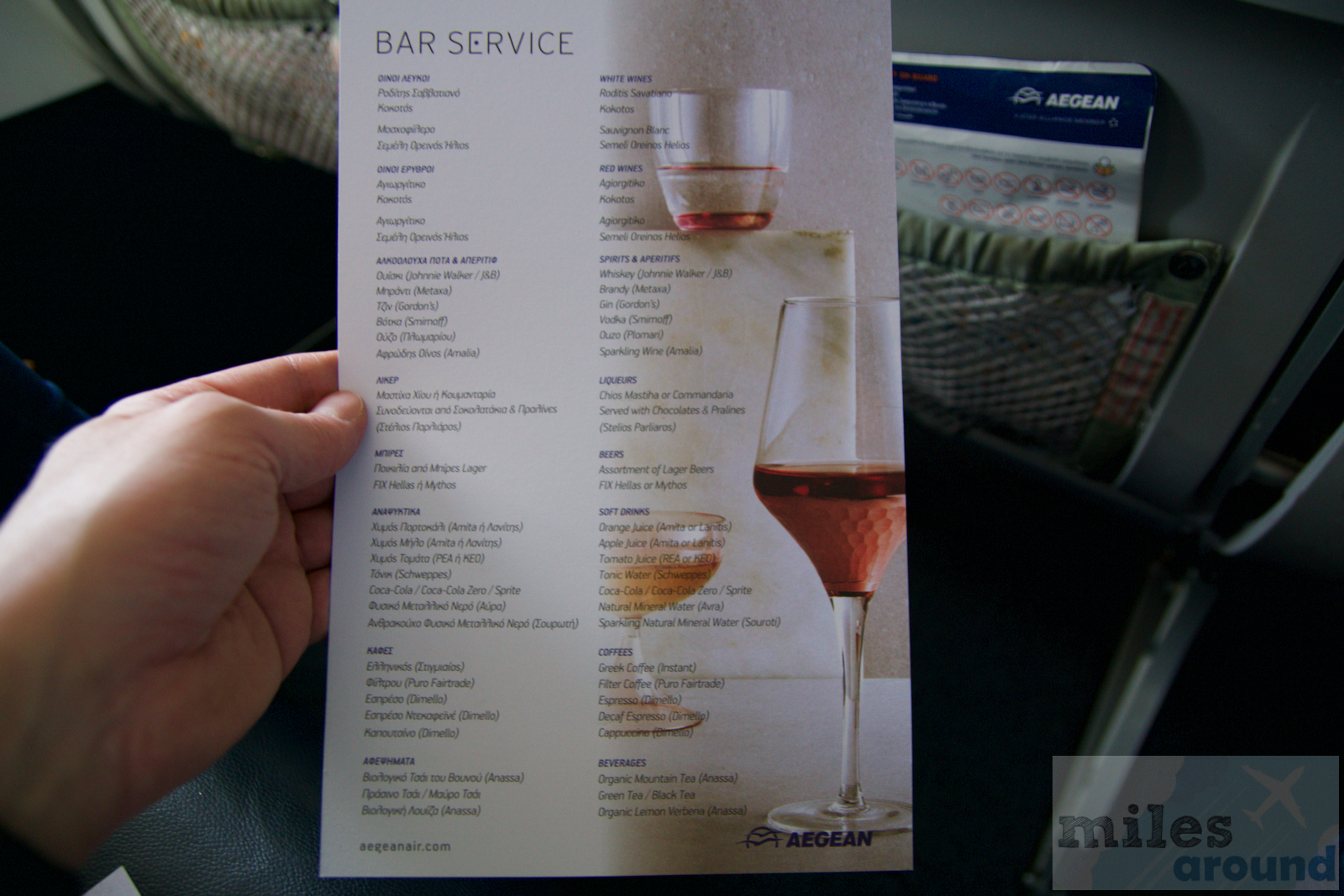 During the flight the service was very courteous. The cabin of the Aegean Business Class in the Airbus A321 was often viewed from the front galley and drinks were offered at all times. So I was able to enjoy a double espresso and a Chios Mastiha after the meal, among other things.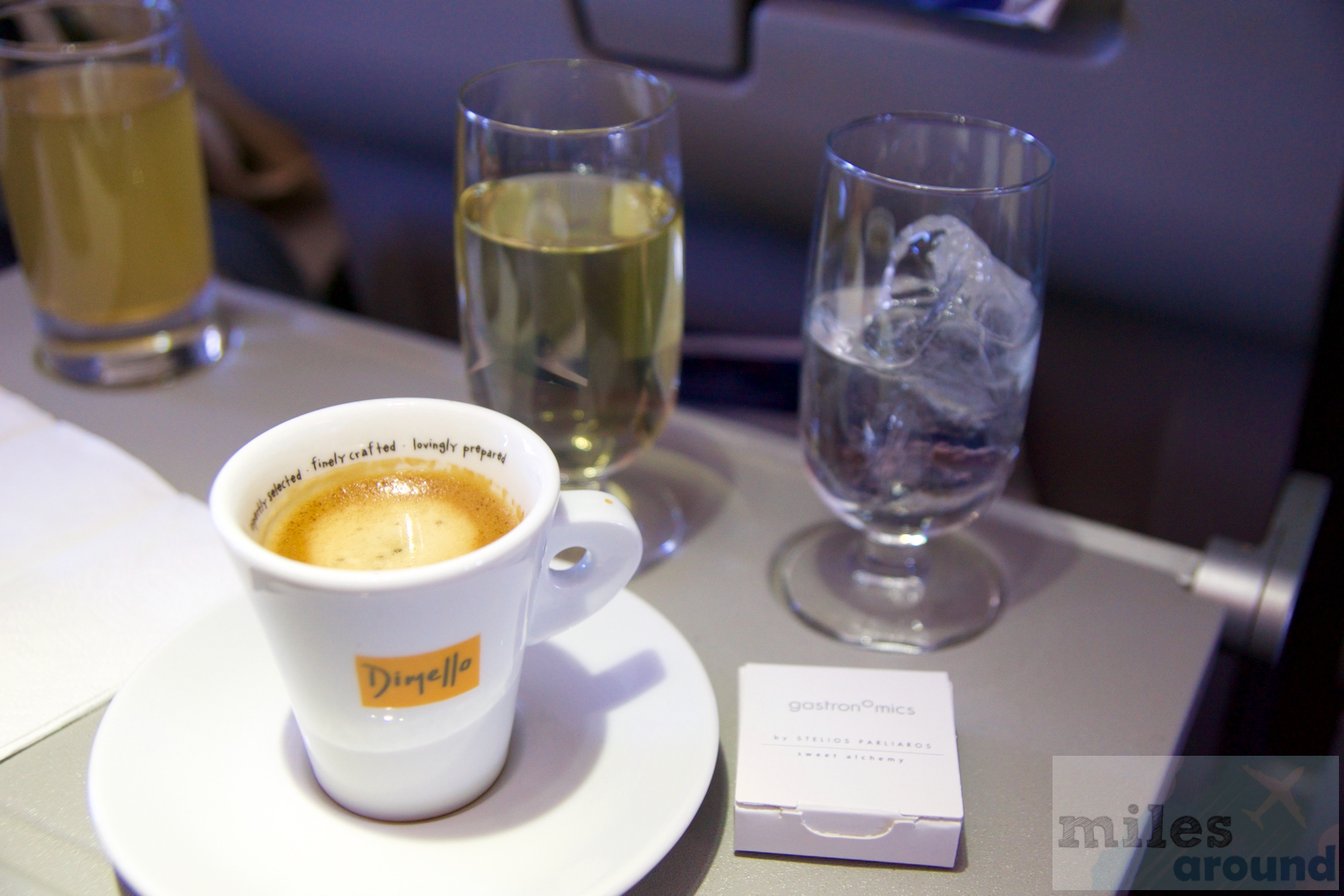 Our Airbus A321 had no onboard entertainment. Aegean usually offers a service called AEGEAN Stream that can be accessed using your own mobile device and WiFi. Here there are games, newspapers and magazines, as well as a map during the flight. On our Business Class flight, the WiFi was either deactivated or the necessary technology was not installed. So we couldn't use the entertainment offer.
Unfortunately, we were assigned an apron position in Athens, so we had to take a bus to the terminal. But there was a dedicated bus for business class passengers, so we got to the terminal quickly and safely.
Did you enjoy the post? Then share it on social networks. With this you support our work. Have you flown Business Class with Aegean Airlines before? Then I look forward to your opinion in thecomments.
Rating of the Aegean Business Class in the Airbus A321
Service

cabin

Entertainment

Cleanliness

Essen

Beverages

Price-performance
Summary
Aegean Airlines has been voted the best European regional airline by its customers for many years. And in our opinion, that is justified. In Business Class, the offer is much better than, for example, with Lufthansa.