Nach dem Check-out im DoubleTree by Hilton Hotel Kuala Lumpur fuhren wir mit der LRT und dem KLIA Express zum internationalen Flughafen. Die Fahrt dauerte insgesamt, mit kurzer Wartezeit am KL Sentral, eine Stunde. Nach Singapur flogen wir mit einer für mich neuen Airline – Jetstar Asia. Nach dem Check-in und der Passkontrolle mussten wir mit dem Shuttle-Zug zum Satelliten-Terminal fahren. Hier werden in Kuala Lumpur die Internationalen Flüge abgefertigt. Die Sicherheitskontrollen finden dabei am Gate, für uns am Gate C31, statt.
Das Boarding verspätete sich ein wenig. Das Flugzeug war von innen schon ziemlich heruntergekommen. So waren die Sitztaschen ausgerissen, die Tische kaputt und die Fenster zerkratzt um nur einige Punkte hier zu erwähnen. Der Sitzabstand ist ähnlich wie bei AirAsia – gering bis gar nicht existent. Die Maschine schien nicht voll zu werden, so konnte der Pilot den Pushback vom Gate pünktlich um 14:35 Uhr durchführen.
Gestartet sind wir von der Bahn 32R in Richtung Osten. Service gab es auf diesem Flug nur gegen Bezahlung. Bei so einer kurzen Entfernung von Kuala Lumpur nach Singapur ist dies auch nicht tragisch. Denn schon um 15:10 Uhr begann der Anflug auf den Flughafen von Singapur. Aufgrund des dichten Verkehrs mussten wir noch einige Warteschleifen drehen. Dabei kamen wir einer anderen Maschine, ich glaube, es war eine KLM, recht nah. Aus dem Fenster konnte ich sehr gut sehen, wie wir schräg unter ihr durchgeflogen waren.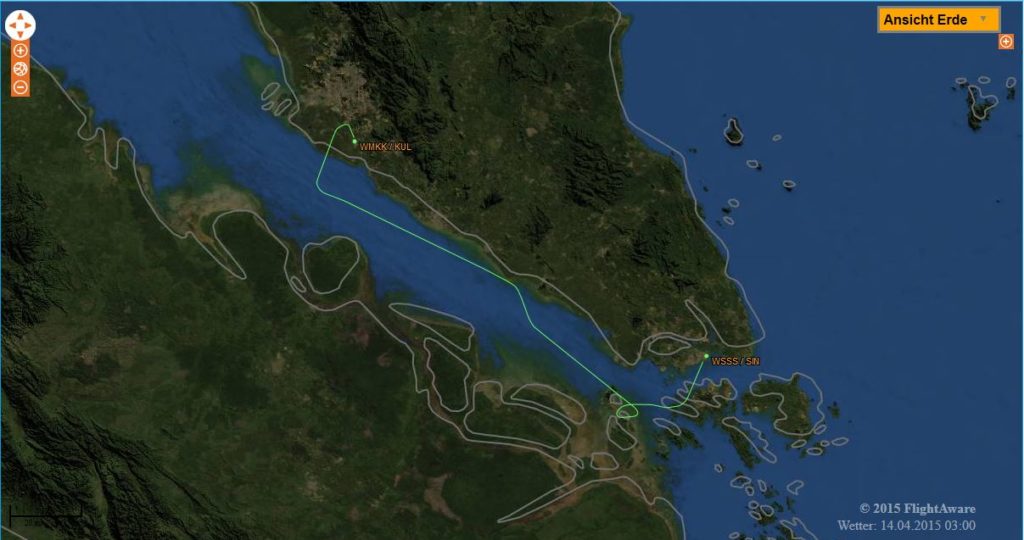 Nach 20 Minuten Anflug setzte der Pilot die Maschine auf. Sechzig Minuten Flugzeit waren somit vorbei und wir kamen an Gate C19 an.
Did you enjoy the post? Then share it on social networks. With this you support our work. Have you already flown in the SAS Go in the Airbus A340-300? Then I look forward to your opinion in the comments.
Seat

Entertainment

Cleanliness

Service

Beverages

Essen

Price-performance
Summary
Nach der Erfahrung werde ich wohl nicht so bald wieder einen Fuß in eine Jetstar Asia Maschine setzen. Die Einrichtung an Bord war selbst für einen "Billigflieger" unterirdisch.