We quite often spend our waiting time in the Lufthansa Senator Lounge A-Gates Frankfurt. The lounge is very busy, especially during the week, so it has never worked to take photos for a review. When we came back from Barcelona on a Saturday evening, we were almost the only guests, so I took the chance to take a closer look around.
Where is the Lufthansa Senator Lounge A-Gates Frankfurt located?
Die Lufthansa Senator Lounge Frankfurt im Abflugbereich A ist nur eine von vielen Lounges am Frankfurter Flughafen. Durch die zentrale Lage im Terminal 1A, unweit des Duty Free und des Gates A50 (Schengen-Bereich), ist sie wahrscheinlich die am meisten frequentierte Lounge am Flughafen.
Who has access to the Lufthansa Senator Lounge A-Gates Frankfurt?
You can access the Lufthansa Senator Lounge A gates at Frankfurt Airport as a Star Alliance Gold member or as a Senator or First Class passenger of a Star Alliance airline. In both cases, you can of course also invite a guest to the lounge, provided they have a valid Star Alliance boarding pass.
How is the Lufthansa Senator Lounge A-Gates Frankfurt equipped?
After the admission control and the service counter, we first crossed the buffet area. This is followed by the large seating area of ​​the Senator Lounge. The front area consists of a variety of tables and chairs. To the right are phone booths, magazine racks, and a separate workspace with multiple desks, two PCs, and a printer. There is also a darkened rest area, the entrance to which is to the left of the magazine rack, and a smoking room.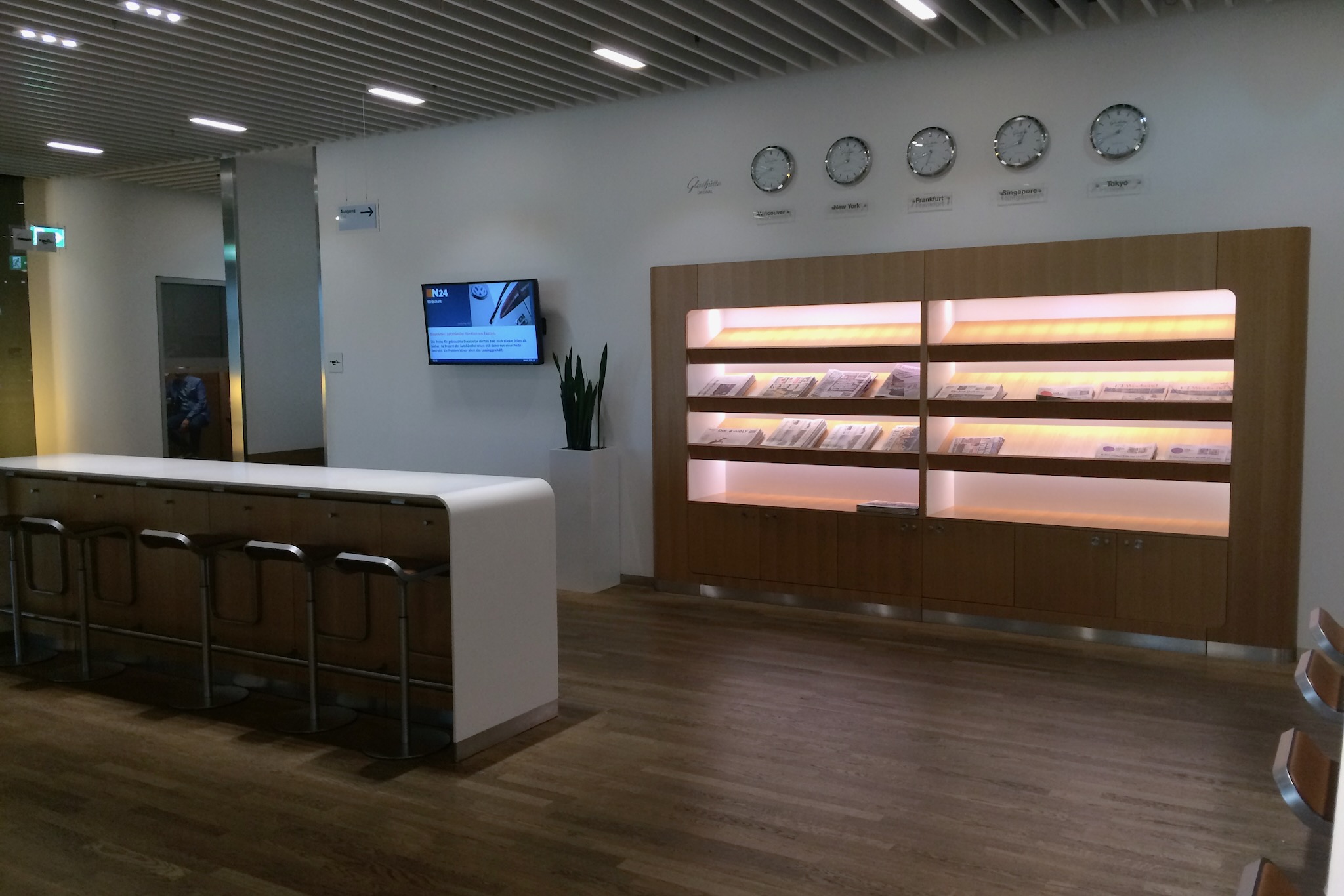 The rest of the lounge has the leather armchairs typical of Lufthansa in light and dark brown, high tables with bar stools and a few loungers with "Forest View" wallpaper. We could also use one of the two high chairs available for our little son. The seating areas are spatially separated from each other by various glass elements. Between two armchairs there is always a shelf with a lamp and two sockets.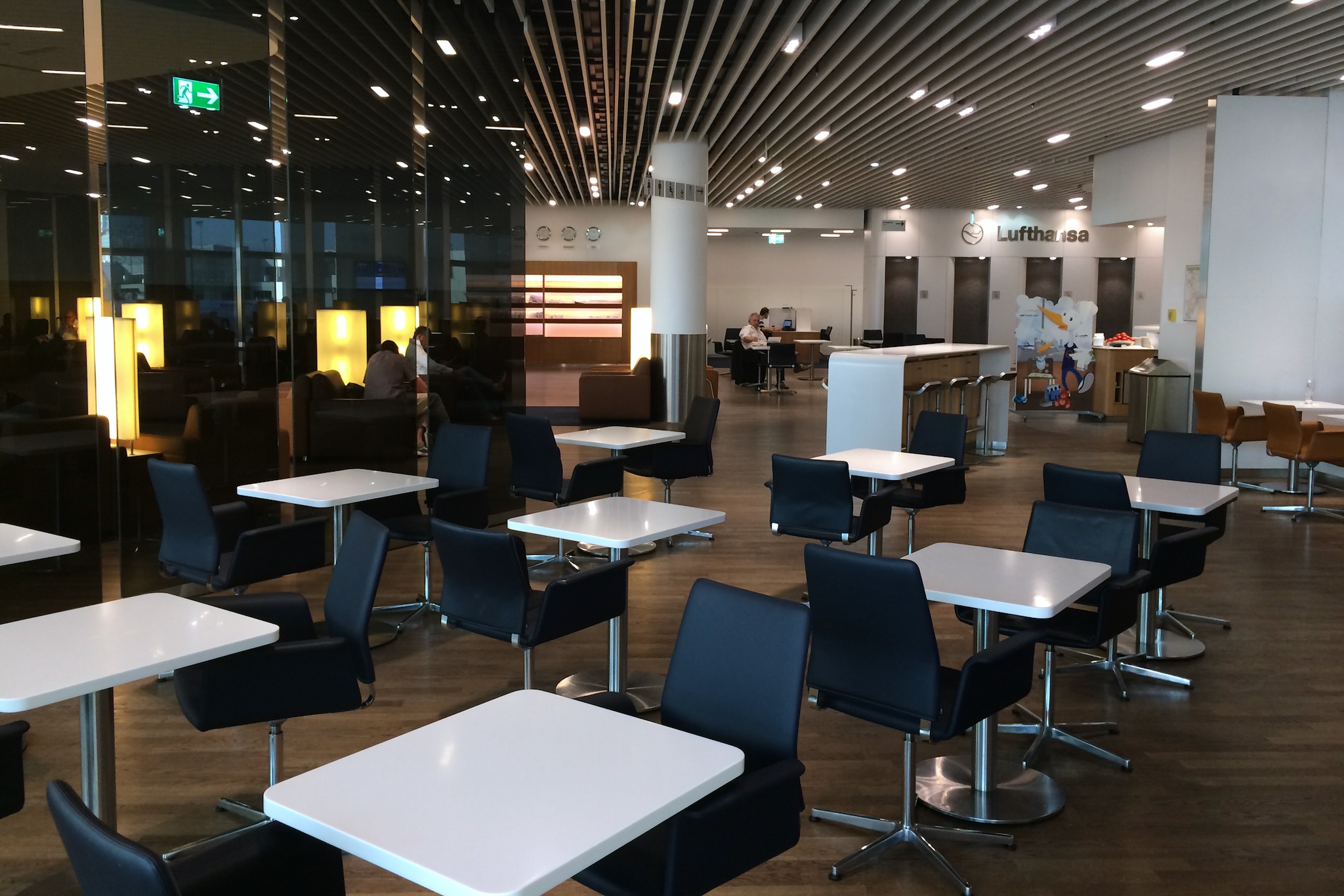 The large window front offers a great view of the apron. Unfortunately, the view was severely limited by glued frosted glass strips. Of course, the Lufthansa Senator Lounge Frankfurt also has several shower cubicles, which are located together with the other washrooms just behind the reception in the entrance area.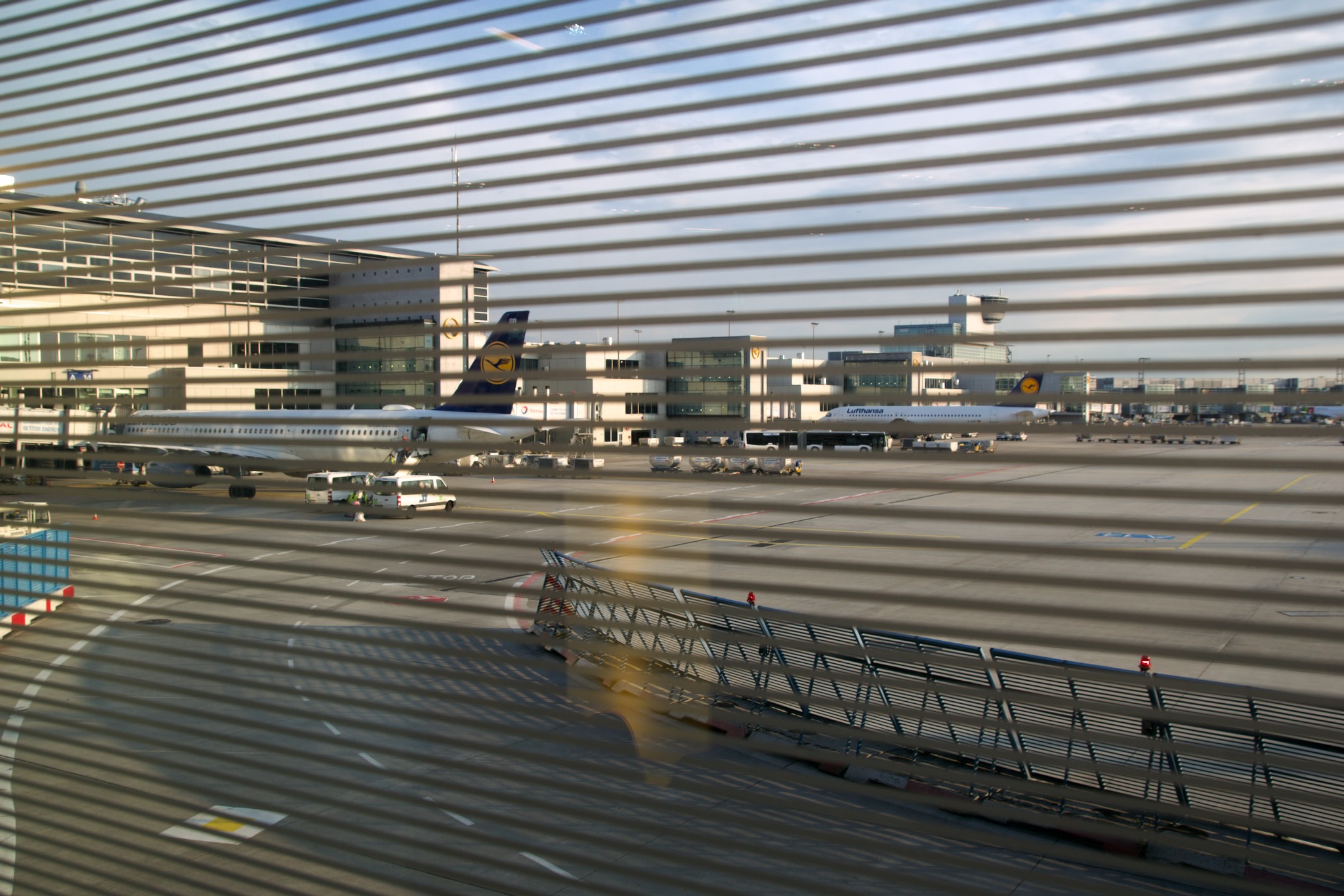 What is there to eat and drink in the Lufthansa Senator Lounge A-Gates Frankfurt?
The large buffet area is spread over several counters. The food offer usually consists of two warm dishes and a soup. During our stay, a sliced ​​chicken with spaetzle and Viennese was offered. There is also a small selection of salads, sausage and cheese, bread and rolls and various desserts and cakes. Wraps (cheese, chicken or tuna) are freshly prepared by the staff for a little individuality.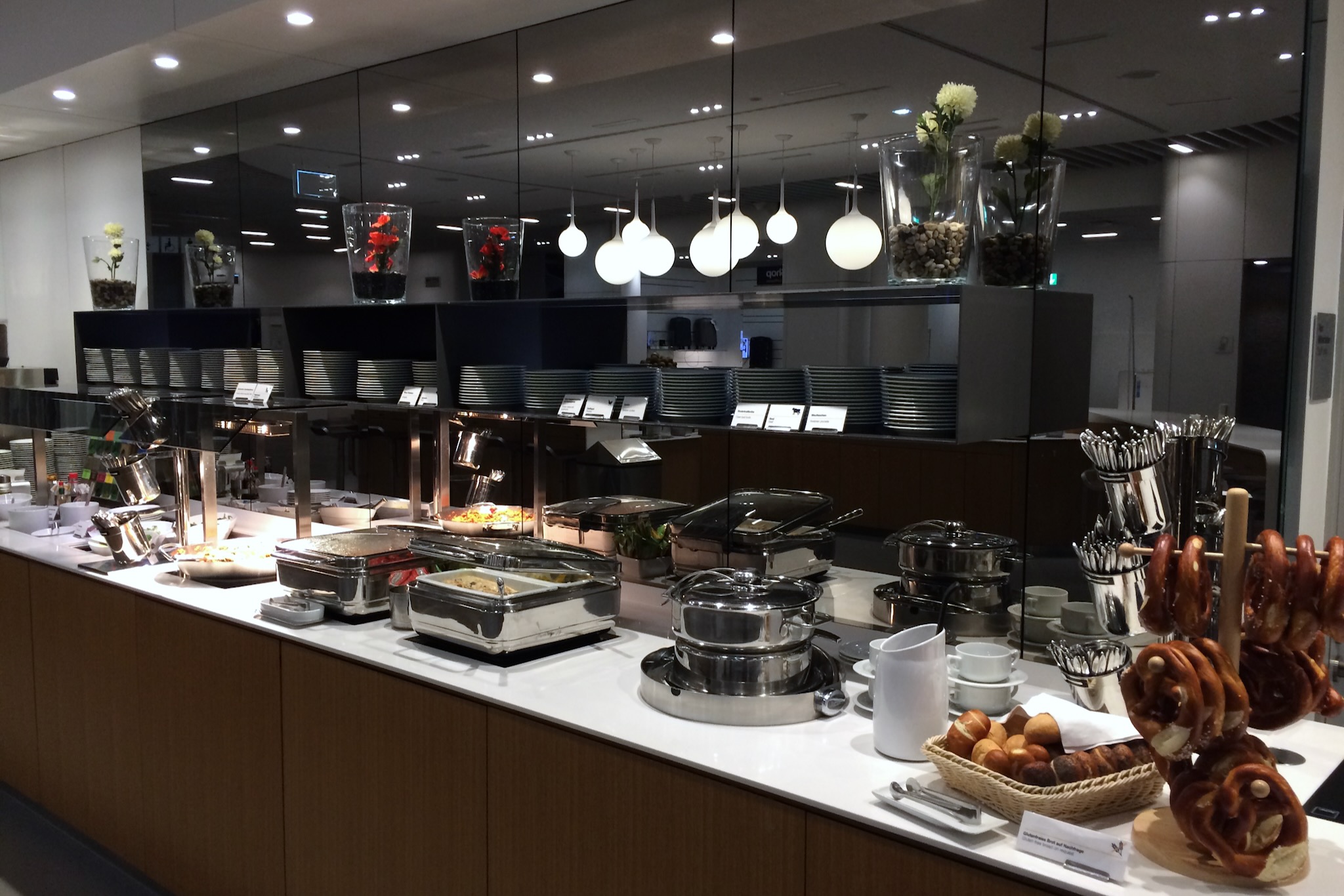 The selection of drinks is very extensive. As at most larger Senator Lounges, sodas are on tap, while bottled mineral water, tonic, and ginger ale are available. There are also several white and red wines as well as sparkling wine, beer (also non-alcoholic) and various spirits. Both in the buffet area and at the window front you can get a coffee specialty or a tea from the fully automatic machines.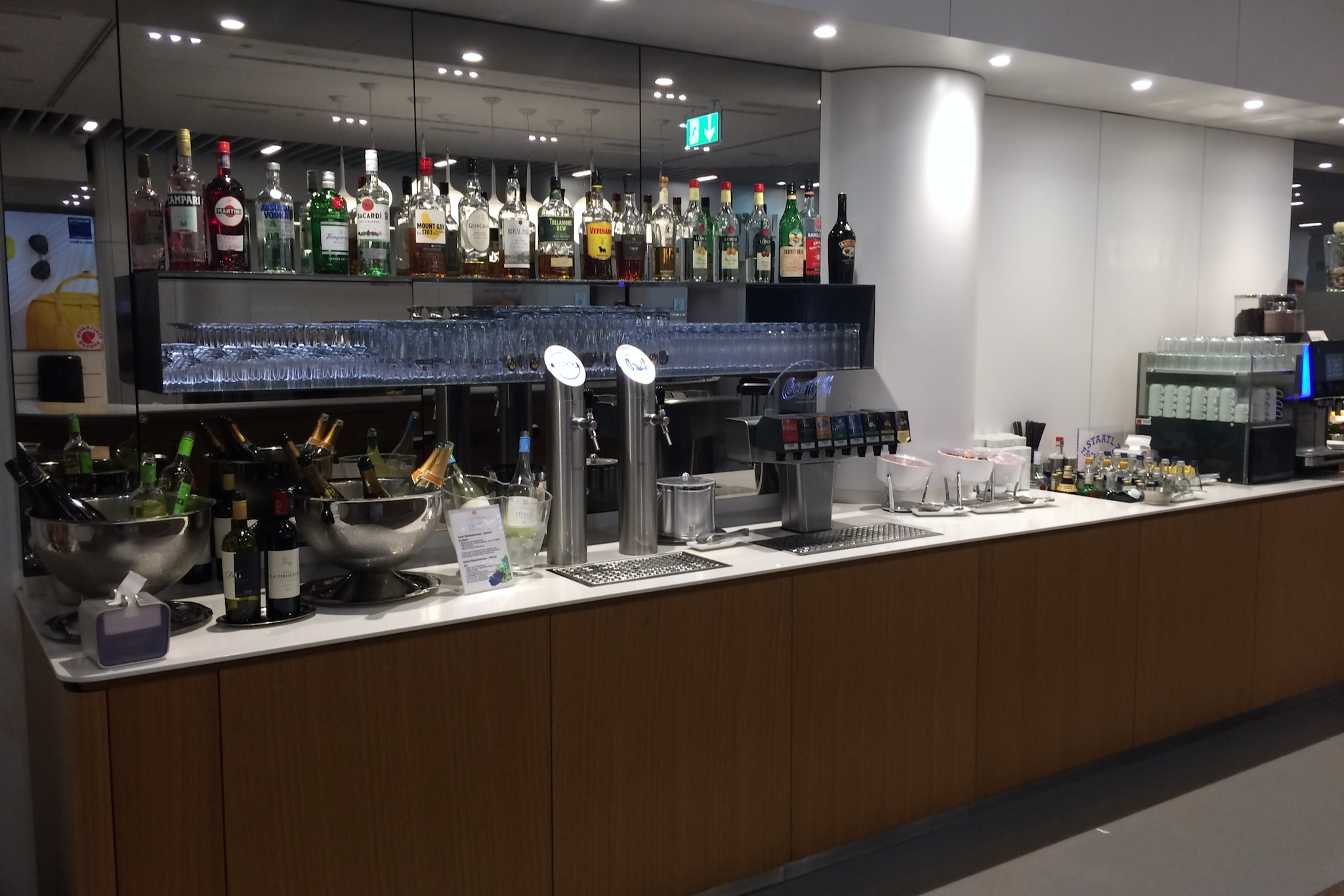 Did you like the post? Then share it on the social networks! This way you support our work a lot. We are also happy about your opinion in the comments.
Rating of the Lufthansa Senator Lounge A-Gates Frankfurt
Food

Beverages

Service

Seating

Ambiance

Cleanliness
Summary
The Lufthansa Senator Lounge A-Gates at Frankfurt Airport offers a solid selection of food and drinks. Wraps or something similar also offer a change from the Wiener sausages and ready-made potato salad. The service has always been quick and friendly during our stays. Various seating options are available in large numbers. At peak times, however, space can sometimes be tight. Nevertheless, the Lufthansa Senator Lounge Frankfurt departure area A is really good in comparison and more than sufficient for departures in the Schengen area.