During the Pentecost holidays this time we went to the Mediterranean island of Cyprus. On the return trip we were lucky enough to be on Aegean Airlines Business Class in der Airbus A321neo to fly from Berlin to Athens.
We had booked the flight in economy class. As a Miles+Bonus Gold frequent flyer, however, I receive four vouchers for an upgrade to Business Class every year. We had already tried redeeming the voucher for the outward flight from Berlin to Athens. But the flight was fully booked and we were not taken off the waiting list. For the flight from Athens to Berlin it looked similar for a long time and we only received the new boarding passes for Business Class shortly before boarding.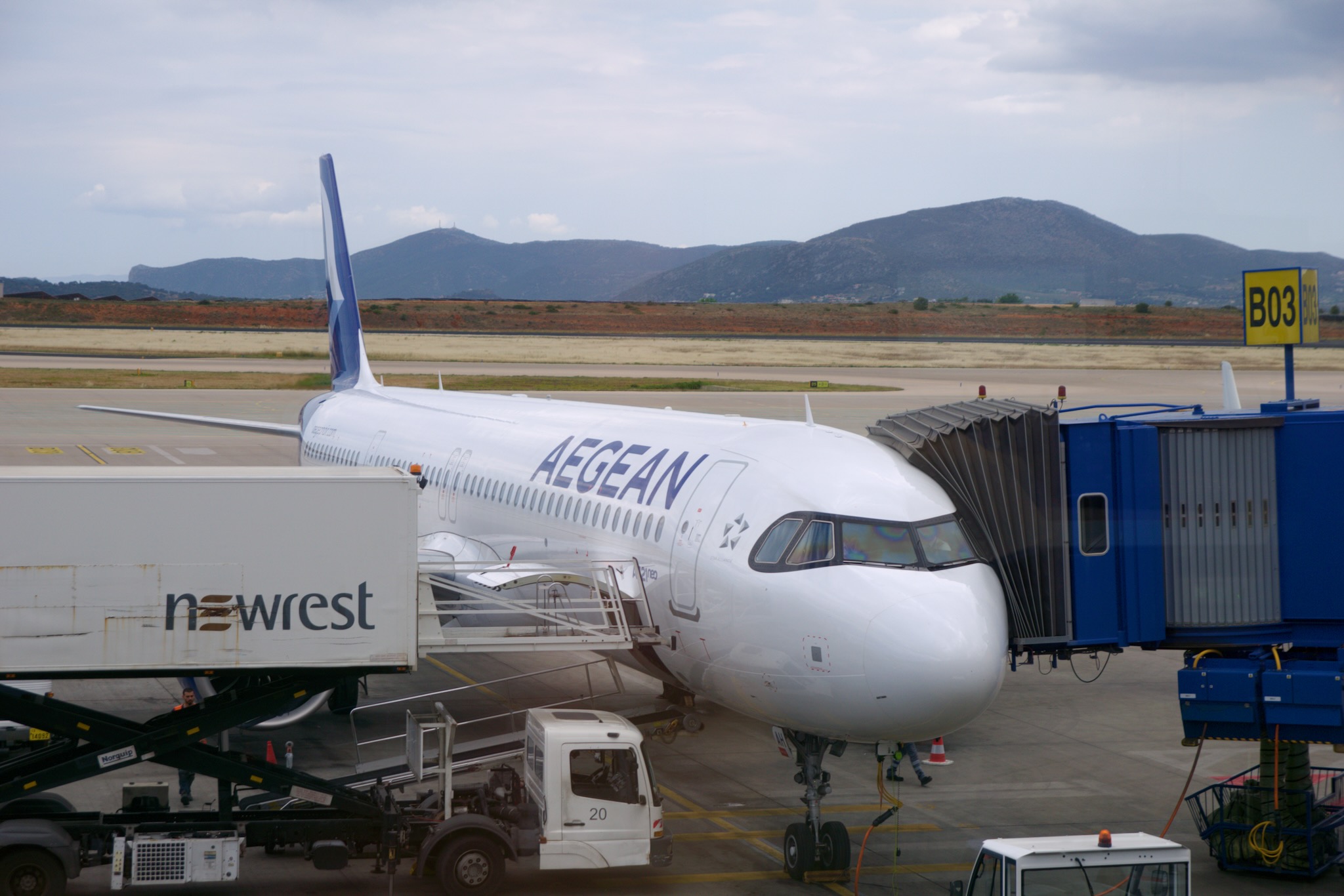 The boarding of the Airbus A321neo began almost an hour late due to the late arrival of the aircraft from Vienna. Accordingly, it was restless in the gate area of ​​Athens airport when boarding finally began. Nevertheless, an attempt was made to comply with the boarding groups and we were the first to board the Aegean Airlines Airbus A321neo.
What is the cabin and seat like in Aegean Airlines Business Class on Airbus A321neo?
As is usual on European flights, the Aegean Business Class cabin in the Airbus A321neo is flexible in terms of the number of rows. On our flight it was 4 rows in a 3-3 seating arrangement. The middle seat remains free and is usually replaced by a small table. Unfortunately, that was forgotten in my row of seats this time.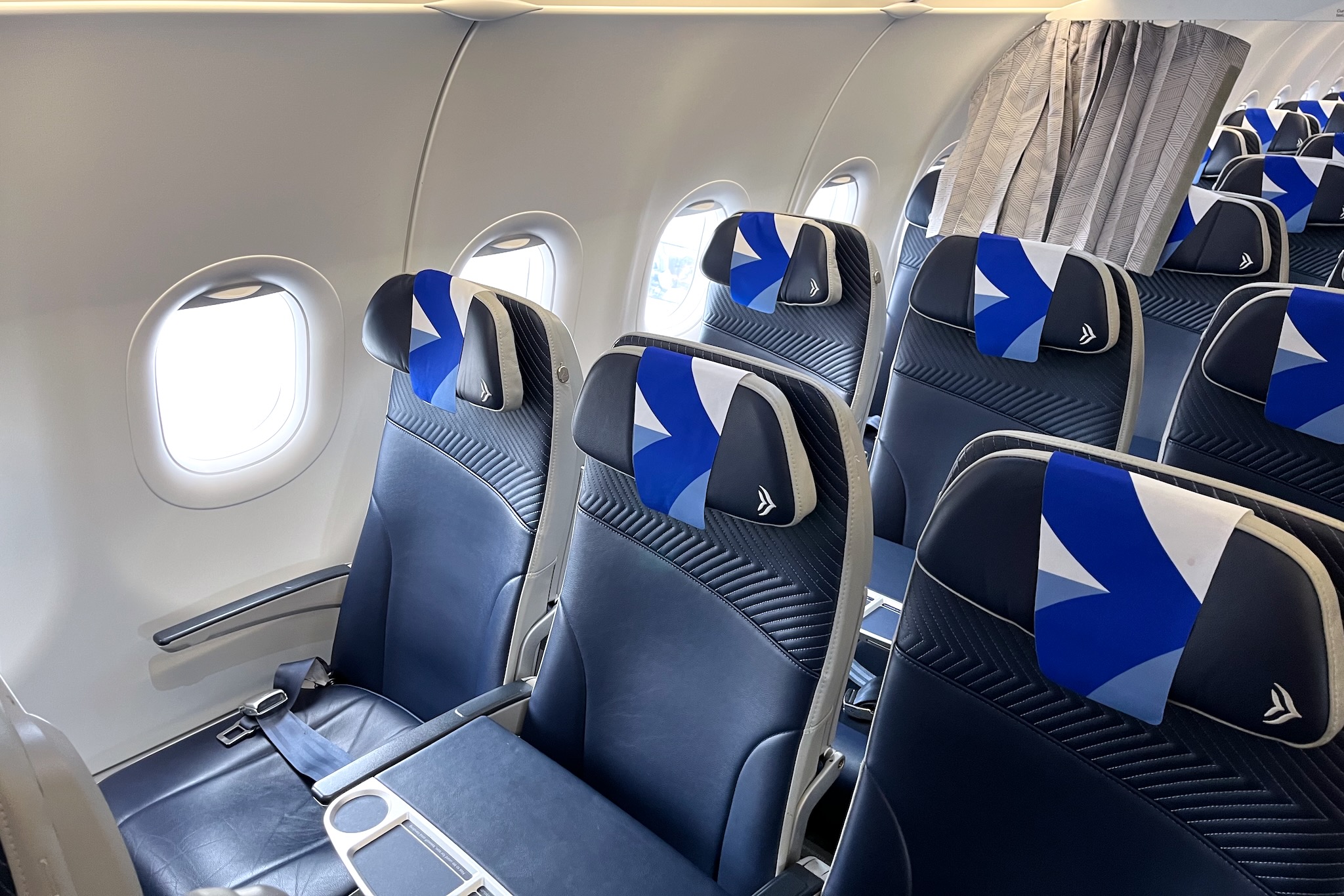 AEGEAN's neo era is what Aegean Airlines calls the new design line introduced with the Airbus Neo models. The design of the seats now includes dark blue leather with light blue contrast stitching and the embroidered Aegean Airlines logo in white. In Business Class, the headrests are adjustable and can be folded down to stabilize the head. The seat spacing is sufficient and the backrest can be set far back. There is also a type A USB socket on the seat and, in addition to the well-known table, there is also a mobile phone holder. This is so variable that it should also accommodate tablets.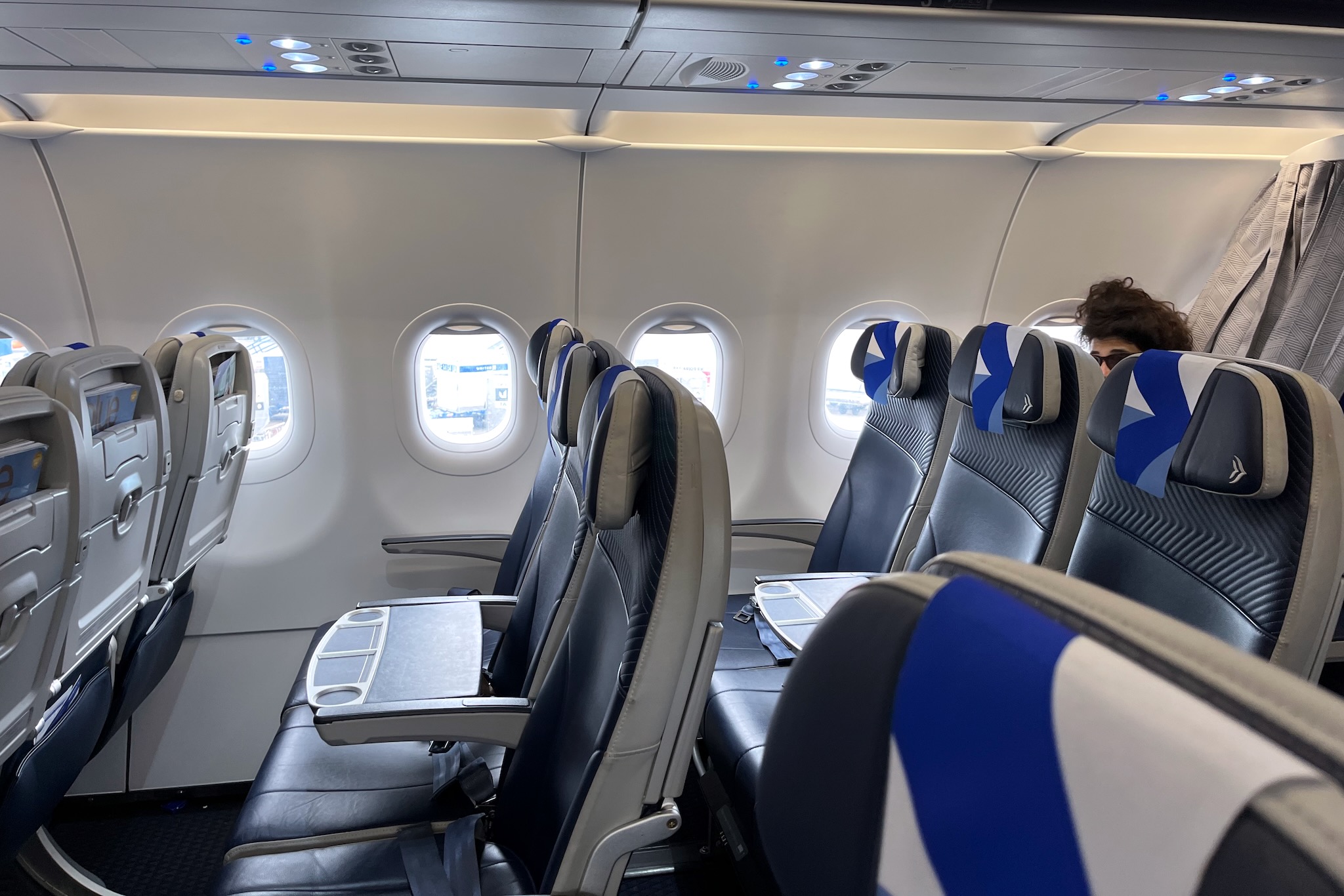 Was gibt es in der Aegean Airlines Business Class zu essen & trinken?
Menu cards were distributed in Business Class even before take-off. There was also a welcome drink of champagne, orange juice or water. In addition, there is now a hot towel again. These service elements have been scaled back during the pandemic.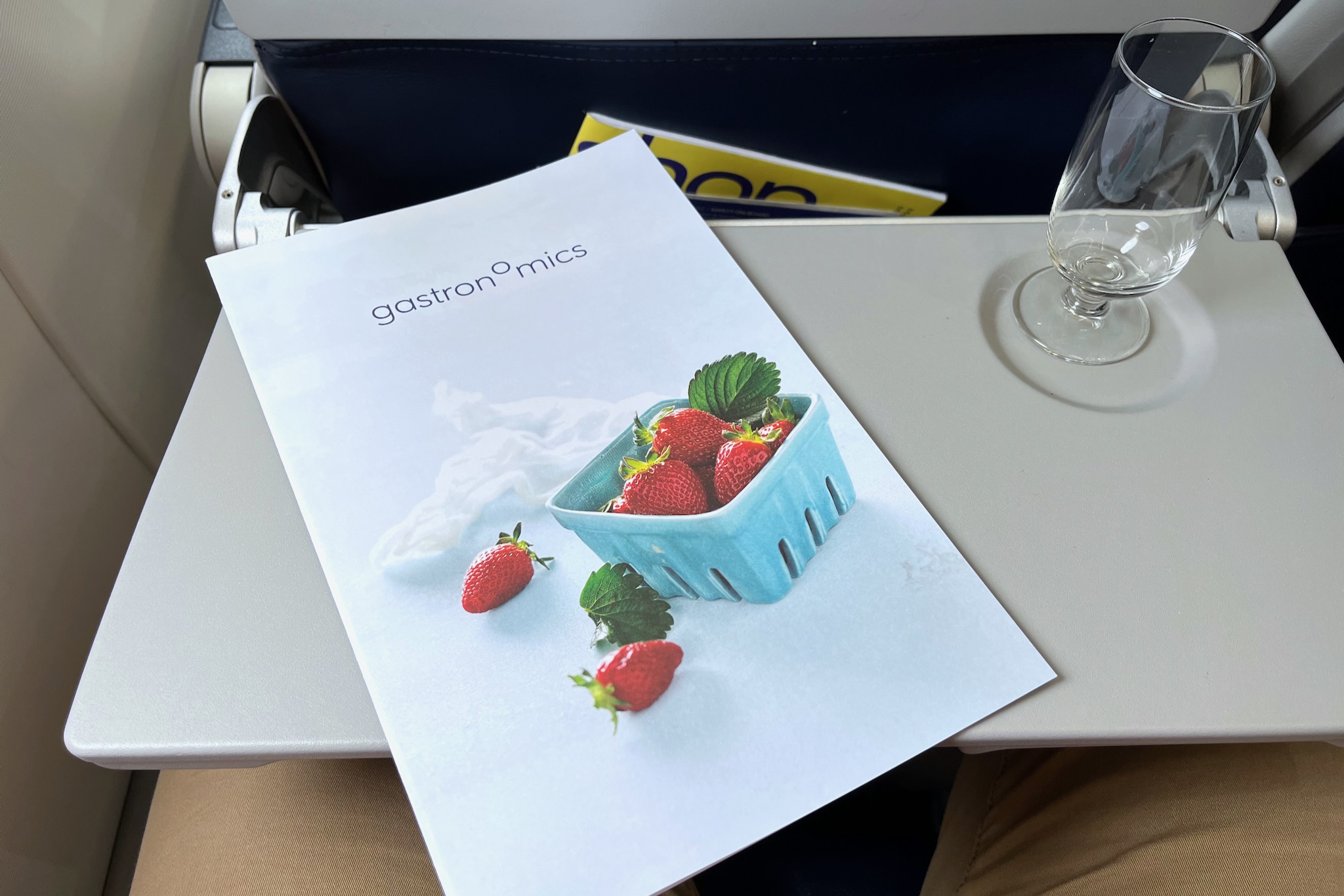 Aegean Airlines serves a three-course meal in Business Class on the Athens – Berlin route. On our flight we had tabbouleh salad as a starter. For the main course you could choose between chicken thighs in tomato sauce with orzo pasta and Graviera cheese or sea bass fillet in bianco sauce and mashed carrots with steamed asparagus. For dessert there was a selection of cheeses and the Greek sweet bread Ekemek Tsoureki.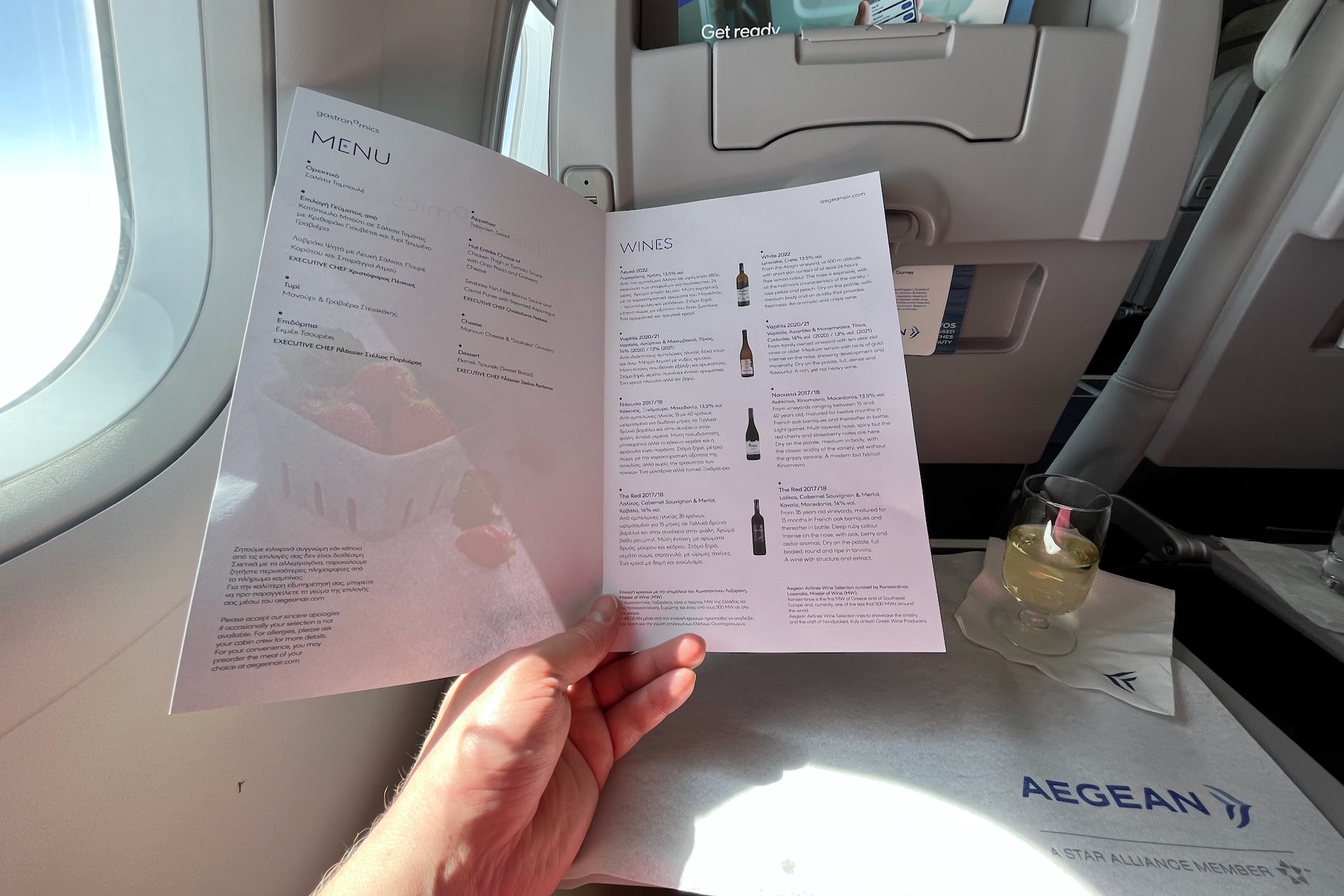 I chose chicken. The food is served on china with real cutlery and cloth napkins. The food was delicious and especially the dessert was delicious. To finish, I ordered a cappuccino.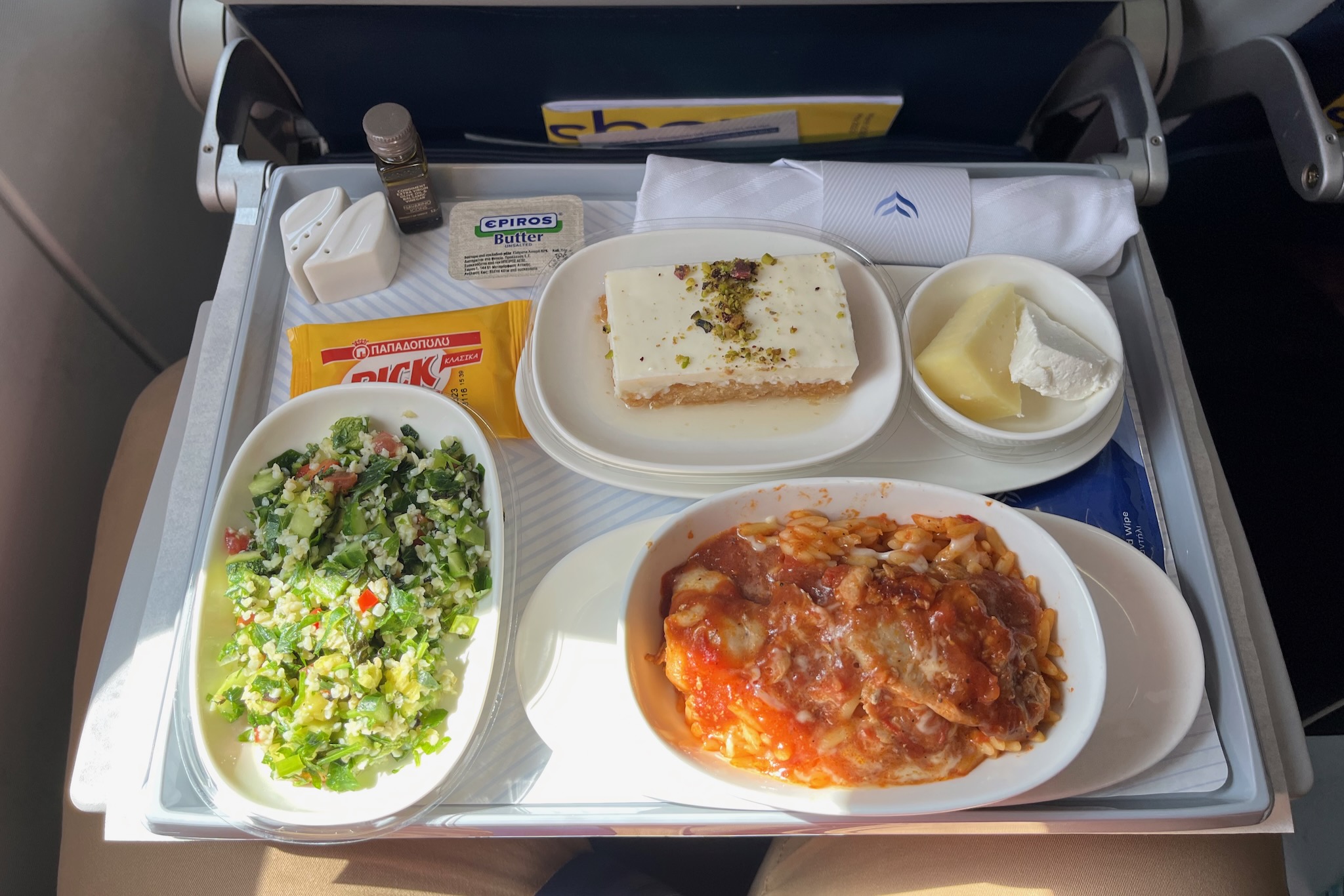 The selection of drinks in the Aegean Business Class is also very extensive. So there were only two different Greek white and red wines. There is also a large selection of spirits and liqueurs, as well as beer and soft drinks. Five different types of coffee and three types of tea rounded off the range.
How is the inflight entertainment in Aegean Airlines Business Class?
Bordunterhaltung, wie man sie vielleicht von Langstreckenflügen kennt, bietet Aegean Airlines in der Business Class nicht an. Allerdings gibt es an Bord des Airbus A321neo WLAN, über das man im Internet surfen oder On-Demand-Inhalte wie Serien, Zeitungen oder Zeitschriften, Spiele oder die Flugroute abrufen kann. Für das Internet bietet Aegean Airlines 10 Minuten zur kostenlosen Nutzung an. Wenn man als Passagier mehr möchte, gibt es für 4 EUR das Paket "Text & Surf" mit 1,5 Mbit/s und für 9 EUR das Paket "Stream" mit bis zu 15 Mbit/s. Für Miles+Bonus Gold-Mitglieder ist das Paket "Text & Surf" und für Passagiere der Business Class das Stream-Paket kostenfrei.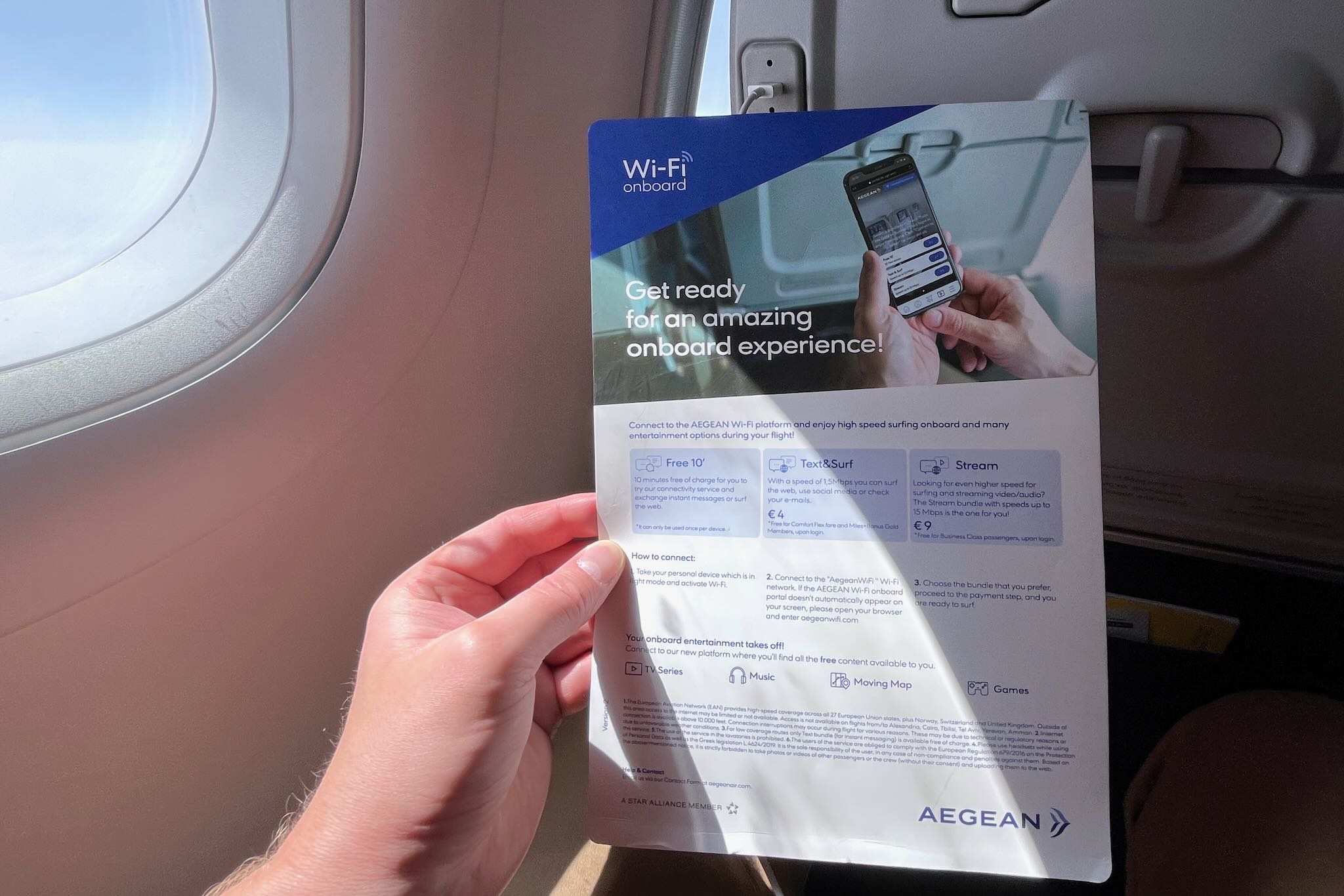 Did you like the post? Then share it on the social networks! This way you support our work a lot. We are also happy about your opinion in the comments.
Rating of Aegean Airlines Business Class in the Airbus A321neo
Service

cabin

Entertainment

Cleanliness

Essen

Beverages

Price-performance
Summary
With the new cabin, the Aegean Airlines Business Class in the Airbus A321neo has become even more elegant and comfortable. The service on board was very friendly and fast and the range of food and drinks left nothing to be desired.