Im Mai ging es für uns drei, für unseren Sohn das erste Mal, in die USA. Wir starteten unsere kleine Rundreise in Chicago. Zwei Tage hatten wir dafür eingeplant und mit dem Chicago CityPASS genügend Attraktionen zu besichtigen. Was ihr alles erleben könnt und was wir davon empfehlen können, erfahrt ihr diesem Beitrag.
Our first day in downtown Chicago started very relaxed. Our little man let us sleep "late" (7:30 am is long for him) despite the risk of jet lag. But he didn't seem to have that, because he fell asleep normally and through the night, just like at home. you have to be a child. Mom and Dad struggled more. We spent a leisurely breakfast at the Hilton Chicago with lots of fruit and a large croissant for our sunshine. The perfect start to the day.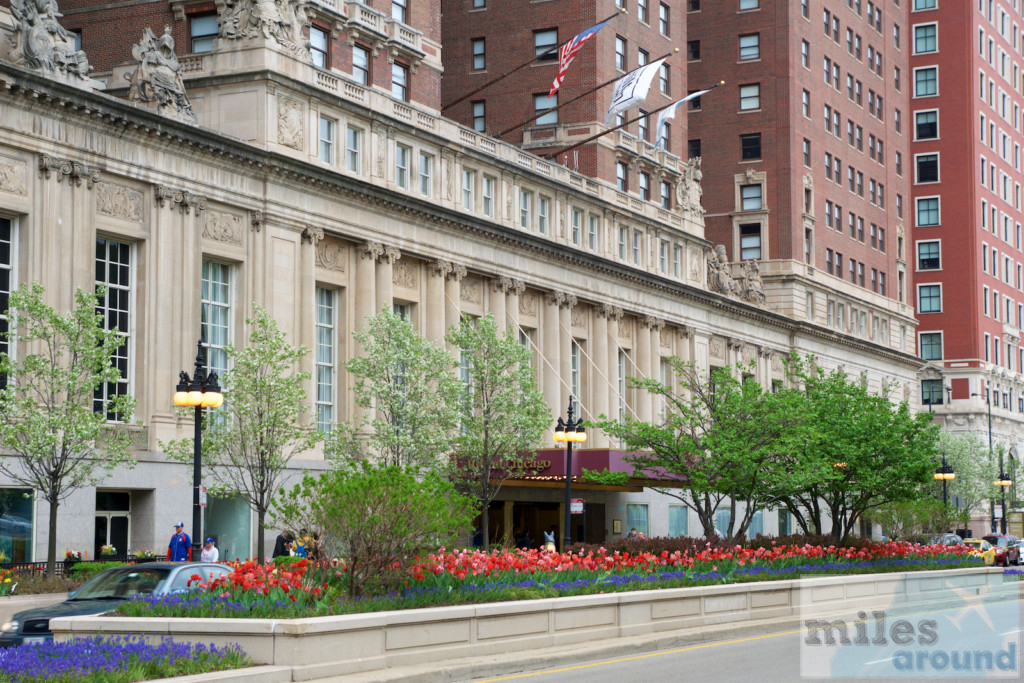 Sightseeing tour with the Chicago CityPASS
Then we started our Chicago tour with the Chicago CityPASS. With the We already had CityPASS in Seattle gute Erfahrungen gemacht und wollten ihn hier auch unbedingt nutzen. Ihr könnt damit ins Shedd Aquarium, auf das Skydeck Chicago und in das Field Museum. Entscheiden müsst euch zwischen Museum of Science and Industry und 360 CHICAGO Observation Deck sowie Adler-Planetarium und Art Institute of Chicago. Mit unserem kleinen Begleiter kam für uns nur das Observation Deck und das Planetarium infrage. Also ging es auf zum Museum Campus, direkt am Michigan See, wo das Shedd Aquarium, The Field Museum und das Adler-Planetarium zu finden sind. Vom Hilton Chicago aus sind das nur 20 Minuten zu Fuß.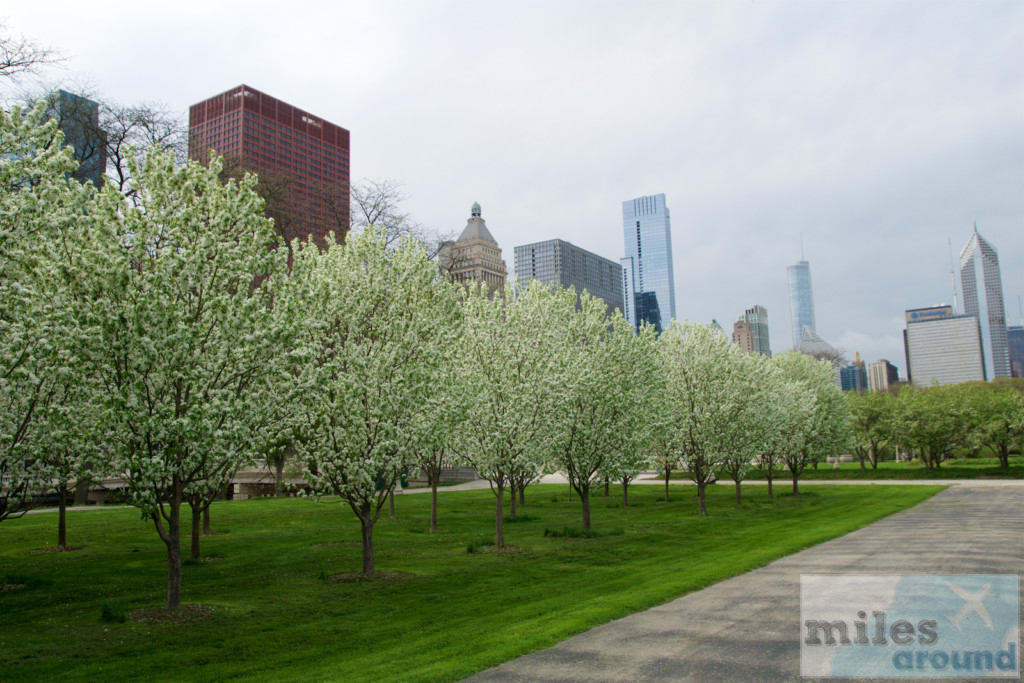 Shedd Aquarium mit dem Chicago CityPASS
Our first destination was the Shedd Aquarium. There are many different underwater worlds to see here: Amazon, Caribbean, Arctic Ocean and also the local rivers and lakes around Lake Michigan. Unfortunately, there are many steps to get to the museum, the entrance for the pram is quite hidden around the corner to the right.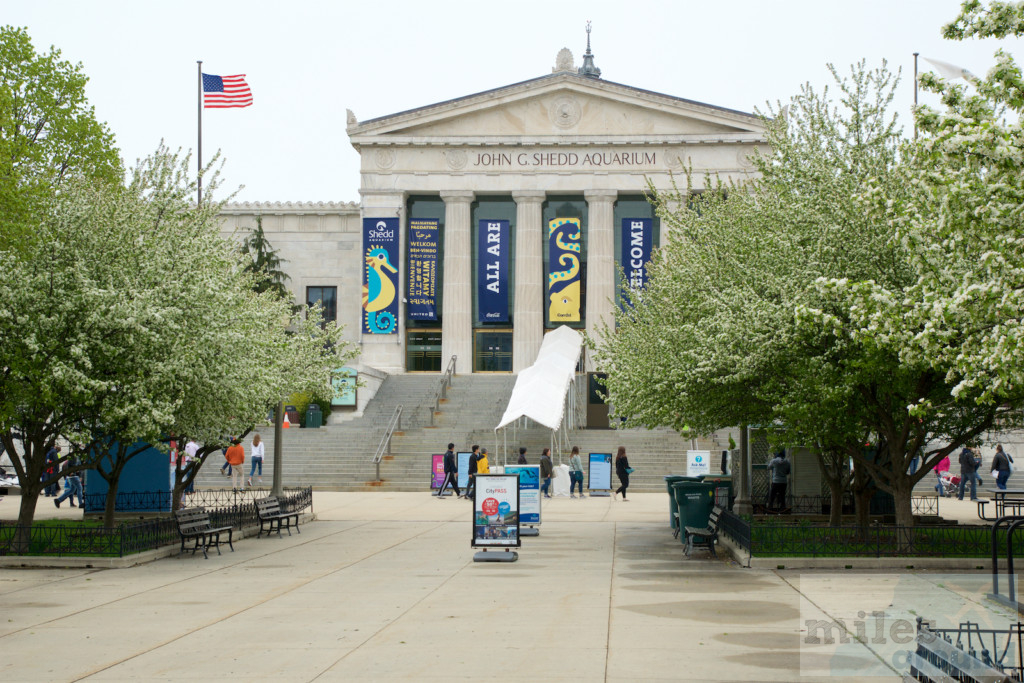 Im CityPASS enthalten ist der Eintritt und eine 4D Show, wobei aus Splash and Bubbles, Coastal Predators und BBC Shark gewählt werden kann. Wir entschieden uns für Splash and Bubbles, weil das die einzige Show für Kinder war. Der Film war mit 3D-Brillen, Lichteffekten, vibrierenden Sitzen und Seifenblasen als Bubbles. Es war ein animierter Fischfilm wie "Findet Nemo" oder "Große Haie – kleine Fische". Der kleine Mann hatte mega viel Spaß, auch wenn er die 3D-Brille nicht aufsetzen wollte. Wir schauten uns außerdem im Abbott Oceanarium eine kostenlose Show mit Delfinen, Pinguinen und Seelöwen an. Diese war sehr schön gestaltet und zum Mitmachen für die Kids und zusätzlich auch noch informativ, also Spaß haben und lernen.
Die Belugawale wurden gerade gefüttert, als wir vorbeikamen. Was für wunderschöne weiße Tiere, unser Sonnenschein wollte gar nicht wieder gehen. Bei den Pinguinen gegenüber gibt es einen kleinen Indoor-Spielplatz. Hier können die Kinder wie Pinguine in einer Forschungsstation sein und Pappfelsen hochklettern und herunterrutschen.
Als wir gegen Mittag das Aquarium Verliesen, waren vor dem Eingang viele junge Demonstranten. Sie klagten das Wohl der eingesperrten Tiere an. Darüber sollte sich jeder im Klaren sein, der einen Zoo oder ein Aquarium besucht, ob er sich Tiere in Gefangenschaft angucken möchte.
Wir wollten anschließend mit der Buslinie 146 in die Stadt fahren. Was wir nicht wussten, dass man das Ticketgeld immer passend haben muss. Hatten wir aber leider nicht. Also überlegten wir hin und her, was wir tun sollten. Die Dame hinter uns lächelte uns nett an und meinte: "Kein Problem, ich zahle das für euch." Sie hatte eine Buskarte, welche sie nur anhalten musste und schon wurde der Betrag für uns gezahlt. Das war echt superfreundlich, wir konnten uns gar nicht genug bedanken. Es stellte sich dann noch heraus, dass sie auch aus Europa kam, und zwar war sie Polin, lebt aber in Chicago. Eigentlich fuhren wir in die Innenstadt, um bei Giordano's eine Deep Dish Pizza zum Mittag zu essen. Doch leider mussten wir mit einer Wartezeit von 1 bis 1 1/2 Stunden rechnen und das war uns zu lang. Also gingen wir direkt um die Ecke ins Nutella Café und aßen Waffeln und Pancakes. War auch super lecker und da es draußen anfing zu regnen, auch noch schön trocken.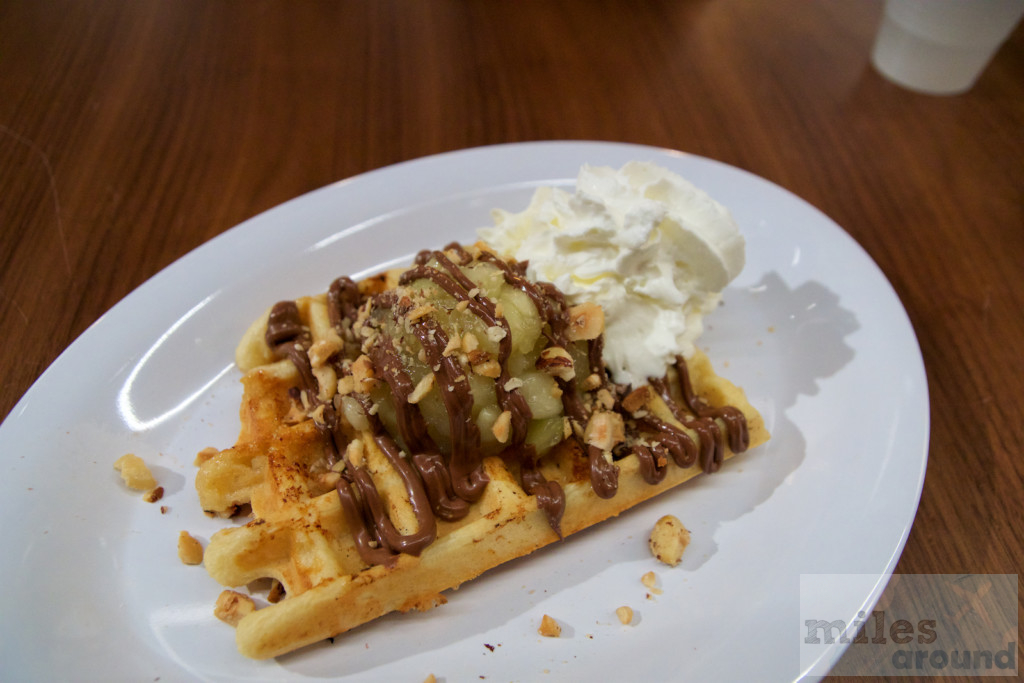 360 Chicago mit dem Chicago CityPASS
Der Regen wurde immer stärker und wir entschieden uns gegen den wunderschönen Chicago Riverwalk, sondern gingen mit einem kleinen Abstecher zum Apple Store und einem großen Spielzeugladen "direkt" zum John Hancock Tower. Als wir dort ankamen, hörte es zwar auf zu regnen, aber die Wolken hingen extrem tief.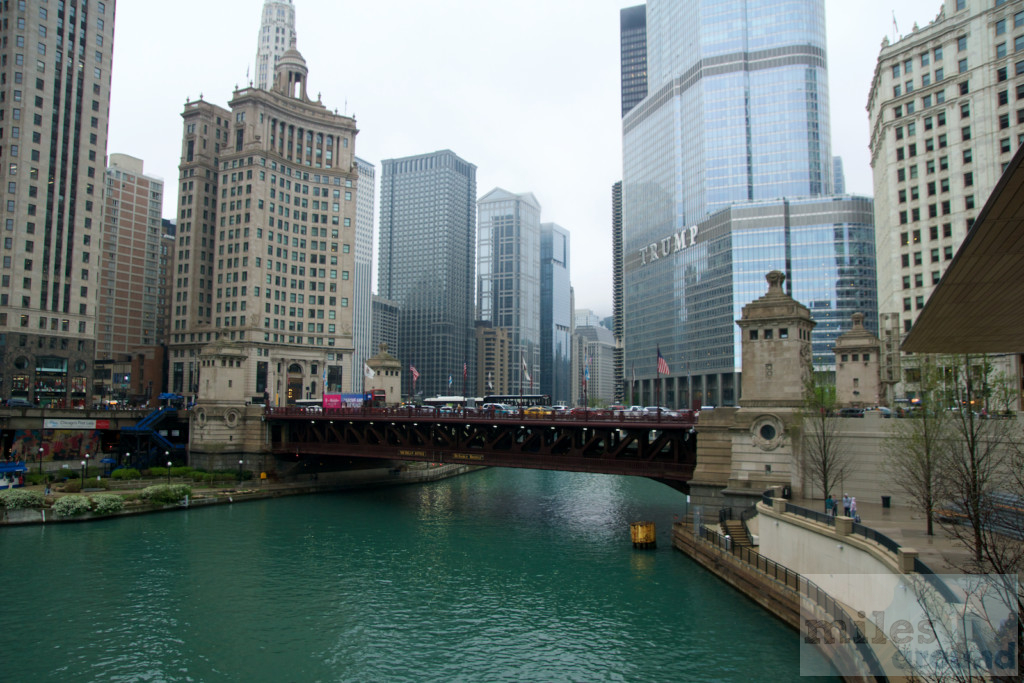 Durch unseren Chicago CityPASS hatten wir freien Eintritt auf das Skydeck 360 Chicago und das wollten wir nutzen. Also fuhren wir trotzdem hoch, denn es war aufgrund des schlechten Wetters auch schön leer. Oben angekommen hatten wir, wie befürchtet, null Sicht. Eine weiße Wand stand vor den raumhohen Fensterscheiben. Unser kleiner Mann hatte dennoch seinen Spaß, denn man konnte einmal im Kreis an der Fensterfront herumgehen. Also rannte er wie ein Verrückter Runde für Runde. Plötzlich tat sich doch eine winzig kleine Wolkenlücke auf, aber so schnell, wie sie gekommen war, war sie auch schon wieder verschwunden. Wir machten uns nichts draus, denn laut Wetterbericht sollte es am nächsten Tag besser werden und da hatten wir das Skydeck im Willis Tower geplant. Daumen drücken, dass wir da bessere Sicht haben.
Maggie Daley Park – Spielplatz für Groß und Klein
Am späten Nachmittag wurde das Wetter besser und es kam ein bisschen die Sonne raus. Damit unser Sohnemann auch noch auf seine Kosten kam, entschieden wir uns auf einen Spielplatz zu gehen. Direkt am Millennium Park liegt der Maggie Daley Park. Eine riesige Anlage, ganz neu, komplett eingezäunt und mit Security am Eingang, so kann kein Kind abhauen. Es ist alles superschön grün bepflanzt und die Wege und Spielflächen sind mit Gummimatten bzw. Gummigranulat ausgelegt. Für jede Attraktion gibt es einzelne Themengebiete wie zum Beispiel passend zum Michigan See das Thema Boot. Die großen Netzschaukeln hatten es unserem Kind angetan. Ein hoher Kletterturm dient als Aussichtspunkt mit einer übergroßen Hängebrücke und allen Arten von Rutschen, die man sich nur vorstellen kann. Hier können vom Kleinkind über große Kinder und Jugendliche bis hin zu den Eltern alle spielen und mitmachen. Man kann ehrlich sagen, dass dieser Spielplatz perfekt ist! So etwas haben wir in Deutschland noch nicht gesehen.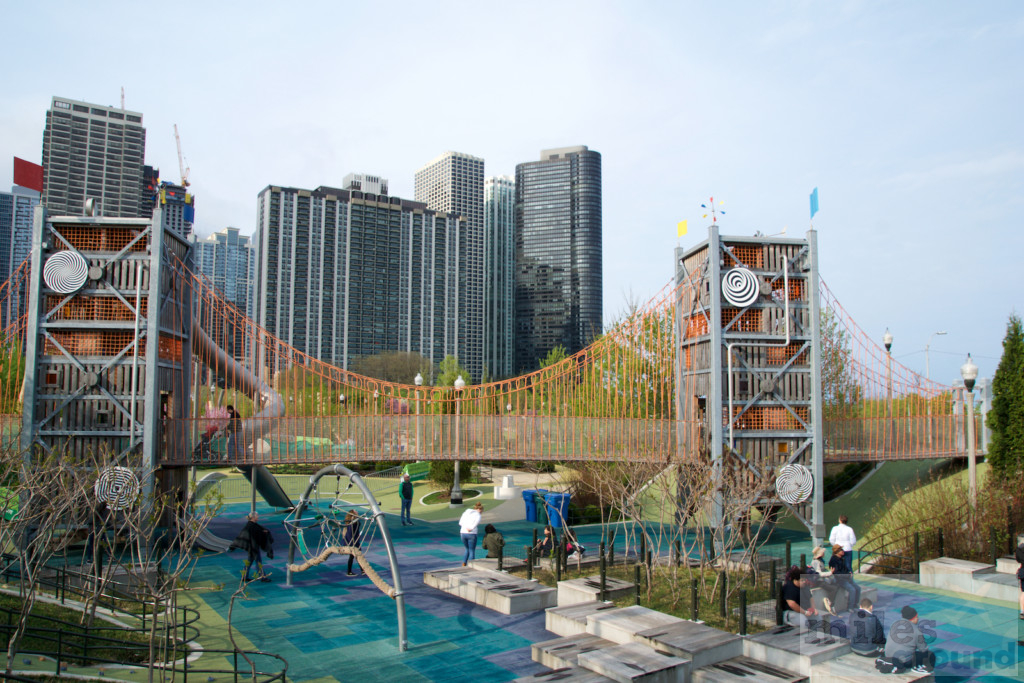 Unser kleiner Sonnenschein war danach auch so kaputt, dass er schon auf dem Weg ins Hotel im Kinderwagen einschlief und nicht mal mehr zum Abendessen aufwachte.
Which travel guide do you recommend for Chicago?
| | |
| --- | --- |
| | For the perfect city trip to Chicago, we recommend you this guide. Here you will not only find a detailed city map, but also a lot of information about all the important sights. You will also be shown great suggestions for detours to the outskirts. |
Der Chicago CityPASS wurde uns freund­li­cher­wei­se von "Choose Chicago" zur Verfügung gestellt. An dieser Stelle nochmals ein herzlicher Dank für die Kooperation. Dieser Beitrag stellt unsere freie und unabhängige Meinung dar. Weitere Informationen zur journalistischen Unabhängigkeit findet ihr unter dem Punkt Cooperation.
Did you enjoy the post? Then share it on social networks. With this you support our work. Have you been to Chicago? Then I look forward to your opinion and tips in the comments.
Bewertung von Chicago erleben mit dem Chicago CityPASS
Shedd Aquarium

Hancock Tower Skydeck

Maggie Daley Park Spielplatz
Summary
Unser erster Tag in Chicago war auch für unseren kleinen Mann ein voller Erfolg. Wir hatten alle sehr viel Spaß und das Shedd Aquarium und den Maggie Daley Park Spielplatz können wir mit Kindern absolut empfehlen. Das Skydeck auf dem John Hancock Tower lohnt sich nur bei gutem Wetter, aber das ist wohl jedem klar. In beiden Attraktionen an diesem Tag hat sich der Chicago CityPass absolut gelohnt.