Langkawi has a lot to offer when it comes to culinary delights. From national Malaysian dishes to international dishes to the typical fast food chains such as McDonalds, Subway, Starbucks and KFC, you will find everything here. Hunger led us to Cenang every evening because the way was simply the shortest.
Indian Palace (Cenang, Langkawi)
The Indian Palace is located right on the main shopping street in Cenang. Like most restaurants on the island, this one looks relatively simple and plain. The facility cannot be compared with those in Germany. But don't let that fool you, because that often doesn't say anything about the food. The Indian Palace has a large selection of different curries, rice and naan breads. I took a vegetarian curry and Christian a chicken curry, where we could still choose the degree of spiciness. The food was very very tasty, even if it was a bit too spicy for me (I ordered zero degree of spice). The creaminess was just right and the amount was absolutely sufficient! We really liked the Garlic Naan bread. Also the staff was friendly and helpful.
fat CUPID (Cenang, Langkawi)
On TripAdvisor's recommendation, we went to the somewhat more remote fat CUPID. This restaurant belongs to a small boutique hotel called "La Pari Pari". The atmosphere here is really great. You sit in an open dining room, with no walls or windows, and have a direct view of the pool and the small guest houses. That has style. The service is super friendly and always in a good mood.
To drink I had a Wildberries Ice Tea, made from fresh fruit, tea and ice. This one was really awesome! As a starter we shared a pizza bread with garlic. The main course for Christian was a great burger with beef, bacon, fried egg and vegetables (Wow!) and for me the traditional satay skewers (6 chicken and 6 beef). Everything tasted fabulous and was prepared really well.
We were so impressed that we even went back a few evenings later to eat. This time there was an absolutely recommendable Freez melon and lichy juice and wontons for starters. For the main course, Christian chose a Nyonya Chicken Curry consisting of coriander, lemongrass and a tumeric paste. There are also quick fried Asian vegetables, egg, chicken and rice. I took the Thai Beef Salad with very well prepared strips of beef fillet. They just got it! It tastes delicious here.
Night Market
The Night Market takes place every day from around 5:00 p.m. The special thing is the location, because it changes every day. You definitely have to find out beforehand where you can find it. On Thursday, for example, it takes place in Cenang, or rather nearby. So we set off. Since we were returning from our trip to Gunung Raya that day, we drove a different route to Cenang than usual and passed the Night Market quite by chance. We would never have suspected it in this place and would probably have looked around in Cenang. The market was smaller than we thought. Somehow it seemed more spacious in the photos online.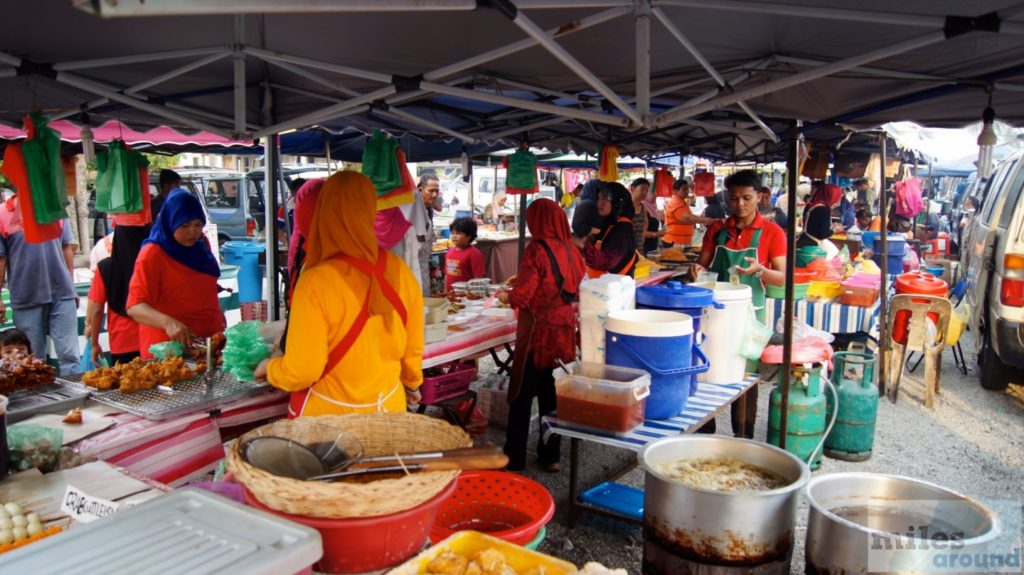 There is almost everything, from clothing and toys, to desserts and fruits, to fish and meat, raw and fried. We actually wanted to eat something here because we had read so many good things about it on the internet. But when we saw all the flies on the food and noticed how long some of the meat had been in the sun, we lost our hunger. Maybe we shouldn't have acted like that and just tried something?! But somehow we didn't feel like it. But watching the colorful market hustle and bustle was still fun. We can only recommend this experience to everyone.
Are you still looking for a suitable hotel in Langkawi?

You can find a hotel that suits your budget through the various online travel agencies such as Agoda, Booking.com, ebookers.de, Expedia, Hotels.com, lastminute.de, otel.com or Venere.com.
Also, we like the restaurants Planters and Straits & Co refer which ones are outstanding! But we wrote an extra post for the two of them.