Seattle Premium Outlets
Den Vormittag verbrachten wir mit Shopping in den Seattle Premium Outlets. Diese befinden sich in Tulalip, mit dem Auto ungefähr eine Stunde nördlich von Seattle über die Interstate 5. Sollte man, so wie wir, in einem Shop größere Mengen kaufen wollen, sollte man sich unbedingt an der Information das Coupon Heft besorgen. Dies kostet eigentlich 5 USD oder man muss nachweisen, dass man beim Premium Outlets VIP Club angemeldet ist. Wir hatten da zwar einen Account, aber leider kein WLAN um dies nachzuweisen. Allerdings konnten wir die Frau an der Information so lange bequatschen, bis sie nach gab und uns ein Heftchen einfach so aushändigte.
Nach 4 Stunden einkaufen, brauchten wir erstmal eine Stärkung, bevor wir wieder zurück nach Seattle fahren wollten. Auf der gegenüberliegenden Interstate Seite gab es einen Carl's Jr. Auch ein Favorit auf unsere Fast Food Hitliste – ein Original Six Dollar Burger ist schon etwas feines.
Boeing Werke – Paine Field
Auf den Rückweg nach Seattle mussten wir unbedingt noch einen Stop bei den Boeing-Werken in Everett bzw. Mukilteo einlegen. Unsere Tour um das Paine Field starteten wir bei den Lackier- und Fertigungshallen. Die riesigen Tore der Fertigungshalle sind jetzt mit einer 747 bedruckt, bei meinem letzten Besuch zierte die 787 noch die Fassade.
Wir hielten auf unserem Weg um den Flughafen bzw. das Werksgelände an verschiedenen Punkten an. Teilweise gibt es schöne Erhebungen, wo man ohne störenden Zaun prima die Flugzeuge fotografieren kann. Und wenn mal kein Berg vorhanden ist, dann stellt man sich einfach, auf das Auto. Frei nach dem Spruch:"don't be gentle its a rental". Die verschiedensten Modelle von 777, 747 und 787 waren auf dem Gelände anzutreffen. Am traurigsten sah ein teilzerlegter Dreamliner aus.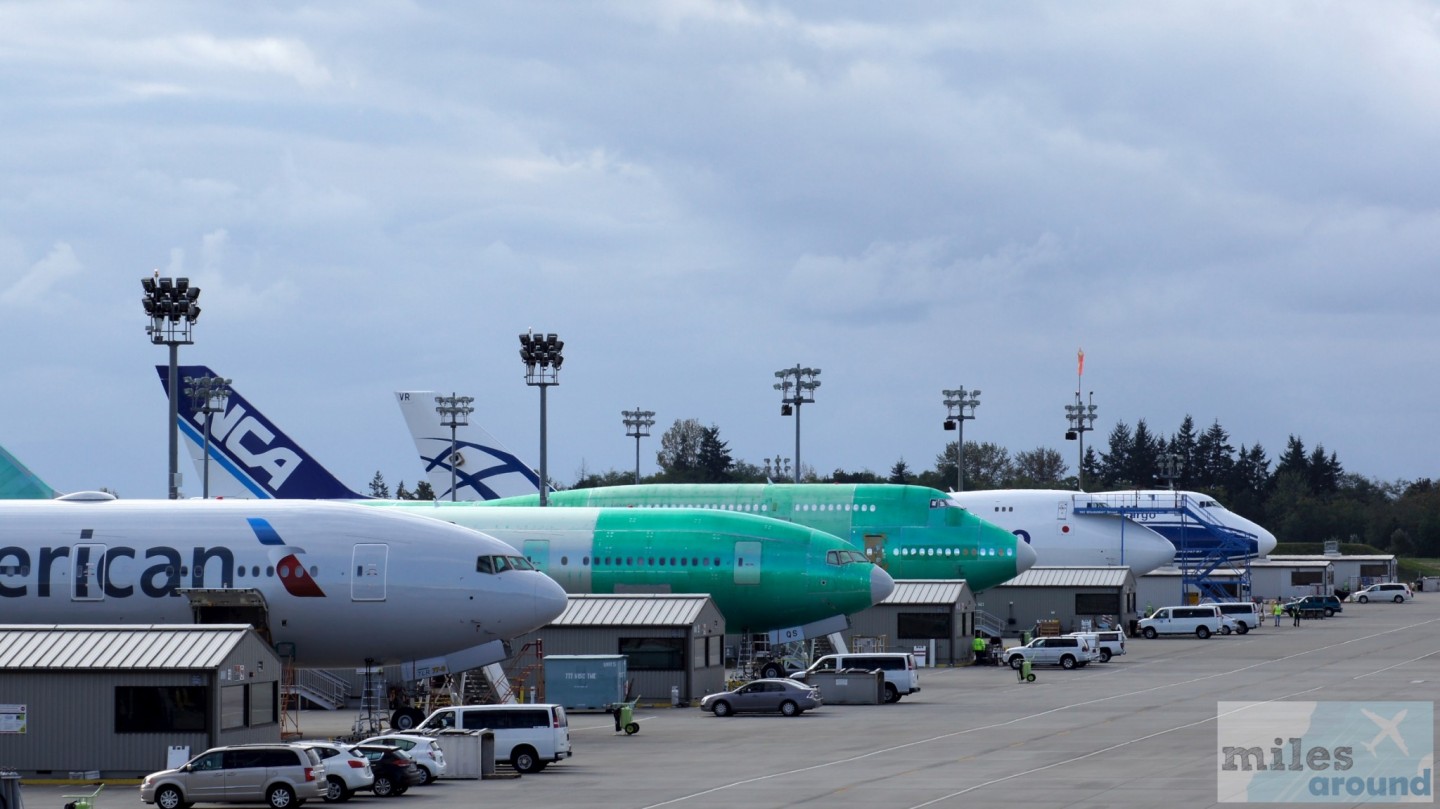 Hiram M. Chittenden Locks
Zum Abschluss des Tages fuhren wir noch zu den Hiram M. Chittenden Locks. Diese im Jahr 1911 erbaute Schleuse, auch unter dem Spitznamen Ballard Locks bekannt, ermöglicht Schiffen die Fahrt zwischen dem Salzwasser des Puget Sound und dem frischen Süßwasser des Kanals, welcher ostwärts in den Lake Union und Lake Washington mündet. Ein besonderes Highlight war für uns die begehbare Fischtreppe. Durch Glasscheiben unter der Wasserlinie konnten wir beobachten, wie die Lachse zwischen Salz- und Süßwasser hin und her wechseln können. Toll ist auch der angeschlossene Park.
Sucht ihr noch nach einem passenden Hotel in Seattle?

You can find a hotel that suits your budget through the various online travel agencies such as Agoda,Booking.com,ebookers.de,Expedia,Hotels.com,lastminute.de, otel.com or Venere.com.