Wieder ist ein Sommerurlaub vorbei. Da wir uns dieses Jahr nicht auf ein Ziel einigen konnten, ließen wir die Verfügbarkeit der Miles & More Prämienflüge für uns entscheiden. So wurde es Dubai! For the return flight we chose SWISS Business Class in the Airbus A330-300. You can find out how our first flight in SWISS Business Class was in the review.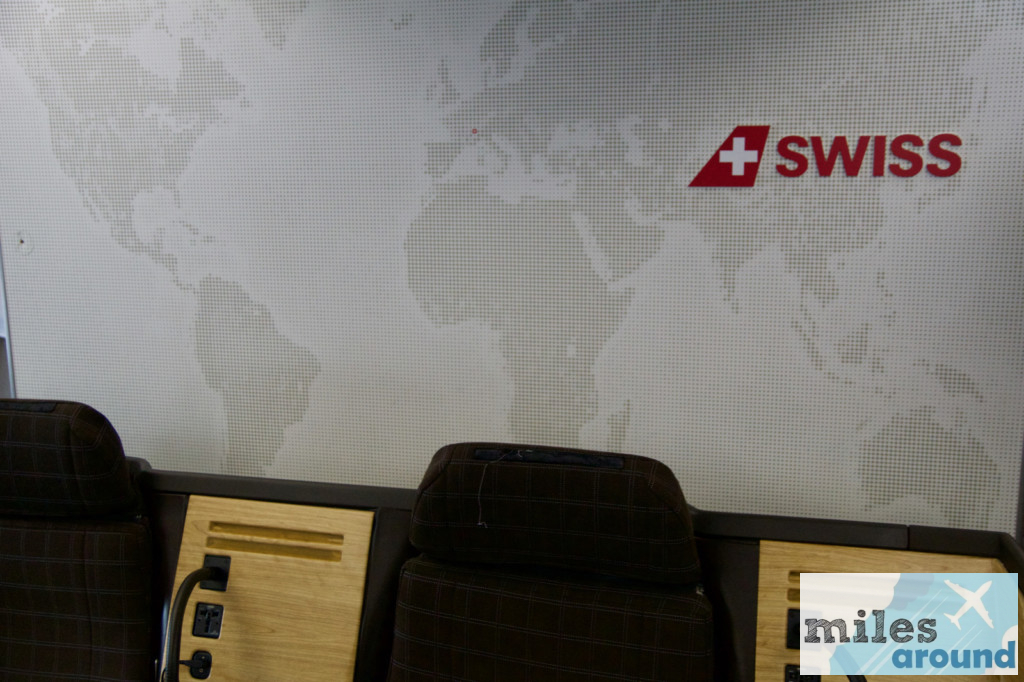 Boarding LX243 to Zurich
About half an hour before boarding was scheduled to begin, we exited the lounge (Review of the Lufthansa Business Lounge) and walked to today's departure gate D14. As we arrived, boarding for First and Business Class passengers began.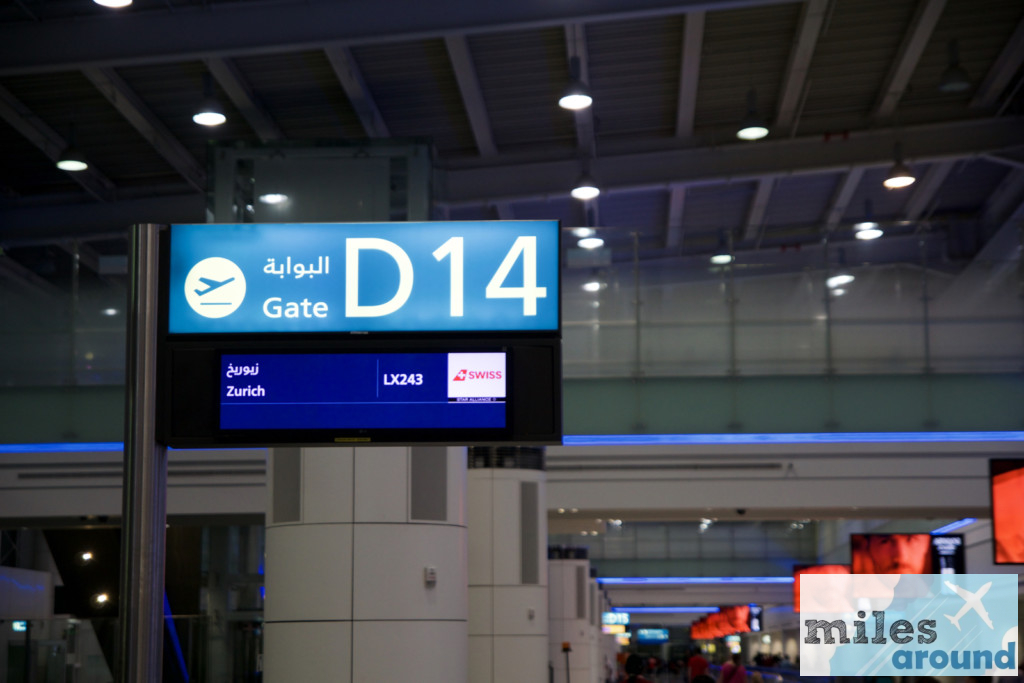 SWISS offers this flight from Muscat, the capital of Oman, via Dubai to Zurich. So there were already passengers in the cabin when we came on board. It was also sweltering hot.
SWISS Business Class in der Airbus A330 – Kabine
The ambience in the SWISS Business Class was modern, simple and without frills. We really liked the design. The wood applications on the seats bring alpine flair and a bit of modern chic.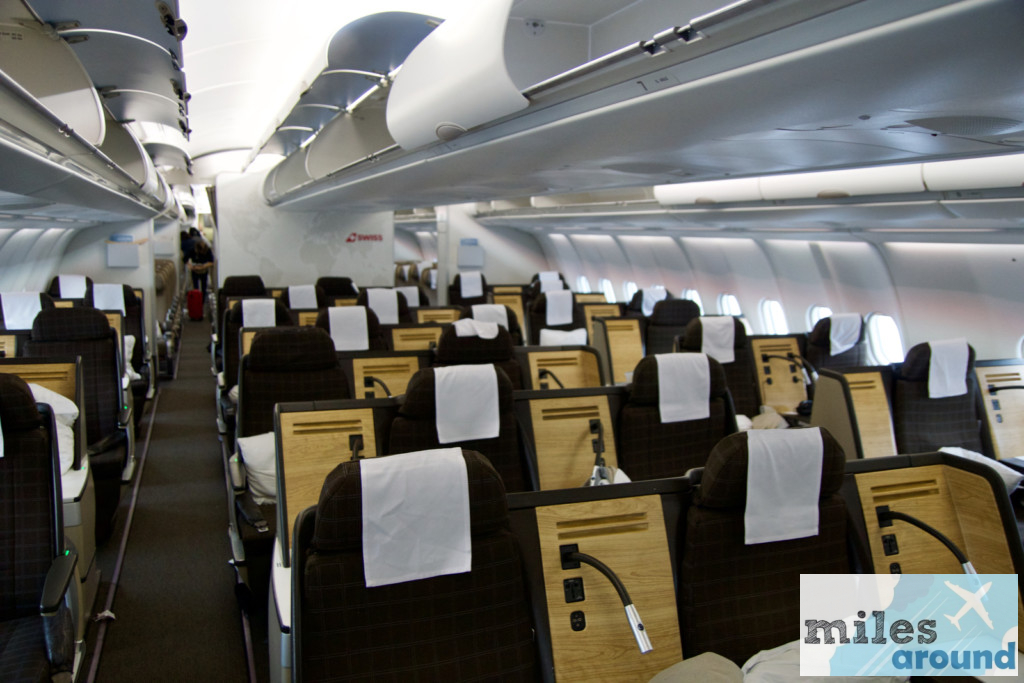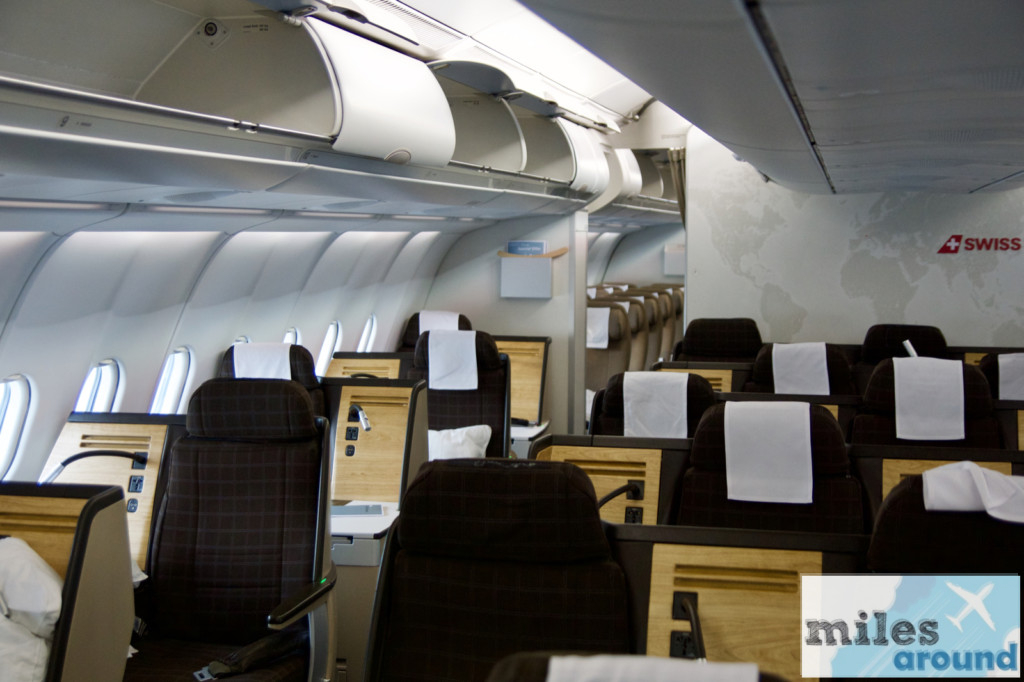 Die Business Class Kabine verfügt über ein abwechselndes 1-2-1 bzw. 2-2-1 Layout. Die einzelnen Fensterplätze sind in der Regel für HON Circle und Senator Miles & More Mitglieder reserviert. Der größte Nachteil an den zwei Sitzen am Fenster ist, dass man über die Beine seines Sitznachbarn steigen muss. Diese Sitze sind für Alleinreisende also äußerst ungeeignet. Wir saßen auf dem Weg nach Zürich in der Reihe 12 auf den Plätzen D, G und K.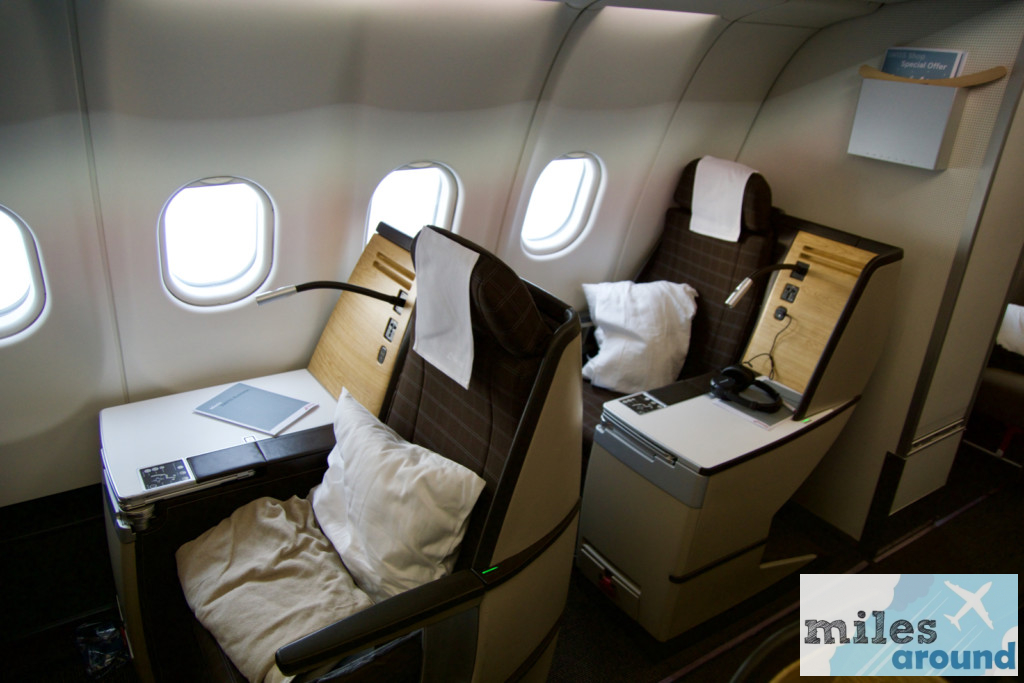 SWISS Business Class in the Airbus A330 – seat
Unfortunately, we could not use our child seat, which is specially certified for use in aircraft, on this flight because the Business Class seat has an airbag in the seat belt. Here had the cabin master keep in mind that there could be a problem when triggering. So we had to give up the child seat shortly before the start.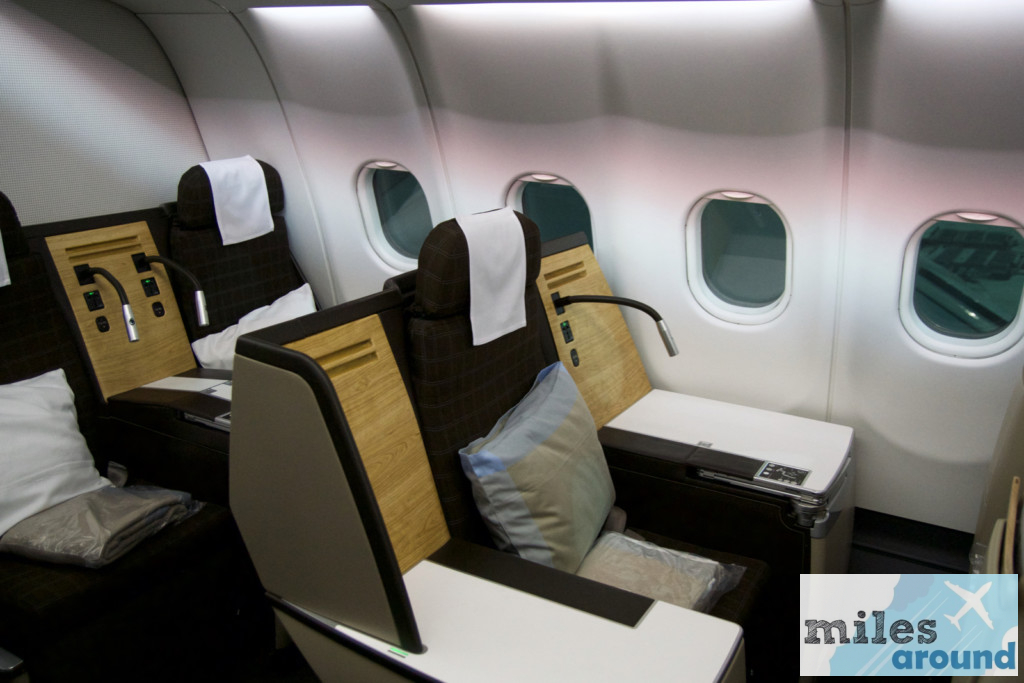 The small amount of storage space is inadequate for the SWISS Business Class seat in the Airbus A330. There was hardly any space to store anything. There was only a small compartment under the monitor, a compartment for magazines in the middle and a compartment for shoes. The last one was almost too small for shoe size 45. Otherwise, the seat offered a reading light and a stable table.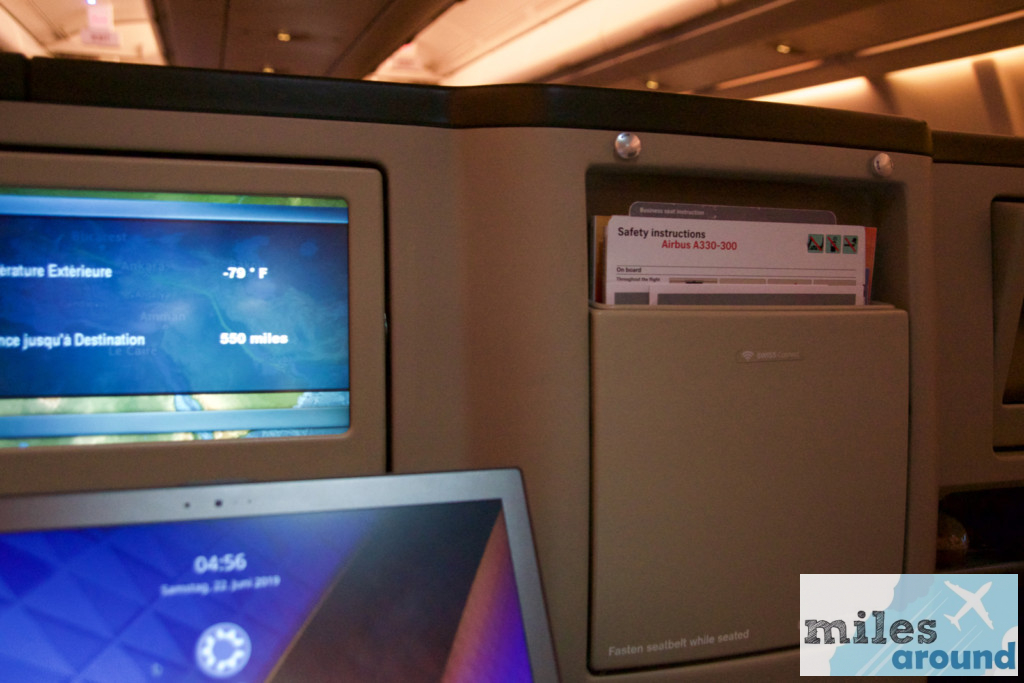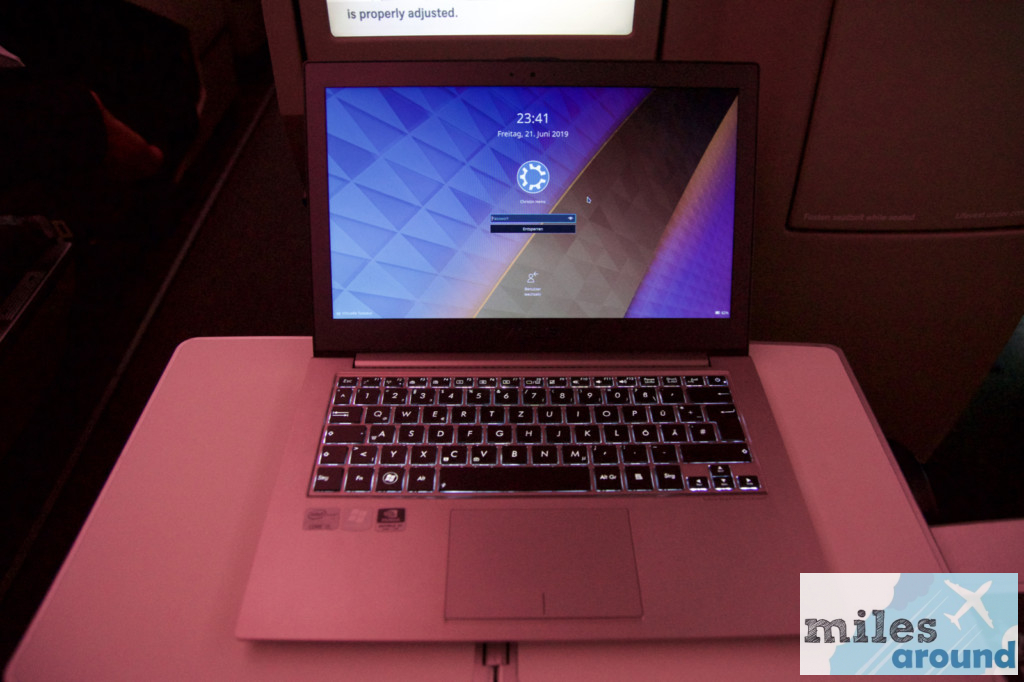 The seat could be controlled via a control panel in the armrest. There were three shortcut keys for the sleep, lounge, and takeoff/landing positions. I was also able to adjust the footrest and the lumbar support. Another advantage of the seat was the massage function and the individual setting of the degree of hardness. This was especially important for sleeping comfort!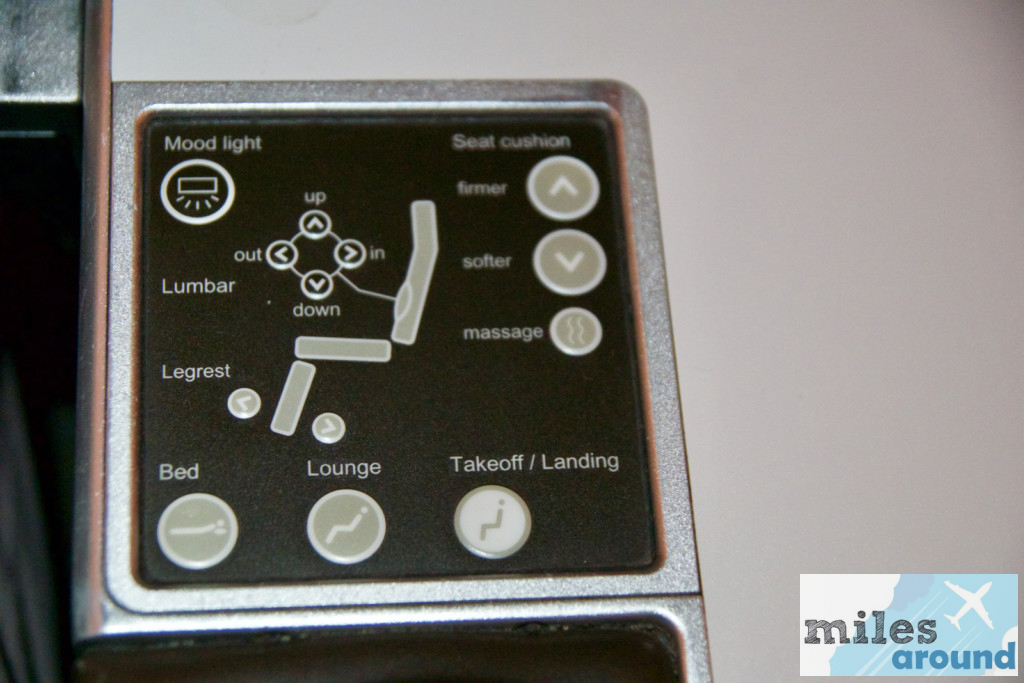 At first I was concerned whether I or my son could sleep in this seat. A flat bed could be made, but the seat felt cramped and a mattress topper was not offered. The bed was about two meters long and adequate for my height of 1.83 m. My son fell asleep right after the start and I also found my peace for two hours.
SWISS Business Class in der Airbus A330 – Entertainment
The screen is no longer up to date in terms of size and resolution. Other airlines, including those in the Lufthansa Group, offer much better systems here. The monitor is operated via a touchscreen or a remote control in the armrest. The selection of films was ok. Unfortunately, the over-ear headphones that were issued did not come with active noise cancellation.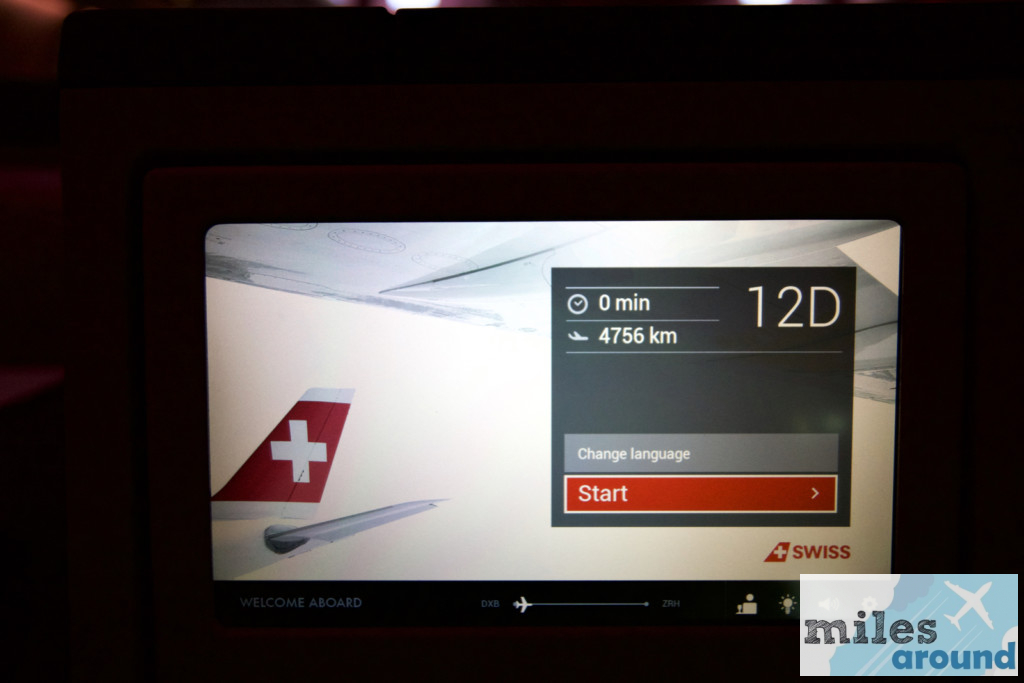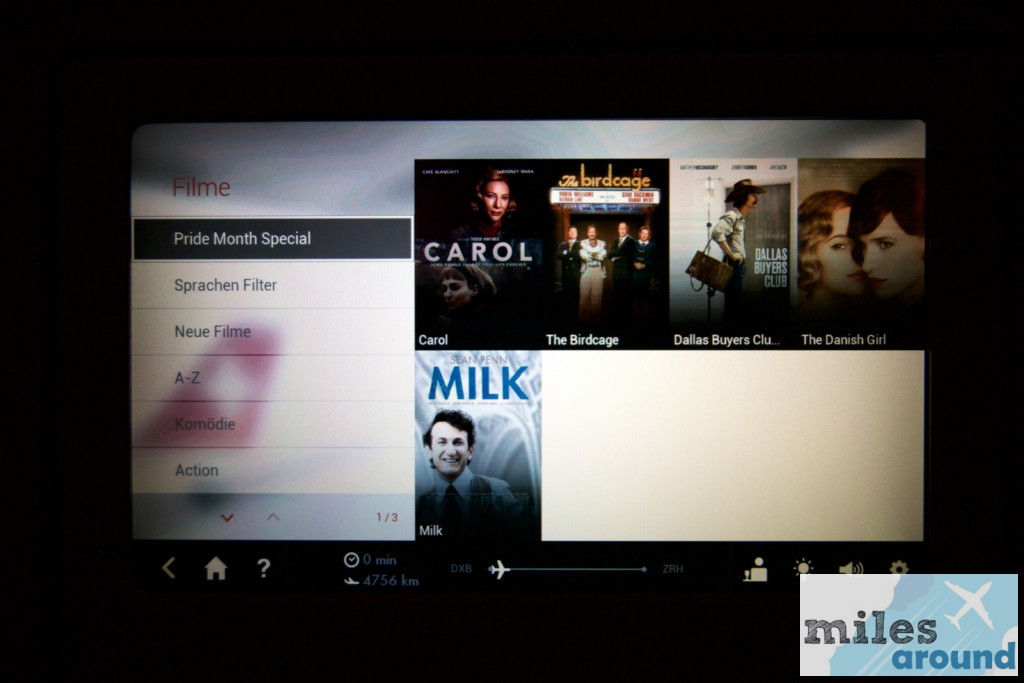 SWISS also offers WiFi in its Airbus A330. But this is quite expensive and not necessary for our short night flight.
SWISS Business Class in der Airbus A330 – Service
Even before take-off, the very attentive flight attendant offered champagne, orange juice or water. Then the menu and a kind of order slip for breakfast were distributed. The extensive selection for breakfast and the option of being able to put together an individual breakfast clearly sets SWISS Business Class apart from the competition.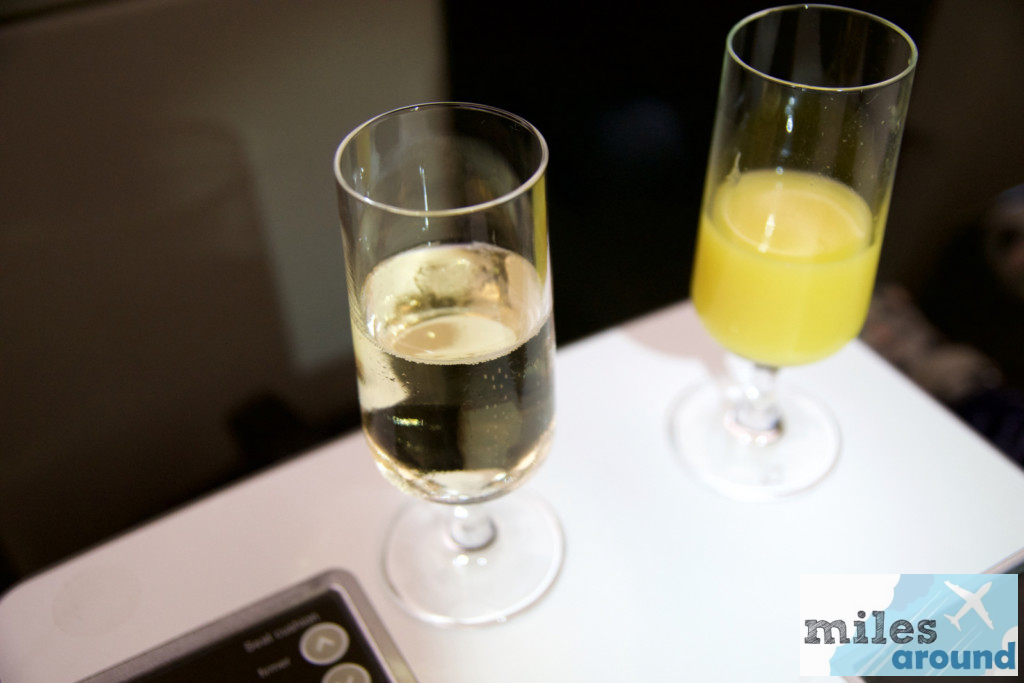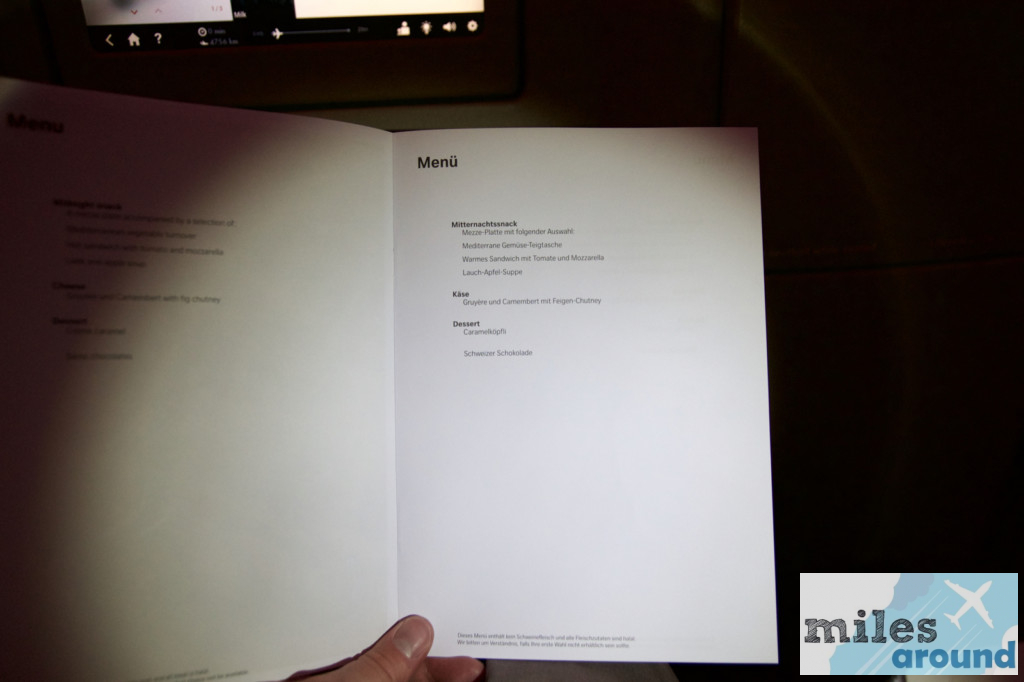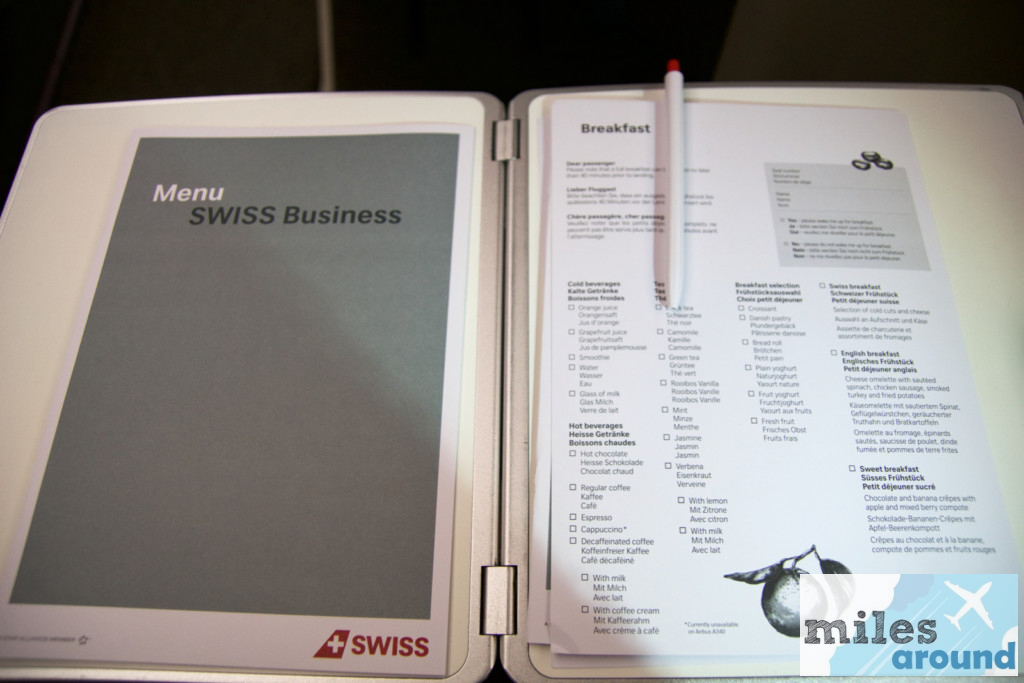 Since I wasn't tired yet, I had a midnight snack served to me after the start. There was a salmon mezze platter, a warm tomato and mozzarella sandwich, and a leek and apple soup. There were also two small pieces of cheese (Gruye and Cambert) and a caramel croissant for dessert. I drank a glass of Duval-Leroy Brut champagne and a glass of water with it.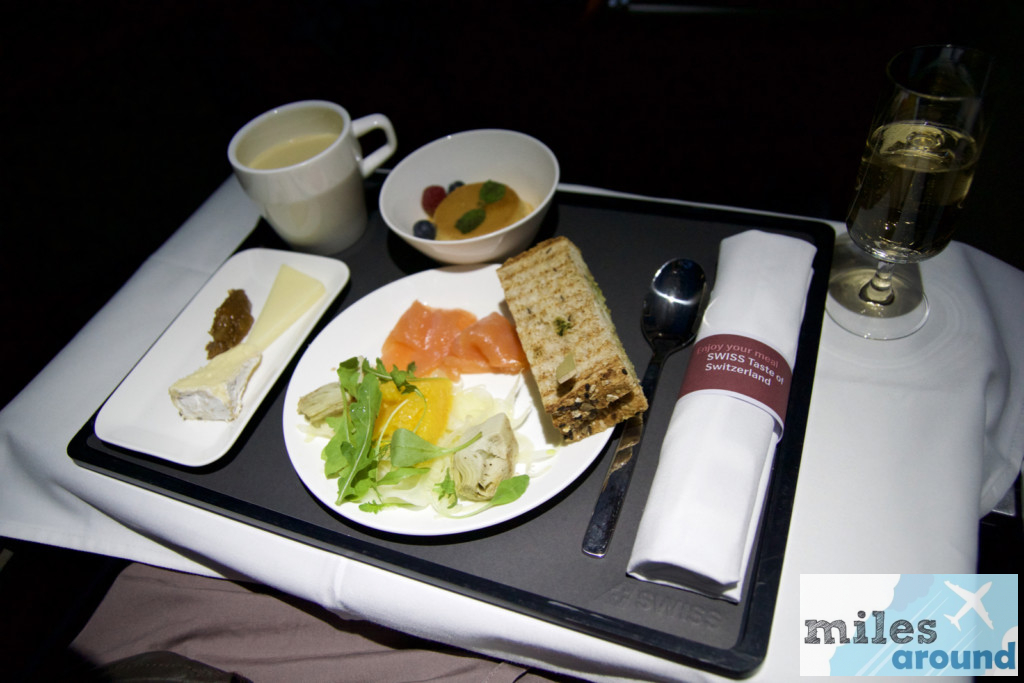 About an hour before landing, we were just flying over Zagreb, breakfast was served. I had pre-ordered two crepes, a small bowl of fruit, orange juice and a smoothie at the start of the flight. There was also a cappuccino. Everything was very delicious!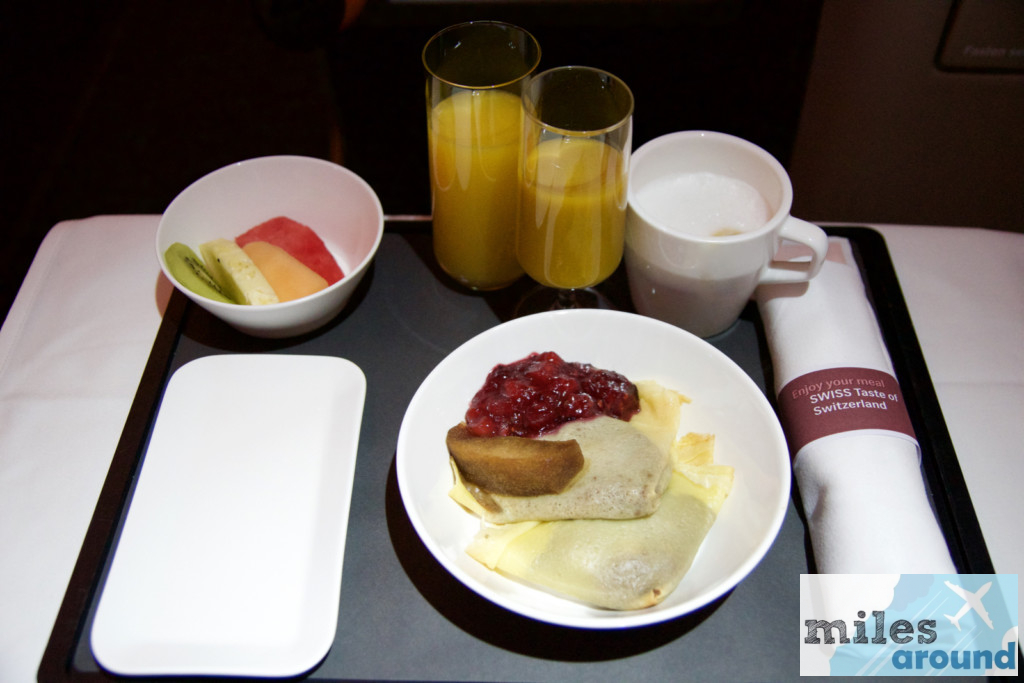 SWISS Business Class in the Airbus A330 – Amenities
On the night flight from Dubai to Zurich, SWISS only offered a small amenity kit in Business Class. This was a black metal box from the Swiss manufacturer Victorinox. Inside was a sleep mask, socks, toothbrush, ear plugs, and lip balm.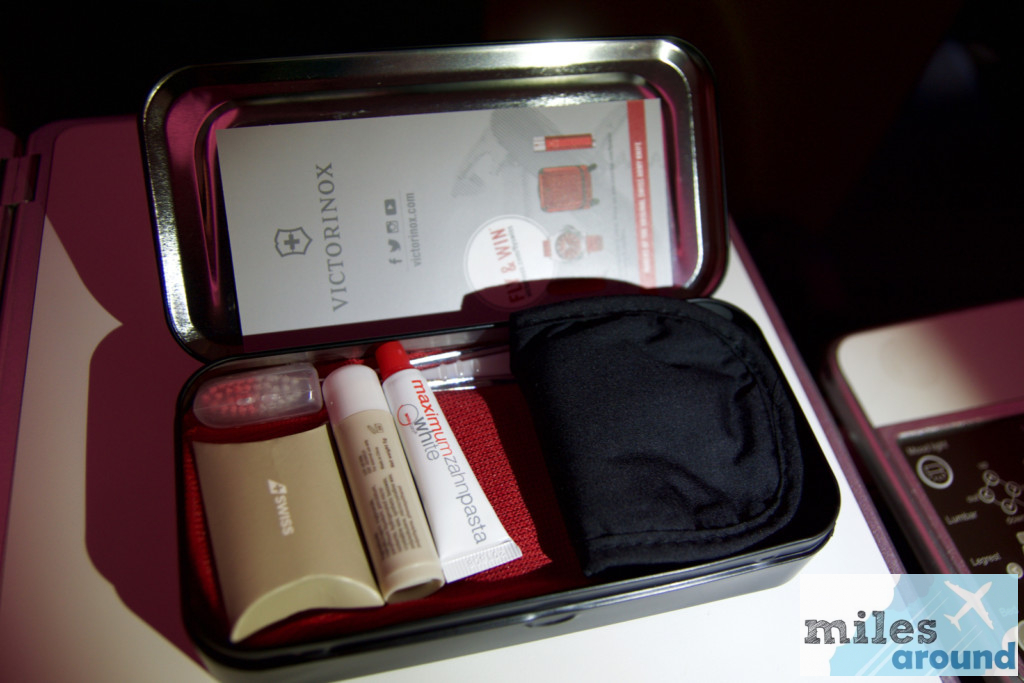 There was also a fluffy blanket, a pillow and a bottle of water at my seat upon boarding. There is also a coat hanger in each seat for hanging up jackets and jackets. Other amenities, such as pajamas or slippers, were not handed out.
More information about SWISS
Did you enjoy the post? Then share it on social networks. With this you support our work. Have you already flown Business Class with SWISS? Then I look forward to your opinion in the comments.
Evaluation of the SWISS Business Class in the Airbus A330-300
Service

Seat

Entertainment

Cleanliness

Beverages

Essen

Price-performance
Summary
The service at SWISS was good. The flight attendants were attentive, polite and caring. Even during the sleeping phase, the cabin was repeatedly looked at and the guests were not left to sit alone. The selection and quality of the drinks on board was very good. The breakfast scored with an extremely wide selection and the midnight snack was almost a full meal. However, the seat and especially the entertainment system urgently need an upgrade. Nevertheless, we found the atmosphere in the dressing room very appealing.