After I have had the frequent flyer status "Star Alliance Gold" for over a year now, but unfortunately had no time for further flights due to the completion of my master's degree and a move, we were able to fly today on our trip with SWISS (here book) after Nice finally reap the benefits.
Am frühen Vormittag fuhren wir von Halle (Saale) zum Flughafen Berlin-Tegel. Nachdem wir unser Auto auf einem ca. 5km entfernten Parkplatz abgestellt hatten, ging es mit einem Kleinbus zum Flughafen. Den Check-in für unseren Flug mit SWISS über Zürich nach Nizza hatte ich schon am Abend vorher online erledigt. Da ich aber die Bordkarten meiner Flüge sammle, druckten wir diese noch zusätzlich am Automaten aus. Unseren Koffer gaben wir anschließend am First Class-Schalter der Lufthansa ab. Dies brachte uns heute zwar keinen Zeitvorteil, da auch der normale Schalter fast verwaist war, aber wie sagt man so schön: "Wer hat, der kann!" :)
Lufthansa Senator Lounge (Berlin-Tegel)
Nachdem alles erledigt war, ging es eine Etage höher in die Senator Lounge der Lufthansa. Zuerst fiel uns die Ruhe und damit verbundene Atmosphäre auf. Kein klackern mehr von irgendwelchen Koffern oder die Stimmen von "wild durch die Gegend" quatschenden Menschenmassen.
Es gibt einen ausreichend dimensionierten Sitzbereich. Dieser besteht aus bequemen Ledersitzen, welche in kleinen Sitzgruppen angeordnet sind. Steckdosen sind in jeder Gruppe vorhanden. Das kostenlose WLAN wird von T-Mobile angeboten.
Zur Verköstigung stand ein Buffet inklusive kleiner Bar zur Verfügung. Das Angebot empfanden wir als ausreichend. Es gab allerlei Spirituosen, Wein/Sekt, Kaffee und alkoholfreie Getränke. An warmen Speisen wurde eine sehr leckere Thai Green Curry Soup und Nürnberger Spezialitäten angeboten. Dazu gab es dann noch eine Auswahl von Kartoffelsalat, Spreewald Gurken, gemischtem Salat, Sandwiches und Brezeln.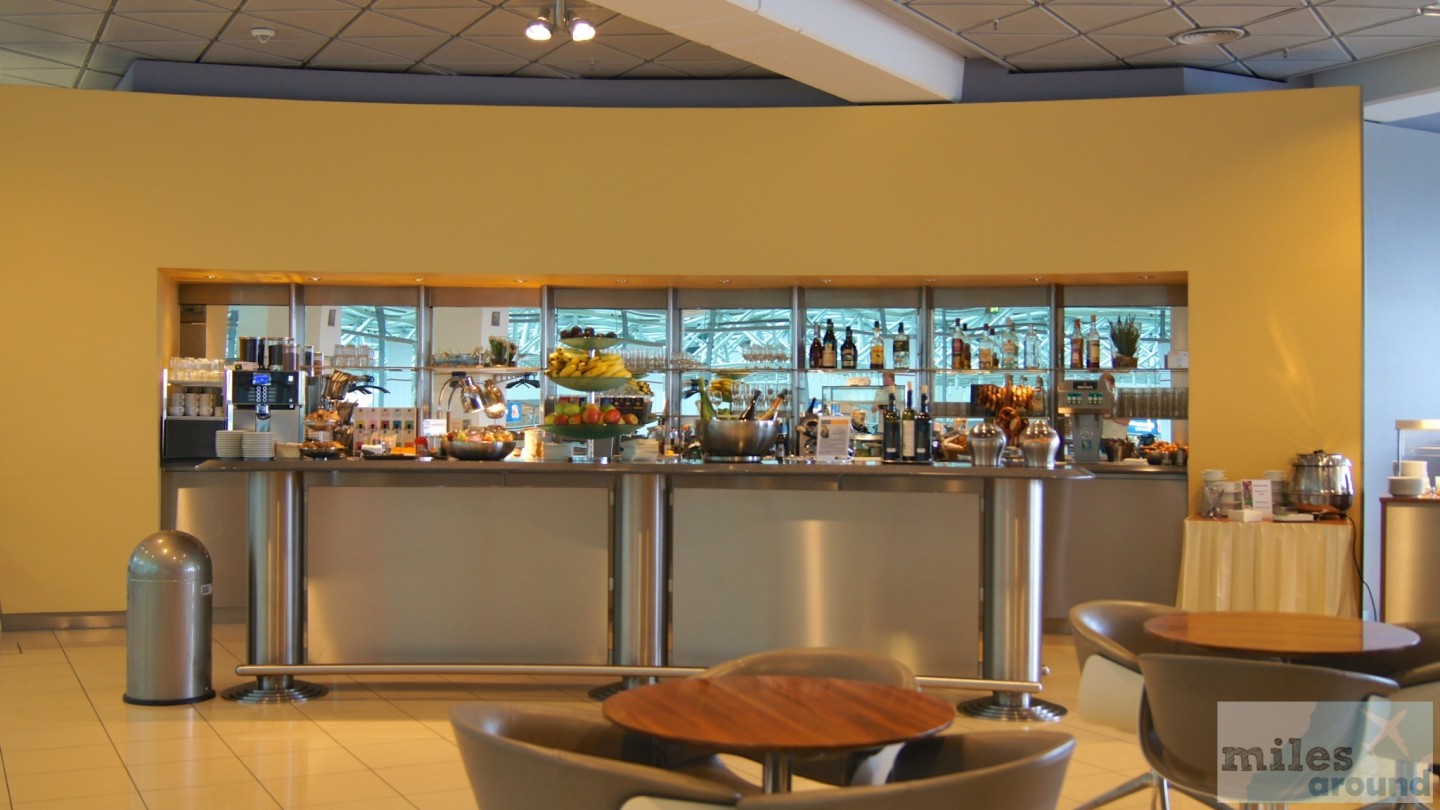 Zwanzig Minuten vor dem eigentlichen Boarding unseres Fluges nach Zürich (LX 967) wurde über Lautsprecher eine Verspätung von mindestens 20 Minuten mitgeteilt. Unsere ersten Bedenken galten unserem Anschlussflug nach Nizza. Das kompetente Personal am Einlass konnte uns aber beruhigen, da dieser auch schon mit Verspätung behaftet war. Zu unserer eigentlichen Abflugzeit um 14:50 Uhr landete die LX 966 aus Zürich erst in Berlin. Laut der Anzeigetafel sollte unser Flug um 15:15 Uhr starten. Somit verließen wir die Lounge und begaben uns zum Gate A10.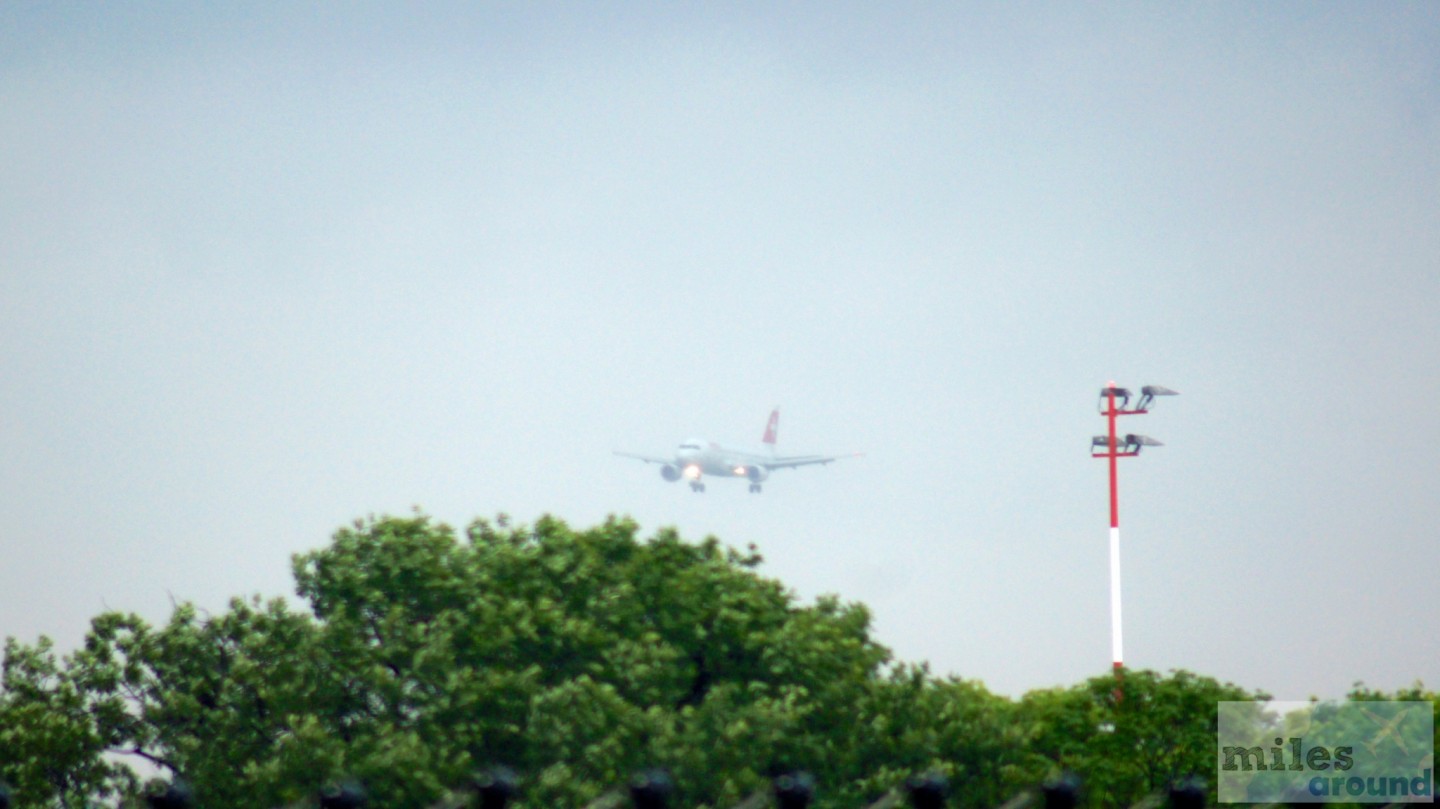 Flug nach Zürich und SWISS Senator Lounge
Der Flug nach Zürich verlief ohne Probleme. Wir saßen in der Reihe 5 direkt hinter dem Vorhang zur Business Class. Zu essen gab es ein ziemlich süßes Linzer Törtchen. Nach einem etwas turbulenten Anflug auf Zürich kamen wir dort um 16:50 Uhr an. Auf der Anzeigetafel wurde der Flug nach Nizza (LX 560) mit Abflugzeit um 17:30 Uhr gelistet. Also hatten wir noch ein wenig Zeit, um in die SWISS Senator Lounge zu schauen. Diese ist wesentlich moderner und komfortabler gestaltet als die in Berlin. Es gab ein tolles Angebot von Speisen und Getränken. Highlight unseres Besuches war ein leckeres Mövenpick Eis.
Das Flugzeug war, genauso wie der Vorangegangene, annähernd ausgebucht. Diesmal wurde zum Essen eine, noch teilweise gefrorene, Butterbrezel gereicht. Nach einem tollen Anflug entlang der Côte d'Azur landeten wir in Nizza. Das Gepäck kam dank "Priority"-Anhänger recht schnell auf dem Band an.
Ankunft in Nizza
Mit dem kostenlosen Shuttle-Bus mussten wir vom Terminal 1 zu Terminal 2 fahren, da sich hier die Mietwagen Station befindet. Über die Webseitebilliger-mietwagen.dehatte ich bei Avis schon im Voraus einen Citroen C4 gebucht. Auf Grund der Verfügbarkeit bekamen wir letztendlich einen Opel Astra zugeteilt. Dieser hatte eine erfreulich gute Ausstattung, u.a. mit Leder, Klimaautomatik und Tempomat.
Are you still looking for a suitable hotel on the Côte d'Azur?

You can find a hotel that suits your budget through the various online travel agencies such as Agoda,Booking.com,ebookers.de,Expedia,Hotels.com,lastminute.de, opodo, otel.com or Venere.com.
Nach einem kurzen Stopp im Supermarkt fuhren wir zu unserer Unterkunft für die kommende Woche. Die gebuchte Ferienwohnung war zwar etwas klein (20qm) aber für uns Zwei ausreichend. Das Beste war der tolle Blick von unserer Terrasse auf die Bucht von Nizza.
Unsere Bewertung des Fluges mit SWISS in Economy Class von Berlin über Zürich nach Nizza
Seat

Entertainment

Cleanliness

Service

Beverages

Essen

Price-performance
Summary
Die Lufthansa Tochter SWISS bietet auf den inneneuropäischen Flügen ein gutes Preis-/Leistungsverhältnis. Das Kabinenpersonal war sehr freundlich und zuvorkommend. Das Angebot an Speisen und Getränken ist für Economy Class mehr als ausreichend.