Every year I try to escape the hustle and bustle of mulled wine at the German Christmas markets, but also the gloomy December weather. This time there was a cheap offer with SAS Plus to Los Angeles. On the one hand I was able to soak up some sun, on the other hand my Star Alliance Gold status was almost extended thanks to the good yield of frequent flyer miles. So on St. Nicholas Day 2019 I flew to Los Angeles in SAS Plus in the Airbus A330-300. In the following trip report you will find out what service and equipment you can expect in SAS Premium Economy on long-haul routes.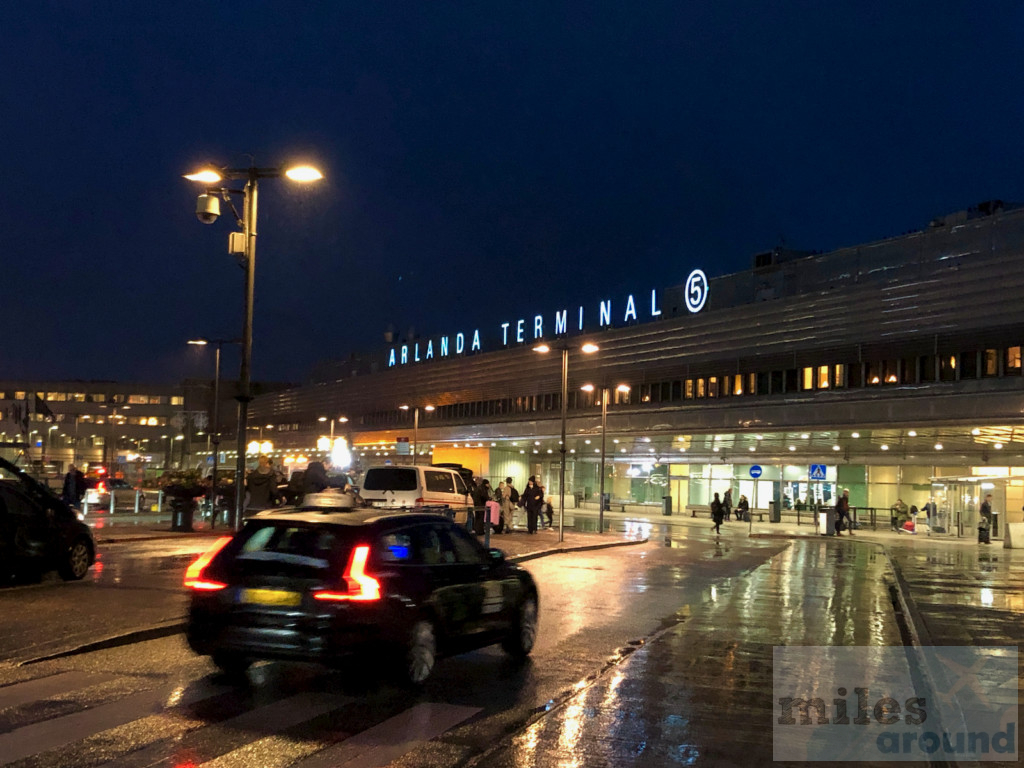 After a short night at the airport hotel, I took the shuttle bus to Terminal 5 at Stockholm Airport early in the morning. Unfortunately, not all of the check-in counters were manned, so it took a little longer to check in my luggage. Thanks to Fast Track at the security check, I was able to make up for the longer waiting time.
Board SK939 to Los Angeles
After a hearty breakfast in the SAS Gold Lounge (Link zur Lounge Review) I went through passport control and then to departure gate F58. The number of passengers in the waiting area already suggested that the Airbus A330-300 was not really fully booked. Thanks Rob from robisintheair.de I had the information that my seat next to me was blocked in SAS Plus and therefore there was a good chance that it would remain free.
Boarding started on time, and first the passengers of SAS Business, SAS Plus or SAS Premium Economy and status customers were asked to board. Since I still had to download a few series to my laptop, I didn't use priority boarding and was almost one of the last passengers to board.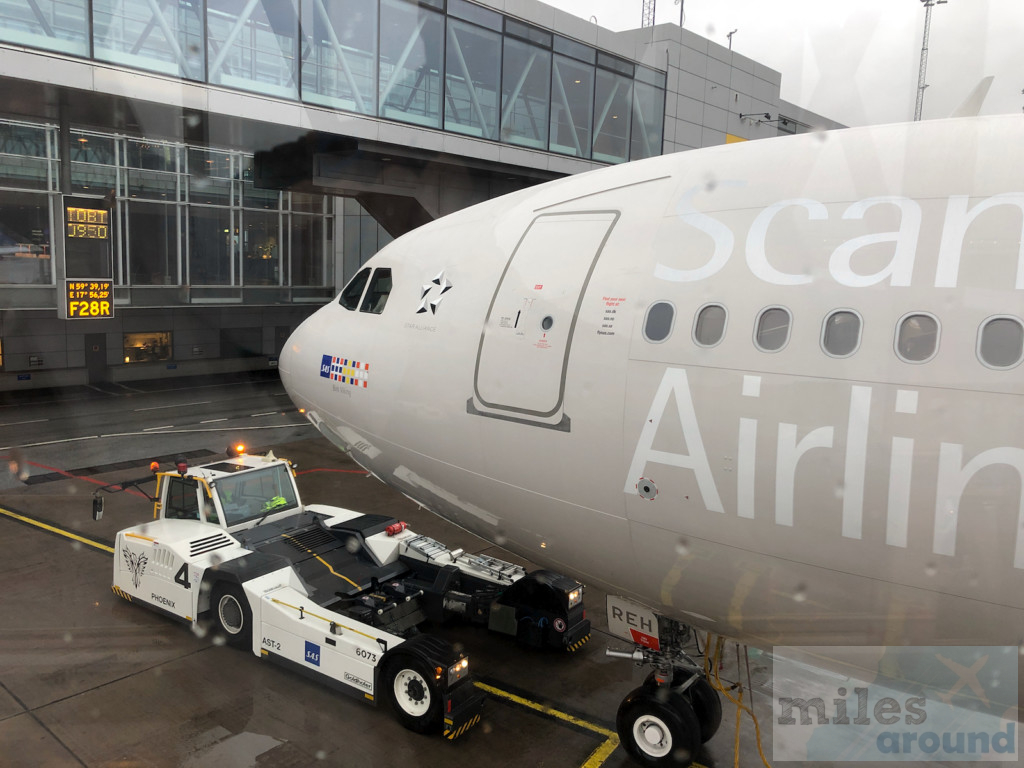 SAS Premium Economy in the Airbus A330 – cabin and seat
The SAS Plus cabin in the Airbus A330-300 is separated from Business Class directly after the second door. In total, SAS installed 56 Premium Economy seats in eight rows in a 2-3-2 configuration.

Apparently there was a seat change at short notice, and so the seat next to me was still occupied. However, since the Premium Economy cabin was only 50% full, I took the opportunity and simply sat down two rows forward in 25H.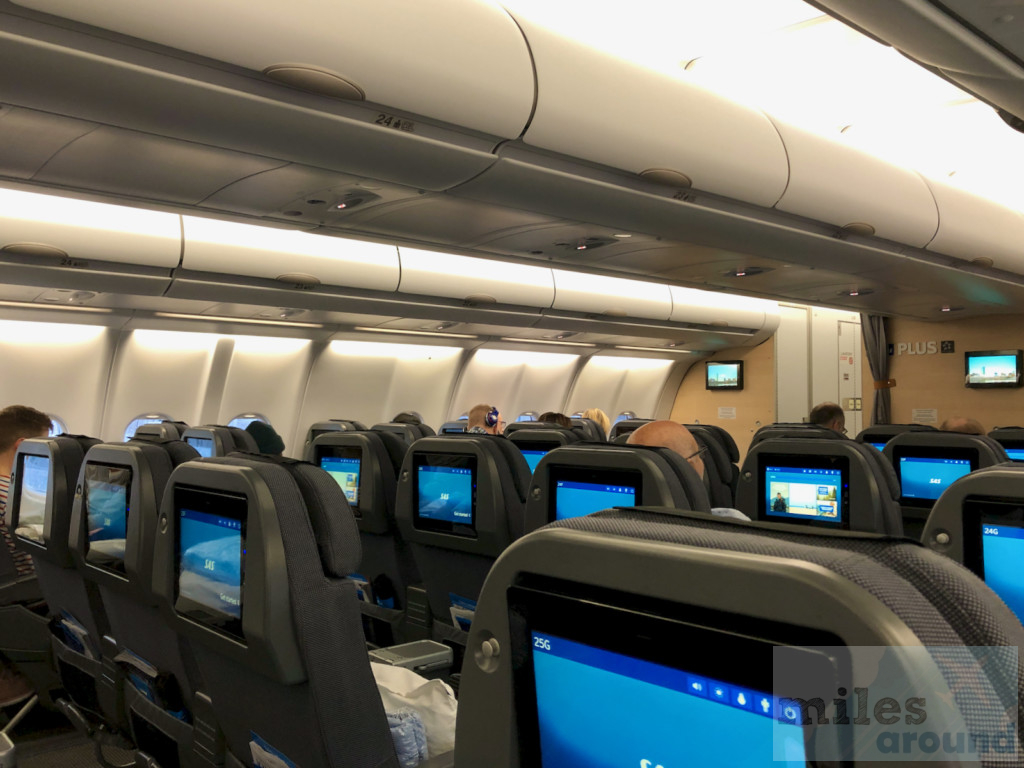 The seats in SAS Plus are covered with a gray fabric and comfortably padded. In the first Premium Economy row (row 20) there is an adjustable leg rest and in the following only a footrest. The distance between the seats is very large at 96 cm and the seat is also sufficiently wide. The table was hidden in the armrest and was a bit small. Nevertheless, I was able to work on my laptop without any problems. So that you don't run out of electricity, there was a universal socket for each seat and a USB port on the monitor.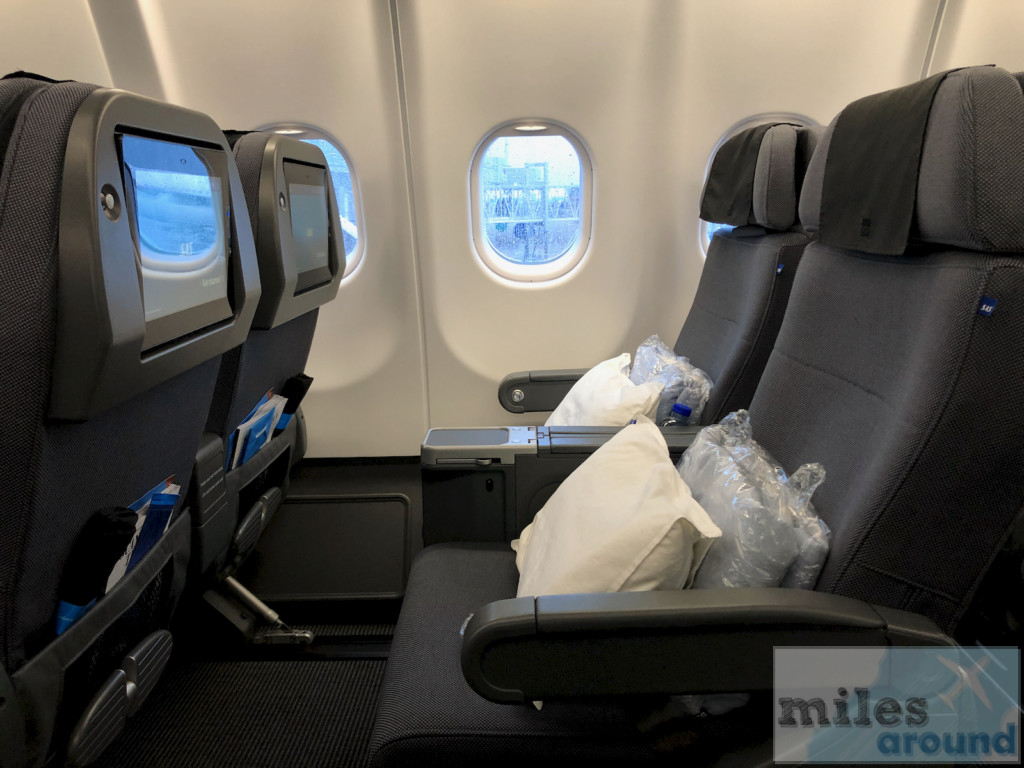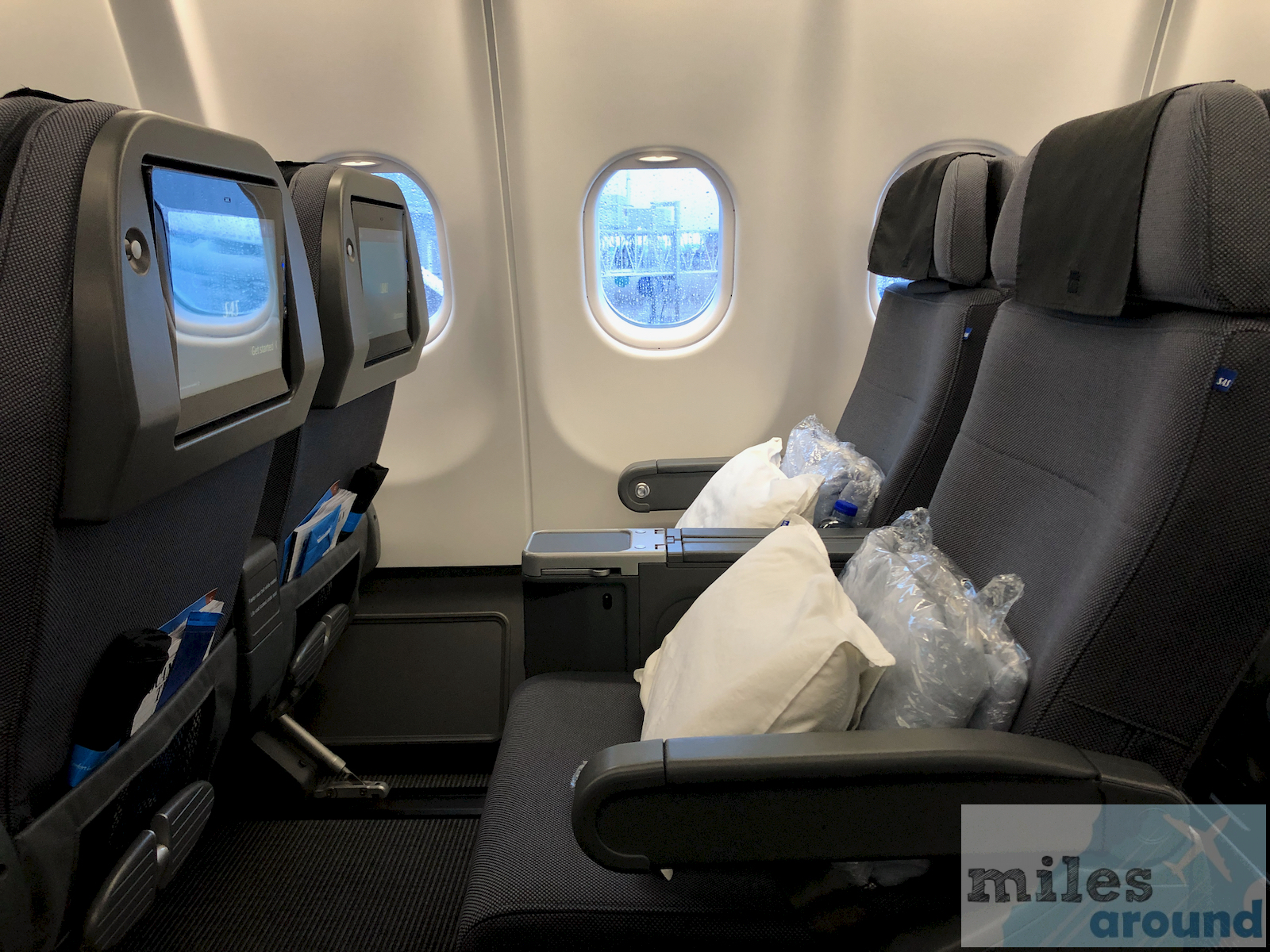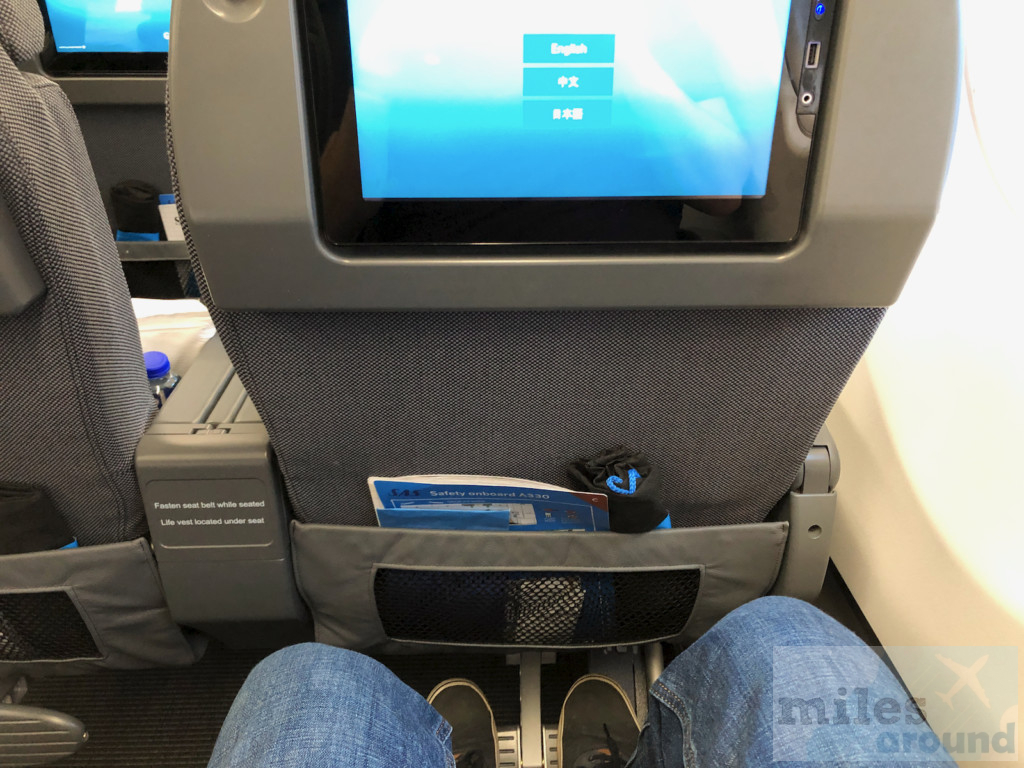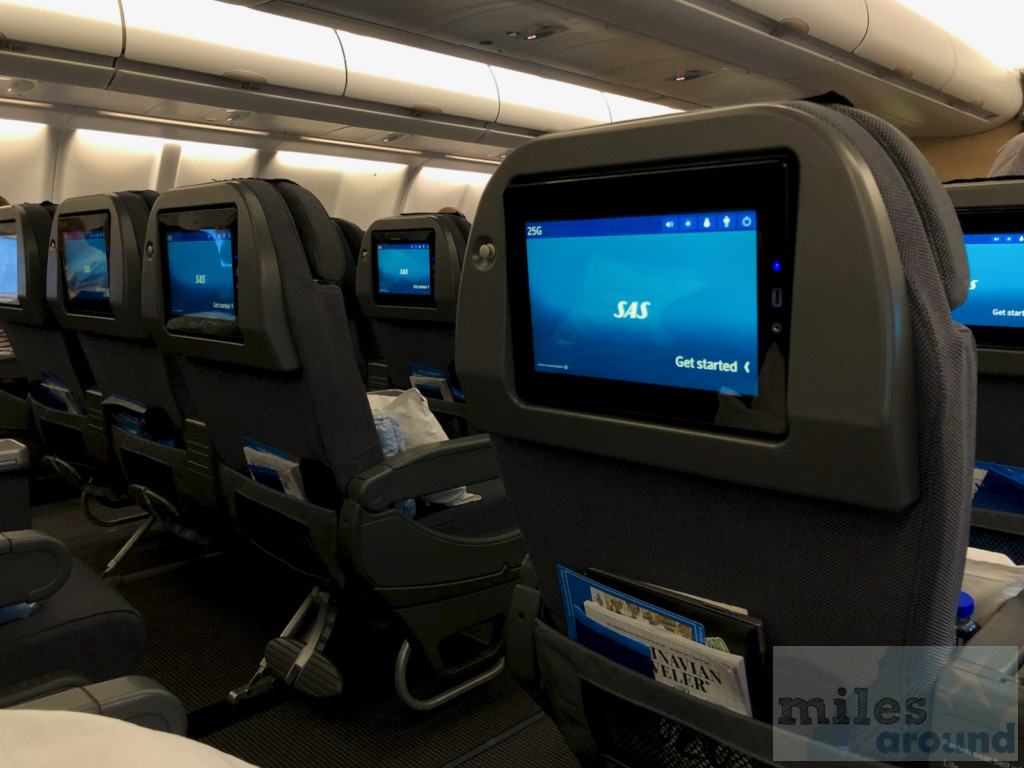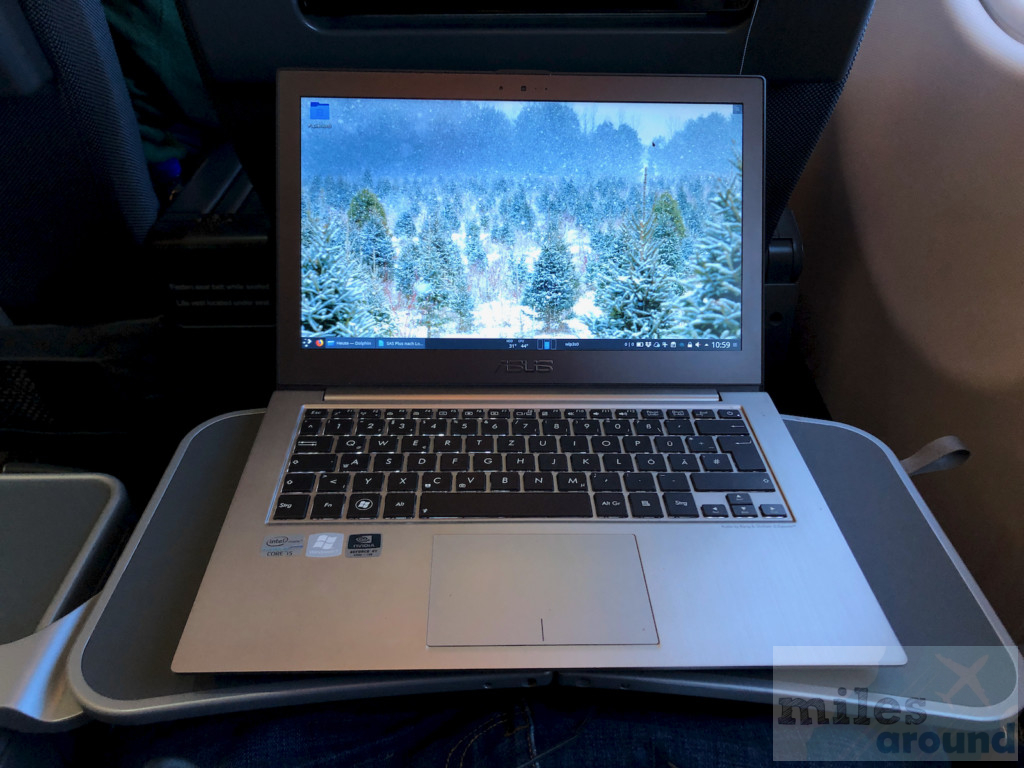 SAS Premium Economy in der Airbus A330 – Service
Service began about 45 minutes after takeoff with a round of drinks. Here I was free to choose from the drinks menu in the SAS Plus and ordered a sparkling wine to properly celebrate the start of my short holiday. I was also asked what I wanted to drink with the meal. I ordered a red wine and got two bottles of Italian Syrah. Well then cheers!
For lunch I had a choice of fish and chicken. I chose the chicken which was served with barley and vegetables. There was also a potato salad and a juicy carrot cake.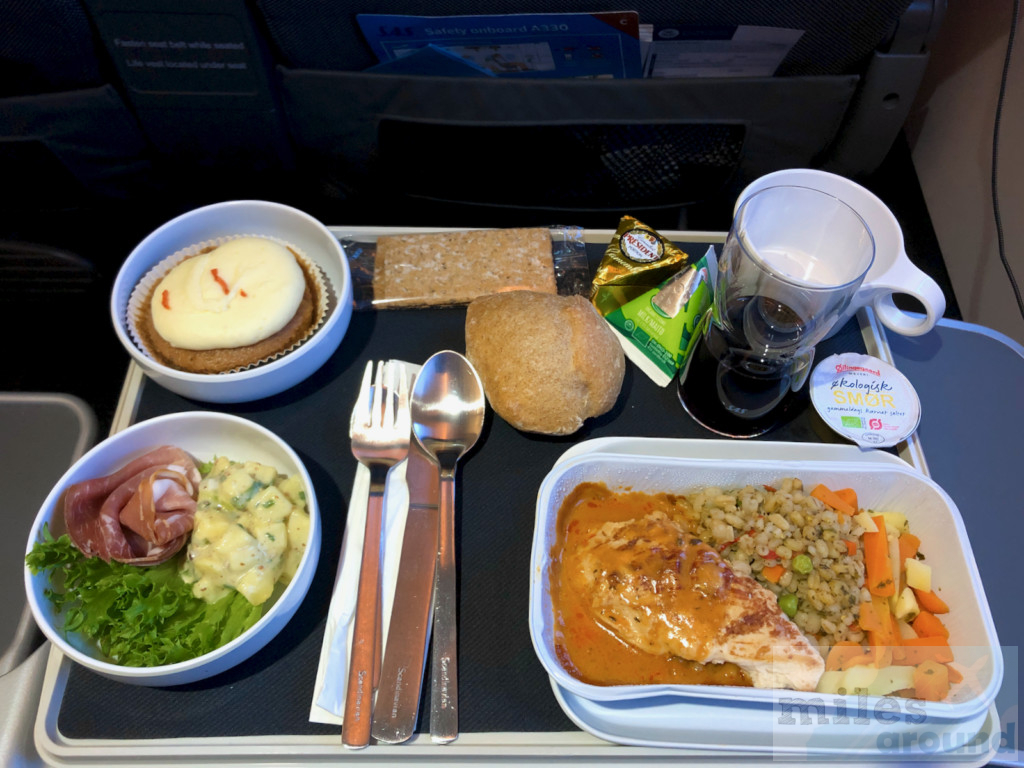 A light snack was served about five hours before landing. In addition to fresh fruit, there was a kind of wrap with cheese and ice cream. The Swedish lingonberry ice cream was really fruity and very tasty!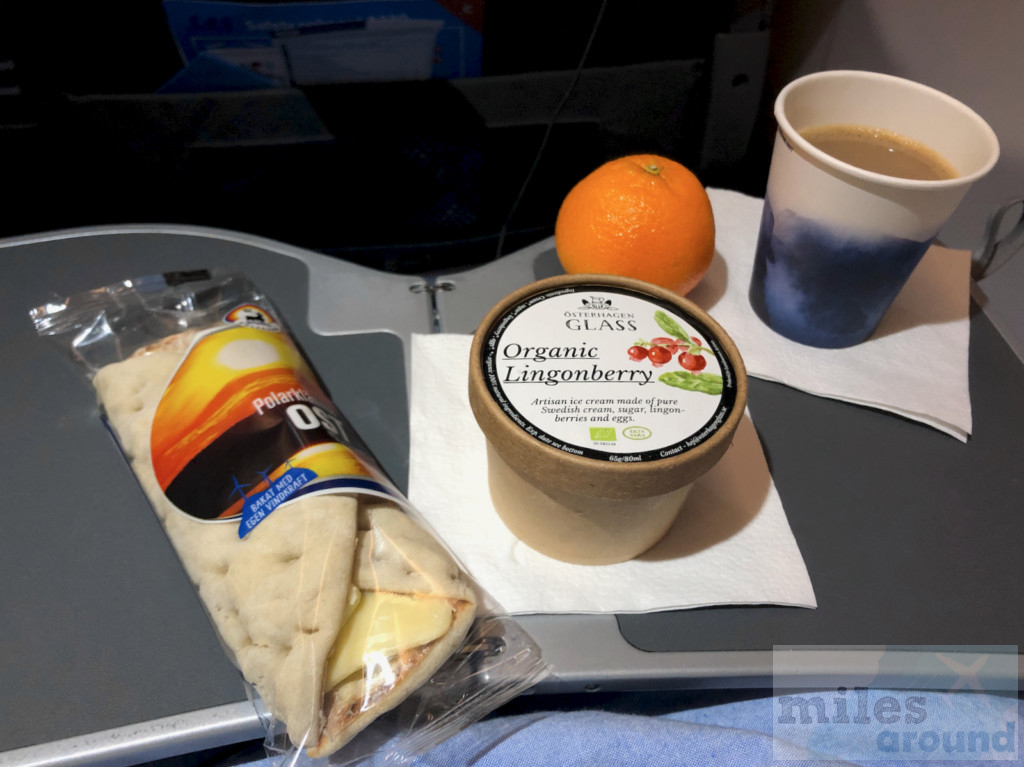 Another snack was served as we flew over the snow-capped Rocky Mountains near Salt Lake City. There was a piece of smoked salmon with bulgur salad. I also ordered a non-alcoholic beer. The American-style wheat beer is specially brewed for SAS by the Mikkeller brewery and filled into these stylish cans.
Each seat also had a pillow, a slightly better blanket, a 0.5 liter bottle of still water and an amenity kit. The amenity kit in SAS Plus consisted of a toothbrush, a sleep mask and earplugs.
SAS Premium Economy in der Airbus A330 – Entertainment
The monitor in the front seat offered a good selection of films, series, music and games. 61 films were available, which could be filtered according to different categories. A targeted search, e.g. B. to German soundtrack, was not possible. A great addition was the display of the two external cameras installed in the aircraft. So I was able to follow the start in Stockholm from the perspective of the cockpit.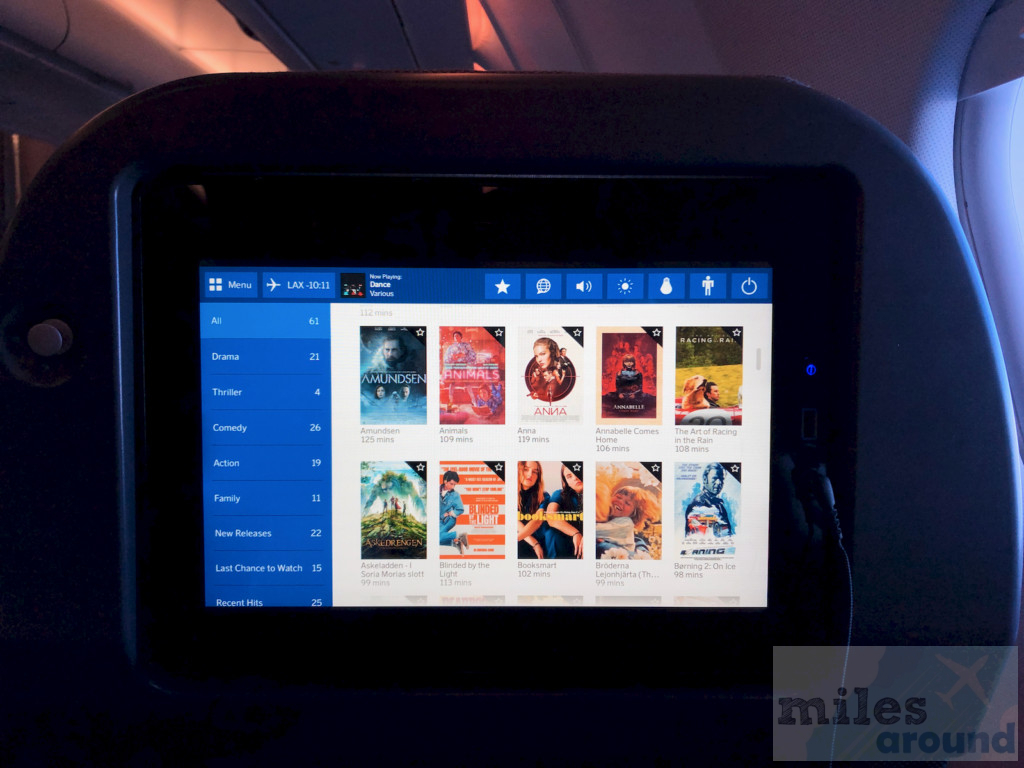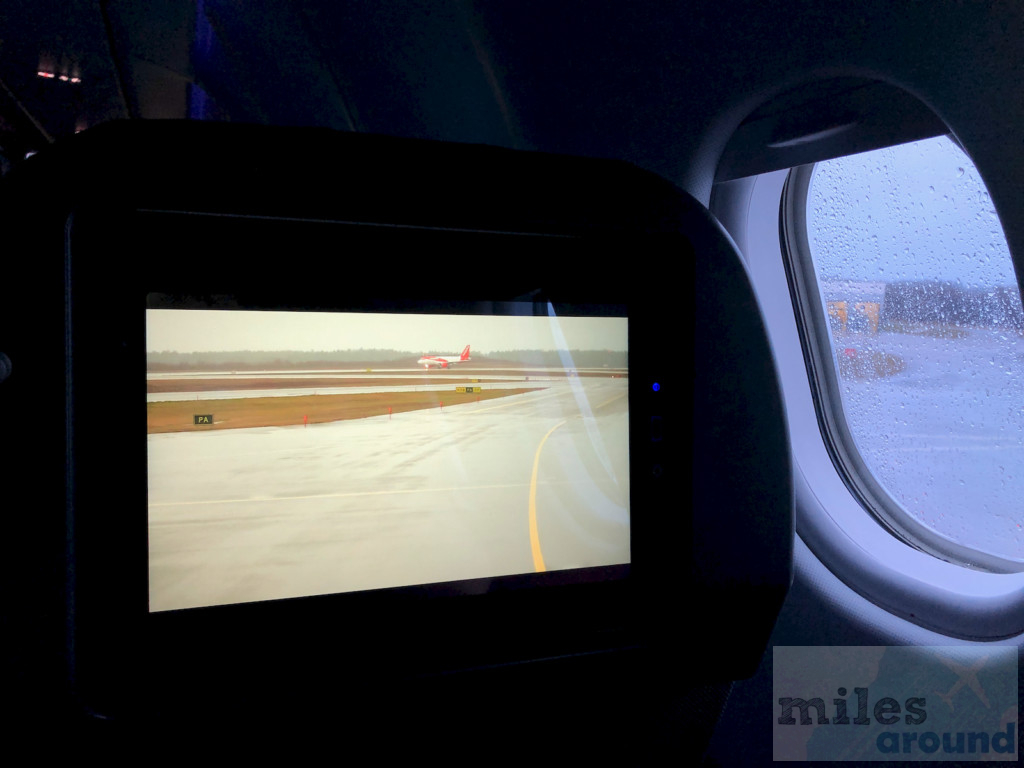 SAS also offers WiFi on long-haul flights to the US and Asia. This can be used free of charge by passengers in SAS Plus and SAS Business. Unfortunately, the Airbus A330-300 that I flew to Los Angeles was the only aircraft not yet equipped with satellite technology. Pity!
Approaching Los Angeles
After a flight of about 12 hours, we landed on time at Los Angeles International Airport. That ended a great experience in the SAS Plus.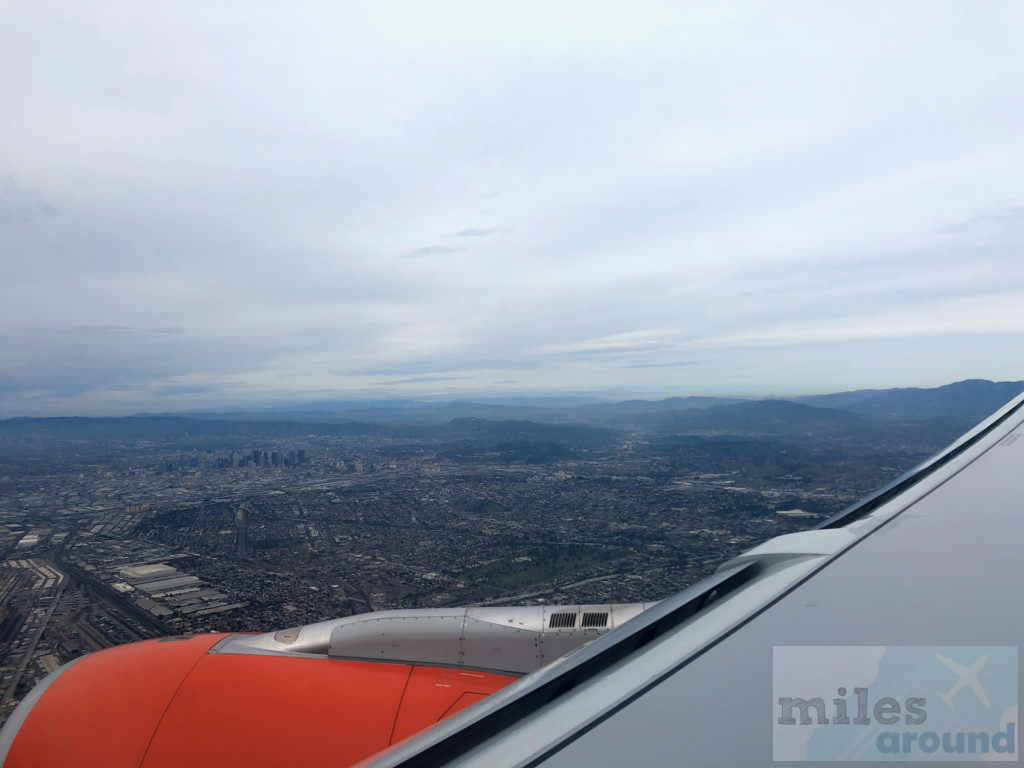 More information about SAS Scandinavian Airlines
Did you enjoy the post? Then share it on social networks. With this you support our work. Have you already flown in the SAS Plus in the Airbus A330-300? Then I look forward to your opinion in the comments.
Evaluation of the SAS Plus in the Airbus A330-300
Service

Seat

Entertainment

Cleanliness

Beverages

Essen

Price-performance
Summary
The SAS Plus is definitely worth the surcharge compared to Economy Class. The service is friendly, the range of food and drinks is extensive and the seat is comfortably padded. The price-performance ratio is right in my opinion!