After five days in Chicago it was time for our flight back to Stockholm with SAS. In our rented Audi A4 we were greeted by a Silvercar-Employee drove to Terminal 5 at Chicago O'Hare Airport. Check-in at the Star Alliance Gold or Business counter went smoothly. When we asked, we were offered an upgrade to SAS Plus (Premium Economy) for $199. Similar to our outbound flight (upgrade via Optiontown), the booking class would have been adjusted here as well. But we saved the money today.
SWISS Lounge Chicago (O'Hare)
Fortunately, there was a priority lane for Star Alliance Gold customers at the security checkpoint, so it was quickly over with. The entrance to the SWISS Lounge is right behind the identity check and the duty-free area. Renovated in 2011, the lounge adapts to SWISS' global design concept. You can find out more details about the SWISS Lounge at Chicago Airport in our Review.
Since the SWISS flight to Zurich departs at 7:15 p.m., the lounge closes at 6:30 p.m. So we decided to switch to the SAS Business Lounge.
SAS Business Lounge Chicago (O'Hare)
The SAS Business Lounge is located between Gate M13 / M14 and was very well filled. We hardly found a place. The design is typically Nordic. There are two round tables at the buffet with sockets and several seating areas with armchairs. A view of the apron, now a Royal Jordanian Airlines (registration JY-BAA) Boeing 787-8, is available.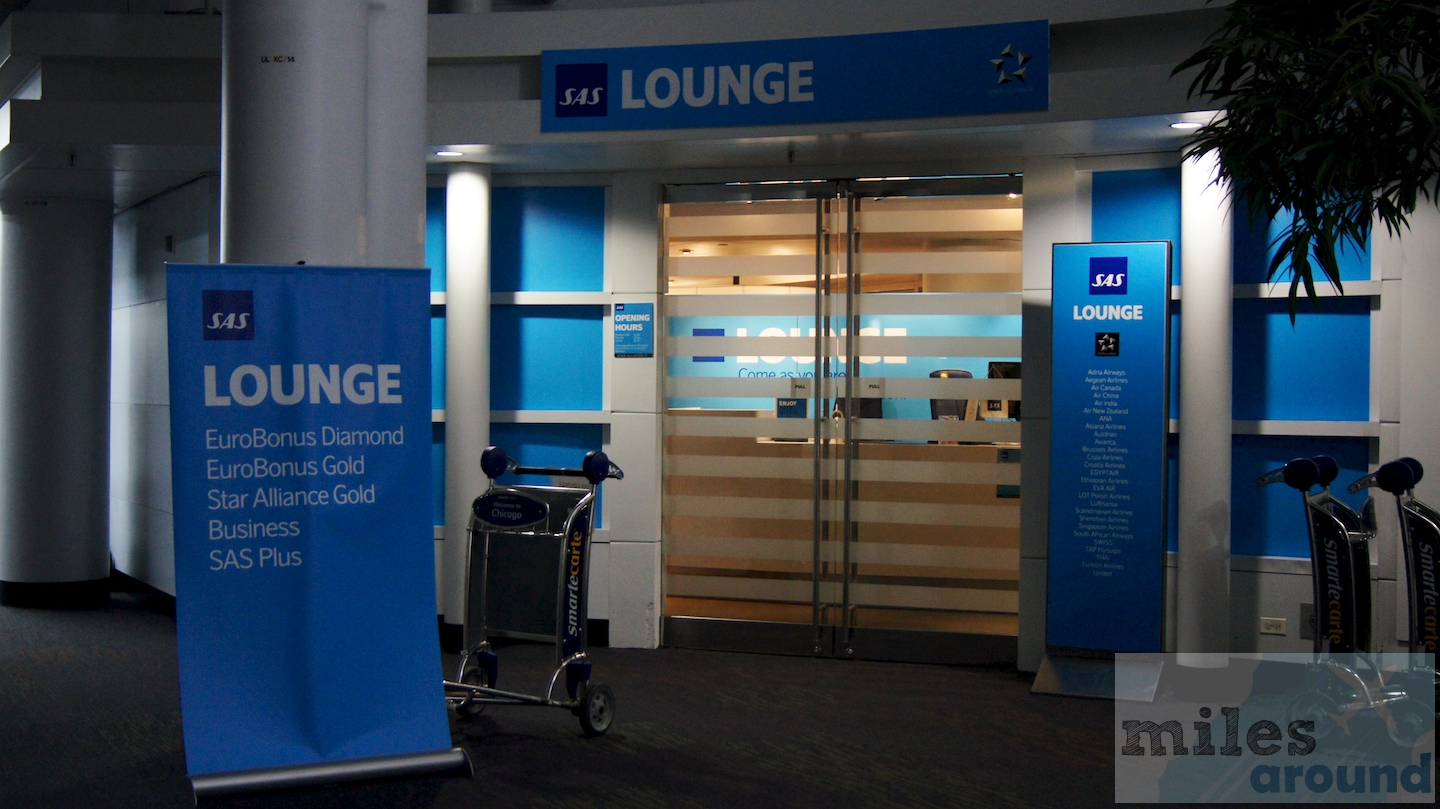 Flight SAS SK946 to Stockholm
The same Airbus A330-300 Enhanced (registration LN-RKR, first flight on August 26, 2015) was already waiting at the gate as on the outbound flight. Nevertheless, boarding started late at 7:35 p.m., so unfortunately we didn't get off punctually at 7:45 p.m. As we had declined the surcharge upgrade, we sat in economy class (SAS Go) on the way to Stockholm. This and also the SAS Plus filled up to over 90%. At 20:02 the captain reverses the machine and announces a flight time of 7:30 hours. Just 13 minutes later, the A330-300 took off from runway 10L.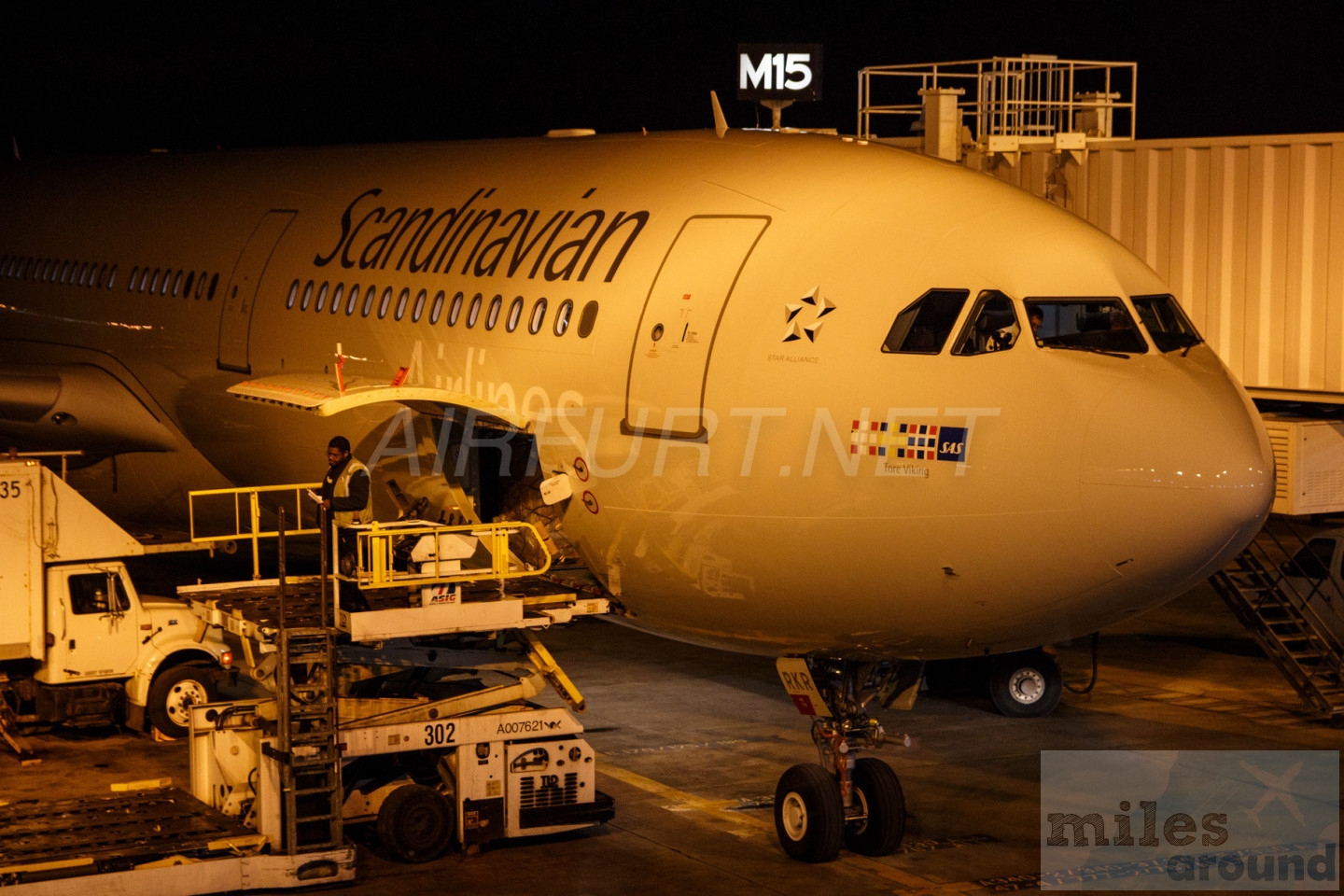 The drinks service only arrived in row 42 about an hour after departure. Shockingly, we noticed the difference to the SAS Plus (here is our report from the outbound flight) fest: Alle alkoholischen und auch nichtalkoholischen Softgetränke (außerhalb der Mahlzeit) werden nur gegen Aufpreis (Wein & Bier 9$, Cola 5$) serviert. Auch der Essenservice lief eher skandinavisch gemütlich. So dauerte es über 1:30h, bis wir etwas zu essen bekamen. Nach meinem Geschmack war das Essen, bis auf das Dessert, ein Karamellkuchen, nicht genießbar. Aber dank dem Angebot in der SWISS Lounge und einer Deep Dish stuffed Pizza in Chicago, war ich auch nicht hungrig.
The sluggish service continued with collecting the trays. When I was finally able to fold up the little table in front of me again, we had almost left continental America and there was only a five-hour flight to Stockholm ahead of us. The time to sleep was greatly reduced.
At 11 a.m. local time, the Airbus A330-300 docked in white Stockholm. A nice feature at the end was the cabin light, which was set in the national colors of Sweden, blue and yellow.
Video Trip Report
Still looking for a flight to Chicago?

Chicago International Airport can be reached from many German cities all year round. You can find cheap flights through online travel agencies such as Flugladen.de, Bravofly,ebookers.de,Expedia,lastminute.deorskyscanner.
Our rating of the flight with SAS in economy class from Chicago to Stockholm
Seat

Entertainment

Cleanliness

Service

Beverages

Essen

Price-performance
Summary
In terms of value for money, SAS Go is an acceptable product. The difference in service and in the selection of food and drinks is enormous compared to SAS Plus (Premium Economy). SAS should definitely improve here.