Even before the 2022 World Cup, Qatar Airways was a popular and well-known airline, recognized for its excellent service and comfort. So we were curious how Qatar Airways Economy Class performed on our flight from Munich to Doha with onward flight to the Maldives. In the following review, you'll find out what we think of the seats, the amenities, the food and the entire flight.
How did we book our flight?
We booked our flight with Qatar Airways via the American Express Reiseservice booked because we were able to use the annual travel credit of 200 EUR from American Express Platinum. Since the American Express travel service is a kind of travel agency, the flights are usually a little more expensive than with the airline itself or various online portals and are usually only worthwhile once the travel credit has been deducted. So it makes sense to make a comparison beforehand.
What do I need to consider when checking in for flights to the Maldives?
Entry to the Maldives is possible for tourists with a booking confirmation for the entire period of stay. The visa is issued free of charge upon entry. However, each passenger requires an electronic entry declaration form prior to departure on the Maldivian border authorities website must be filled out. The resulting QR code is already checked during check-in at the departure airport.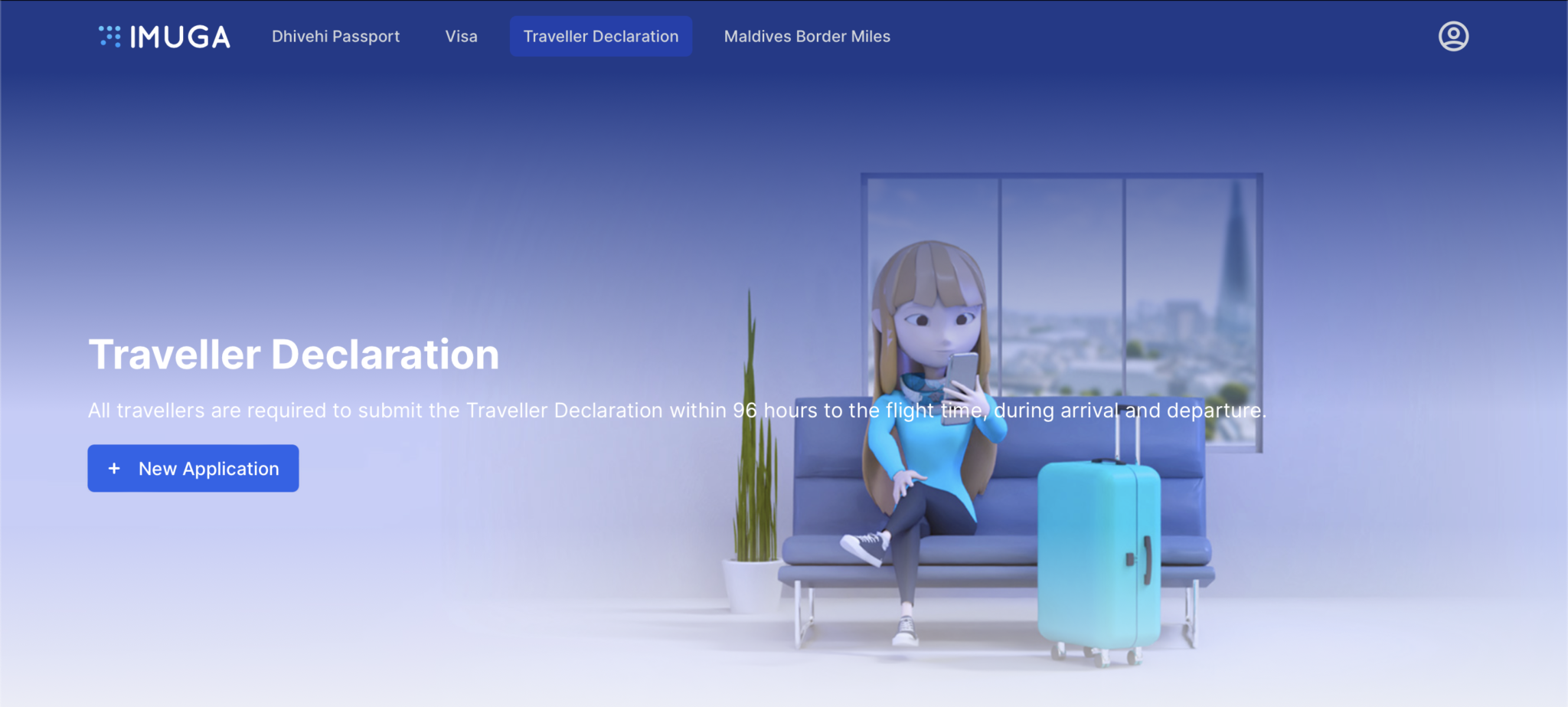 Notes: No guarantee for topicality and completeness. Please inform yourself before your departure on the website of the Foreign Office!
What is the cabin and seat like in Qatar Airways Economy Class on Boeing 787-8?
The cabin of the Boeing 787-8 has a sleek and modern design, with soft lighting and ample storage space for hand luggage. The aircraft has only two classes: 22 seats in business class and 232 seats in economy class. Economy class seats on Qatar Airways Boeing 787-8 are installed in a 3-3-3 configuration. We got three seats on the left window side of the Boeing in row 25.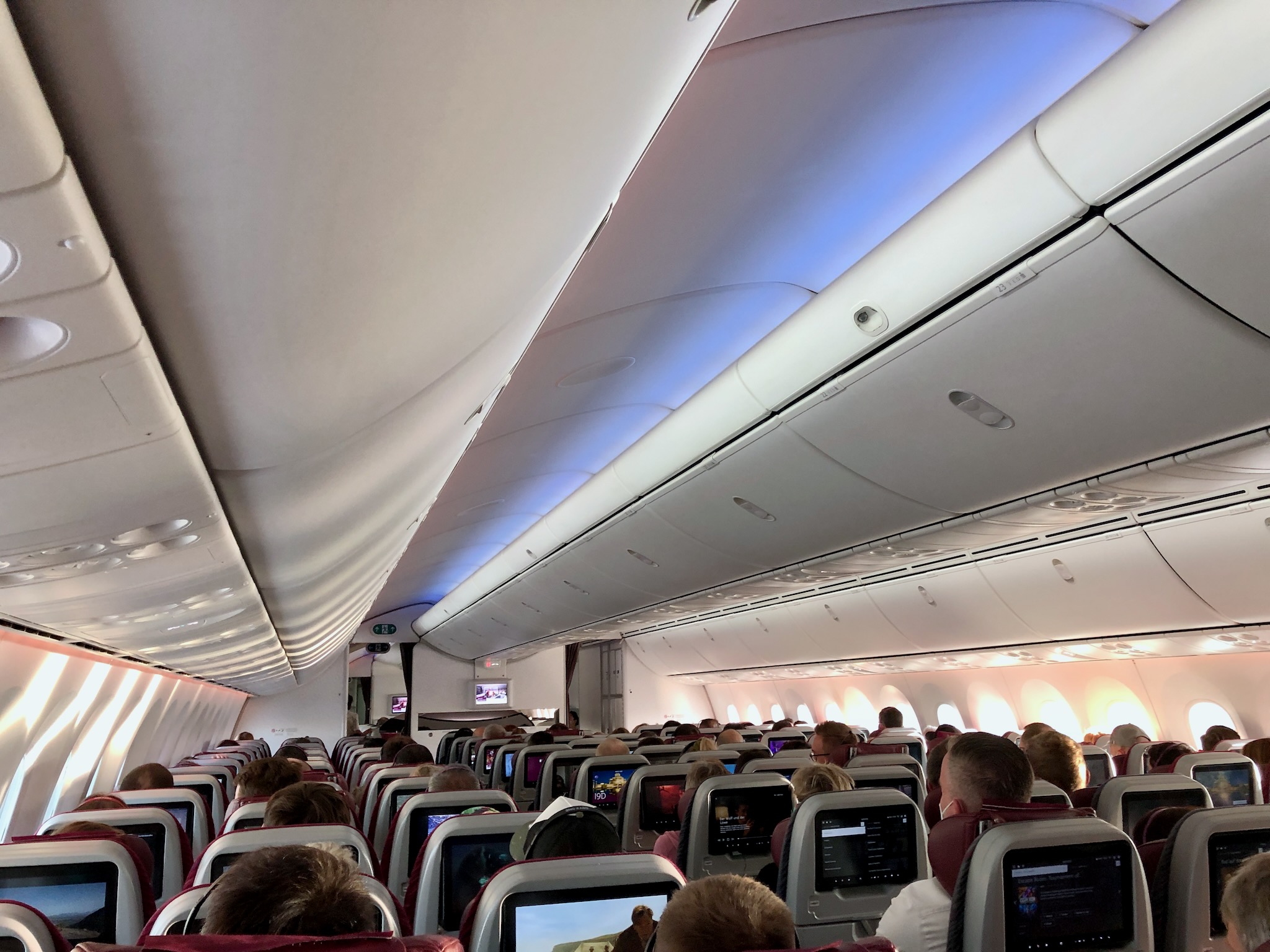 The comfortable seats are upholstered with a purple and red fabric pattern. We found the legroom to be a good size for economy class. Each seat was also equipped with a USB slot and a personal screen offering a wide selection of movies, TV shows and games. A pillow and blanket were waiting for us at our seat. Both the pillow and the blanket were very good by economy class standards. The pillow was firm and the comforter was nice and thick.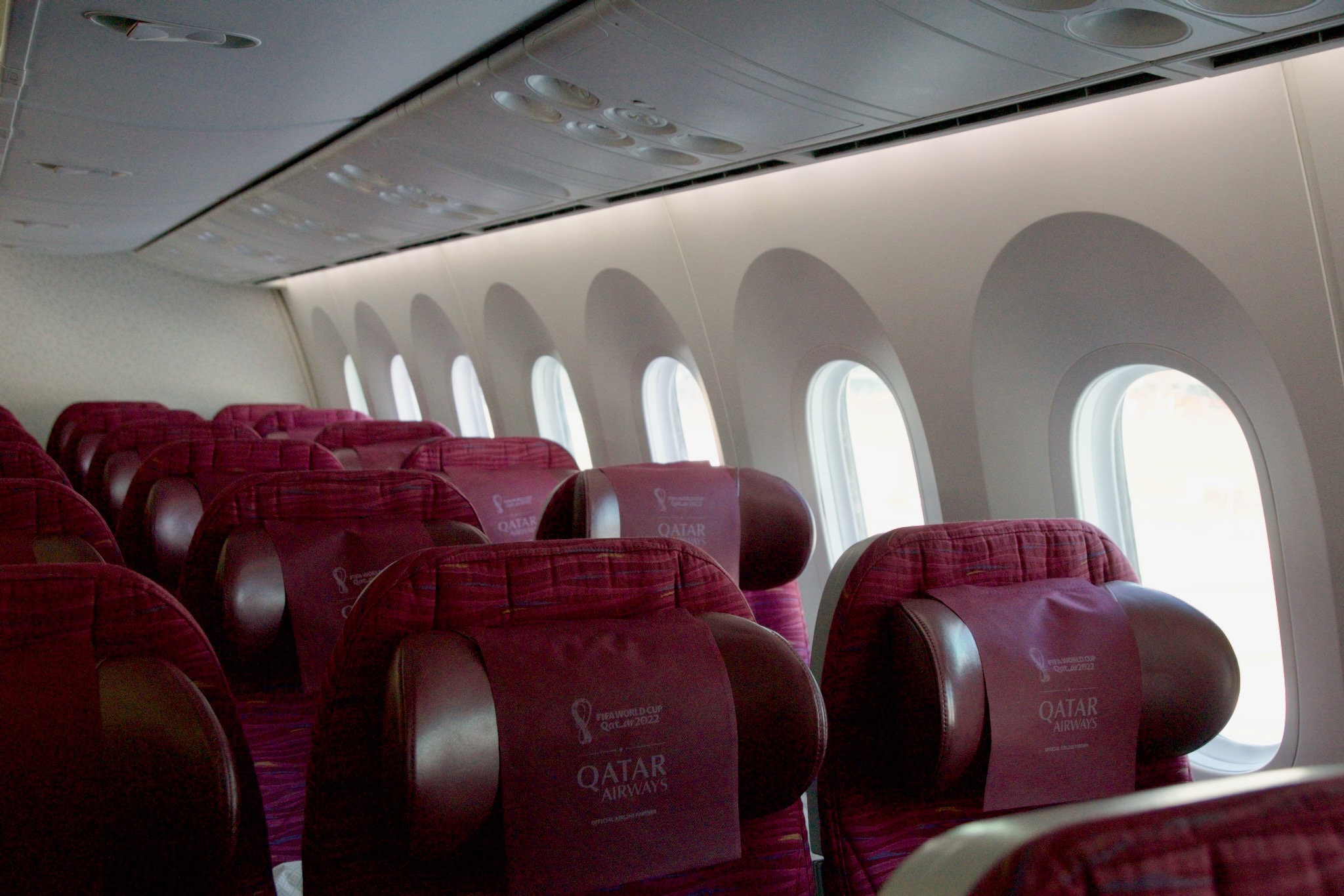 How is the inflight entertainment in Qatar Airways Economy Class?
The Qatar Airways ORYX ONE entertainment offering is truly remarkable. With more than 3,000 hours of on-demand entertainment, the range of films and series is very extensive. There are various current films, but also classics like "Back to the Future". There is also a wide range for children. There is also a great flight map with different views and lots of information about the area. The offer in ORYX ONE is rounded off by a large selection of games, from classics such as Solitaire and Scrabble to more modern offers such as Angry Birds.
Tip: If you want to know which films are on offer before your flight, just look at them Qatar Airways website and enter your flight route.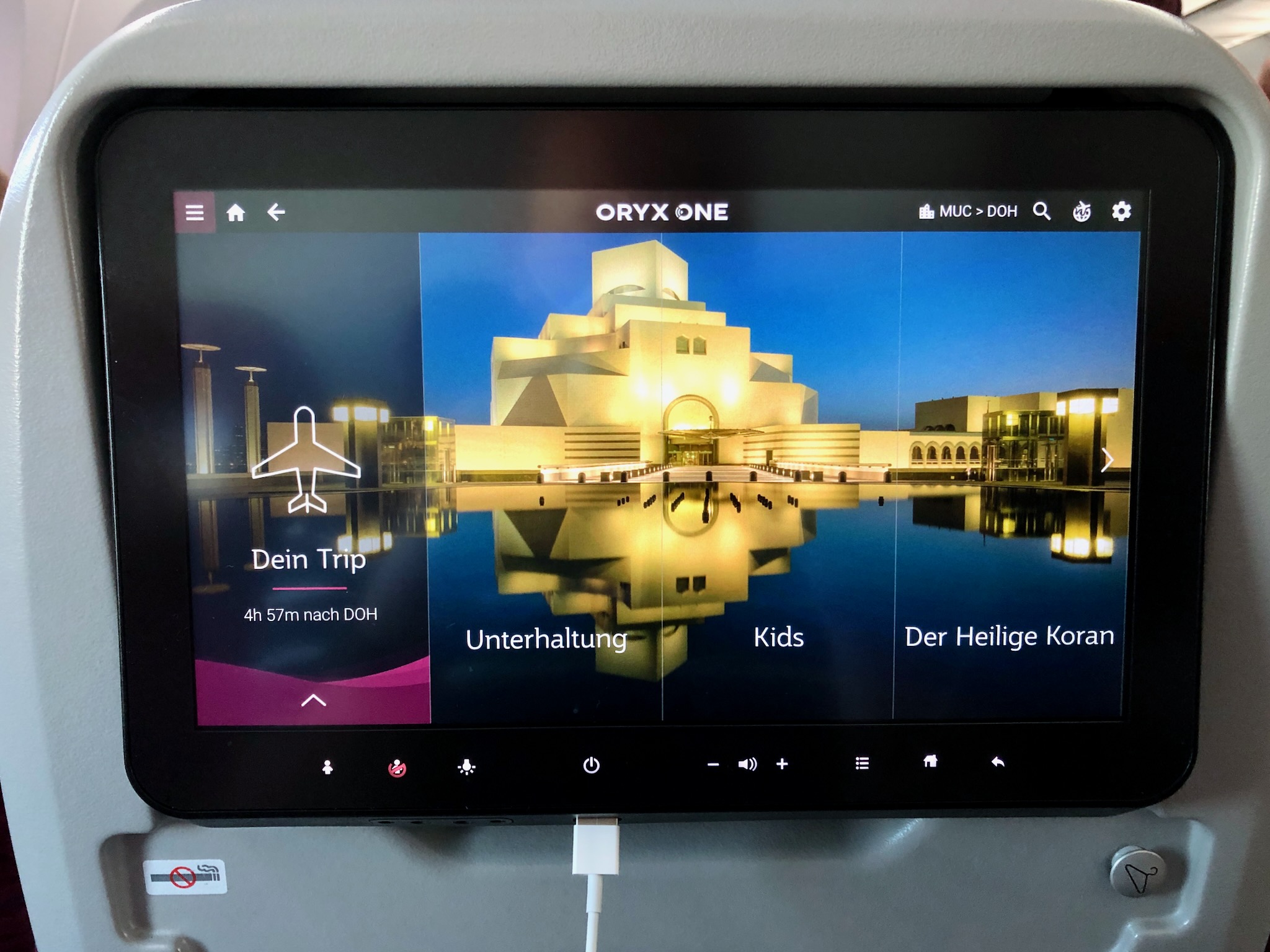 The Boeing 787-8 is also equipped with WiFi. Economy Class passengers have the option to choose the free messaging tariff for 1 hour. If you need more data volume, you can book the "Starter" tariff for 5 USD. This offers up to 30 MB and one hour faster internet. The next fares cost $10 and $20, respectively, and provide Internet access for three hours or for the entire flight.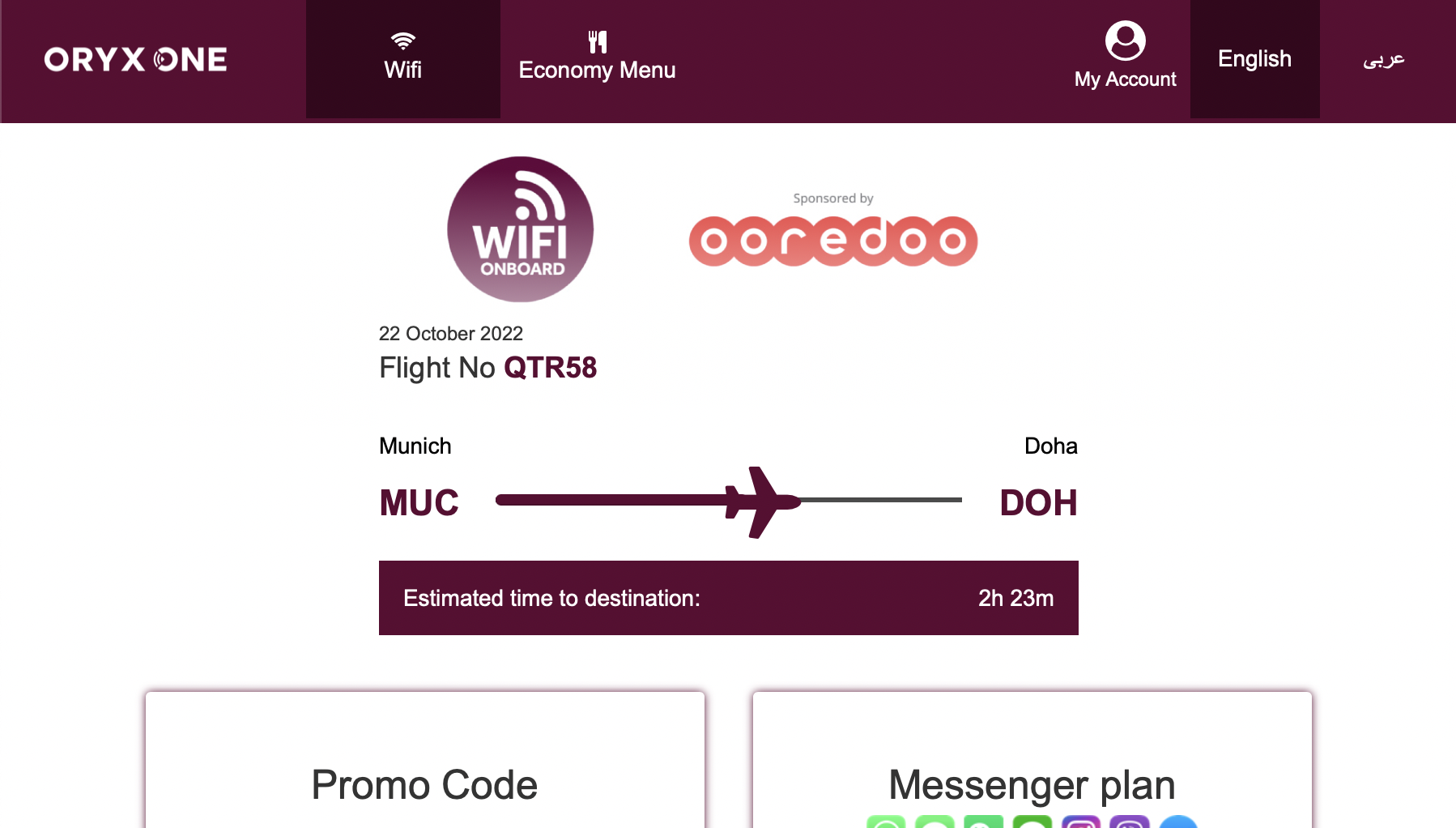 Was gab es in der Qatar Airways Economy Class zu essen & trinken?
The service began about 45 minutes after departure from Munich. Our son got his pre-ordered kids meal first. Vegetables, tomato rice and two pieces of breaded chicken were offered as a warm dish. There was also a pasta salad, rolls and various small sweets. A cream tart was served for dessert.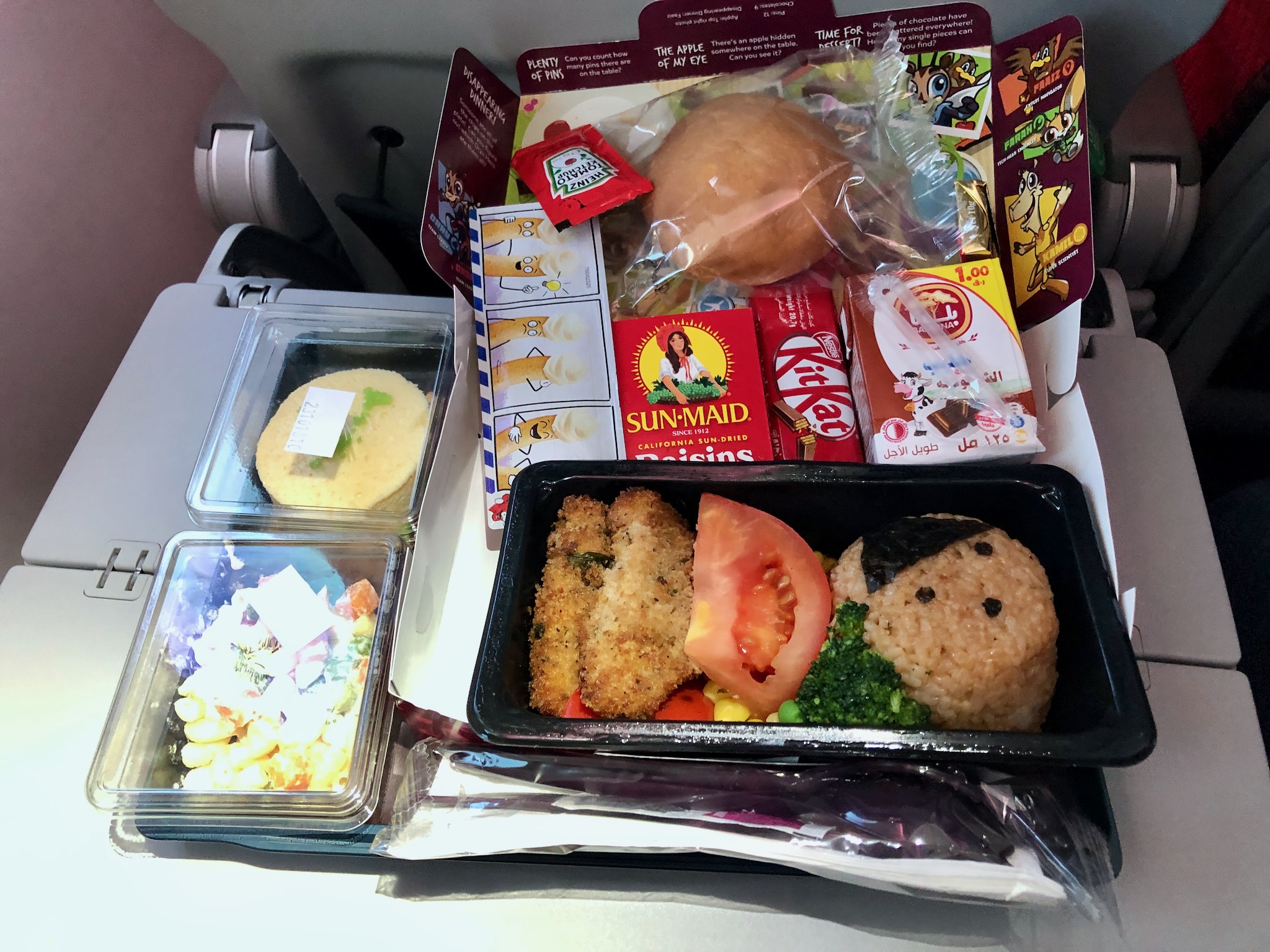 The normal food offer in Qatar Airways Economy Class was very extensive. So there was a choice of three dishes: chicken with rice, beef goulash and fried noodles with tofu. I chose the Hungarian beef goulash with mashed potatoes. The goulash was very good and really tender. The mashed potatoes were a bit odd in color and texture to me. There was also a potato salad and a kind of roll. For dessert there was a cheesecake with berry topping on the tray.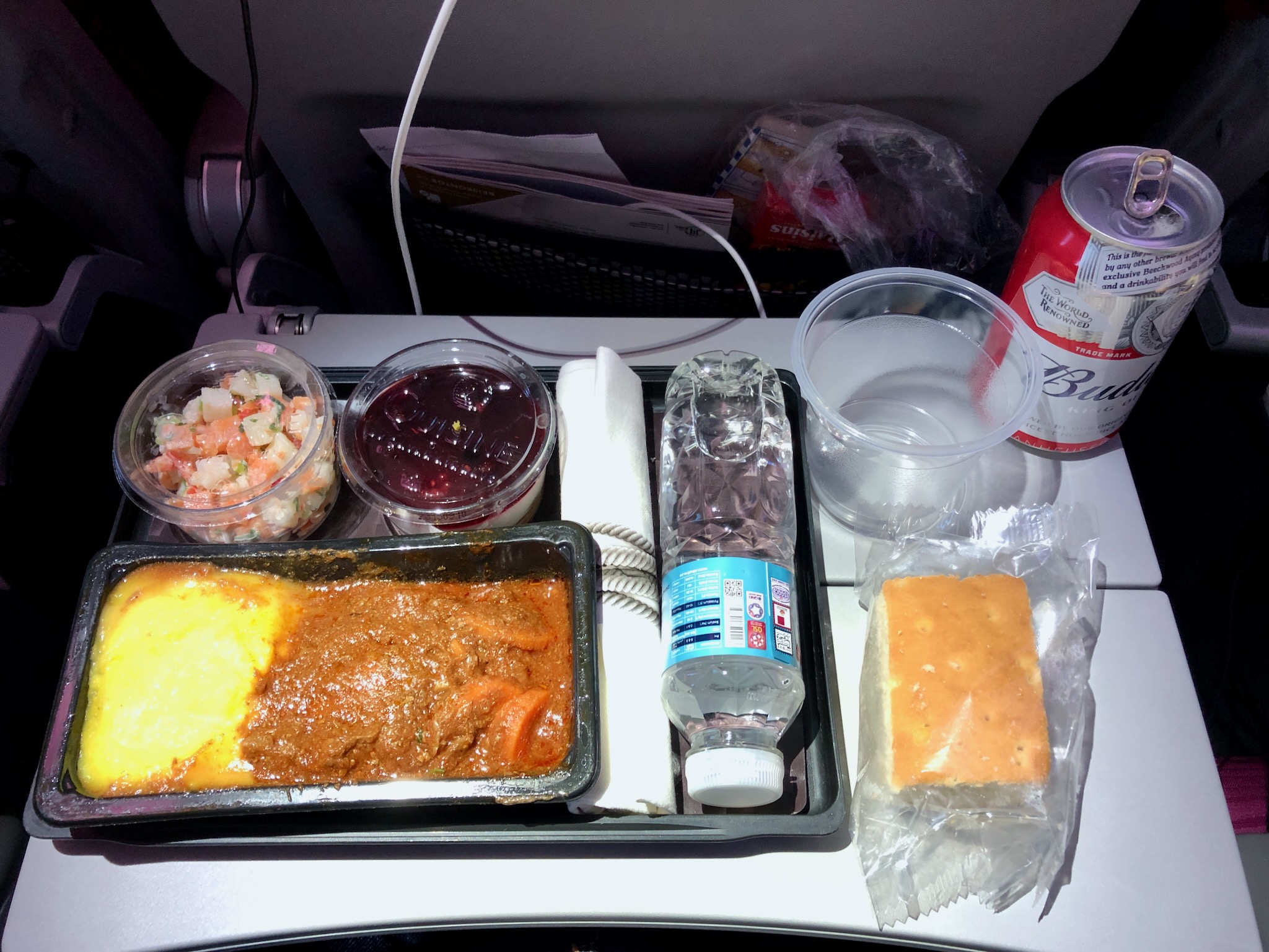 The full meal service was quick but not hectic and drinks were offered several times. During the rest of the flight, the flight attendants came through the lines more often with various sweets and salty snacks.
The range of drinks was also very extensive for Economy Class. In addition to the usual soft drinks and water, beer and wine, but also various spirits, cocktails and long drinks are offered. So after lunch I had a gin and tonic prepared and immediately sat down to write this airline review.
Did you like the post? Then share it on the social networks! This way you support our work a lot. We are also happy about your opinion in the comments.
Rating of Qatar Airways Economy Class in the Boeing 787-8
Service

cabin

Entertainment

Cleanliness

Essen

Beverages

Price-performance
Summary
Overall I was very impressed with the cabin of Qatar Airways Boeing 787. From the comfortable seats to the entertainment options to the superior food and service, it was a truly enjoyable Economy Class flying experience. I would definitely recommend this airline to anyone looking for a comfortable and luxurious travel experience.