Germany in November: rain, fog and low temperatures. In order to escape these weather conditions, we started looking for a sunny destination quite early in February. The decision quickly fell on the United Arab Emirates. On November 3, 2017, we flew to Dubai in Lufthansa Economy Class on a Boeing 747-400.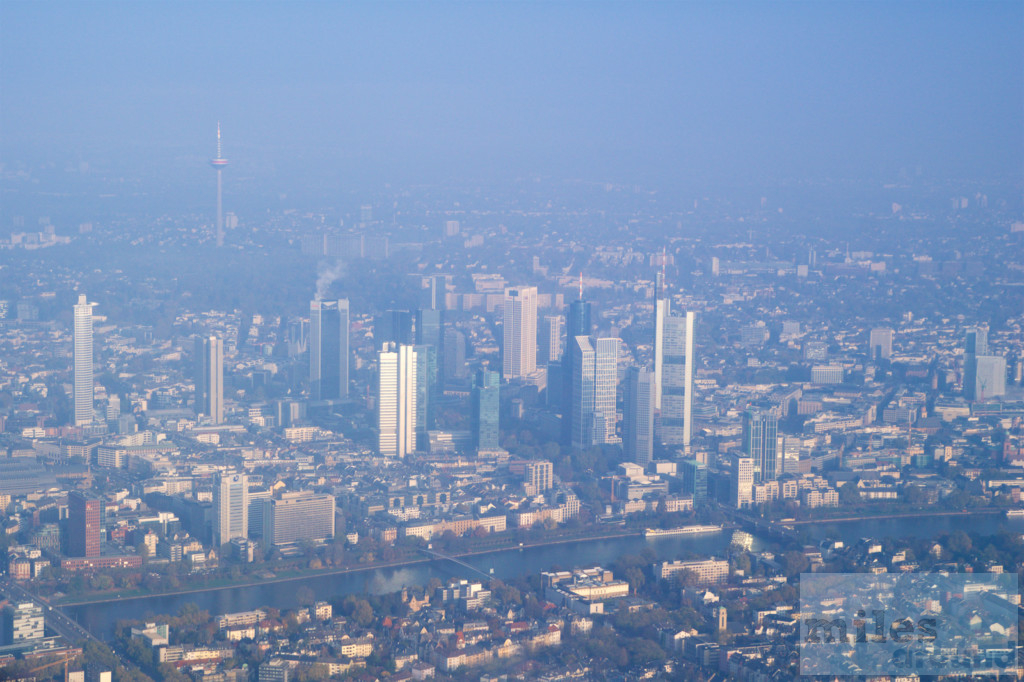 As is so often the case, our feeder flight from Leipzig parked on an apron. After our stroller was unloaded, we took the bus to Terminal 1A. From here we had to walk through the "Tunnel of Horror" to Departure Area B. After passport control, where our son was getting a little impatient because of the waiting time, we made a detour to the pleasantly empty Air Canada Maple Leaf Lounge (Lounge Review).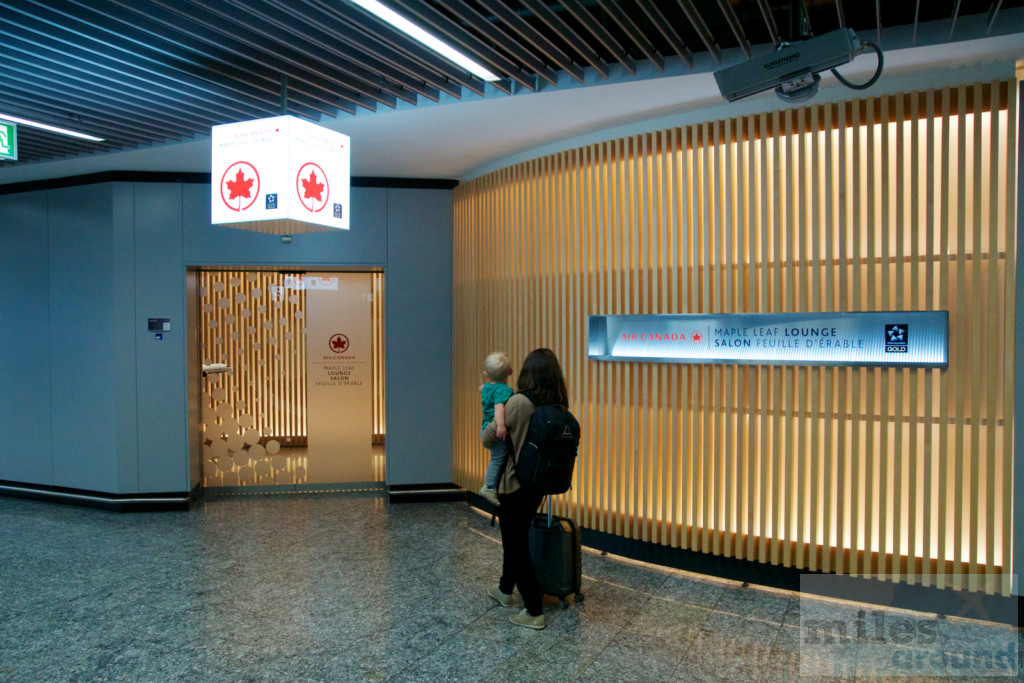 After a good hour and a second breakfast we changed to the Lufthansa Senator Lounge (Lounge Review). It was a bit busier here when we arrived. We still found a nice spot in the sun with a view of the apron. Our son romped around the lounge a bit and we enjoyed one or two cocktails.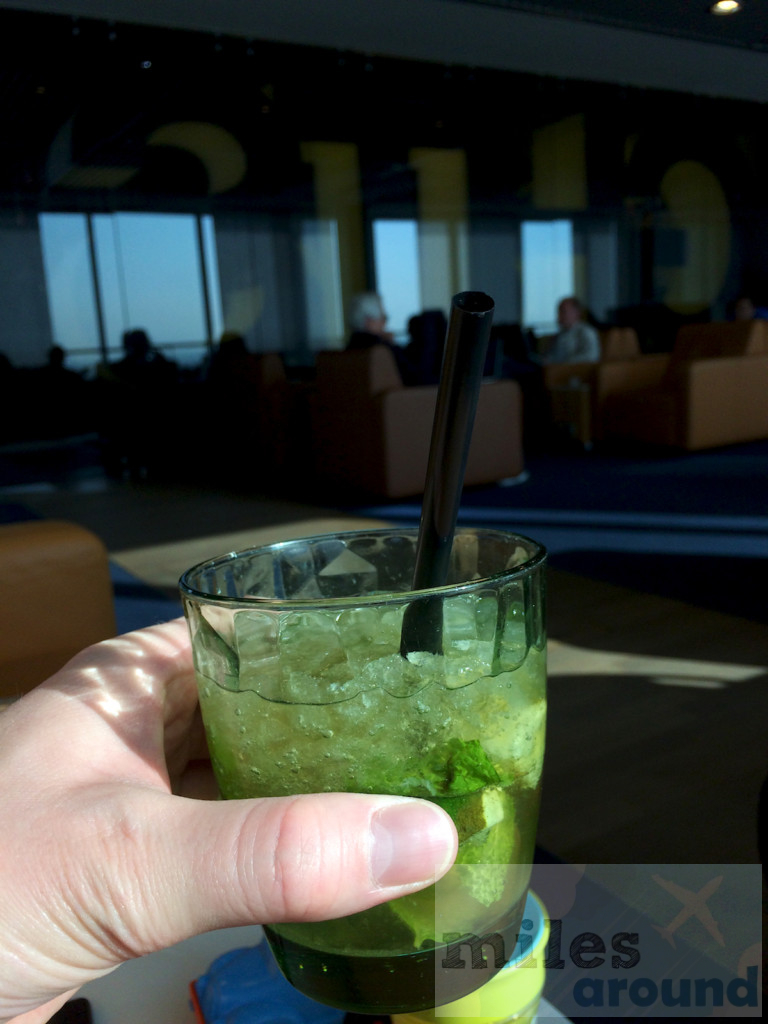 Lufthansa Economy Class in der Boeing 747-400 – Boarding LH630
Shortly before boarding began, we made our way to Gate B28. Unfortunately, this was at the other end of terminal area B, so it took us about 10 minutes to walk there. When we arrived, boarding hadn't started yet. Only 15 minutes late were we and our son allowed to board the Boeing 747-400 first. Our pram, the gb Qbit (Link to Amazon*), we could directly on Gate – with the hope of seeing him again safely in Dubai – handed over to the employee.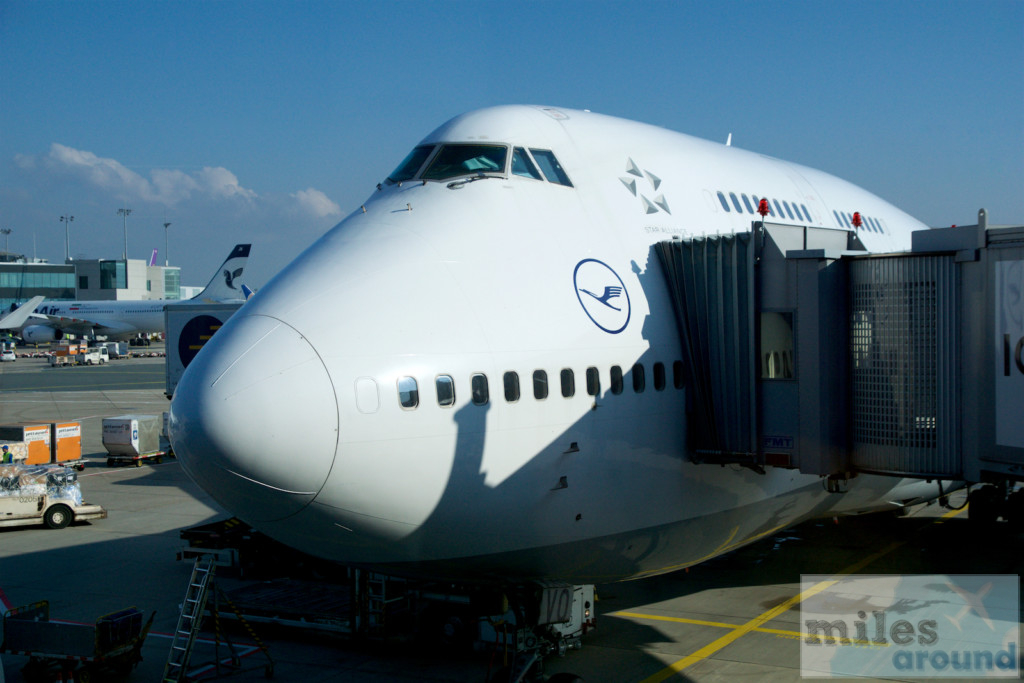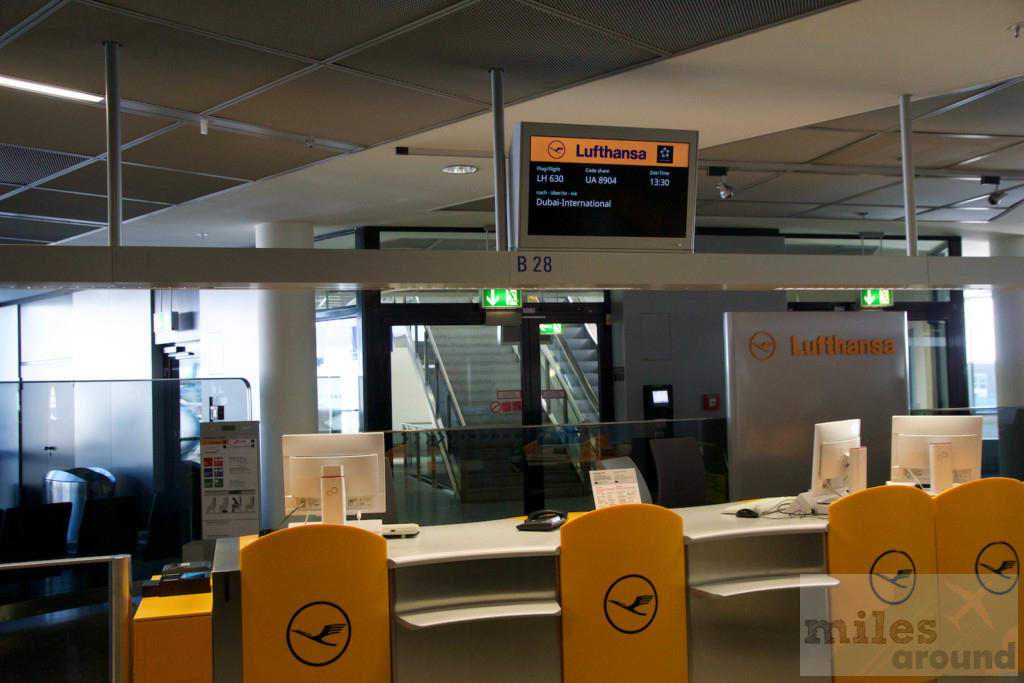 Lufthansa Economy Class in the Boeing 747-400 cabin
The Lufthansa Economy Class in the Boeing 747-400 consisted of three cabins with a total of 272 seats. The front was the smallest cabin with only three rows (29 - 31). This was followed by two almost equally sized compartments, which were separated by the galley. In all three cabins, except for the last five rows, the economy class seats were installed in a 3-4-3 arrangement.

When we checked in online, we reserved three seats in row 30. This was the second economy class row and was directly behind the premium economy. We packed our child seat with aircraft registration (Link to Amazon*) to the window seat and asked the flight attendant for a seat belt extension. When we taxied to the runway, our son had already fallen asleep. A blessing!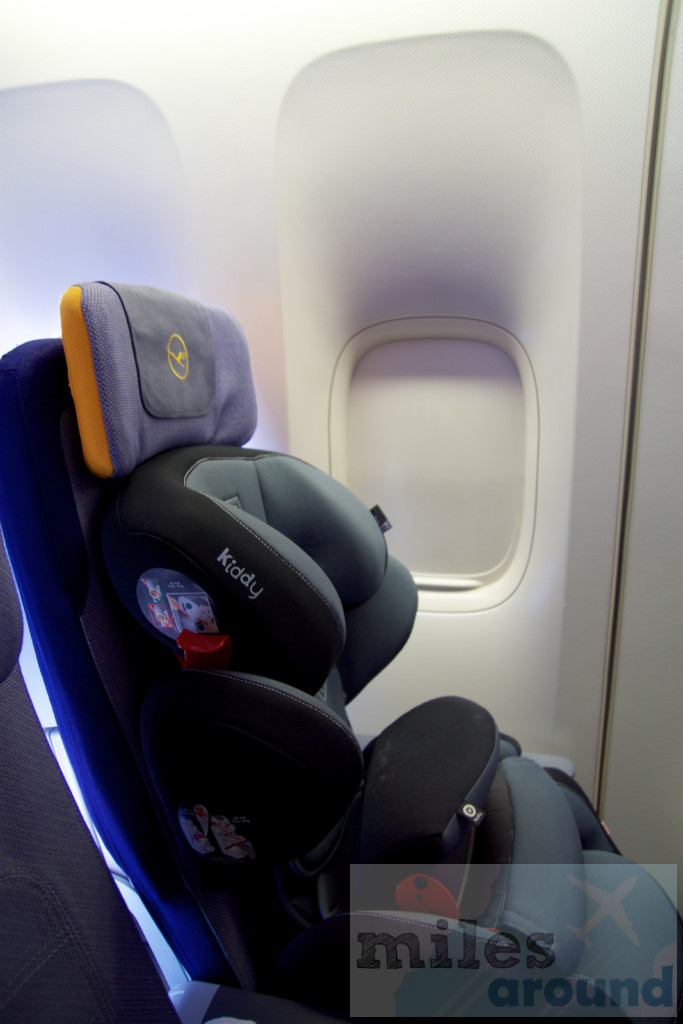 The color scheme of Lufthansa Economy Class in gray and blue tones looked clean, tidy, but also a bit sober. The height of the headrest could be adjusted and the sides could also be folded forward slightly to fix the head. A serious shortcoming of Lufthansa Economy Class In my opinion, the seat is the thin padding, which can become very uncomfortable when sitting in the long run.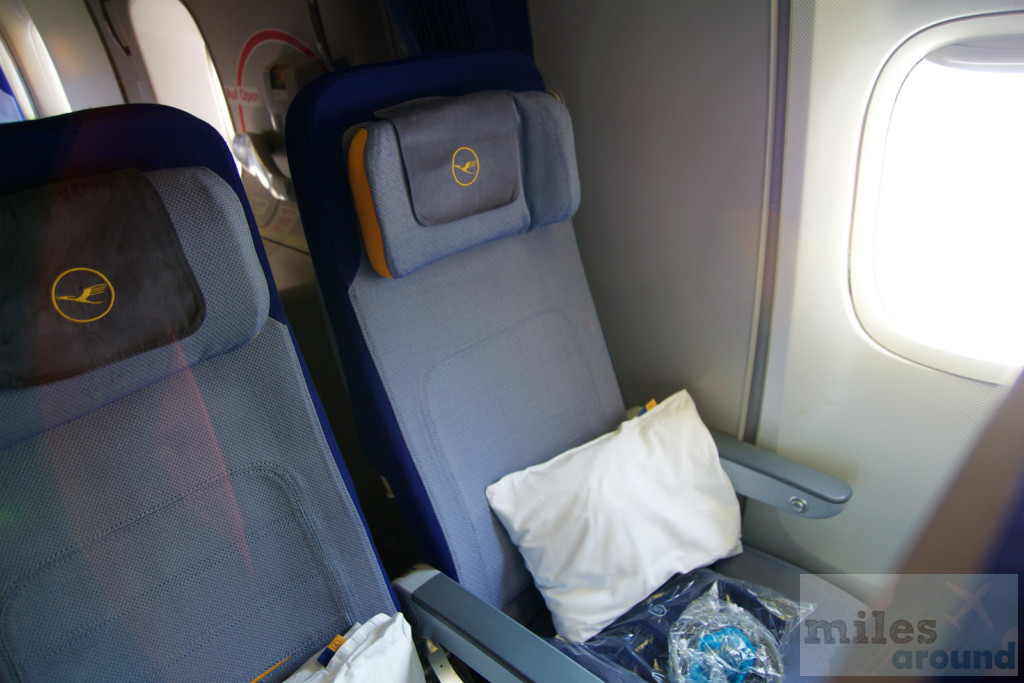 Since the passenger in the seat behind our son insisted he had to play blackjack and was convinced the harder he tapped the screen the better the cards would be for him, our son woke up after a good hour's sleep. Accordingly, he was in a bad mood after being woken up so rudely! It took him some time to calm down again. Hope it bothered the man on 31A!
Lufthansa Economy Class in der Boeing 747-400 – In-flight Entertainment
Each seat had its own in-flight entertainment touch monitor. The range of films, series and music was extensive and well sorted. Headphones were already on our seats when boarding. But since these are rather inferior in quality, I recommend everyone to bring their own. These could be attached via a simple headphone connection to the right of the monitor. There was also a USB socket for charging your own smartphone.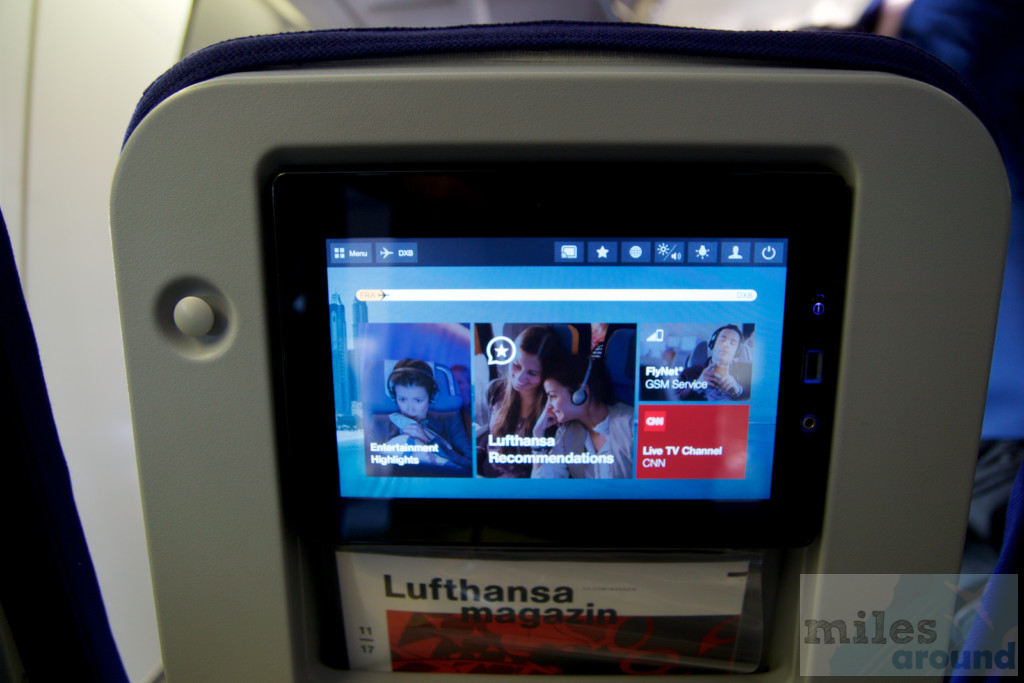 Lufthansa Economy Class in der Boeing 747-400 – Service
A warm lunch was served about 1:30 hours after the start in Frankfurt. We had already pre-ordered a children's meal online for our son. Along with other special meals, Lufthansa offers this free of charge on flights of three hours or more. His meal consisted of a pasta salad, pasta with chicken and a Cake-Pop. In addition, there was a pack of colored pencils and a coloring book, which was also the menu, on the tray. Of course, our son pounced on the candy first. But that wasn't wrong, because the pasta was still very hot.
Just before our son finished eating, we got our hot meal. We had a choice of chicken and pasta and opted for the latter. The dish turned out to be ravioli in a mushroom sauce – overall okay! Since our son kept us very busy during the meal, I was unfortunately unable to take a picture of the food.
The rest of the flight was pretty uneventful. Our son really wanted to visit the galley and kept walking in the direction of business class. The flight attendants were very friendly and approachable and showed and explained everything to him.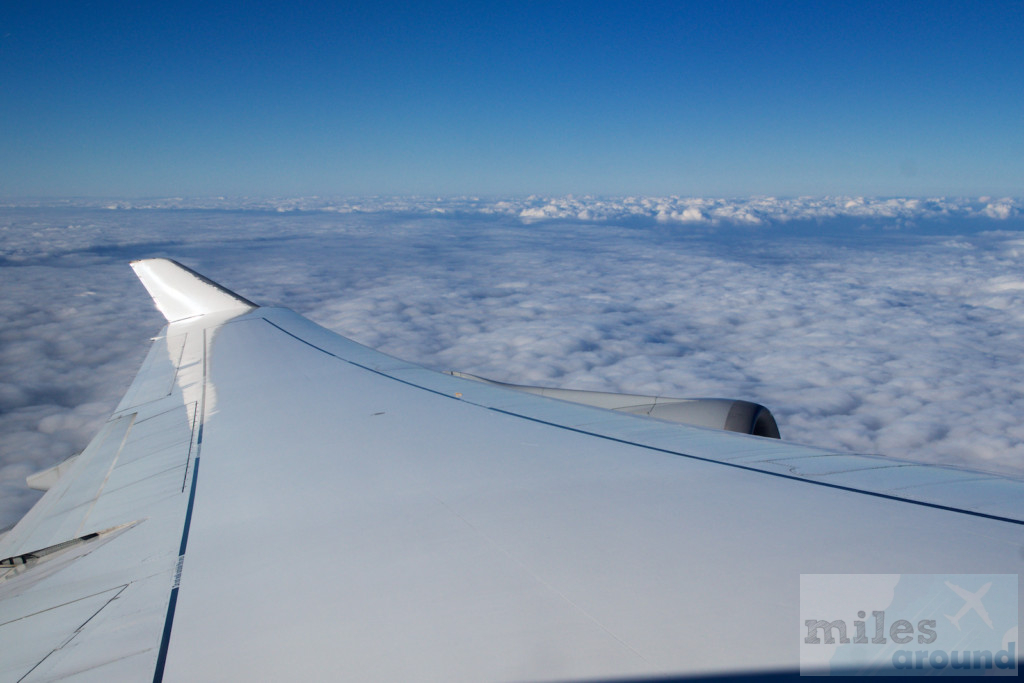 More information about Lufthansa
Did you enjoy the post? Then share it on social networks. With this you support our work. Have you already traveled in Lufthansa Economy Class on the Boeing 747-400? Then I look forward to your opinion in the comments.
Rating of the Lufthansa Economy Class in the Boeing 747-400
Seat

Service

Entertainment

Cleanliness

Beverages

Essen

Price-performance
Summary
Overall, Lufthansa offers a solid product with Economy Class in the Boeing 747-400. The service was friendly and efficient. The catering provided was as expected. However, the thin upholstery of the seat makes long-haul flights a bit uncomfortable.