After our arrival at Thessaloniki Airport we got our tickets to Larnaka at the Aegean Airlines Business Class counter. We were quick through the identity check and were therefore able to go to the Aegean Business Lounge.
Aegean Business Lounge Thessaloniki
The lounge was again very nicely decorated. Several white leather sofas, sitting areas and a large rectangular table with bar stools in the buffet area. At the buffet there were all kinds of particles, baguettes and fruit. After the disappointment at the hotel, I put together a delicious breakfast of pastries, Greek yoghurt and cappuccino.
A big advantage of the lounge: You can board the bus directly from the lounge. But we can't use it today because we have to go through passport control as well.
Flight Aegean Airlines A3 920 in Business Class to Larnaca
Boarding
The lady at the gate was hopelessly overwhelmed and it took forever for the bus to fill up. Unfortunately, priority boarding for status customers and business class was not consistently enforced. When it was finally my turn, the lady eagerly leafed through my passport in search of a visa. But I could reassure you that I don't need this as a German. There is still some catching up to do here.
We took the bus the short distance across the apron to the Airbus A320-200 (ID SX-DVJ). After boarding through door 1L, we immediately took seats 1A and F. In contrast to our business class flight from Berlin to Athens yesterday, these seats are newer but also thinner - like the model camping chair from Lufthansa NEK. What is striking and very disturbing at 1.84m tall is that the seats seem to be higher because I have to lean forward to see out the window.
As a greeting, I only took a drink of water. At the same time, the menu was handed out, with a choice of three courses. After boarding was completed, three of us sat in business class with 12 possible seats. At 12:11 p.m. we taxied from our apron position to the runway. The start was great. Finally a good view. After a curve over the sea we flew over Thessaloniki and the mountains in the hinterland. There was even snow on the peaks here.
Service
After turning off the seat belt sign, the chief stewardess took our order. I was also addressed by name. That makes the service much more personal. This time, as an aperitif, I tried a Greek red wine, a 2011/2012 Goumenissa, and of course an ouzo with it. Yamas!
The Greek starter plate was served today together with the warm main course. You could choose between chicken with potatoes and vegetables on mustard sauce or fish. I opted for the chicken which was delicious. The only thing I wasn't satisfied with was the Greek starter plate, there were too many ingredients such as anchovies, which I don't actually eat.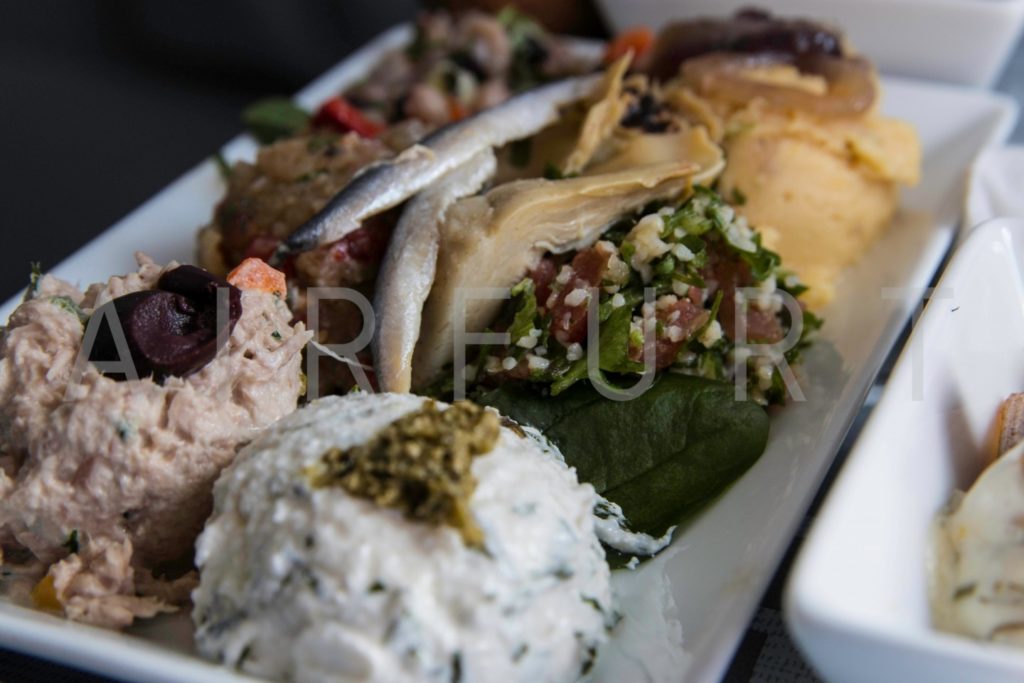 For dessert I ordered an espresso and tried the second red wine on offer (theme 2011). Drinking a fresh espresso above the clouds is simply awesome. Shortly before the landing approach we ordered the liqueur Chios Mastiha again. Sweet! Delicious!
The approach over Cyprus was fantastic. The sun was shining and numerous fields and many white houses appear below us.
After landing, we quickly went through passport control and into the taxi. The taxis, at least ours, are not metered. So we had no choice but to accept the fixed price of €17. Our hotel for tonight is this Frangiorgio Hotel Apartments.
Are you still looking for a flight to Larnaca?

Larnaka International Airport can be reached from many German cities all year round. You can find cheap flights through online travel agencies such as Flugladen.de, Bravofly, ebookers.de, Expedia, lastminute.de or skyscanner.
Did you enjoy the post? Then share it on social networks. With this you support our work. Or leave a comment. Thanks!
Our review of Aegean Airlines Business Class
Seat

Entertainment

Cleanliness

Service

Beverages

Essen

Price-performance
Summary
A great cabin product and great service. On the ground, Aegean still has to practice a little.