Thanks to an error fare, we flew from Munich to Toronto with Air Canada Business Class in an Airbus A330-300. Despite complications during boarding and an outdated Business Class seat, Air Canada was still able to impress in terms of service and the quality of the food. You can find out how satisfied we were overall in this trip report.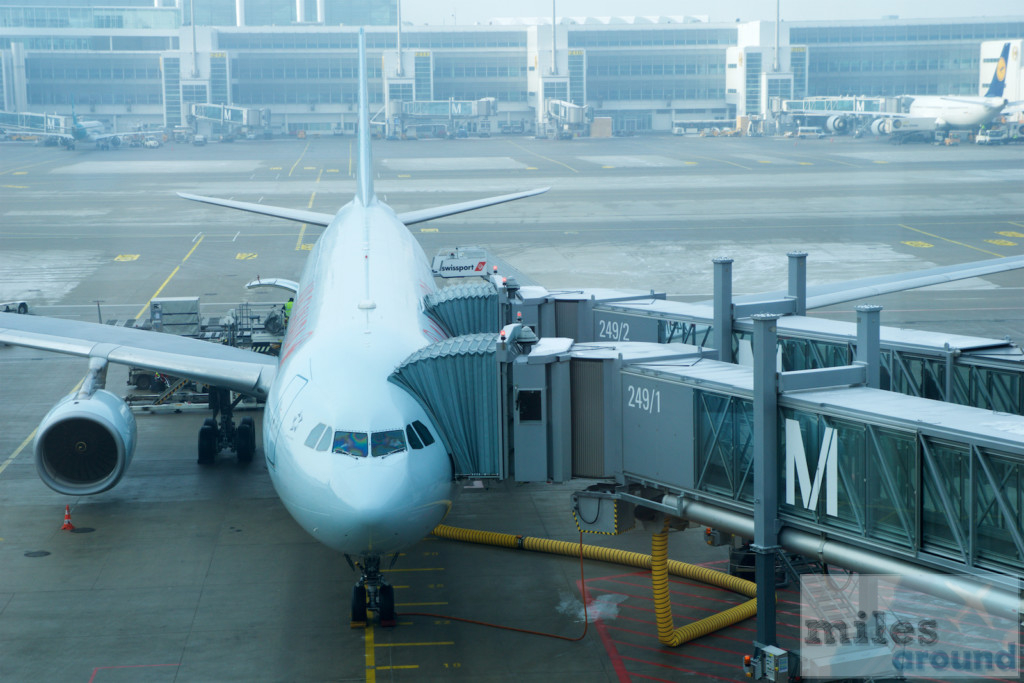 Air Canada Business Class im Airbus A330 – Boarding AC847
After our Arrival from Oslo and after a short detour to the Lufthansa Senator Lounge we went to the gate. Arrived there, however, a delay of 20 minutes was already announced. We decided it wasn't worth going back to the lounge and joined the other waiting passengers.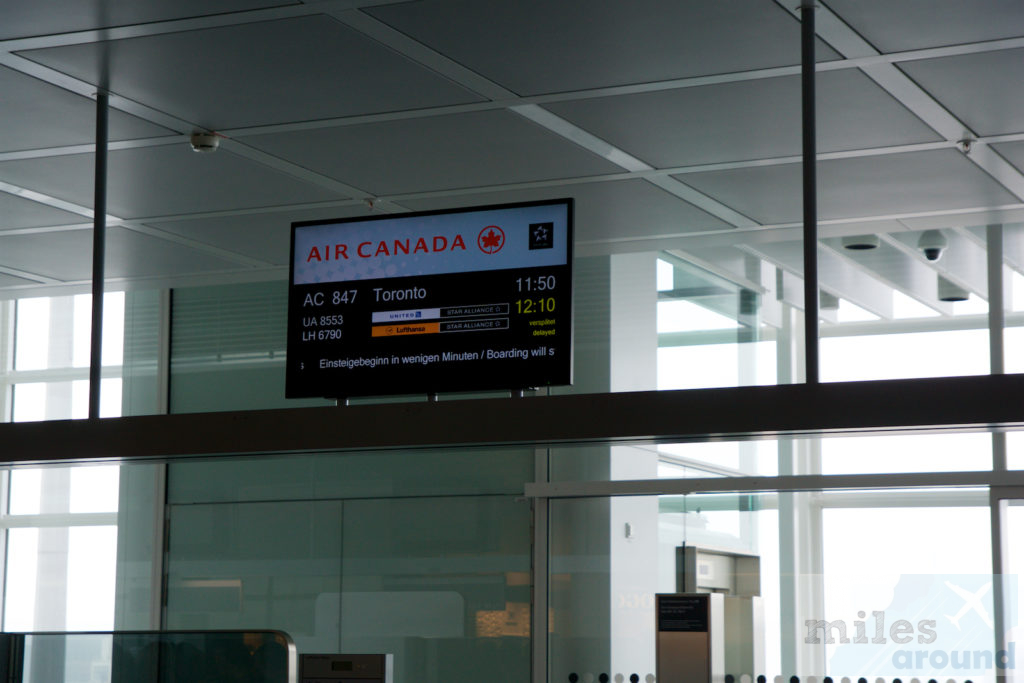 As priority boarding began, we joined the line for Business Class passengers. When scanning our flight ticket, we were stopped by a shrill beeping. A friendly member of staff called my wife and I aside and asked for our tickets and passports. While the gentleman was frantically searching the computer, I pondered the cause of the problem. Should the flight be overbooked? Are there problems with the visa? I could rule out an upgrade because Air Canada only flies in a three-class configuration (Business, Premium Economy and Economy) and row 1 was already noted on my ticket.
It finally turned out that the colleague at the check-in at Oslo airport had swapped my wife's and I's passports. So there were problems with assigning the different visas (eTA for Canada and ESTA for the USA). After everything was put back in order, the competent gentleman smuggled us back into the queue and we were able to proceed with boarding immediately. At this point, a big thank you again to the great team at the gate.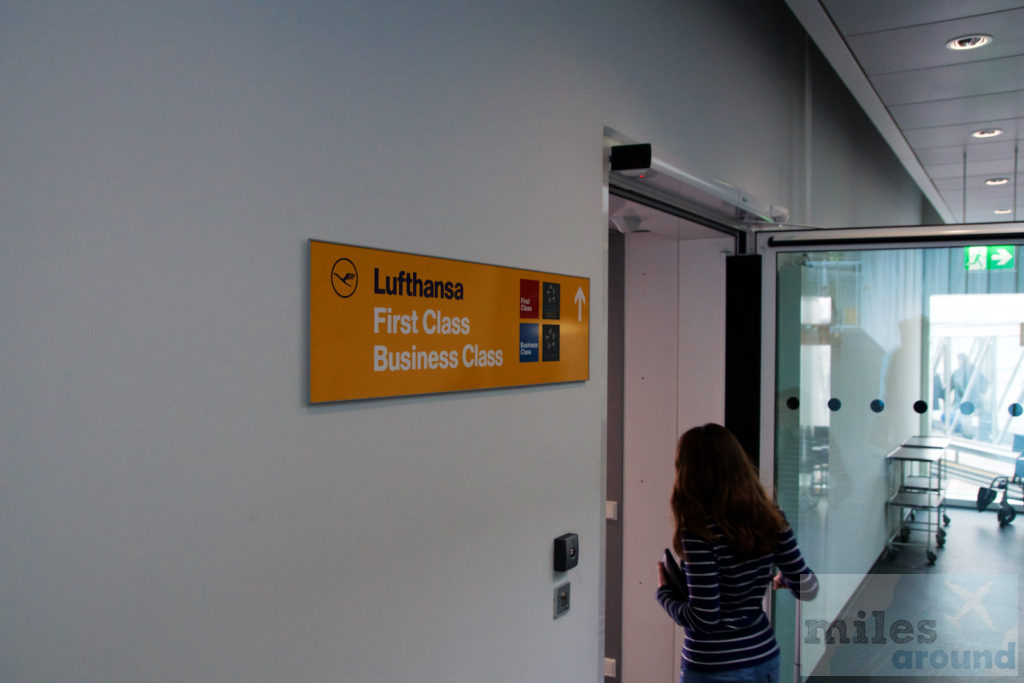 Due to the delays, we were unfortunately the last guests in Business Class and were already expected at aircraft door 1L. After we had stowed our hand luggage, we were personally greeted by the Purserette and asked for our first drink preference.
How is the Air Canada Business Class cabin on the Airbus A330?
Air Canada has equipped the International Business Class cabin in the Airbus A330-300 with a total of 27 seats in nine rows. These are located entirely in the front part of the aircraft between the first and second aircraft doors. There used to be a second, smaller Business Class cabin with only three rows, which has now been replaced by a Premium Economy cabin.

In der Air Canada Business Class im Airbus A330 sind die Sitze schräg in dem sogenannten Herringbone- oder Fischgrätenanordnung verbaut. Durch die 1-1-1 Kabinenkonfiguration (A, G & K) ist der direkte Zugang zum Gang für jeden Business Class Passagier garantiert. Dies ist ein klarer Vorteil. Durch die schräge Ausrichtung der Sitze ist jedoch der Ausblick zum Fenster als auch die Kommunikation zwischen den Reisenden erschwert.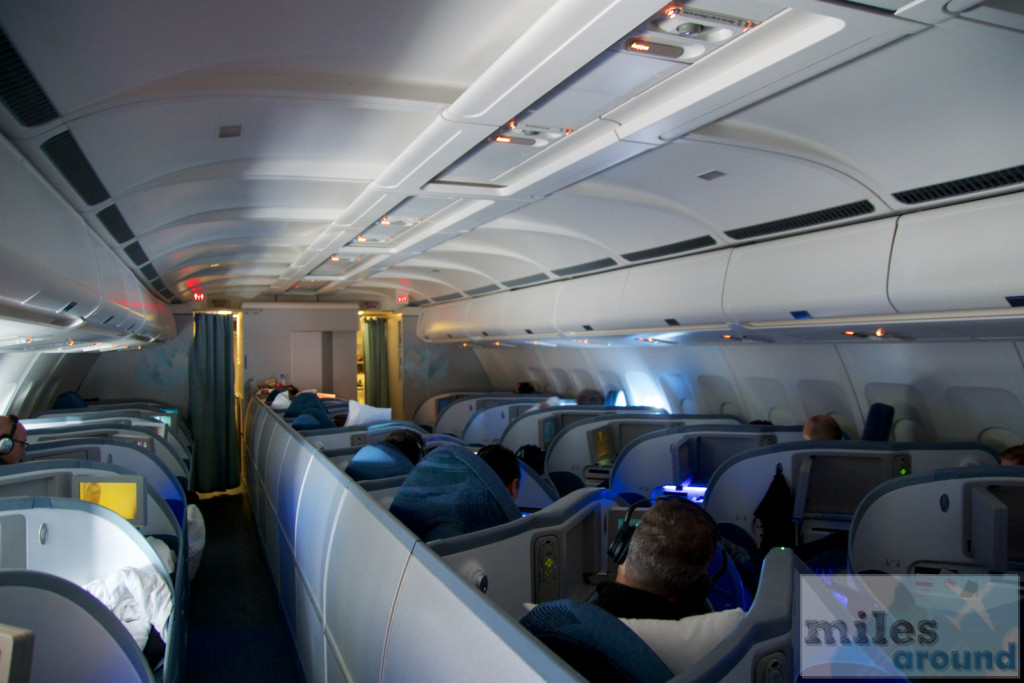 Als Alleinreisender empfiehlt sich ein Sitzplatz auf der linken Seite des Fliegers. Durch die Rückwand des Sitzes in der Mitte bietet er so eine erhöhte Privatsphäre. Reist man zu zweit, sind der mittlere und rechte Sitzplatz (G & K) jedoch die bessere Wahl. Zwar sitzt man hier immer noch nicht nebeneinander, hat aber Blickkontakt und kann sich auch bedingt unterhalten. Bedenken sollte man aber bei der Sitzplatzwahl, dass sich die Passagiere am rechten Gang die Gepäckablage mit doppelt so vielen Reisenden teilen müssen. Meiner Meinung nach befinden sich die besten Sitzplätze in der Air Canada Business Class im Airbus A330 auf der linken Flugzeugseite (A) in der Reihe Zwei bis Sieben.
What is the Air Canada Business Class seat on the Airbus A330?
In der Airbus A330-300 Business Class hat Air Canada den Sitztyp Classic Pod verbaut. Die harten Fakten dieses älteren Models sind schnell aufgezählt: verstellbare Kopf- und Beinstütze, Länge der horizontal eingestellten Sitzfläche 191 cm, Sitzbreite von 53 cm, persönliche Leselampe, 110 V & USB-Anschluss, Lendenstütze und Massagefunktion.
When I checked in online, I opted for seat 1A. As it turned out, this wasn't such a good choice as I could barely look out the window without a twist. When I got to my seat, there was already a thin blanket and a white pillow ready for me. Otherwise, the Classic Pod seat made a pretty run-down impression. At Christin's seat, the control was not 100% functional. For example, the footrest could not be raised. However, the flight attendant was able to solve the problem by resetting the seat controls once.
The signs of wear were clearly visible on the various corners of the Air Canada Business Class seat. The bad impression continued with the few shelves, which were also very dirty. Here the cleaning in Munich was probably not so professional. Pity! In order to write something positive at this point, I would like to point out the sufficient adjustment options of the seat. Together with the massage function, every business class passenger should be able to find a comfortable position for themselves.
How is the entertainment in Air Canada Business Class on the Airbus A330?
Unfortunately, the inflight entertainment in Air Canada Business Class no longer meets the current standard. The 12-inch touchscreen folds out of the left seat wall and is just big enough for the distance. The screen's response time for input was very sluggish. The range of films and series was quite extensive. Some of them were also available in German. Only the advertising before the films was annoying. The noise-cancelling headphones were already in place upon boarding. However, due to a loose contact on the headphone jack, the sound was unfortunately overlaid by a strong metallic clanking.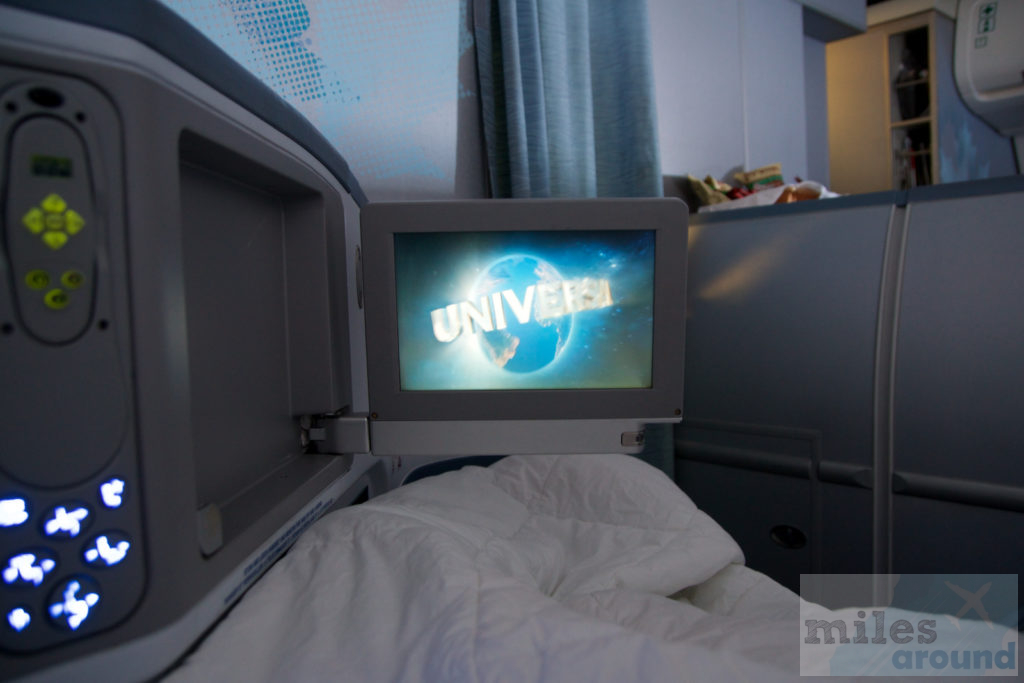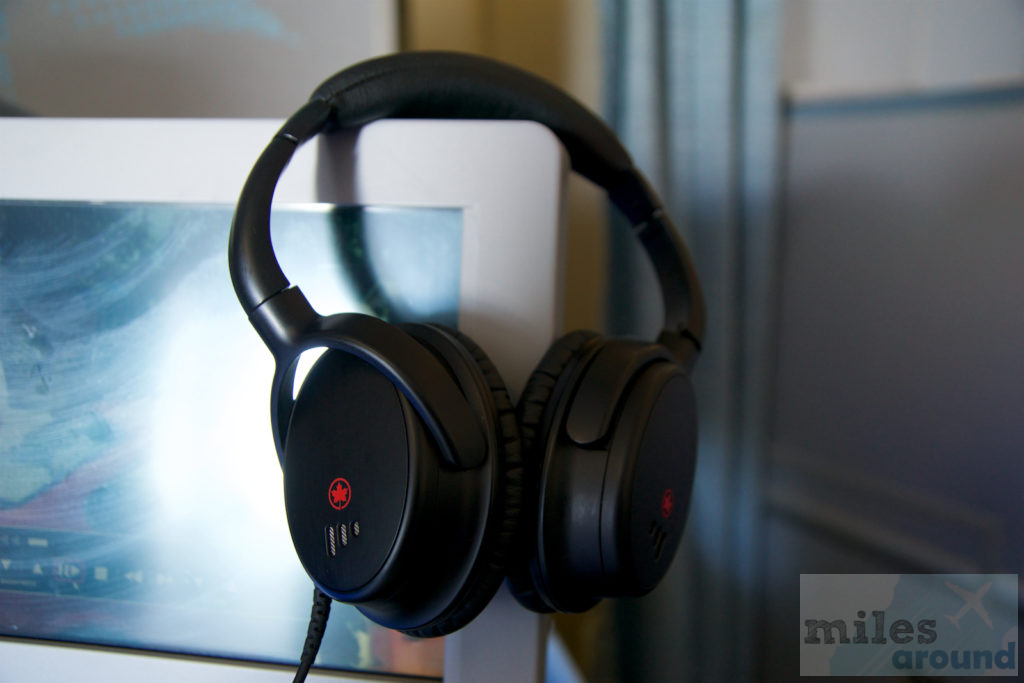 How is the service in Air Canada Business Class on the Airbus A330?
A bottle of water, noise-cancelling headphones and the Air Canada Business Class Amenity Kit were already in my seat when we boarded. When our hand luggage was stowed and we sorted everything else, we were greeted warmly by the Purserette. She also handed us the menu and asked for the first drink we wanted right after the start. Unfortunately, there was no glass of champagne or any other welcome drink.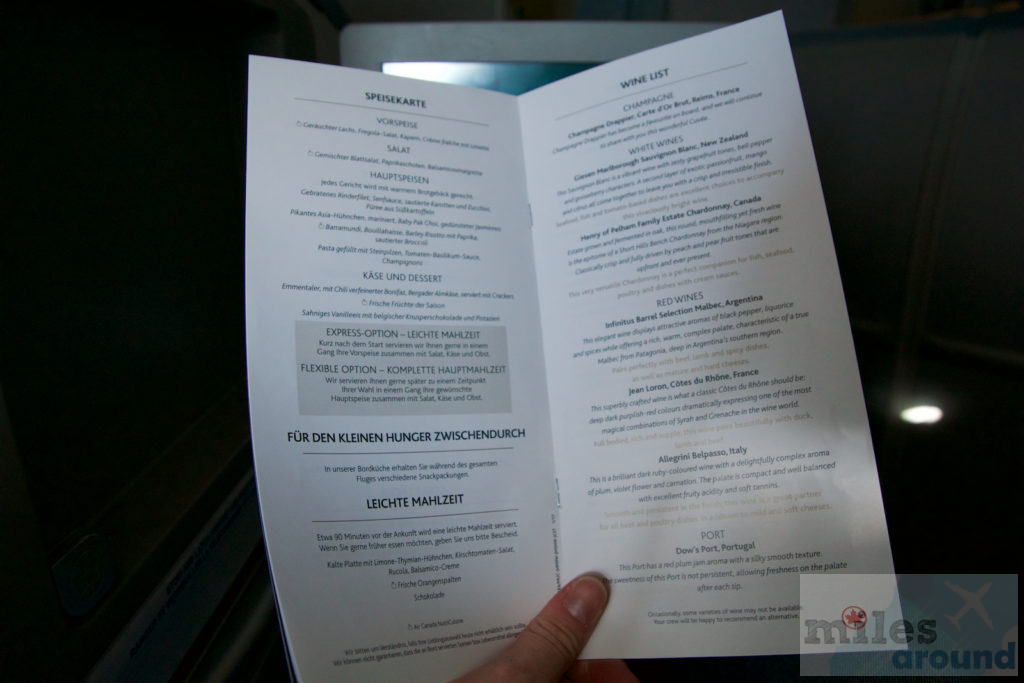 Air Canada Business Class Amenity Kit
In order to bridge the waiting time until the start, I took a closer look at the contents of my amenity kit. Air Canada provides each Business Class passenger with a small bag made of gray fabric. In combination with the "Air Canada" red inside, the bag makes a really good impression. I especially liked the magnetic closure. The content is based on the standard. Air Canada's amenity kit includes a toothbrush with toothpaste, lip balm, hand cream, eye mask, earplugs and mint candy.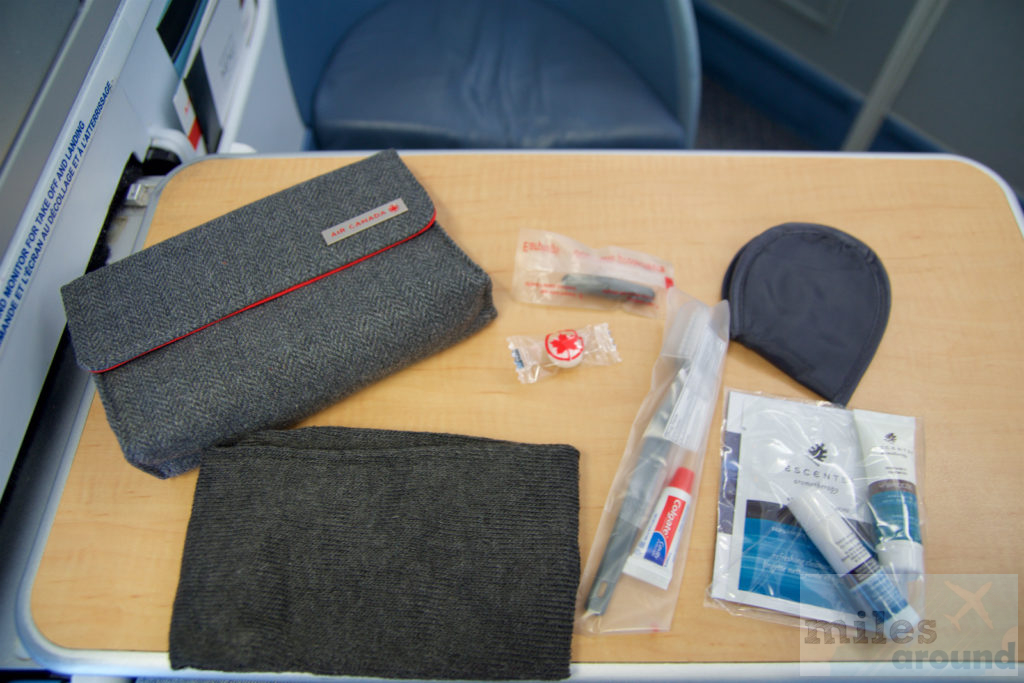 What is there to eat and drink in Air Canada Business Class?
After we were in the air and the seat belt signs had gone off, the welcome drink we had ordered was served. I chose a 12 year old Johnnie Walker Black Label. There was also a small bowl with a nut mixture.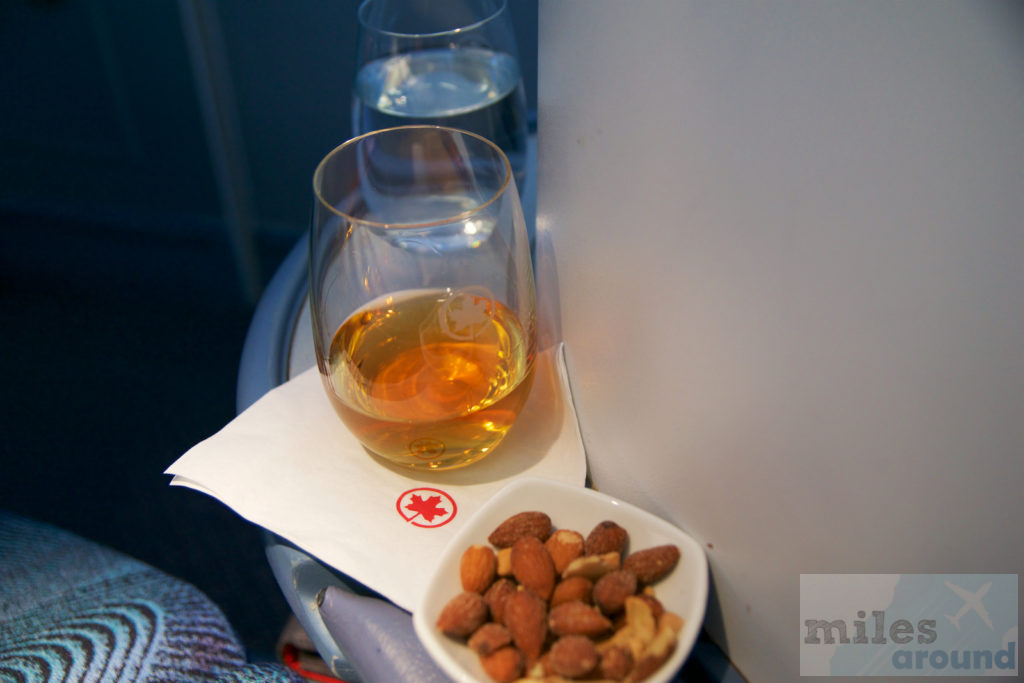 Even before the start, the purserette asked for the desired meal. Here I had the choice between the complete three-course menu after the start, a quick light meal or the complete meal at a later time that I wanted. Since today's flight departed around noon, I chose the first option.
starter
Service started about an hour after start with appetizer. There was no food selection at this point, so every Business Class passenger got the smoked salmon with Fregola salad and crème fraîche with limes. A mixed leaf salad was served on the tray. Both were extremely tasty. Especially the fregola salad, which I had never heard of before, was very good.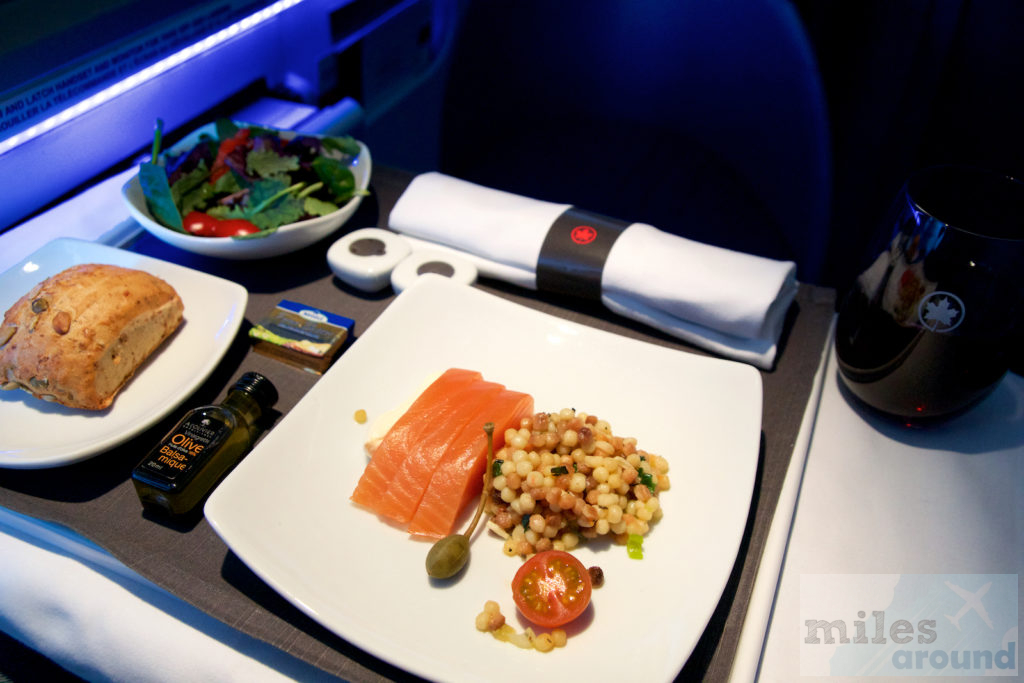 main course
For the main course there was a choice between beef fillet, chicken, barramundi (giant bass) and vegetarian pasta. I chose the roast beef filet with mustard sauce, mashed sweet potatoes, with sautéed potatoes and zucchini. The piece of beef tenderloin was a bit small and unfortunately fried way past the point. It's a pity, but it's not that easy on the plane either.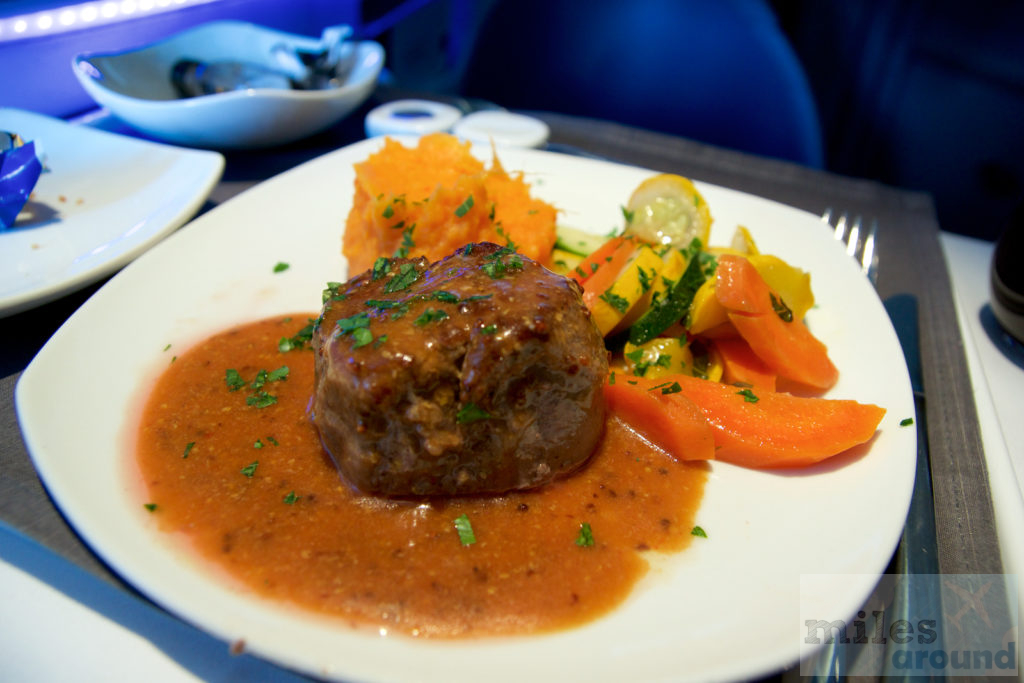 Dessert
I gratefully declined the cheese variations offered, such as Emmental or Almkäse. Finally, I wanted to leave some "space" for the ice cream. The three scoops of ice cream were still very cold and firm from being stored in dry ice. The waiting time for the thawing was compensated by the good taste.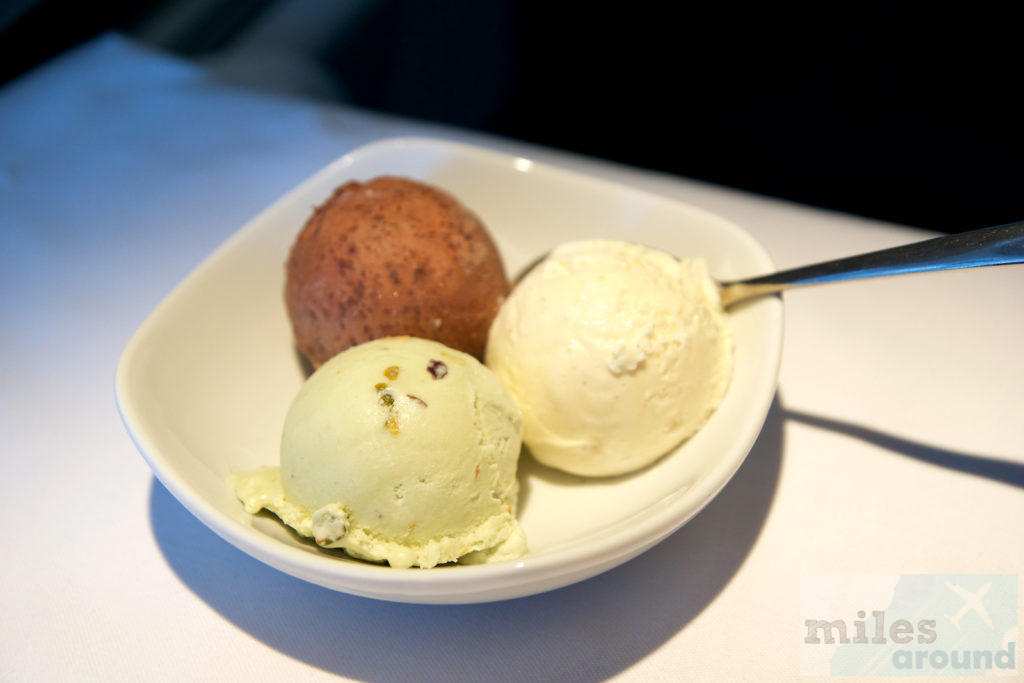 After dinner I watched a movie and several series. For the rest of the flight, there was a snack basket with Twix, KitKat and chips, among other things, in the first row for snacks. I was also asked at regular intervals what I wanted to drink.
Light meal before arrival in Toronto
A light meal was served about 90 minutes before arriving in Toronto. The cold platter of lime thyme chicken with cherry tomato salad and arugula was a delicious snack. There were also fresh orange slices and two chocolate pralines. As with all meals, a basket of warm baked goods was also served here.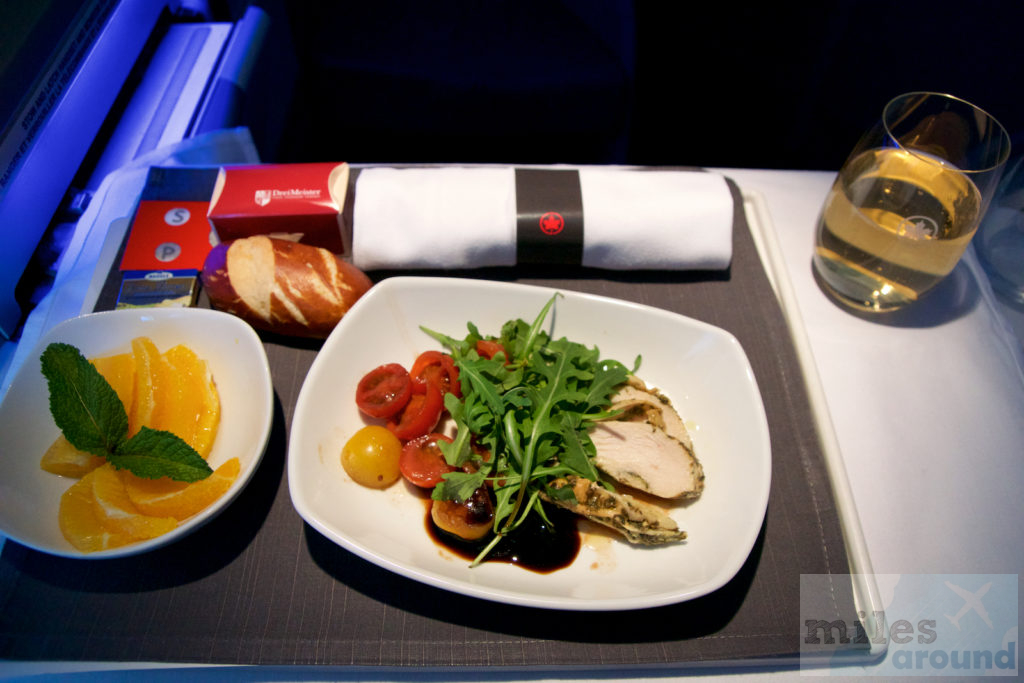 More information about Air Canada
Did you enjoy the post? Then share it on social networks. With this you support our work. Have you already had experience with Air Canada Business Class? Then I look forward to your opinion in the comments.
Rating of Air Canada Business Class in the Airbus A330
Seat

Service

Entertainment

Cleanliness

Beverages

Essen

Price-performance
Summary
Air Canada uses a business class in the Airbus A330-300 that is no longer appropriate. However, the old "Classic Pod" seat offers good privacy and a wide range of adjustment options. The entertainment system's monitor is small at 12 inches and of mediocre quality. Would I fly Air Canada Business Class again? Absolutely! The service and the catering were very good. However, I would avoid the Airbus A330 and prefer the Boeing 777 or 787.