Die Nacht im Hotel Aegeon war nicht wirklich erholsam. Da unser Zimmer zur Hauptstraße hinaus war, herrschte nie wirklich Ruhe. Die schlechten Betten und die Temperatur in dem kleinen Raum taten ihr übriges. So standen wir schon gegen 7 Uhr auf. Genau rechtzeitig, um den Sonnenaufgang über Thessaloniki vom Balkon zu fotografieren.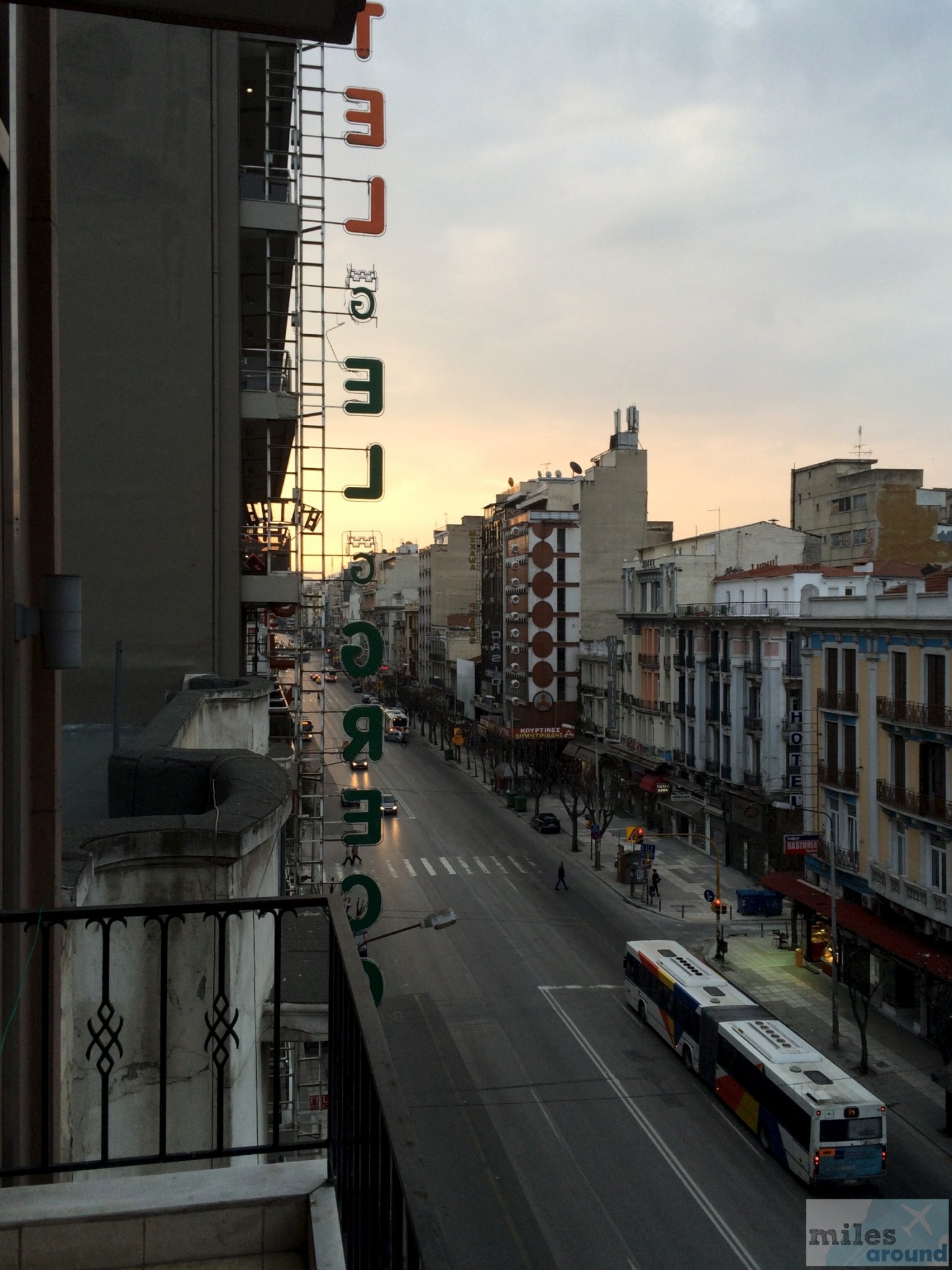 Da im Übernachtungspreis auch ein Frühstück inkludiert war, wollten wir diesem auch noch eine Chance geben. Leider wurden wir bitter enttäuscht. Der Kaffee war ungenießbar und die einzigen essbaren Speisen war eine Banane und ein Stück Kuchen. Wir hofften später in der Lounge am Flughafen das Frühstück noch nachzuholen.
Sightseeing (Promenade, Aristoteles Platz & Weißer Turm)
Die verbleibende Zeit in Thessaloniki nutzen wir zum Sightseeing und Geocaching. Auf dem Weg zur Promenade fallen uns die Häuser in teilweise desolaten Zustand auf. Erst am Wasser stehen ein paar schöne und renovierte Hotels und Apartments. Am Aristoteles Platz fand ich nach etwas Suchen unseren ersten Cache in Griechenland. Ein toller Statistik-Punkt. Unsere Sightseeing Tour führte uns anschließend weiter zum berühmten Baudenkmal Weißer Turm.
Wochenmarkt von Thessaloniki
Durch Zufall fanden wir auf unserem Weg zurück zum Hotel noch einen Wochenmarkt. Hier gab es frischen Fisch, Fleisch und auch andere griechische Spezialitäten wie z.B. einen kompletten Schafskopf.
Bus zum Flughafen Thessaloniki
Nach dem Auschecken aus dem Hotel fuhren wir gegen 11 Uhr mit dem Expressbus 78 zum Flughafen. Die Fahrt dauerte ungefähr 35 Minuten und war mit 2€ echt günstig.
Sucht ihr noch nach einem passenden Hotel in Thessaloniki?

You can find a hotel that suits your budget through the various online travel agencies such as Agoda, Booking.com, ebookers.de, Expedia, Hotels.com, lastminute.de, opodo, otel.com or Venere.com.