The Hugo Junkers Lounge Düsseldorf is the only lounge in Terminal B at Düsseldorf Airport. Since my flight to Athens with Aegean Airlines was also scheduled to depart from this terminal, I decided to visit the Hugo Junkers Lounge. You can find out whether my decision was right in the Lounge Review.
Where is the Hugo Junkers Lounge Düsseldorf located?
The Hugo Junkers Lounge at Düsseldorf Airport is one of a total of five lounges. It is the only lounge in Gate B. The other lounges are located in area A (Lufthansa Business and Senator Lounge) and C (Emirates and Open Sky Lounge). The Hugo Junkers Lounge is located directly behind the security check on level 2 of the terminal, which can be reached directly after the check via a staircase or an elevator. The lounge is open daily from 05:15 to 21:00.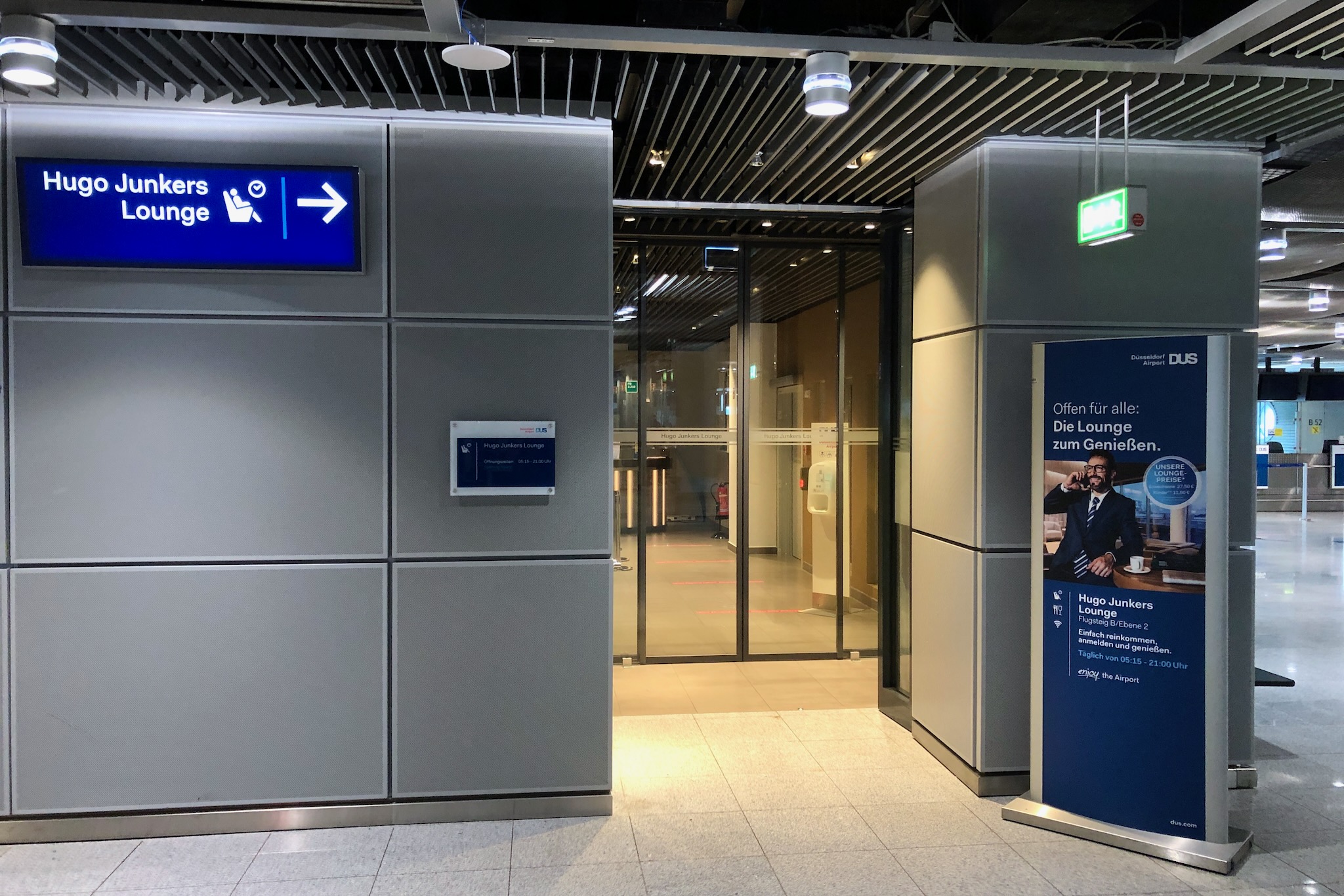 Who has access to the Hugo Junkers Lounge Düsseldorf?
The Hugo Junkers Lounge is open to anyone with a valid flight ticket for the same day. However, access is subject to a fee. The regular price is 27.50 euros for adults (this price is valid from 13 years, 0-2 year olds have free entry) and 11 euros for children from 3 to 12 years. You can also buy the tickets in advance on the official website acquire. As the owner of a American Express Platinum credit card* With the associated Priority Pass I was allowed to use the lounge for free.
How is the Hugo Junkers Lounge Düsseldorf equipped?
With an area of ​​800 square meters, the Hugo Junkers Lounge is a comfortable size. Depending on the time of day, the lounge can still get very crowded. As soon as you pass through the front door, you approach the large reception desk. Here you will be asked for access authorization or the entrance fee and for the current flight ticket.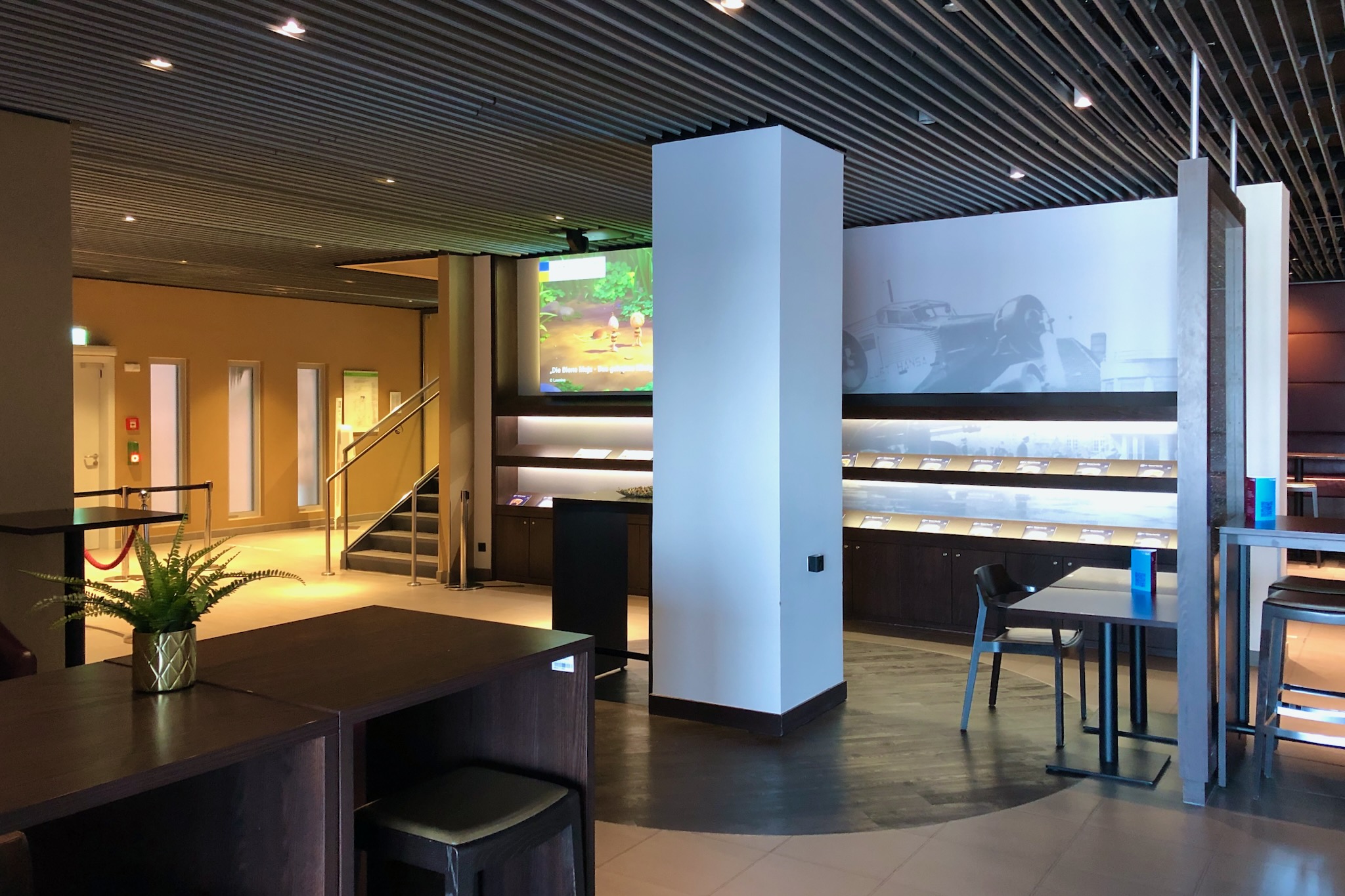 The lounge is modern and decorated in shades of brown and burgundy. After the reception there are two slightly separated areas on the left and right, which are z. B. suitable for working on the laptop. There are also armchairs with low tables on the glass front, chairs with higher tables, and bar tables with stools or benches. Most chairs and accompanying tables do not have power or USB ports, so charging smartphones and laptops can be a bit difficult.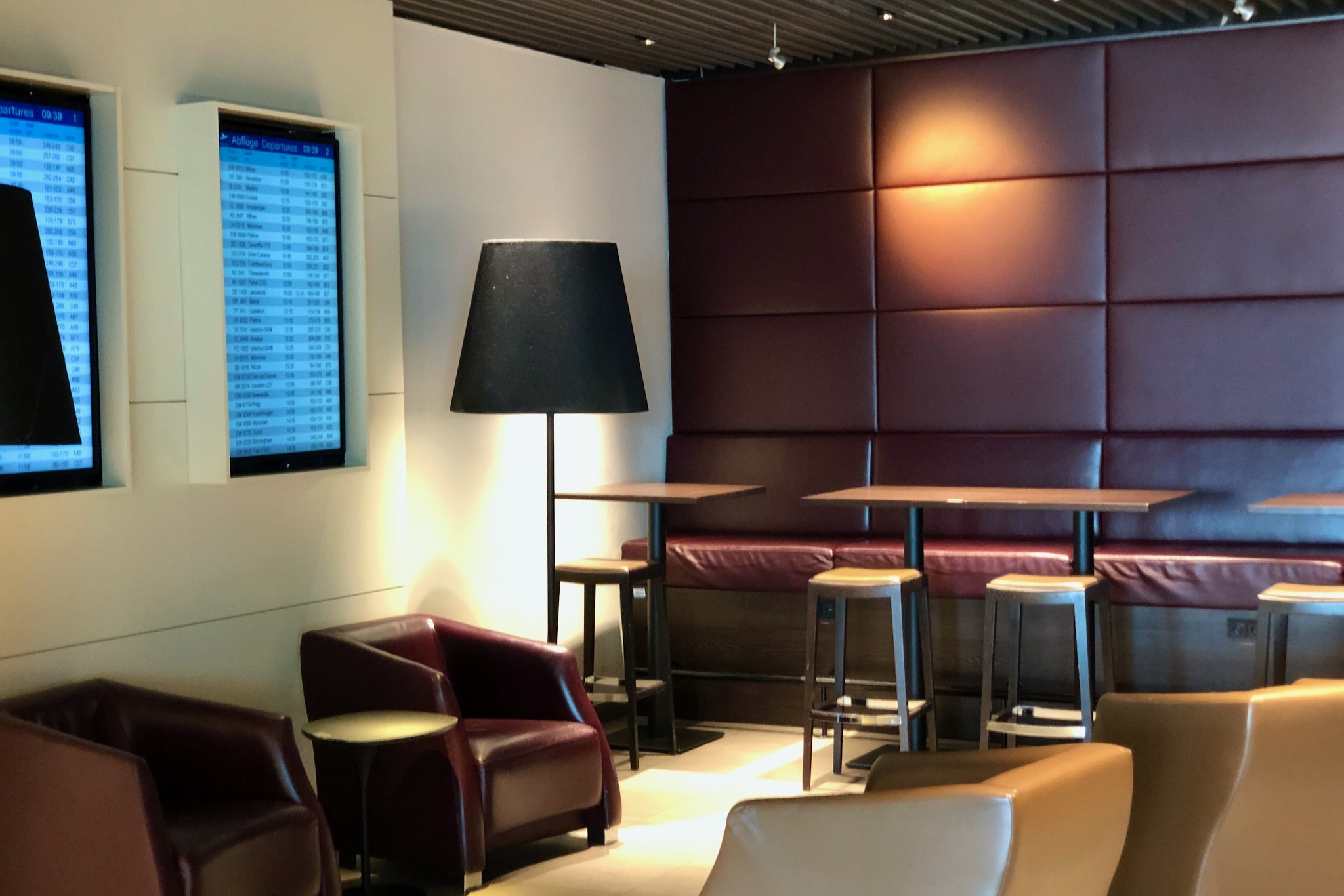 Erst am Ende meines Besuchs bemerkte ich im Eingangsbereich eine Treppe, die in das obere Stockwerk führte. Oben angekommen, fand ich einen zweiten Bereich der Lounge. Da es bei meinem Aufenthalt in der unteren Etage schon recht voll war, war es hier oben fast leer. Es gab verschiedene Sitzbereiche, die durch Stoff- und teilweise Holzelemente voneinander getrennt waren. Auch gab es hier viel mehr Arbeitsplätze mit Steckdosen und USB-Anschlüssen als im Erdgeschoss. Zudem befand sich im hinteren Teil der Lounge ein kleiner Spielbereich für Kinder.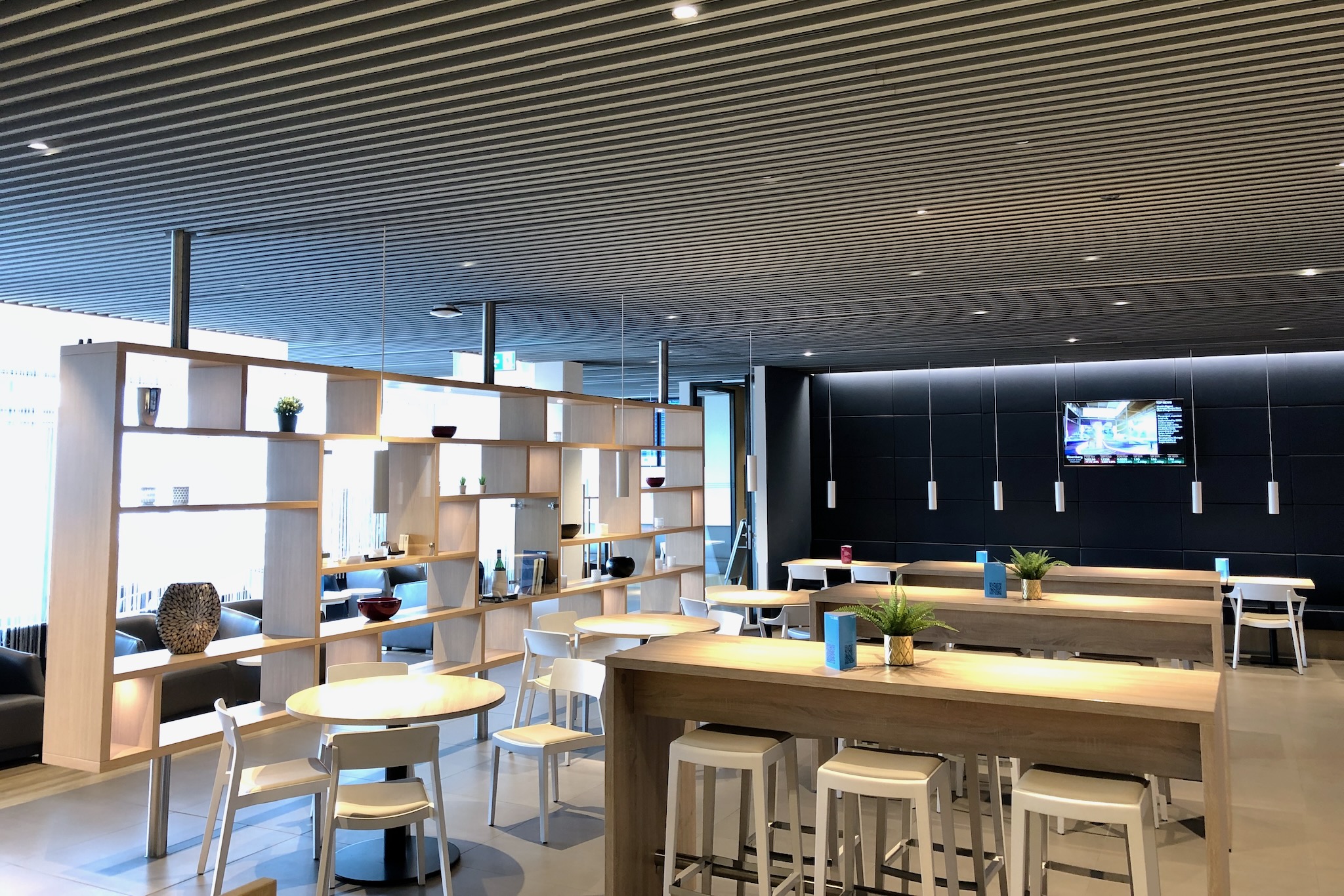 What is there to eat and drink in the Hugo Junkers Lounge Düsseldorf?
Located in the far left corner of the lounge is the lounge's food and beverage offerings. Breakfast was still served during my stay. The buffet consisted of various hot dishes, such as scrambled eggs or sausages, but also cold dishes. There were meats, pastries, yogurt, bread, fruit and cereal. There was a small selection of alcoholic and non-alcoholic drinks of all kinds to drink. A coffee machine for hot drinks was also freely available. The service staff was friendly and tried very hard to keep things clean and tidy. The buffet was also regularly checked and refilled.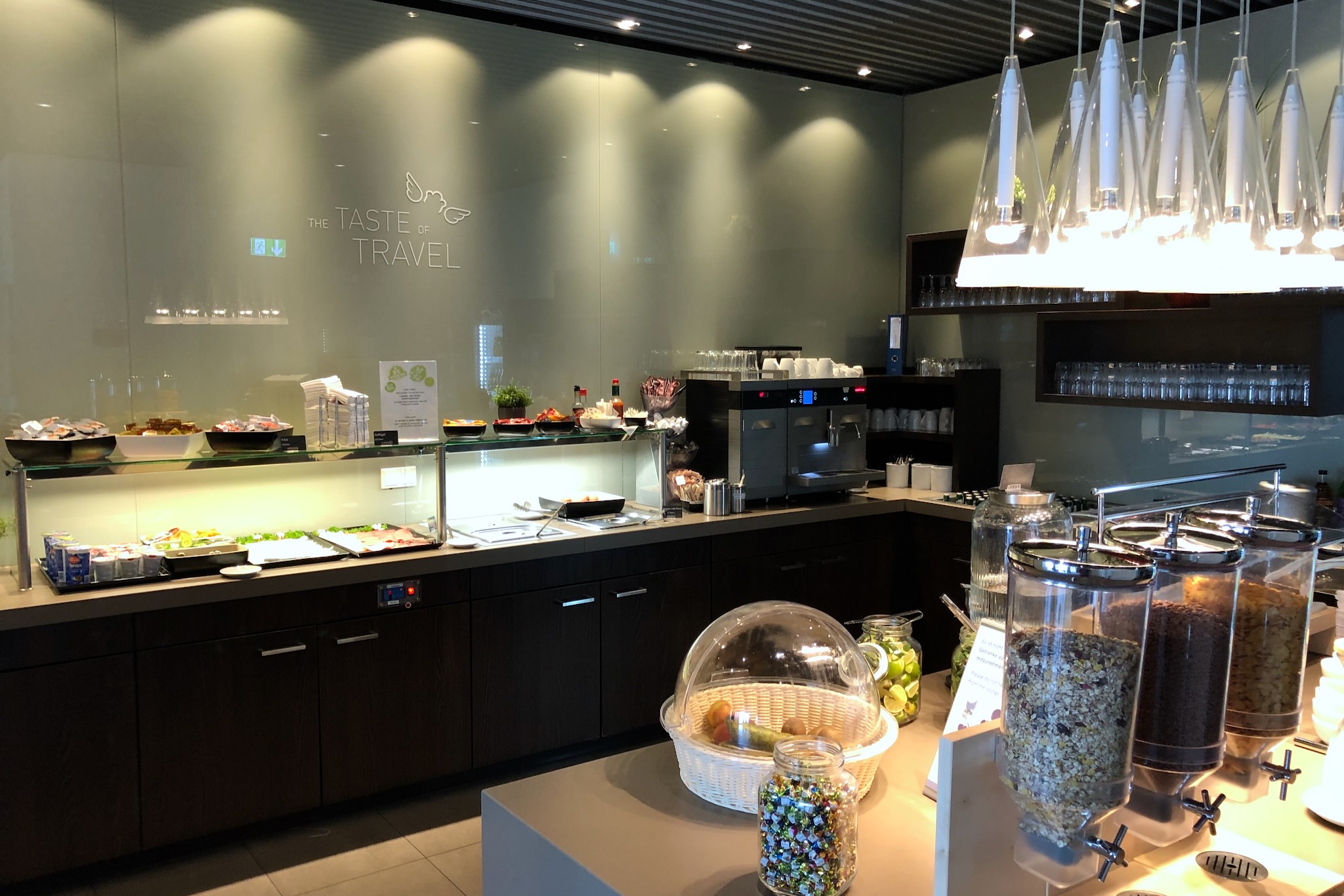 Did you like the post? Then share it on the social networks! This way you support our work a lot. We are also happy about your opinion in the comments.
Rating of the Hugo Junkers Lounge Dusseldorf
Food

Beverages

Service

Seating

Ambiance

Cleanliness
Summary
The Hugo Junkers Lounge at Düsseldorf Airport is definitely worth a visit. Even if it will probably rarely be empty due to the low access requirements, you will not be disturbed by other guests thanks to the large room layout with various retreat options. Above all, the large glass front offers a great view of the runways of Terminals B and C. The range of dishes, especially at breakfast, is definitely in need of improvement.