The new Aegean Business Lounge in Terminal A, the non-Schengen area of ​​Athens Airport, was recently opened in April 2022. On my way to Sofia, I used the transfer time to check out the new Aegean Airlines flagship lounge at Athens airport.
Wo befindet sich die Aegean Business Lounge Athen?
Die neue Aegean Business Lounge befindet sich im Nicht-Schengen-Bereich des Flughafens Athen (Terminal A). Nachdem ich die Sicherheits- und Passkontrolle passiert und durch die verschiedenen Duty-free-Shops geschlendert war, erreichte ich den Weg zur Lounge. Ein kleines Plakat weist darauf hin, dass sich die Lounge im 3. Stock des neuen Gebäudeteils befindet. Man hat die Wahl zwischen einem Aufzug und der Möglichkeit, zweimal die Treppe oder die Rolltreppe zu nehmen. Ich entschied mich für die Treppe, weil ich auf dem Hinflug von Düsseldorf nach Athen ein üppiges Business-Class-Menü genossen hatte. Oben angekommen, stand ich in einem großzügig gestalteten Eingangsbereich. Der Bereich war durch ein Glasdach lichtdurchflutet und sah mit einem Olivenbaum und der blauen Wandverkleidung aus Glas und Aluminium sehr schön aus. Durch die automatische Eingangskontrolle gelangte ich schnell in die Lounge.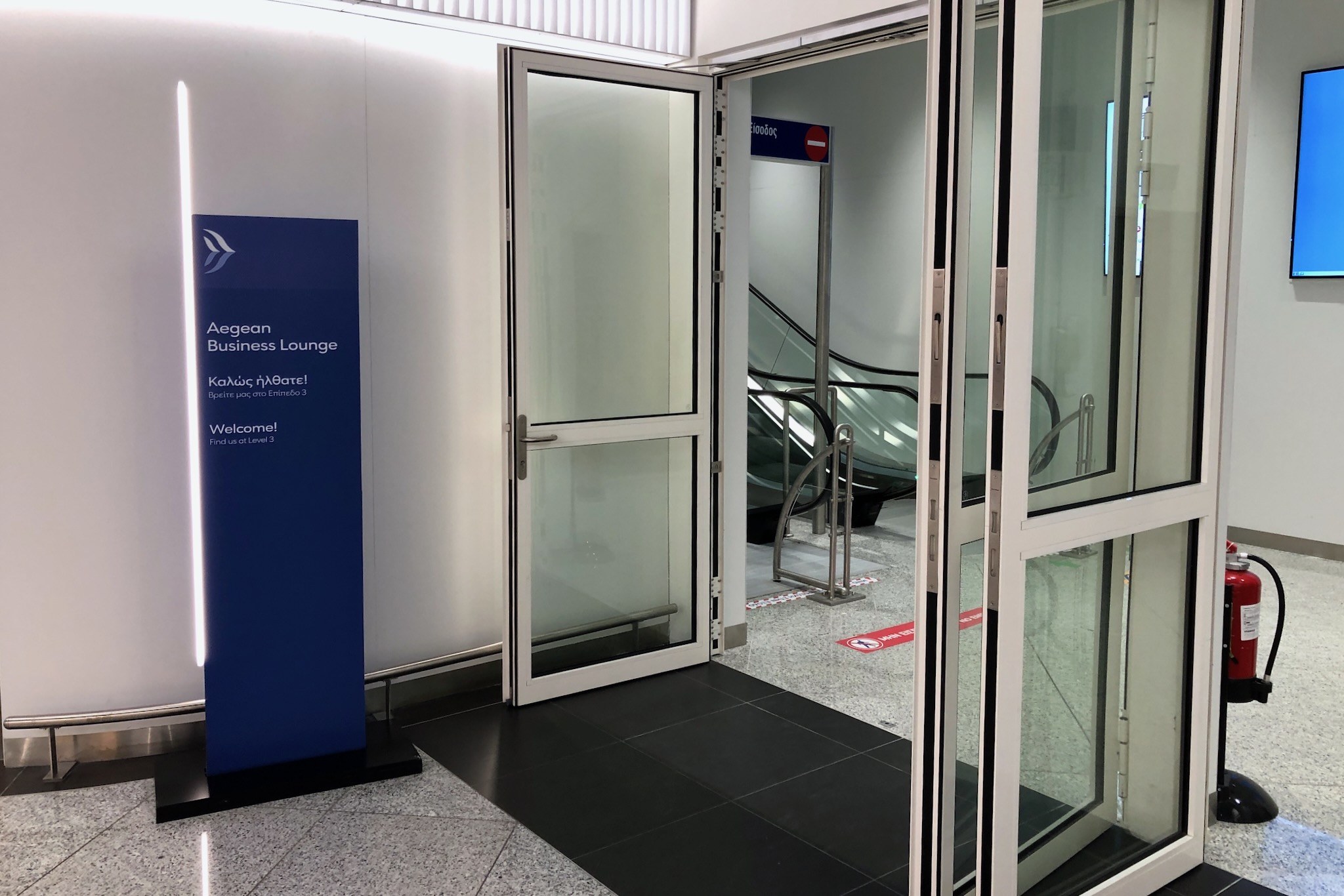 Wer hat Zutritt zur Aegean Business Lounge Athen?
Zugang zur neuen Aegean Business Lounge haben Gäste mit einem Business Class Ticket oder Miles+Bonus Gold Status sowie Gold Mitglieder des Star Alliance Netzwerks.
Wie ist die Aegean Business Lounge Athen ausgestattet?
The lounge itself is similar in size to the entrance area. There is plenty of seating in the very large 1250 m² lounge. There are many tables set up at the buffets. In the other areas there are comfortable sofas, armchairs and loungers with a view of the apron. There are also two separate meeting rooms.
Rounded and flowing shapes and a combination of high-quality materials such as marble, terrazzo, glass and wood make the new Aegean Business Lounge in Terminal A a highly modern place. The color blue, which corresponds to the corporate identity of Aegean Airlines, is predominant. Overall the lounge makes a very luxurious impression and is definitely an upgrade compared to the previous lounge.
Was gibt es in der Aegean Business Lounge Athen zu essen und zu trinken?
There is a large buffet with various hot and cold dishes. During my stay there were only dishes from Greek cuisine. Everything looked fresh and the dishes I tried were delicious. There was also a buffet island with various desserts and very tasty smoothies.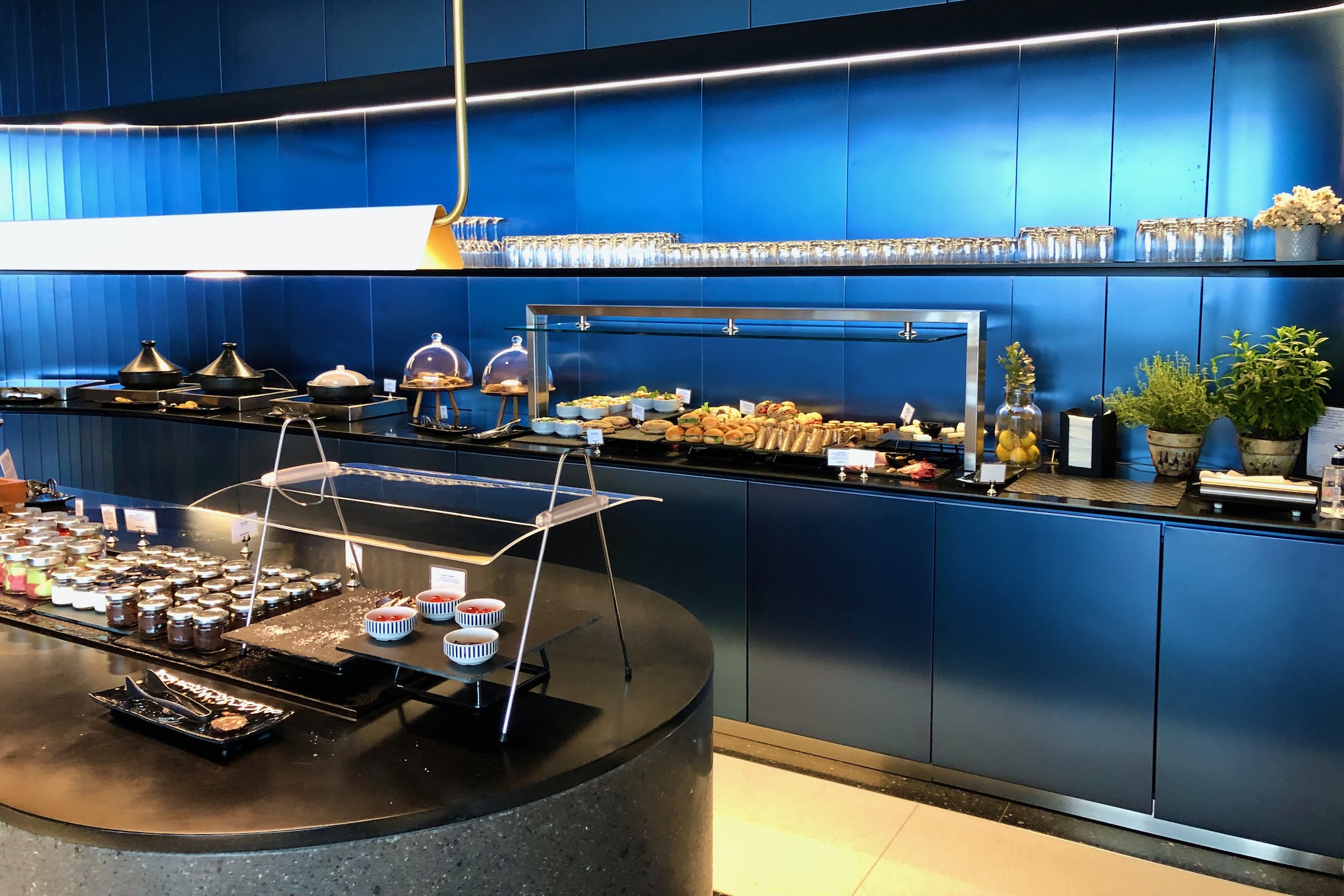 For drinks there are three buffets in the lounge. Due to the Corona requirements, these were staffed and you were served your coffee or non-alcoholic or alcoholic drinks. There was also a wine tasting station at the drinks buffet in the dining area. Here I was able to taste various Greek white and red wines and learned interesting facts about their origin from the respective displays. All in all, the Aegean Lounge Athens in Terminal A has a very good offer.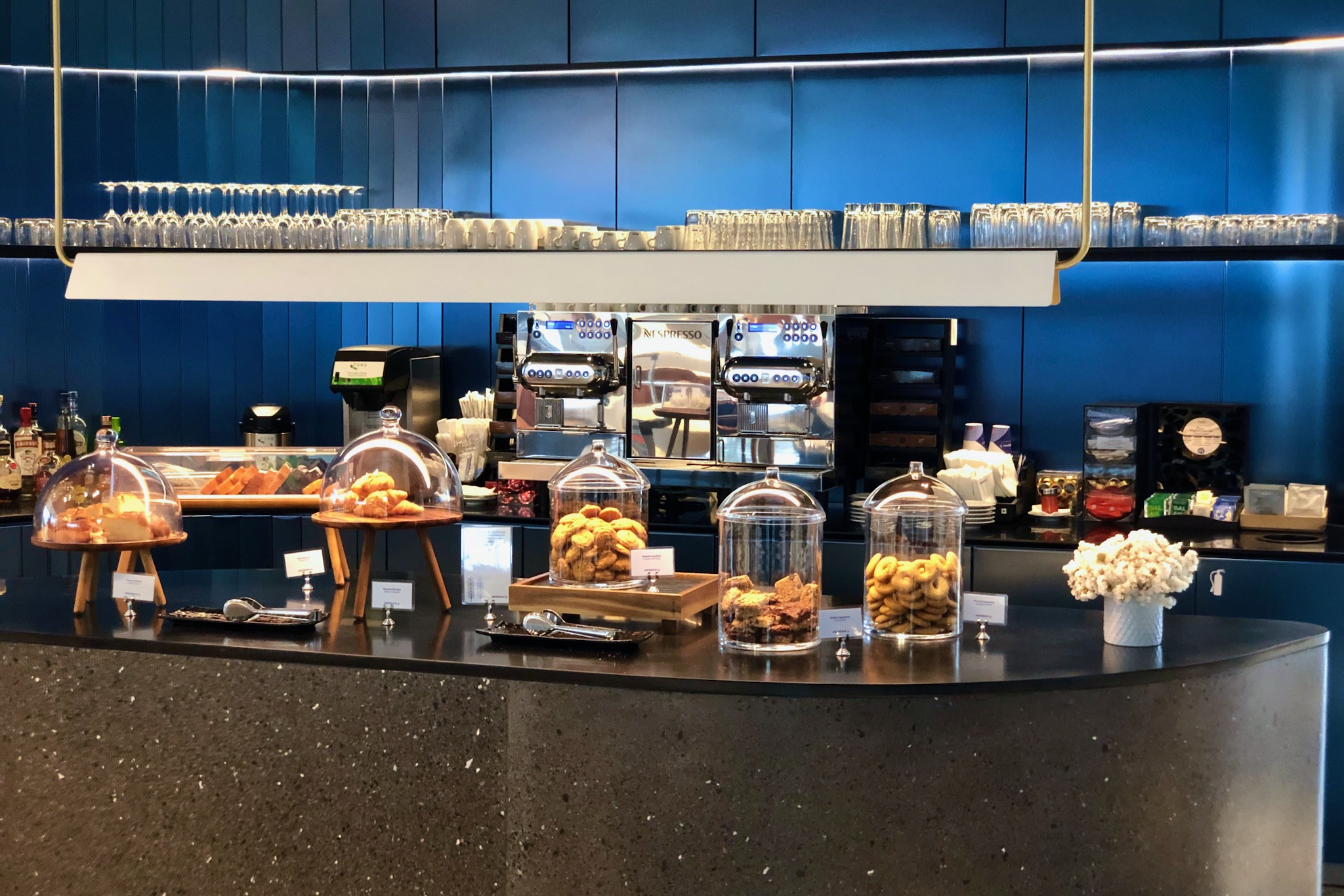 Did you like the post? Then share it on the social networks! This way you support our work a lot. We are also happy about your opinion in the comments.
Review of Aegean Business Lounge Athens (Terminal A)
Food

Beverages

Service

Seating

Ambiance

Cleanliness
Summary
The new Aegean Business Lounge in Terminal A at Athens Airport is a real highlight. The design of the lounge is very appealing and there is a wide range of different seating and relaxation options. The food was varied and of good quality. The range of drinks was just as good.