Some may think I'm crazy to spend an afternoon during vacation in Greece with four flights. Sure, for the majority there is no point in flying to the island of Chios for just 25 minutes. However, I need this Mileage Run with Aegean Airlines to extend my Star Alliance Gold frequent flyer status for another year.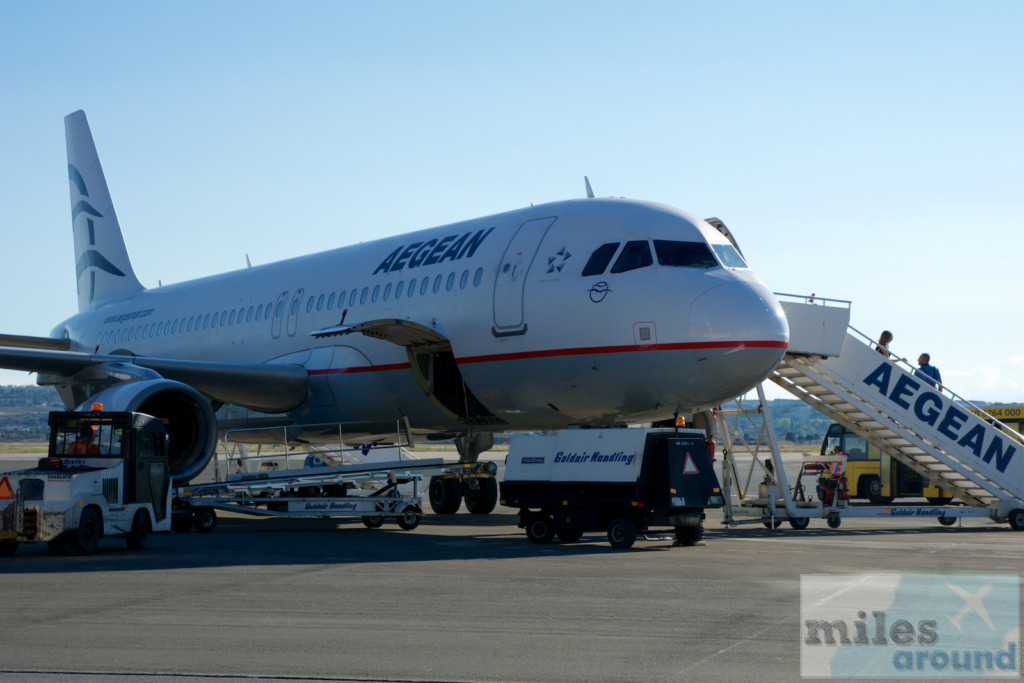 Aegean Airlines Mileage Run Routing
Using the Aegean website, I searched for four cheap flights from Thessaloniki airport in March. After a good hour of research I found a very cheap combination to the Greek island of Chios. The routing, which consisted of two separate flight tickets, then looked like this:
Ticket 1:
Monday, October 01, 2018, 5:25 p.m. to 6:15 p.m.: Thessaloniki to Athens, OA 121
Monday 01 October 2018 20:05 - 20:50: Athens to Chios, OA 274
Ticket 2:
Monday 01 October 2018 21:15 to 22:00: Chios to Athens, OA 275
Monday, October 01, 2018, 11:15 p.m. to 00:10 a.m.: Athens to Thessaloniki, OA 136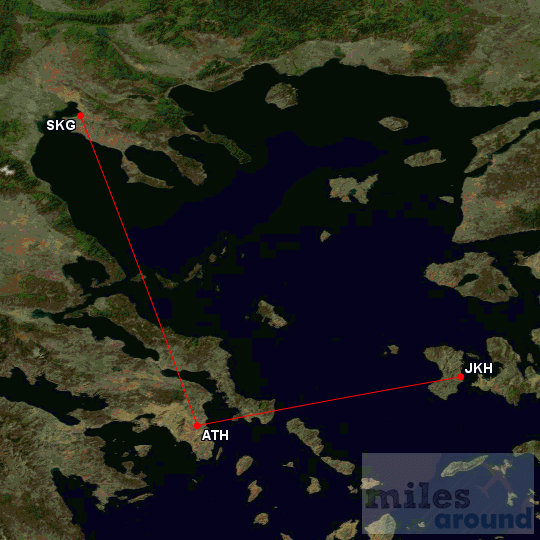 The first ticket cost EUR 50.53 and the second ticket only slightly less at EUR 48.24. For a total price of less than 100 EUR, this is a very acceptable route to extend your frequent flyer status for another year.
Flight 1 of the Aegean Mileage Run: Thessaloniki to Athens
At 3:30 p.m. I started from our hotel with the rental car in the direction of Thessaloniki Airport. I parked the car in an inexpensive airport car park, which was only a five-minute walk from the terminal.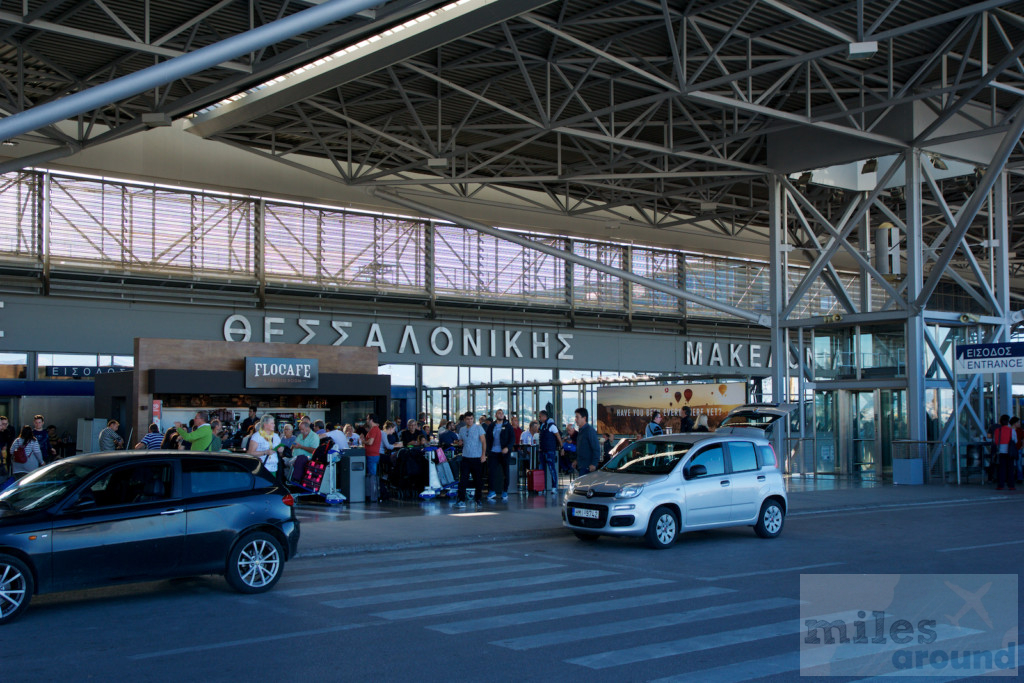 After getting through security quickly thanks to Gold Track, I visited the Aegean Business Lounge. This has been extensively renovated and enlarged since my last visit. Behind the reception is now the buffet and a seating area for dining. In the direction of the glass front, with a view of the apron, a large area with armchairs has been created. In between, a long desk with power connections and PCs was installed.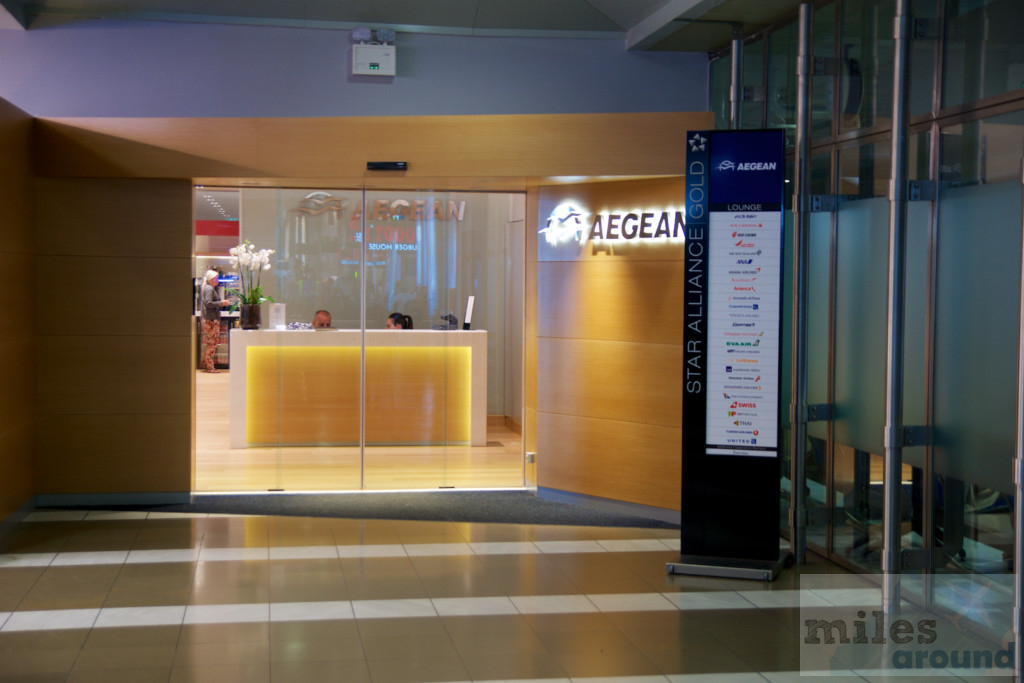 However, the biggest advantage of the Aegean Business Lounge Thessaloniki is that boarding is carried out directly from the lounge. Since there are no passenger boarding bridges here at the airport, I left the lounge via a flight of stairs and was driven to the plane with the other guests. At this point, boarding of the Airbus A319 had already begun.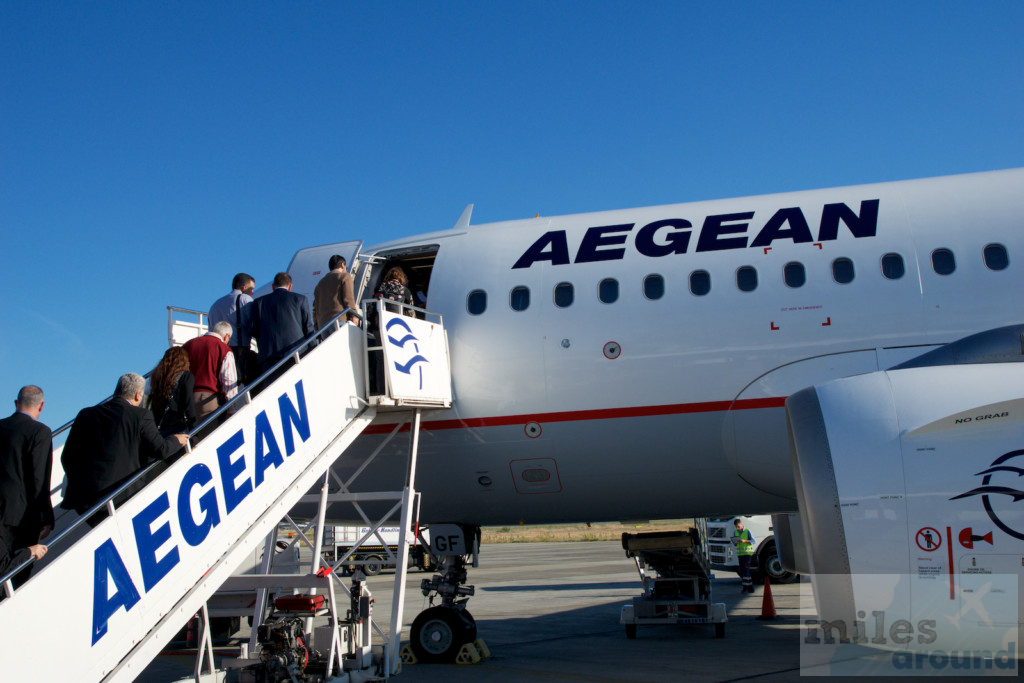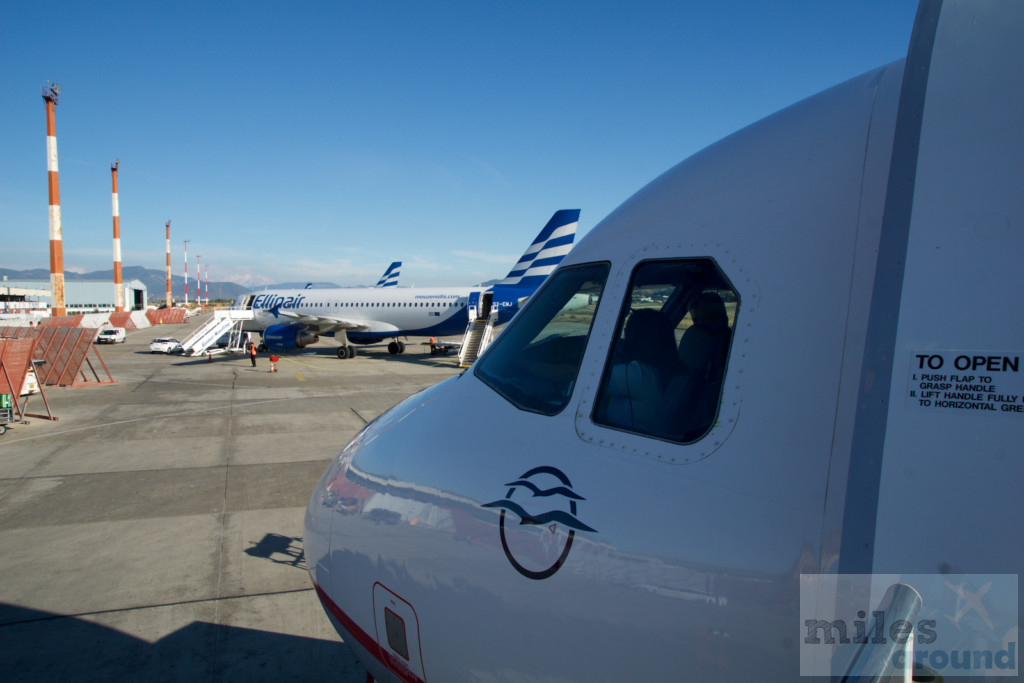 The flight to Athens was almost fully booked and was mostly uneventful. Aegean Airlines only offered a drink and candy on this short flight. However, the view of the Greek islands from my seat 14A was terrific.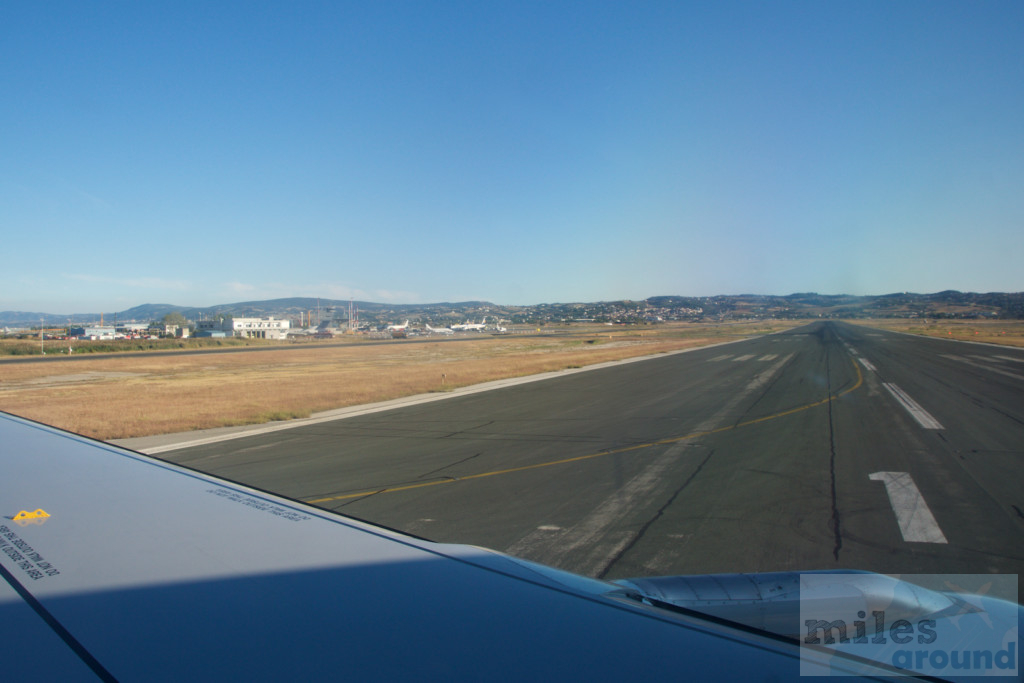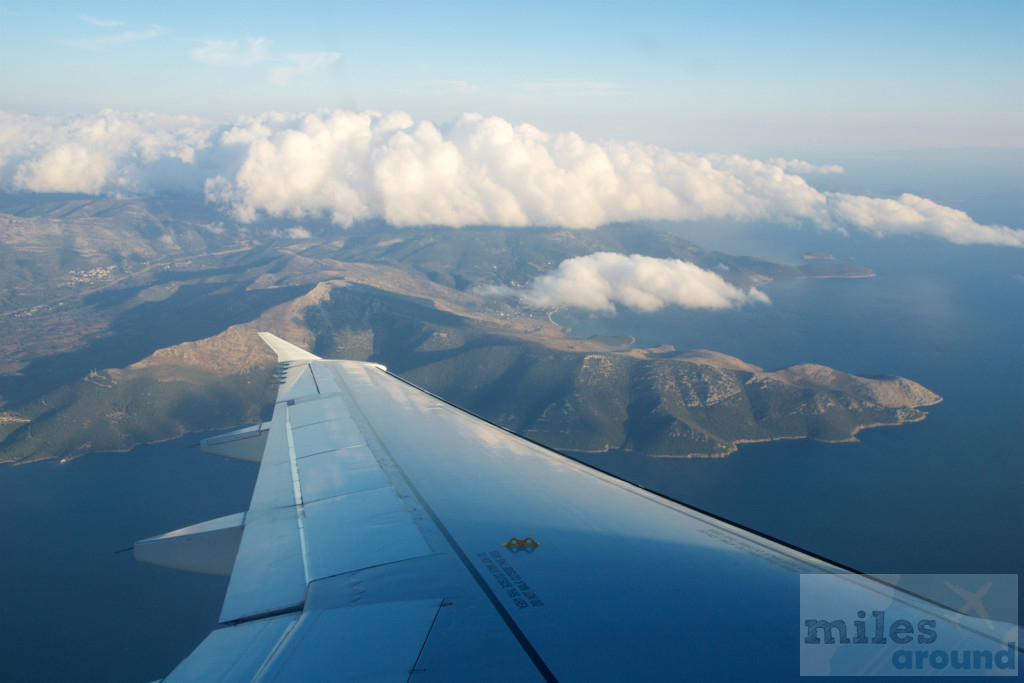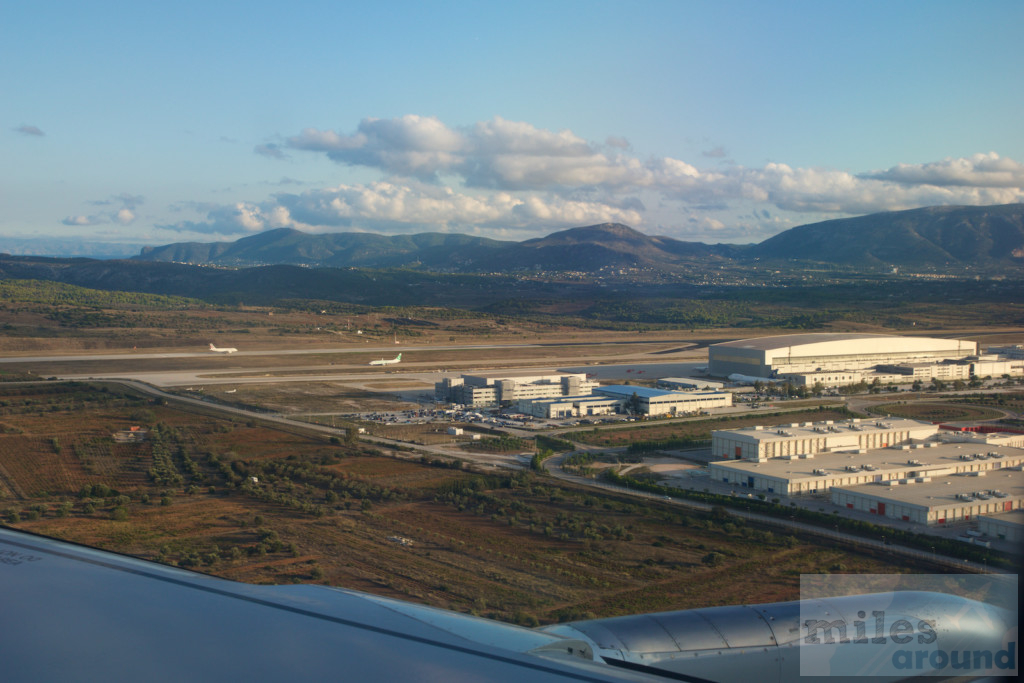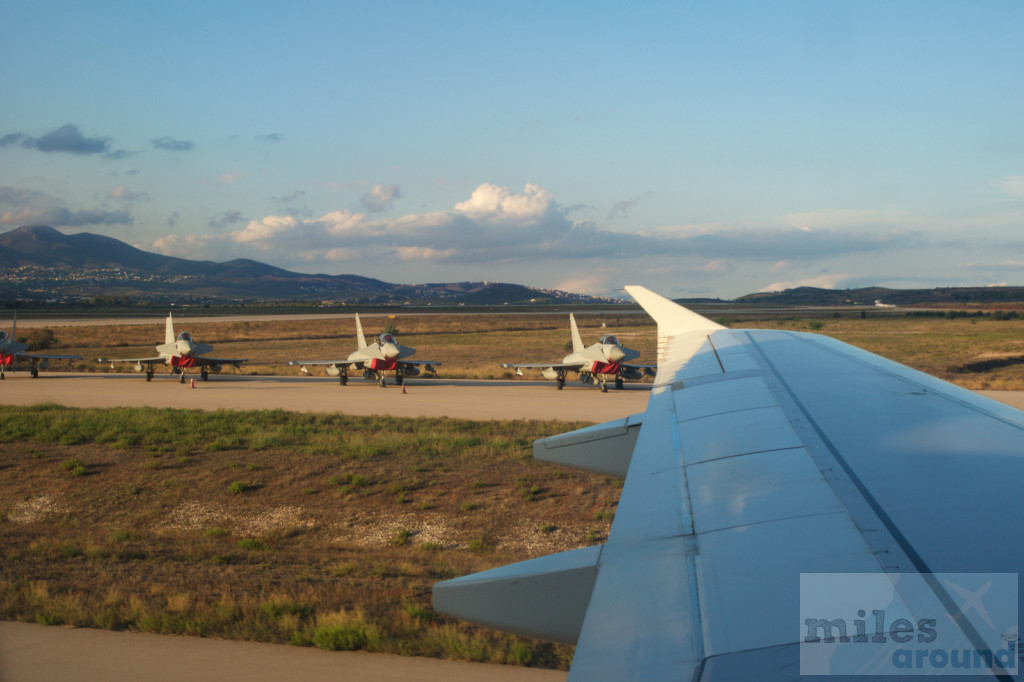 Flight 2 of the Aegean Mileage Run: Athens to Chios
Wir landeten pünktlich in Athen. Leider musste ich als Transferpassagier wiederholt durch die Sicherheitskontrolle. Dank des Fast Track war das aber schnell erledigt. Durch den üppigen Duty Free Bereich bahnte ich mir den Weg zur Aegean Business Lounge. Auch diese hatte ein umfangreiches Makeover erfahren. Es gab einen großen Sitzbereich, ein langes Buffet mit sehr guter Auswahl an Speisen & Getränken und einen Bereich mit Tischen und Stühlen. Am genialsten war aber der Bordwagen mit dem umfangreichen Sortiment an Spirituosen.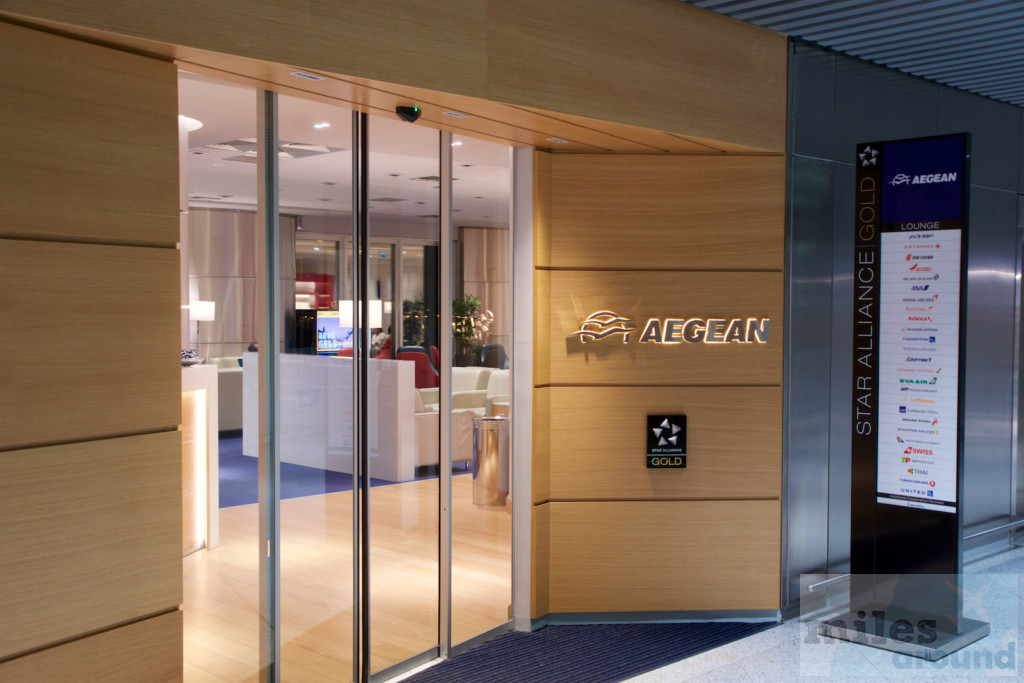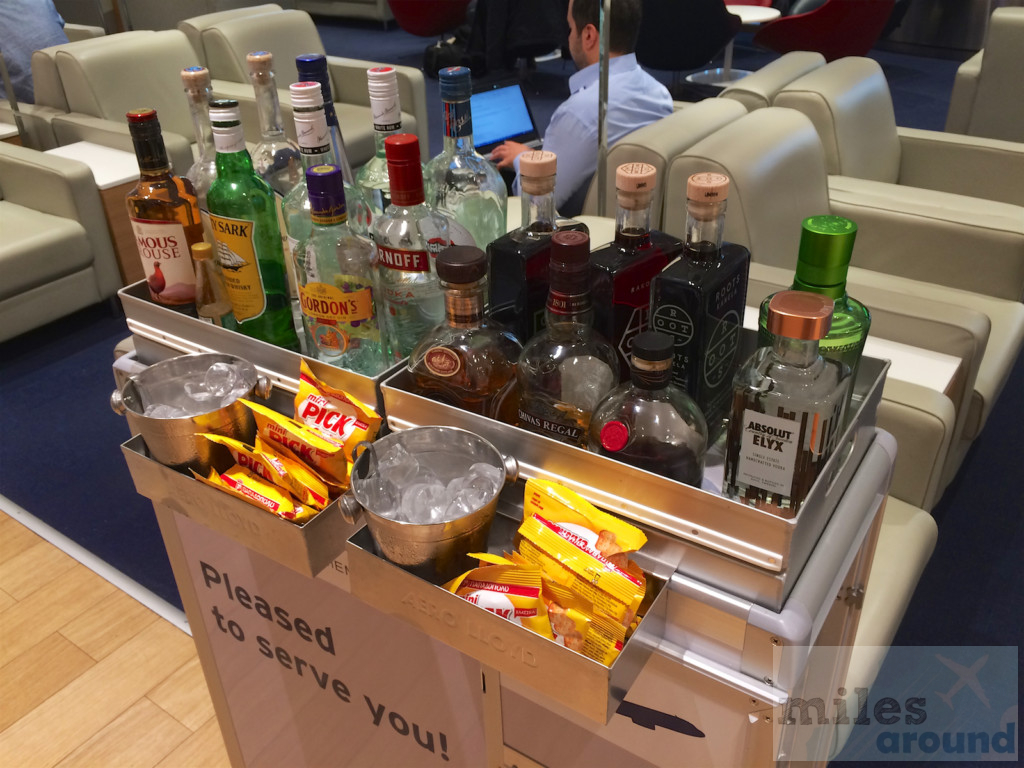 Boarding flight 2 to Chios started 15 minutes late. We were driven by bus to the ATR 42 parked on the apron. On the spot I noticed my dilemma: An ATR 42 is not boarded from the front like all other passenger aircraft, but boarding is only possible via the rear and only door. Since I have less than 30 minutes to change trains in Chios, my reserved seat 2A would have been quite inconvenient. So I got on the plane as the last passenger and saw that there was no one seated in row 13. I checked briefly with the flight attendant and then took a seat on 13A. Just after that I also changed the seat for the return flight to Athens to 12A. Should I just leave my rucksack in the luggage compartment afterwards? ;)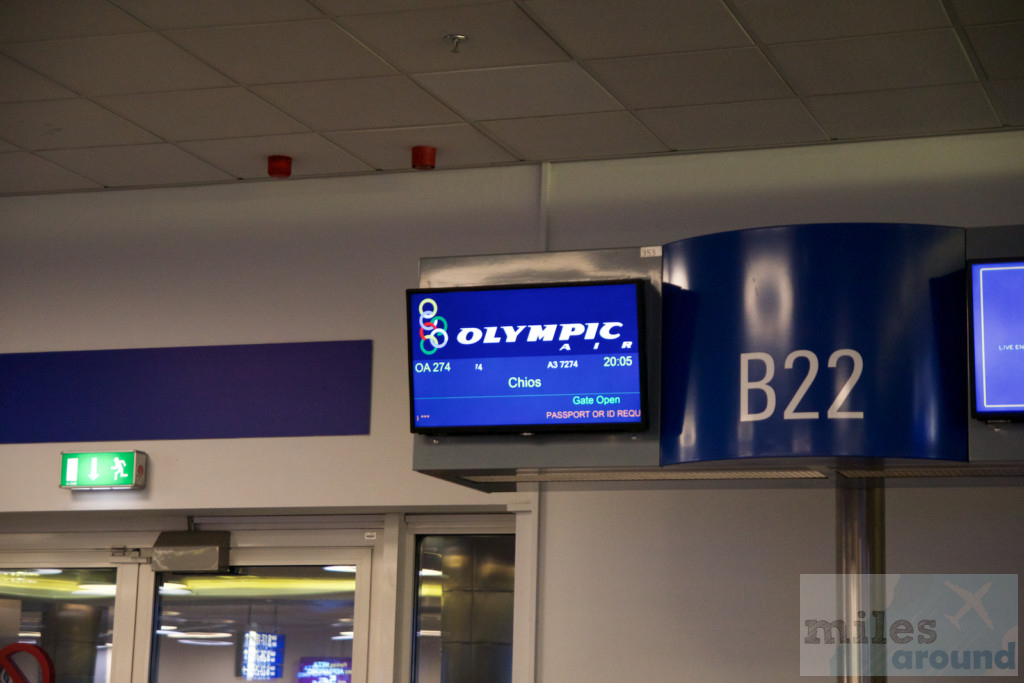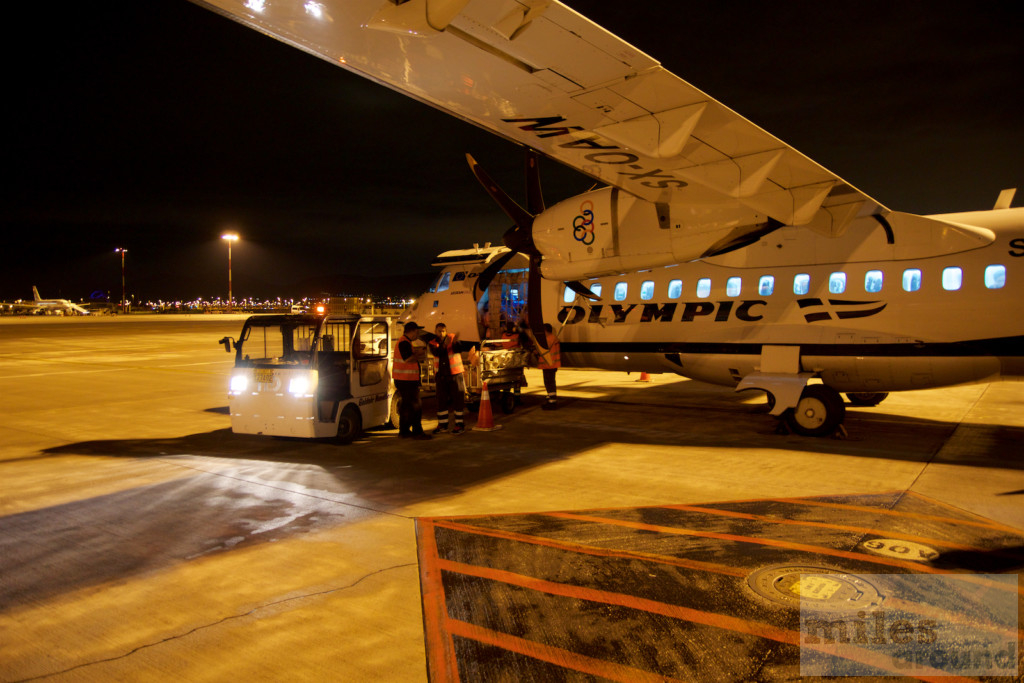 Flight 3: Chios to Athens
Fortunately, Chios Airport consists of only one very small building. Upon my arrival, all I had to do was go through a glass door on the left side of the building, through security on the right, and I was back at my departure gate. The whole thing went so quickly that I even had to wait 15 minutes for boarding. A direct turnaround is therefore possible at Chios Airport without any problems!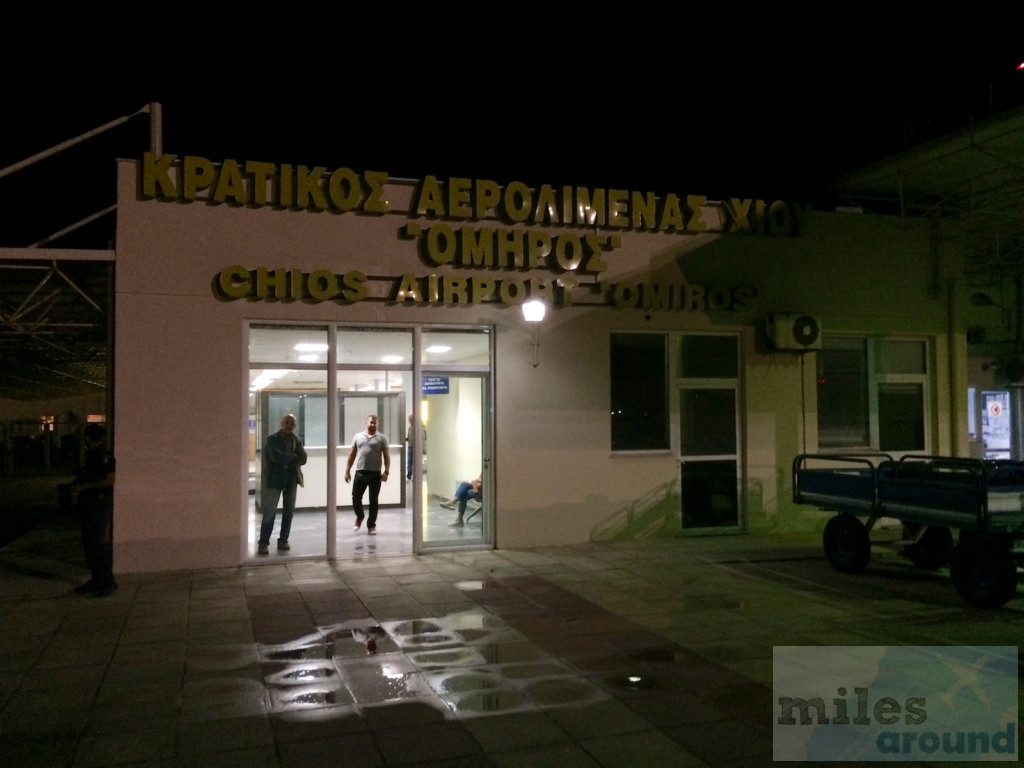 With a "Hello again!" I looked at the puzzled face of the flight attendant and took a seat in seat 12A. After only 21 minutes on the island of Chios, the ATR 42 took off again with me towards Athens. On the flight to Athens there was again a snack and a candy. Drinks were not distributed during the short flight.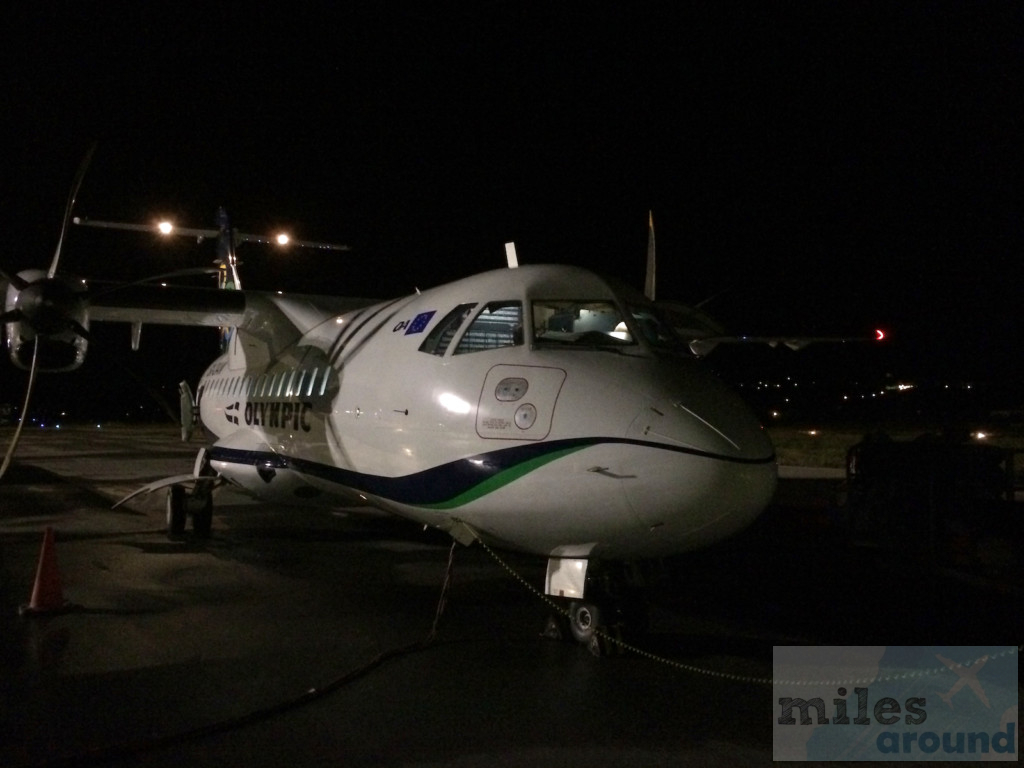 After a bumpy approach, I landed at Athens airport for the last time today. From the apron, the bus took us back to the main terminal. I quickly found my way to the lounge. This was also pleasantly empty, so I was able to take a few more photos. There may be a lounge review later in an extra post.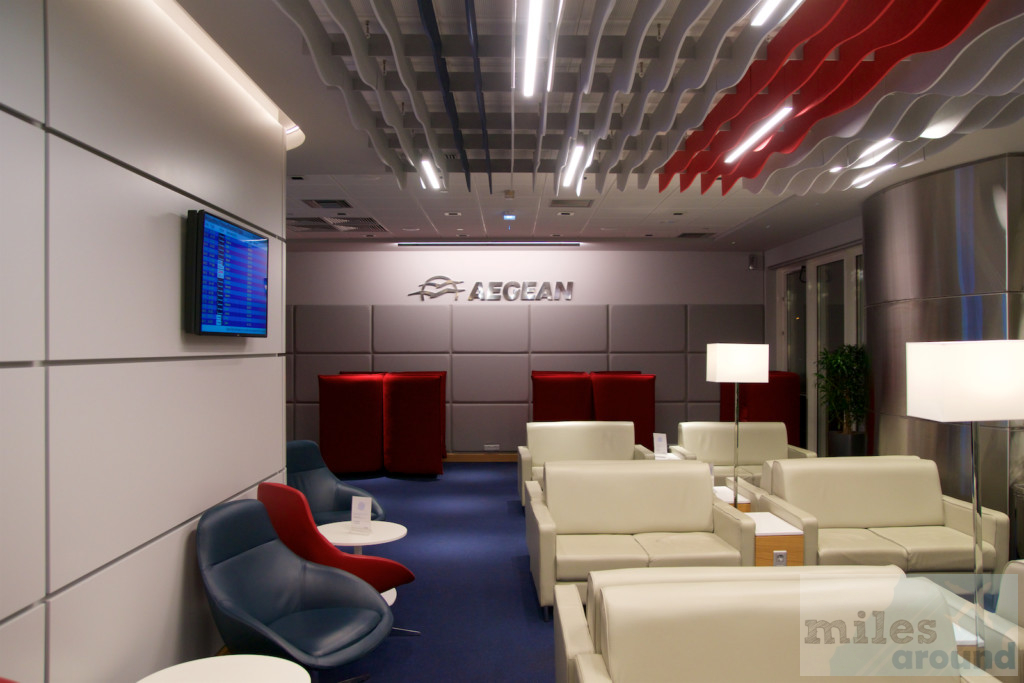 Flight 4: Athens to Thessaloniki
After a strong coffee and some Greek treats in the lounge, I made my way to Departure Gate B13. The 35-minute return flight to Thessaloniki was uneventful. It was amazing that this flight was also fully booked except for a few seats. Immediately after my arrival at Thessaloniki Airport I went straight to the rental car and reached our hotel after 45 minutes. A great and time-efficient mileage run!
Schon einen Tag später waren alle vier Flüge meinem Miles&Bonus-Konto vermerkt und mein Star Alliance Gold Status wieder um ein weiteres Jahr verlängert.
Rating of Aegean Airlines Economy Class on short-haul routes
Seat

Service

Cleanliness

Beverages

Essen

Price-performance
Summary
Aegean Airlines wurde bereits mehrfach als beste Regionalairline in Europa ausgezeichnet. Allerdings war ich bei meinen vier Inlandsflügen diesmal nicht so überzeugt. Es fing schon damit an, dass ich selbst als Miles&Bonus Gold-Kunde für einen Sitzplatz in den vorderen Reihen bezahlen sollte. Der Service war freundlich und zügig. Das Angebot an Speisen und Getränken, war sicherlich auch in Anbetracht der kurzen Flugzeit, nicht überragend.