This morning there was another great breakfast at Gun Ho Lodge: homemade pumpkin bread and quiche – delicious! Shortly after 9 a.m. we set off as we had quite a long drive ahead of us along the Kancamagus Highway to Flume Gorge in Franconia Notch State Park.
Indian Summer: Kancamagus Highway
We headed west along the Kancamagus Highway, one of the many beautiful scenic drives that lead through the White Mountains. There are a lot of viewpoints along the route. Again, the coloring of the trees was absolutely overwhelming. A recommended stop is the Sabbaday Waterfall. It is only 0.5 km from the parking lot (cost $3). The way he falls into the small gorge is simply worth seeing. You could immediately jump in yourself and slide down the stones. ;)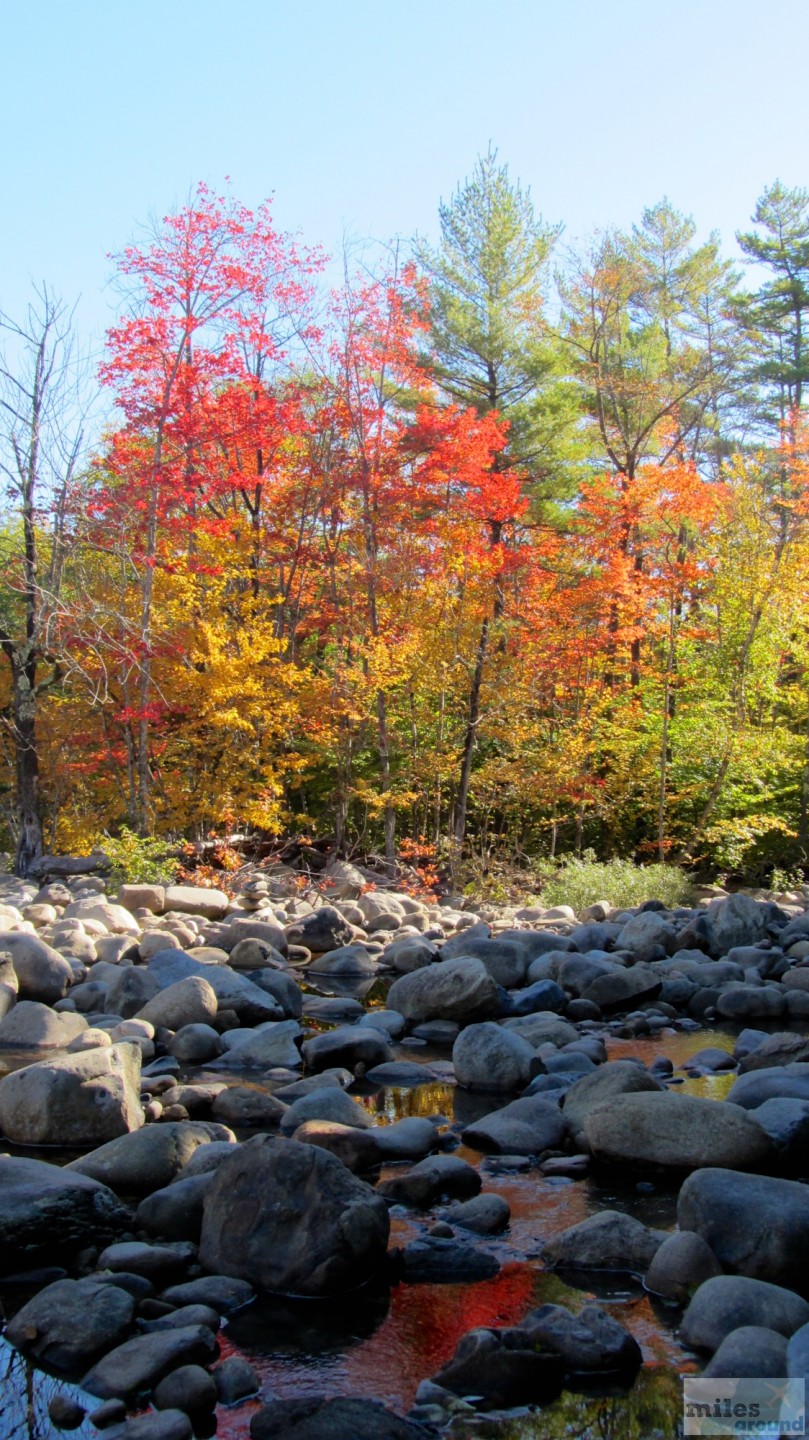 Flume Gorge im Franconia Notch State Park
Then it was on to Lincoln for a short lunch break and then north to Flume Gorge in Franconia Notch State Park. We drove into the huge parking lot and of course got a parking space furthest away from the visitor center. Which was quite well attended with many families with children and older travel groups. We bought our tickets (adult $15) and were now debating whether to walk or take the bus. We decided to take the free bus for the way there and walk back because it was supposed to be downhill.
At the top we walked a little along the river, which flowed down the mountain over large stone slabs. In the distance we could already hear the sound of the waterfall. It went further and further into the gorge, along the rocks. Actually comparable to a gorge in the Alps, only that everything here is a bit more geared towards tourist comfort. There would never be a bus for the short distance in Austria or Switzerland.
We walked up the wooden stairs and ramps, along the rocky river bed, until we got to the granite gorge. The 100-foot deep and in places only 10-foot wide gorge is one of New Hampshire's most popular natural wonders. The waterfall was very impressive as it threw itself over the ledge. Since we were planning to take the loop trail, we walked past the waterfall and went down next to the gorge. A beautiful path through the forest and past huge boulders and a covered wooden bridge.
When we got to the car, we set off straight away, because there were still 3.5 hours to our destination today, Plattsburgh on Lake Champlain. That was our hotel for tonightLa Quinta Inn.
Kancamagus Highway

Flume Gorge