Diesen Morgen gab es wieder ein tolles Frühstück in der Gun Ho Lodge: selbst gebackenes Kürbisbrot und Quiche – superlecker! Kurz nach 9 Uhr machten wir uns dann auf den Weg, da wir eine ziemlich lange Fahrt entlang des Kancamagus Highway bis zum Flume Gorge im Franconia Notch State Park vor uns hatten.
Indian Summer: Kancamagus Highway
Es ging Richtung Westen den Kancamagus Highway entlang, einer der vielen schönen Scenic Drives, der durch die White Mountains führt. An der Strecke gibt es eine Menge Aussichtspunkte. Auch hier war die Färbung der Bäume wieder absolut überwältigend. Ein empfehlenswerter Halt ist der Sabbaday Wasserfall. Vom Parkplatz (Kosten 3 USD) aus sind es nur 0,5 km. Die Art wie er in die kleine Schlucht stürzt ist einfach sehenswert. Man könnte sofort selber hineinspringen und die Steine herunter rutschen. ;)
Flume Gorge im Franconia Notch State Park
Anschließend ging es für eine kurze Mittagspause weiter nach Lincoln und dann Richtung Norden zum Flume Gorge im Franconia Notch State Park. Wir fuhren auf den riesigen Parkplatz und bekamen natürlich einen Stellplatz am weitesten entfernt vom Visitor Center. Welches mit vielen Familien mit Kindern und älteren Reisegruppen, recht gut besucht war. Wir kauften unsere Tickets (Erwachsener 15 USD) und überlegten nun, ob wir laufen oder den Bus nehmen sollten. Wir entschieden uns für den Hinweg den kostenlosen Bus zu nehmen und zurück zu laufen, da es dann Bergab gehen sollte.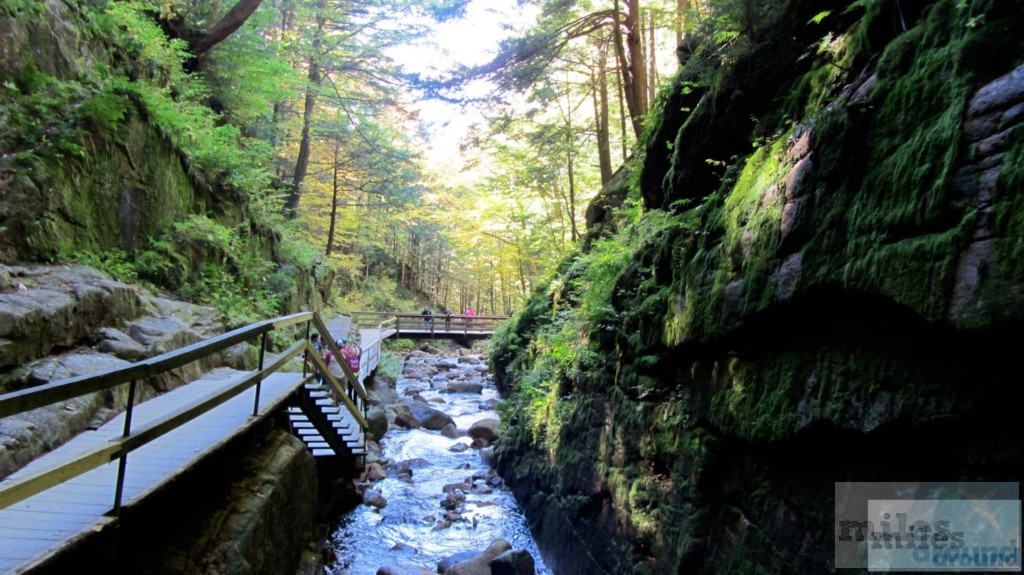 Oben angekommen liefen wir ein kleines Stück den Fluss entlang, welcher über große Steinplatten den Berg hinunter floss. In der Ferne hörten wir schon das Rauschen des Wasserfalls. Es ging immer weiter in die Klamm hinein, an den Felsen entlang. Eigentlich vergleichbar mit einer Klamm in den Alpen, nur dass hier alles ein bisschen mehr auf die Touristen-Bequemlichkeit eingestellt ist. Einen Bus für das kurze Stück würde es in Österreich oder der Schweiz nie geben.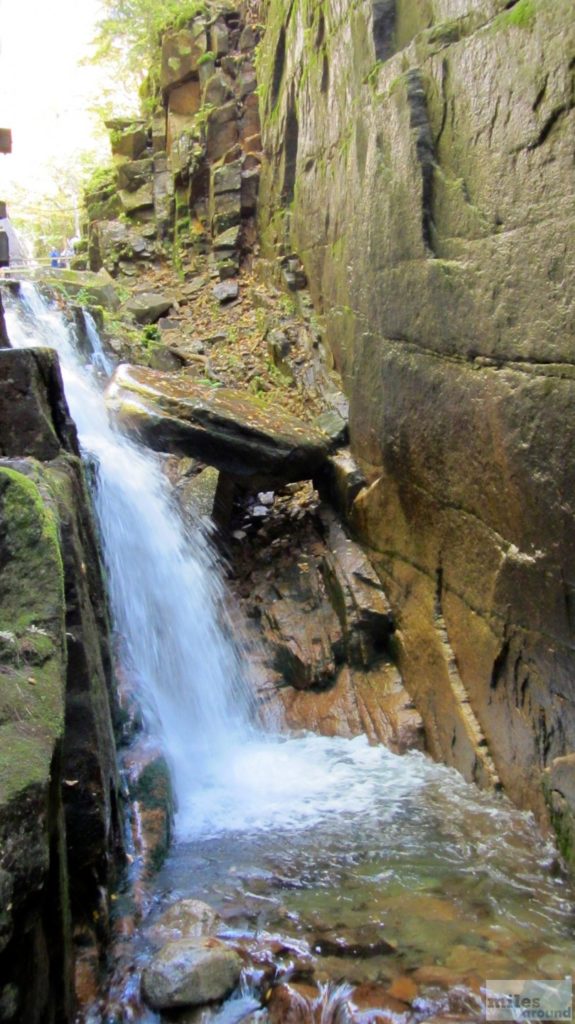 Wir gingen die Holztreppen und -stiege hinauf, am felsigen Flussbett entlang, bis wir zu der Granitschlucht gelangten. Die 30 Meter tiefe und stellenweise nur 3 Meter breite Schlucht ist eines der populärsten Naturschauspiele New Hampshires. Der Wasserfall war sehr imposant, wie er sich über den Felsvorsprung warf. Da wir vor hatten den Looptrail zu nehmen, liefen wir oben am Wasserfall vorbei und gingen neben der Klamm wieder herunter. Ein schöner Weg durch den Wald und vorbei an riesigen Findlingen und einer überdachten Holzbrücke.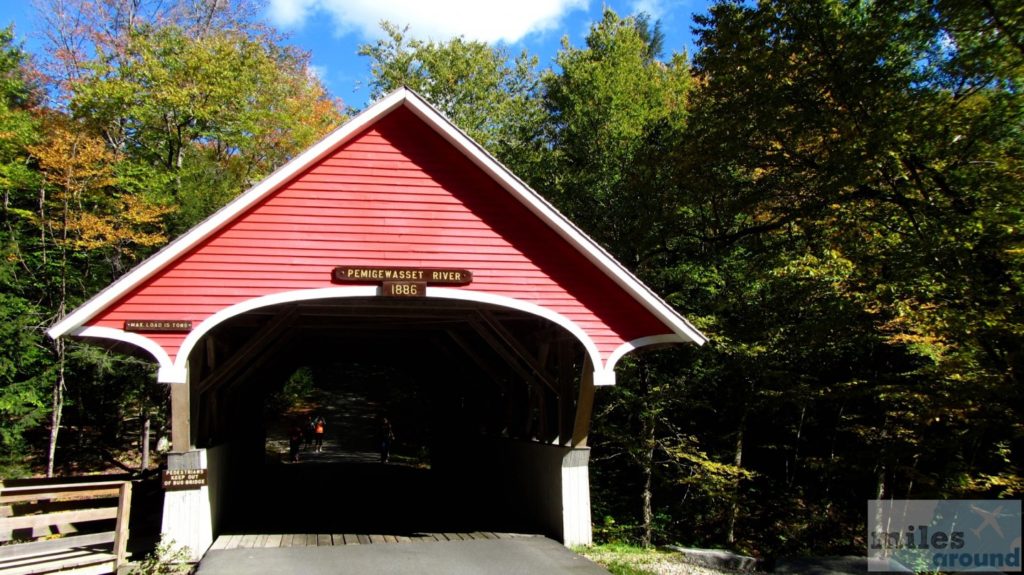 Am Auto angekommen machten wir uns so gleich auf den Weg, denn es waren noch 3,5 Stunden Fahrt bis zu unserem heutigen Ziel Plattsburgh am Lake Champlain. Unser Hotel für heute Nacht war das La Quinta Inn.
Sucht ihr noch nach einem passenden Hotel in Plattsburgh?

You can find a hotel that suits your budget through the various online travel agencies such as Agoda, Booking.com, ebookers.de, Expedia, Hotels.com, lastminute.de, otel.com or Venere.com.
Kancamagus Highway

Flume Gorge