Im zweiten Teil unserer Reisetipps für "Chicago – Windy City: Das solltest du sehen!" werden wir dir eine Brauerei vorstellen, den Navy Pier besuchen, uns von der Polizei beim Fotografieren festsetzen lassen und zu guter Letzt, ein Viertel der deutschen Auswanderer besichtigen. Habt ihr Teil 1 verpasst? Dann könnt ihr diesen here nachlesen.
Chicago – Windy City: Das solltest du sehen! – Half Acre (The Beer Company)
Es gibt Bier! Chicago soll ja bekanntermaßen die Hauptstadt des Craft Bieres sein. Das gilt es zu testen und deshalb machen wir uns gleich nach dem Frühstück im Hotel auf zur Half Acre Brauerei. Mit der Bahn dauert es ungefähr 40 Minuten. Wir kommen leicht verspätet an und reihen uns in der Schlange ganz hinten ein. Wir haben aber noch Glück und können die deutsche Karte spielen und kommen trotz voller Gruppe noch mit rein. Ihr solltet euch also vorher sicherheitshalber auf der Webseite der Brauerei für eine Tour anmelden!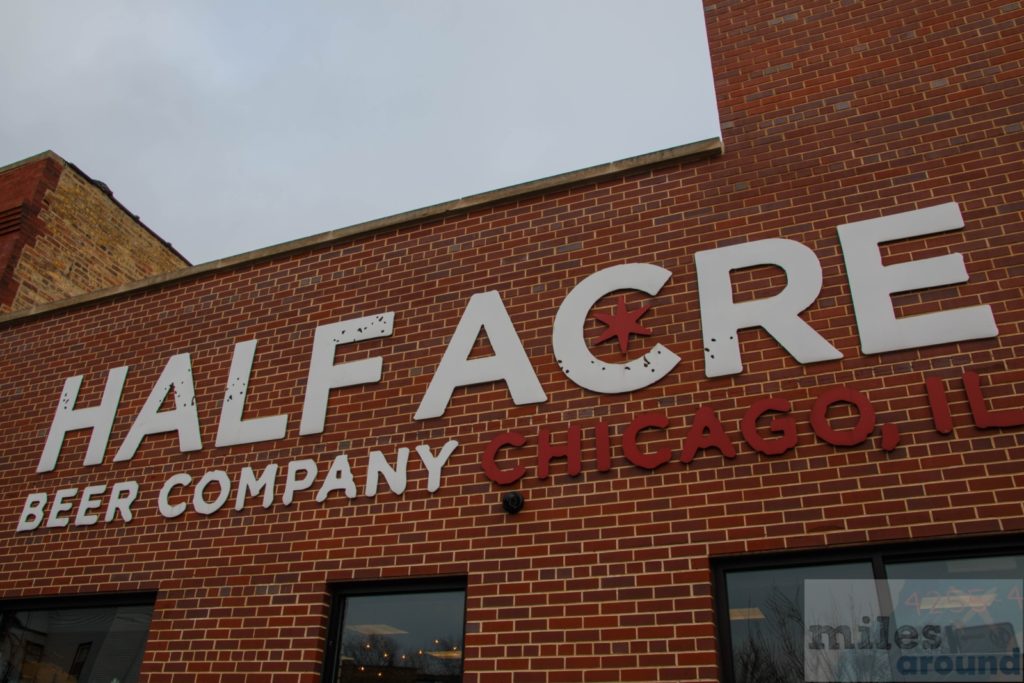 Zum Start wird ein Glas und drei Kronkorken ausgeteilt. Diese lassen sich gegen volle Gläser eintauschen. Bevor die eigentliche Tour losgeht, wird erst mal Bier ausgeschenkt, ich starte mit dem Daisy Cutter Pale Ale. Dann gehts los und es folgt eine ziemlich lange Ausführung zur Brauerei und zum Bier brauen. Mit jedem Schluck Bier fällt es mir immer schwerer zuzuhören.
So richtig anfreunden kann ich mich mit den Biersorten nicht, da Lob ich mir doch ein schönes Helles. Nach gut zwei Stunden sind wir fertig und laufen leicht ein im Tee nach Montrose, um mit der Brown Line wieder nach Downtown zu fahren.
Der beste Burger: Auf zu Shake Shack!
Auf den Plan steht ein Besuch bei Shake Shack – Zeit wird es, denn ich habe nach dem Biertasting einen wahnsinnigen Heißhunger! Zum Löschen gibt es einen richtig guten Cheeseburger mit Vanille Milchshake, ich lobe mir diesen Laden! Was Salziges zwischen den Zähnen tut gut! Ich liebe Shake Shack!
Chicago – Windy City: Das solltest du sehen! – Navy Pier
Sehr zufrieden über den leckeren Burger laufen wir in Richtung Navy Pier. Es geht wieder durch den Millennium Park an die Waterfront. Es ist gar nicht so leicht einen passenden Weg zu finden, aber eine nette Frau gibt uns die richtigen Tipps. Leider wird der Nebel auch immer dichter. Wir kommen am Navy Pier an und bahnen uns den Weg durch die Massen. Mittlerweile gibt es hier ein Kaufhaus, in dem es nur Ramsch gibt, Messehallen und extrem viele Food Courts. Parallel findet ein Winterjahrmarkt statt und es waren gefühlt alle Familien aus Chicago unterwegs.
Planespotting Desaster
Das Wetter ist gut und wir fahren zu unserer recherchierten Position (4825 Scott St, Schiller Park, IL 60176) zum Planespotting. Die geschossenen Bilder sind Klasse und es kommen ein paar schöne Flieger rein. Nach einer knappen halben Stunde wechseln wir unsere Position, was uns schließlich zum Verhängnis werden sollte. In der Nähe der Cell Phone Lot fanden wir einen Hügel, der möglicherweise eine vielversprechende Aussicht bot. Also parkten wir unser Auto neben der Straße und erklommen den kleinen Berg. Die Sicht war gigantisch! Wir waren auf Höhe der Landebahn 27L und konnten richtig gute Bilder machen.
Es dauerte gerade einmal fünf Minuten, bis ein SUV der Airport Police in die Straße einbog und mit eingeschaltetem Blaulicht vor unserem Audi stehen blieb. Das war es dann wohl mit fotografieren. Gingen wir anfangs davon aus, dass unser falsch geparktes Auto das Problem war, änderte sich die Sachlage recht zügig. Wir mussten uns ausweisen und wurden gefragt, wie wir denn auf die Idee kommen, einfach auf den Hügel zu klettern und Bilder zu machen. Während er unsere Identität und das Auto überprüft, müssen wir uns in den Audi (gemietet bei Silvercar) setzten. Der Fahrzeugschlüssel musste dabei auf der Motorhaube abgelegt werden. Im Hinterkopf die schrecklichen Bilder von Polizeigewalt in den USA, folgen wir den Anweisungen und versuchen so kooperativ wie möglich aufzutreten.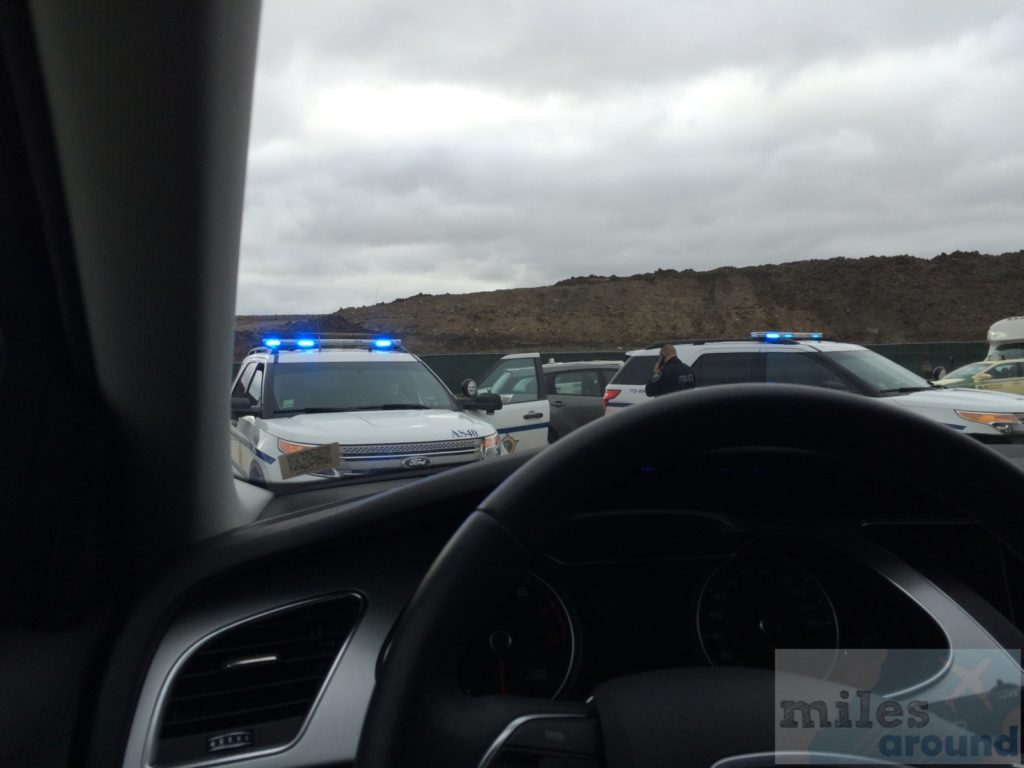 Wenige Minuten später kam der nächste Polizeiwagen und die Zwei unterhielten sich. Als dann die dritte Streife, diesmal ein Zivilfahrzeug ankam, sprach wieder jemand mit uns. Die Lage wurde uns als Ernst klargemacht! Wir wurden vom Tower gesichtet und sofort Alarm geschlagen, da in Chicago gerade höchste Terrorwarnstufe ist. Es wurde uns weiterhin erklärt, dass das Fotografieren von Flugzeugen und Flughafengebäuden höchst illegal ist (ist klar?! ;) ).
Schlussendlich, mittlerweile waren vier Polizeiwagen da, bekamen wir unsere Pässe wieder und wurden aufgefordert alle Bilder von Flugzeugen von unserer SD-Karte zu löschen. Man waren wir sauer!
Chicago – Windy City: Das solltest du sehen! – Germantown Chicago
Ein kleines Stück Heimat mitten in einer US-Metropole, die Häuser haben eine Fachwerkoptik und es gibt ein Brauhaus – typisch deutsch eben *Ironie aus*. Dennoch ist es ganz nett ihr – besonders der Delikatessenladen hat es mir angetan, abgesehen von Kreationen wie Blaubeerbratwurst und Käse-Champigons-Bratwurst. Aber der Reifeschrank mit dem guten Dry Aged Beef hat schon was. Rechtzeitig zu Weihnachten und Silvester kann man sich die begehrten Stücken sichern.
Chicago – Windy City: Das solltest du sehen! – Ausflug zum Meigs Field
Die Freunde des Microsoft Flight Simulator werden das Meigs Field sicherlich noch kennen. Bis FSX 2002 starteten dort die Einführungsflüge. Zu Flugsimulator '98 Zeiten hätte ich nie gedacht einmal hier zu stehen! Mittlerweile ist aus dem ehemaligen Airstrip ein Park geworden, bei dem durch eine kontroverse Nacht und Nebelaktion die Landebahn mit Bulldozern zerstört wurde.
Beim Adler Planetarium steigen wir nochmal aus und ich genieße die Aussicht auf die Skyline von Downtown Chicago.
Chicago Travel Guide
For the perfect city trip to Chicago, we recommend you this guide

. Hier findest du nicht nur einen detaillierten Stadtplan, sondern auch jede Menge Informationen zu allen wichtigen Sehenswürdigkeiten. Außerdem werden dir tolle Vorschläge für Abstecher in die Außenbezirke aufgezeigt.
Did you enjoy the post? Then share it on social networks. With this you support our work. Have you been to Chicago? Then I look forward to your opinion and tips in the comments.
Chicago - Windy City: What's worth seeing?
Half Acre (The Beer Company)

Navy Pier

Germantown Chicago

Ausflug zum Meigs Field