Die thailändische Hauptstadt Bangkok ist ein Shopping-Paradies, wo der Besucher mit jeglichem Budget in den unzähligen Mall's fündig werden sollte. Aufpassen sollte man allerdings bei Markenartikeln!
Maßgefertigte Anzüge in Bangkok
An unserem ersten Tag in Bangkok suchten wir einen Schneider auf, um uns ein Angebot für maßgefertigte Anzüge einzuholen. Der Verkäufer präsentierte uns bei einem kühlen Bier seine unterschiedlichen Stoffe und Schnitte. Wir konnten uns dann eine Vorlage aus dem aktuellen Giorgio Armani bzw. Hugo Boss Katalog aussuchen. Insgesamt waren wir sehr zufrieden mit dem Service und bestellten ein Paket, bestehend aus einem Anzug, zwei Hemden und eine Krawatte für Bodo und zwei Anzügen, drei Hemden und zwei Krawatten für mich. Zusammen bezahlten wir dafür 20.000 thailändische Baht. Nach einer Anprobe bekommen wir die Anzüge am Donnerstagabend in unsere Suite im lebua at State Tower geliefert. Dann heißt es: "Suit up!"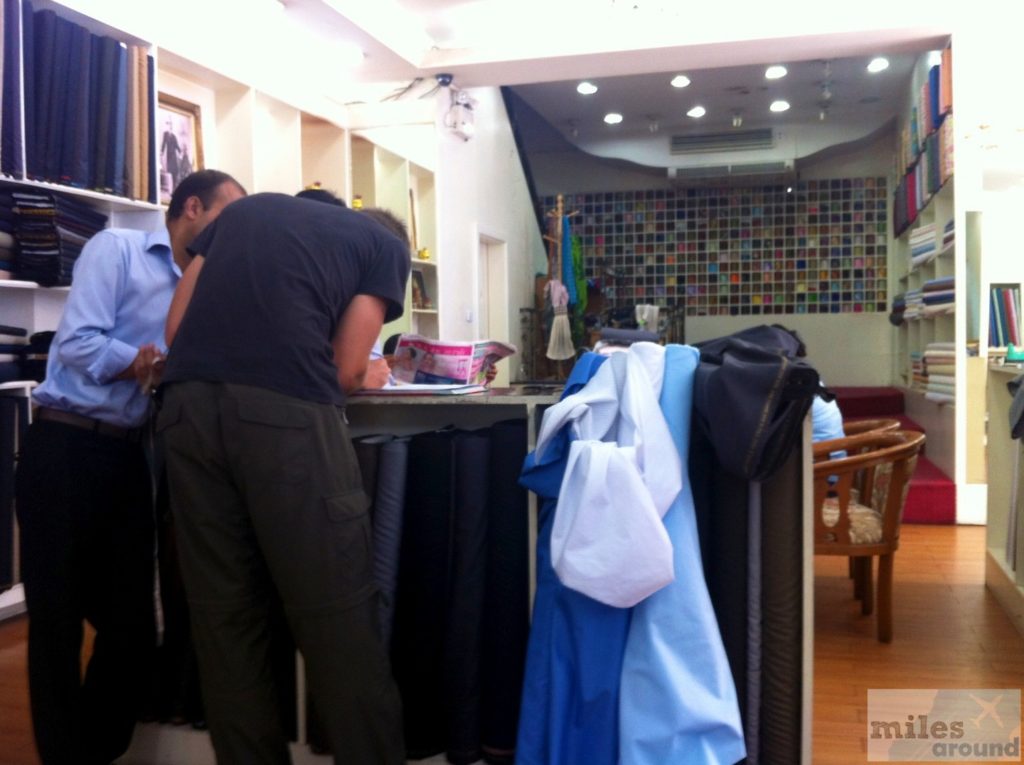 Da wir in Outdoor-Hose und ausgewaschenem T-Shirt nicht in das 5 Sterne Hotel einziehen wollten, kleideten wir uns in der MBK-Mall in der Nähe des National Stadium neu ein.
Wat Saket (Golden Mount)
Nach ein wenig Shopping machten wir uns anschließend auf den Weg zum Wat Saket oder auch "Golden Mount" genannt. Der goldene Berg ist künstlich bis auf 79 Meter aufgeschüttet und mit einer goldenen Chedi gekrönt.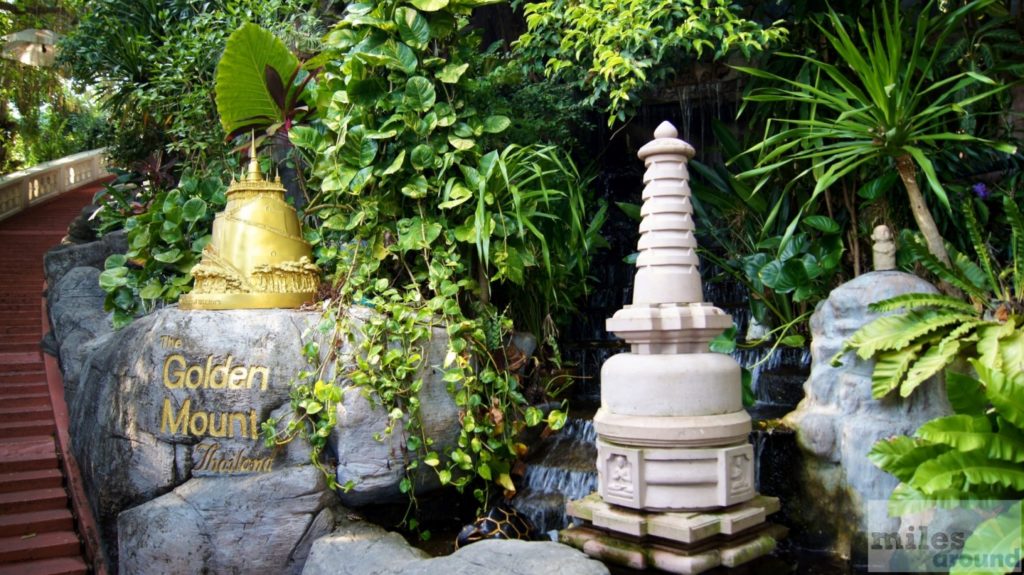 Zur Spitze gelangten wir über 318 Treppenstufen und einige kleinere Plateaus. Hier befinden sich diverse Glocken die Glück bringend sowohl von Thais, wie auch von uns geläutet wurden.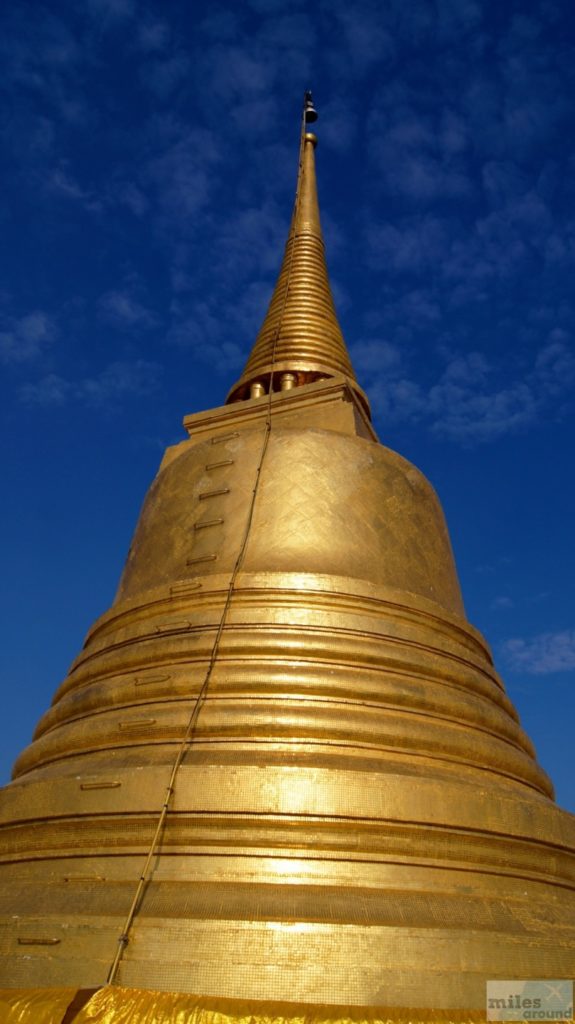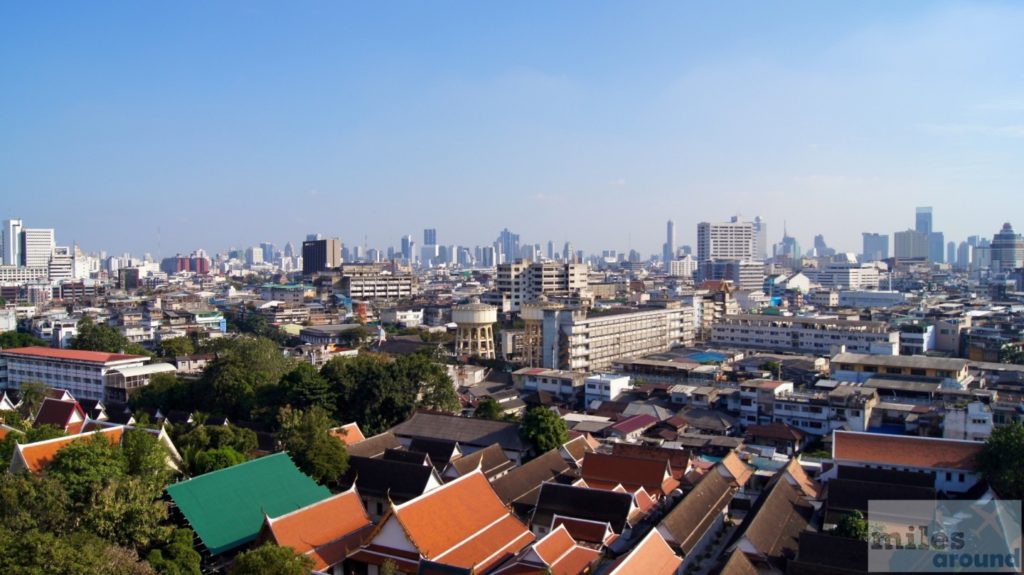 Auf dem Areal rund um den Tempelberg sind einige kleine Buddhas und Schreine gelegen. Im Innenhof trafen wir auf dutzende buddhistische Gläubiger. Viele hatten Geschenke in Form von Blumengestecken oder Tee-Sets dabei. Wir hatten den Eindruck, dass alle auf ein besonderes Ereignis warteten. Die Ankündigungen über Lautsprecher waren leider nur auf Thai und halfen uns somit nicht wirklich weiter. Plötzlich verstummten alle und es wurde ein sehr alter Mann im Rollstuhl hereingefahren. Während die anwesenden Gläubigen zum Gebet aufstanden, nahm der Herr auf einem Thron-ähnlichen Stuhl auf dem Altar Platz. Bevor die Zeremonie weitergeführt wurde, verließen wir aber aus Anstand das Gebäude.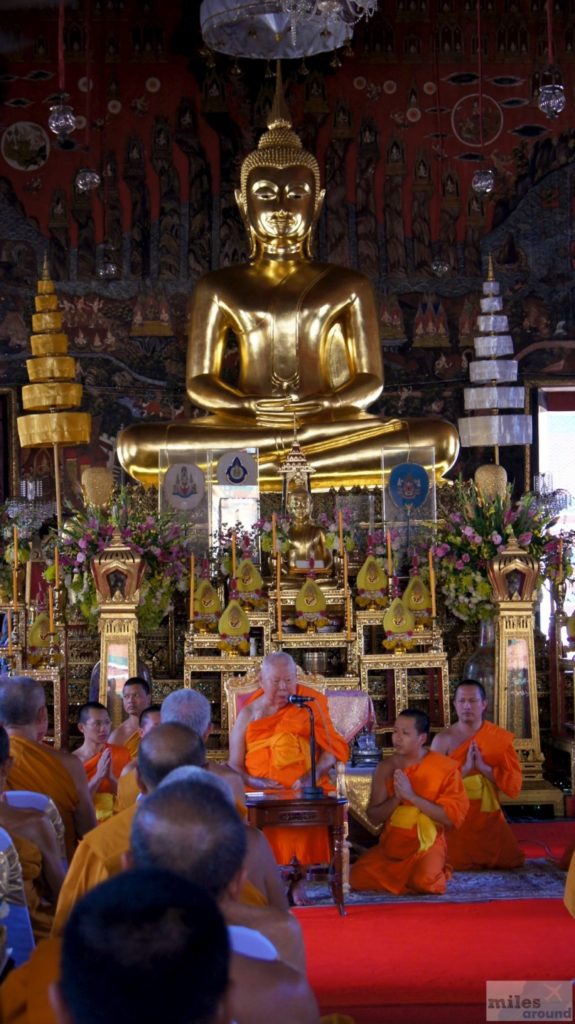 Wat Benchamabophit (Marmortempel)
Den Tag schlossen wir mit einem Besuch des Wat Benchamabophit, von Touristen aufgrund seiner Bauart auch Marmortempel genannt, ab. Der buddhistische Tempel zählt zu einem der schönsten Thailands und ist eine Hauptattraktion Bangkoks.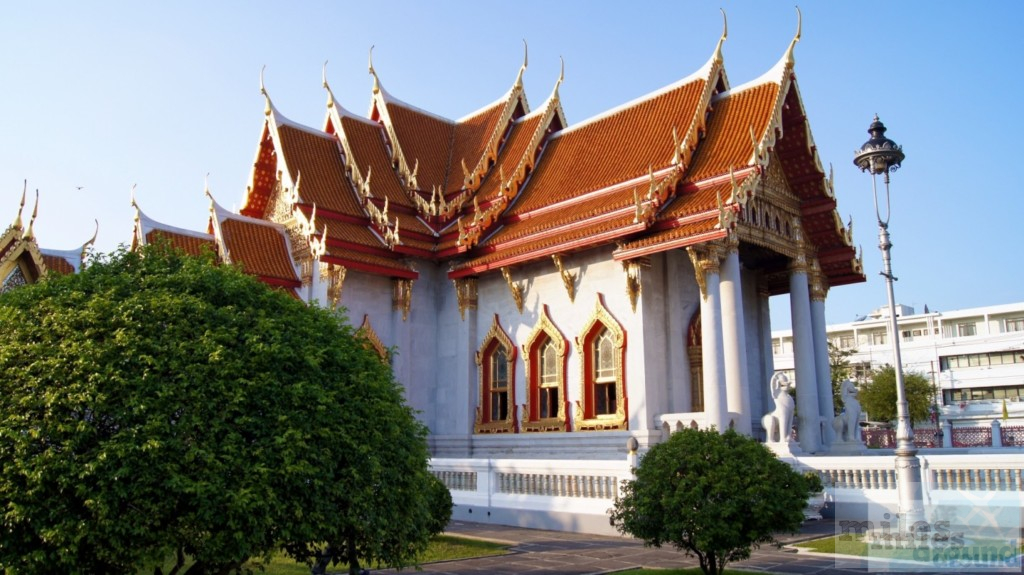 Das weiß-, teilweise rosèfarbige Marmorgestein glänzte in der Sonne und machte so auf uns einen sehr prunkvollen Eindruck. Auf unserer Reise haben wir bis jetzt noch keinen so besonderen Tempel gesehen. Auch aus diesem Grund wurde die Anlage wahrscheinlich als UNESCO-Weltkulturerbe vorgeschlagen.
Sucht ihr noch nach einem passenden Hotel in Bangkok?

You can find a hotel that suits your budget through the various online travel agencies such as Agoda, Booking.com, ebookers.de, Expedia, Hotels.com, lastminute.de, otel.com or Venere.com.