From our hotel, the DoubleTree by Hilton Hotel Kuala Lumpur, ist das Kuala Lumpur City Centre (KLCC) mit den 452 m hohen Petronas Towers (malaysisch Menara Petronas) nur eine Station entfernt. Die kurze Fahrt kostet gerade einmal 1 MYR (0,25 EUR) pro Person. Unser Ziel für den späten Nachmittag: Tickets für morgen für die Petronas Towers kaufen, da wir im Internet gelesen hatten, dass man sehr frühzeitig sich darum kümmern muss. Es gibt nur eine bestimmte Anzahl an Karten pro Tag und es gilt die Devise: wer zu erst kommt, malt zu erst, oder fährt auf die Türme hoch.
Als wir aber am Ticketschalter ankamen, stellten wir fest, dass es, obwohl es schon 17:00 Uhr war, noch Karten für den 17:15 Uhr Termin gab. Man muss sich somit keinen Stress machen und wir können den nächsten Tag zu irgendeiner Zeit herkommen und schauen, wann noch Tickets frei sind. Es kann natürlich trotzdem sein, dass zu Stoßzeiten viele Termine schon ausgebucht sind, oder man es dann nicht bei gutem Wetter hinauf schafft. Aber wir denken, dass das die Ausnahme ist. Die Pertonas Towers haben Dienstag bis Sonntag von 9:00 Uhr bis 21:00 Uhr geöffnet. Montag ist, wie man bei uns so schön sagen würde, Ruhetag.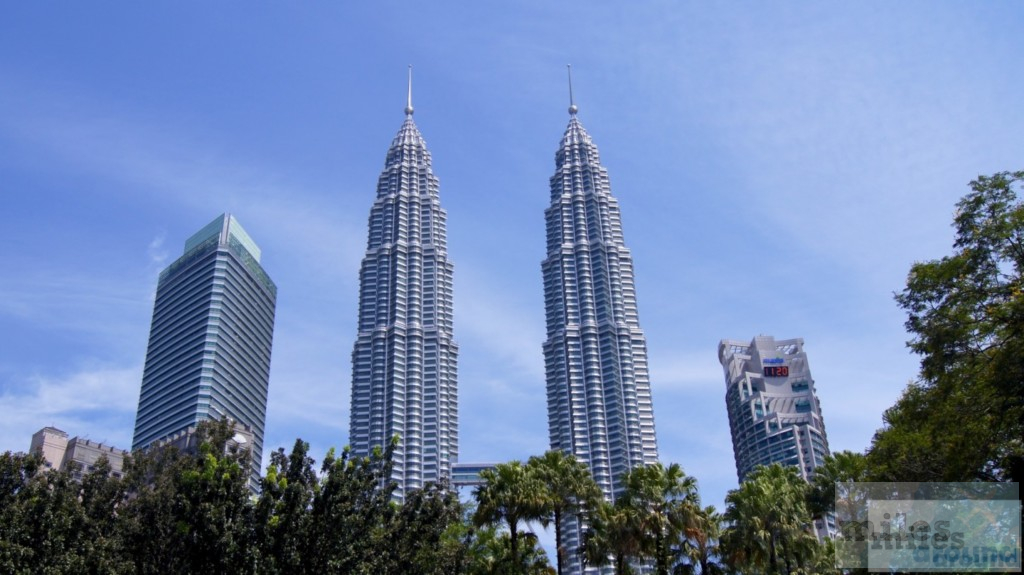 Ticket-Kauf
So fuhren am nächsten Tag einfach gegen 11:00 Uhr zu den Petronas Towers und bekamen, ohne lange anstehen zu müssen, Tickets für 12:00 Uhr. Somit mussten wir nur eine Wartezeit von 45 Minuten in der Mall überbrücken, denn schon 11:45 Uhr sollten wir uns an der Einlasskontrolle einfinden. Da wir eh noch zur Post wollten, war die Dreiviertelstunde gut ins Postkarten verschicken investiert. Die Tickets für die Fahrt auf die Petronas Towers (inkl. der Skybridge) kosten 84,80 MYR (ca. 20,00 EUR) pro Person und sind somit, unserer Meinung nach, für das was man geboten bekommt, absolut nicht zu teuer!
Security-Ceck
Um 11:45 Uhr standen wir voller Vorfreude am Einlass und bekamen Visitor-Karten umgehängt. Diese waren in unterschiedlichen Farben, um die einzelnen Gruppen besser zuordnen zu können. Wie am Flughafen wurden unsere Taschen durchleuchtet und wir mussten durch einen Scanner gehen. Unseren Rucksack mussten wir einschließen lassen. Danach gab es eine ausführliche Sicherheitseinweisung. Man darf bei der Führung nicht trinken, essen oder rauchen (das ist sowieso überall hier verboten). Auch Kaugummi kauen ist nicht erlaubt und Stative darf man leider auch nicht mitnehmen. Ein bisschen wie in einem Hochsicherheitstrakt!
Skybridge
Nach der Einweisung fuhren wir mit einem der Aufzüge in die 41. Etage zur Skybridge. Diese zweietagige Brücke verbindet beide Türme und befindet sich 170 m über dem Boden. Der untere Gang wird ausschließlich für Touristen als Aussichtspunkt genutzt. Der obere Gang ist für die Angestellten der einzelnen ansässigen Firmen, um schneller von einem in den anderen Turm zu gelangen. Die 58 m lange Brücke kann vollständig von einer zur anderen Seite durchlaufen werden. Sie ist die höchste Verbindungsbrücke zweier Gebäude und damit einzigartig. Hier hat man einen wahnsinnig tollen Ausblick auf den Park, auf der einen Seite, und die Straßen vor dem Haupteingang, auf der anderen Seite. Das Wetter war aber auch perfekt für die Fahrt hinauf!
Turmspitze der Petronas Towers
Anschließend fuhren wir in die 86. Etage, in den großen Ausstellungsraum. Auf halben Weg mussten wir noch in kleinere Aufzüge umsteigen, da die Türme nach oben hin enger werden und man mit den Großen nicht mehr weiter kommt. In 360 m Höhe hat man einen richtig tollen Überblick über ganz Kuala Lumpur. Man kann genau auf die Spitze des anderen Turms schauen, was einem erst mal bewusst macht, wo man sich gerade befindet. Hier oben gibt es viele Modelle der Zwillingstürme mit ihrer aktuellen und zukünftigen Umgebungsbebauung. Außerdem stehen kostenlose Ferngläser zur Verfügung, mit denen man wunderbar die anderen Gebäude beobachten kann. Es wird die Geschichte des Baus erklärt und es gibt einen Film über die Türme, in dem 24 Stunden im Zeitraffer gezeigt werden. Man hat genug Zeit, sich alles anzugucken und alles auszuprobieren.
Natürlich kommt man auf Weg nach draußen durch einen Souvenir-Shop der Petronas Twin Towers, aber das ist ja eigentlich bei jeder Attraktion so. Wir gönnten uns einen Kühlschrankmagneten für unsere Sammlung.
Are you still looking for a suitable hotel in Kuala Lumpur?

You can find a hotel that suits your budget through the various online travel agencies such as Agoda, Booking.com, ebookers.de, Expedia, Hotels.com, lastminute.de, otel.com or Venere.com.
Unsere Bewertung zu einem Besuch auf den Petronas Towers
Summary
Für knapp 20,00 EUR pro Person ist dieses Erlebnis absolut lohnenswert! Man erfährt viel und hat einen wunderschönen Blick. Ein architektonisches Highlight, das man sich nicht entgehen lassen sollte.