Am frühen Vormittag fuhren wir mit der U-Bahn bis zur Haltestelle Causeway Bay. Hier wollten wir in einer Art Szeneladen für einen Freund eine besondere Box mit zwei Flaschen Absolut Vodka kaufen. Leider war die limitierte Sammelbox schon am Vortag ausverkauft. Weil wir nun einmal in der Nähe waren, machten wir noch einen Abstecher in das Shopping Center "Times Square". Hier gibt es alle mögliche Läden, von Luxustaschen bis Technik. Wir schlenderten ein wenig durch die Passagen und schauten uns allerlei Technik an, u.a. die neue Generation 3D Fernseher oder das neue Nokia Lumia 800 mit Windows Mobile 7. Bei Letzterem muss aber noch nachgebessert werden!
Hopewell Center
Nach unserem Shoppingausflug, nahmen wir die berühmte Doppelstock Tram Hong Kong's, um zum Hopewell Center zu fahren. Als ausgewachsener Europäer sollte man sich hier bewusst über die Höhe des Fahrgastraums sein. Lange Strecken mit eingezogenem Kopf sind echt nicht bequem.
Das Hopewell Center war eins der ersten runden Hochhäuser in Hong Kong. Hier gibt es einen kostenlosen Panoramaaufzug. Wenn man, wie wir von der Hafen zugewandten Seite, das Gebäude betritt, muss man erst einmal in die 17. Etage hochfahren. Hier ist der Zugang zum Glasaufzug, der bis in die 56. Etage durchfährt. Da dieser um die Mittagszeit aber nicht geöffnet ist, fuhren wir in die 52. um endlich mal unsere kostenlose Regus-Goldkarte (als Kunde von Miles&More) zu nutzen. Regus ist ein weltweiter Anbieter von Business Lounges. Hier vertrieben wir uns die Wartezeit bei einem Kaffee und Postkarten schreiben, bis wir schließlich kurz nach 13 Uhr mit dem Panoramaaufzug fahren konnten. Die Fahrt dauert ungefähr 30 Sekunden und der Ausblick in den Hafen ist grandios. Für Leute mit Höhenangst ist es aber nicht zu empfehlen.
Währungsmuseum im 55. Stock des TWO ifc-Towers
Nächster Punkt auf unsere Liste "Kostenlose Attraktionen in Hong Kong" war das Währungsmuseum im 55. Stock den TWO ifc-Towers. Hier standen wir gestern ja schon einmal, leider vor verschlossenen Türen. Am einfachsten ist der Zugang über die angrenzende ifc-Mall. Einfach in Richtung TWO ifc laufen und dort rechts die Rolltreppe herunterfahren. Um Zugang zur 55. Etage zu bekommen, braucht man einen Besucherausweis. Diesen gibt es an der Anmeldung im Erdgeschoss gegen Vorlage eines Lichtbildausweises.
Das Museum an sich ist wahrscheinlich nicht für jedermann interessant. Es werden die unterschiedlichen Sicherheitsmerkmale des Hong Kong Dollars erklärt. Touristen wie wir fahren ja wegen der Aussicht hier hoch. Durch die Panoramascheiben sind der südliche Teil Hong Kong Islands, der Victoria Peak und das Hafengebiet einsehbar. Wir hatten aber Pech mit dem Sonnenstand und so spiegelte sich alles im Fenster und wir konnten keine anständigen Fotos machen.
Mit der Star Ferry rüber nach Kowloon
Nach einem kurzen Snack bei Subways setzten wir mit der Star Ferry über nach Kowloon. Dieses historische Transportmittel, welches schon seit 1898 verkehrt, ist schon zu einem Wahrzeichen Hong Kongs geworden. Wir kauften ein Ticket für das Upper Deck für 2,20 HK$ (ca. 0,20 EUR) und brauchten ungefähr 5 Minuten für die Überfahrt.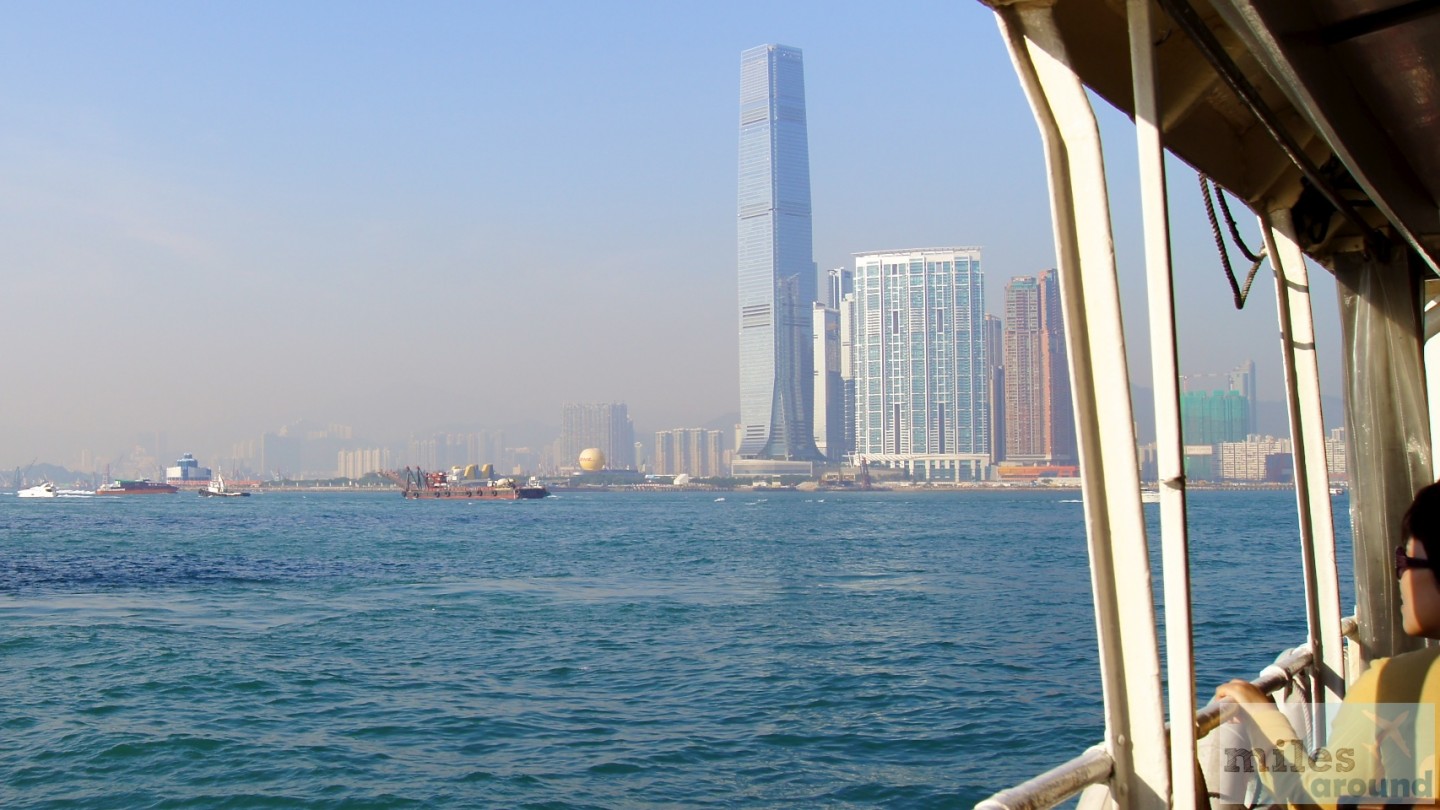 Kowloon Park
Wir durchliefen den Kowloon Park, welcher eine willkommene Abwechslung zum Großstadtlärm war. Hier gibt es ein Schwimmbad, einen Vogelpark und mehrere Terrassen mit Wasserspielen. Am Rande des Parks stießen wir auf die Nathan Road. Dies ist die Prachtstraße Kowloon's. Hier befinden sich viele Luxushotels, Shopping Malls und kleinere Läden. Aber auch wieder viele arabische und indische "Drücker- Gangs", die einem an jeder Ecke ihre Visitenkarte von gefälschten Rolex Uhren oder Anzügen in die Hand drücken wollen. Mich nervt sowas ja immer!
Avenue of Stars
An der Uferpromenade Kowloon's suchten wir die "Avenue of Stars" auf. Dieser ist ein asiatischer Abklatsch des bekannten "Walk of Fame" in Los Angeles. Bis auf 2 – 3 Namen wie Jackie Chan oder Jet Li kannten wir leider keinen weiter.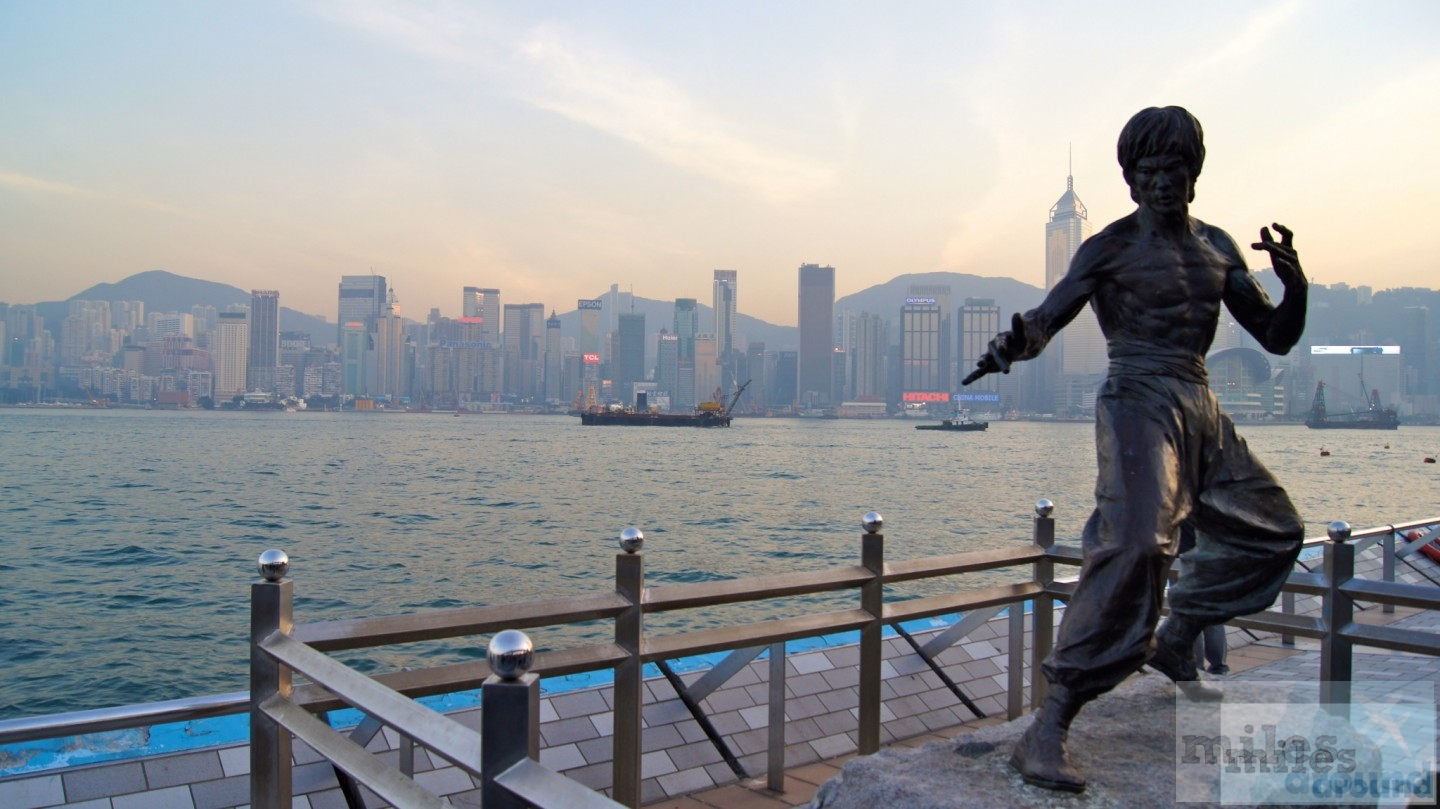 A Symphony of Lights
Jeden Abend um 20 Uhr veranstaltet die Stadt für die Touristen eine Licht- und Lasershow. An der ca. 15 Minuten langen Show beteiligen sich ca. 20 Hochhäuser und Gebäude um den Fluss herum. Die passende Musik kommt dabei aus Lautsprechern auf der Promenade. Wir fanden die Show sehr gut, nur leider wurde das Gesamtbild etwas getrübt, weil mehrere Gebäude einfach ausblieben.
Hopewell Center

TWO ifc-Towers

Kowloon Park

Avenue of Stars

Symphony of Lights